Day 01: Arrive Istanbul
Welcome to Ataturk Airport (IST)** – one of the top 20 busiest airports in the world. We are cordially welcomed and transferred to our hotel. Check in time starts at 1500 hrs. Enjoy some free time to relax or explore the city. Founded in 657 BC, Istanbul is perhaps one of the most important cities in history. In 330 AD, it was declared the new Roman capital, leading it to become a centre of trade and commerce along the Silk Road. It remained a capital city for 16 more centuries, through the rise and fall of the Roman, Byzantine and Ottoman empires.
** For those arriving at Sabiha Gokcen International Airport (SAW), a surcharge of US$ 50 per person per transfer will apply, based on a minimum of two people.
Overnight: Kent (Old City) Hotel, Istanbul (2 nights)
Day 02: Istanbul
After breakfast at our hotel, we explore this beautiful city on a guided tour. Be ready to be amazed as we discover the variety of historical monuments, including palaces, museums, cisterns, fountains, and pillars, which surround us on all sides. The many architectural and historic masterpieces found in Istanbul* were given World Heritage Site status in 1985. Our first stop is Topkapi Palace, main residence of the Ottoman sultans during the 15th and 16th centuries, followed by the ancient Hagia Sophia and Blue Mosque, sitting imposingly across from one another. A trip to Istanbul is not complete without a visit to the Grand Bazaar, which is one of the largest covered markets in the world with 60 lanes and 5,000 shops. It is well known for its jewelry, hand-painted ceramics, carpets, embroideries, spices and antique shops. (B)
Day 03: Istanbul/Ankara/Cappadocia (Drive)
After breakfast, we depart for Ankara. Here, we visit the Mausoleum of Ataturk and its Museum.   This is the burial place of Mustafa Kamal Pasha, the national hero who founded the modern Republic of Turkey. He is known as Ataturk, or the Father of the Turks. The huge hall, lined in red marble, has simple mosaic decoration recalling the many ages and civilizations of Turkey. Within the museum, a number of Ataturk's personal belongings are exhibited, including clothes that he wore, and gifts presented to him by visiting foreign dignitaries.  We then depart for Cappadocia.  We enjoy a picturesque trip along the Salt Lake, which is a protected area for bird species.  We arrive at Cappadocia for our overnight stay.

Overnight: Dinler Urgup Hotel, Cappadocia/Cave hotel** (2 nights) (B, D)
Day 04: Cappadocia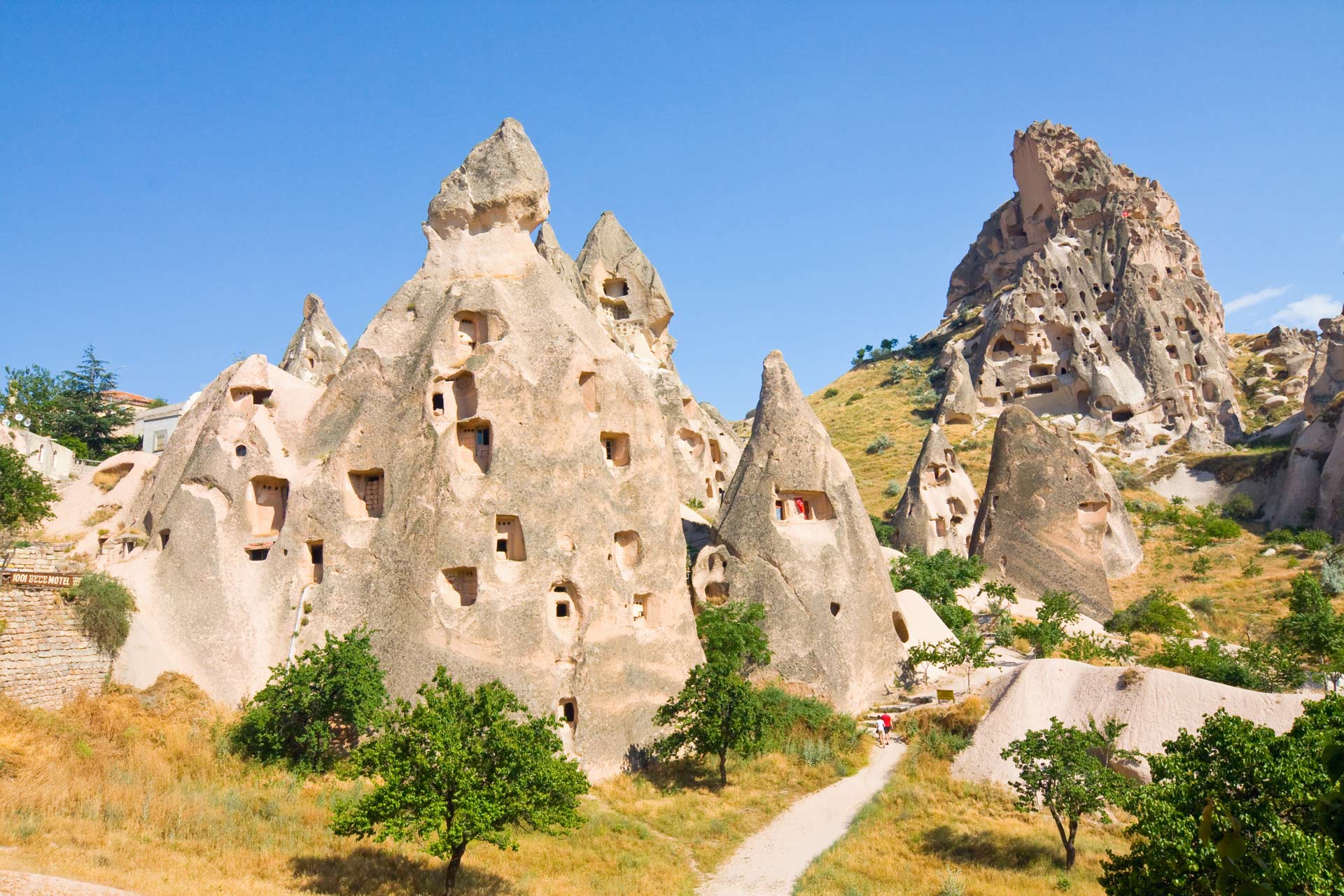 Early morning, take part in an optional hot-air balloon tour (extra charge). The rest of the day is filled with an excursion to Cappadocia, including visits to the Kaymakli Underground City. More than a hundred underground settlements are found in this region, and many are not open to the public. In the Byzantine period, increasing invasions forced local residents to build underground cities for protection and religious purposes. Next stop is the Open Air Museum in Göreme Valley*, which holds the region's best collection of painted cave-churches. Medieval orthodox Christian monks carved the caves from the soft volcanic stone and decorated them with elaborate Byzantine frescoes between 1000 and 1200 AD. Afterwards, we continue on to the natural fortress Uchisar. In the 15th and 16th centuries, the Byzantine army took advantage of the natural elevation of three of the area's rock formations and used them as natural fortresses. We enjoy a delicious lunch in in a cave restaurant, tasting the popular local dish of pottery Kebab. Here, we will have the opportunity to discover and understand the rich history of local handicrafts like hand-made carpets, Turkish tiles, onyx and pottery.  Optional night tour with a Turkish folk show and dinner is available tonight (extra charge). (B, L)
Day 05: Cappadocia/Konya/Pamukkale (Drive)
Today is yet another interesting day as we visit the 13th century Seljukian masterpiece Sultanhan Caravanserai, which is an exceptional example of architectural stone work and decoration art from the Seljuk period.  It was constructed to provide security for the road from Konya to Aksaray, an important trade and military route. At Konya, we visit the convent of the Whirling Dervishes and the tomb of Mevlana Jalaludin Rumi, who died here on December 17, 1273. Born in Balkh, Afghanistan, Rumi remains one of the world's most well-read poets. He wrote his famous six-volume poem The Mathnavi of Jalaludiin Rumi in Persian. Rumi was a Sufi mystic who would get lost in trance and dance, sometimes spinning like a top for hours on end. His belief was that there were many ways to God. During Rumi's life, and since his death, pilgrims have come to Konya from all over the world to visit his final resting place. Today, Rumi's tomb is Turkey's second most-visited tourist attraction after the Topkapi Palace in Istanbul. We culminate this eventful day at Pamukkale.

Overnight: Doga Thermal Hotel, or Adem Pira Hotel, Pamukkale (1 night) (B, D)
Day 06: Pamukkale/Izmir (Drive)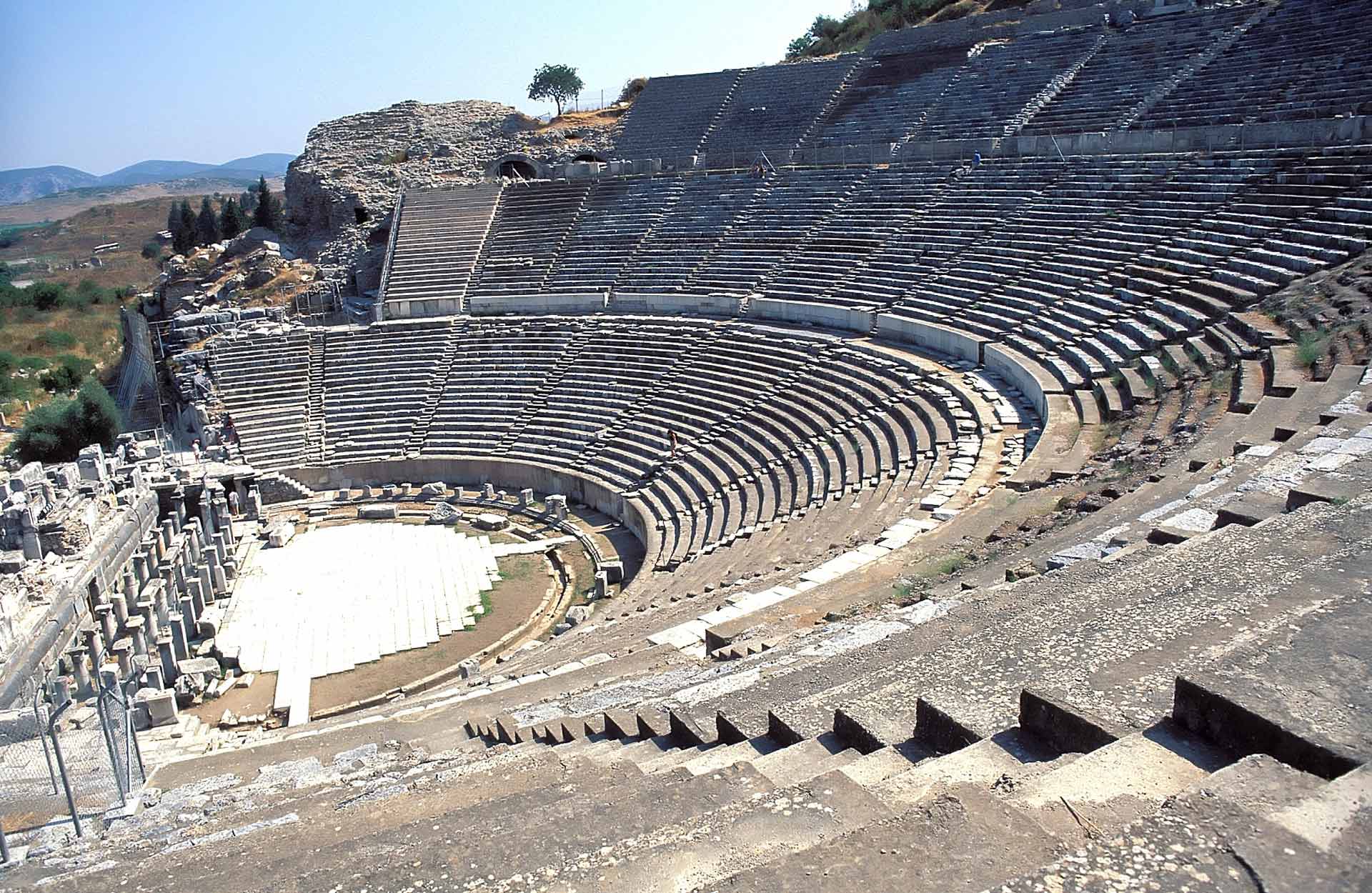 After breakfast, visit the magnificent Hierapolis*, an ancient city that was believed by the Greeks to have been founded by the god Apollo. It was famed for its sacred hot springs, whose vapors were associated with Pluto, god of the underworld. Hierapolis was also mentioned by Paul in his Letter to Colossians in the Bible. Today, Hierapolis is a World Heritage Site. We will also have the opportunity to swim in the thermal pools, with views of ancient artifacts and the spectacular white terraces of the Pamukkale lime cascade.  The extraordinary terraces here are created when water from the hot springs loses carbon dioxide as it flows down the slopes, leaving deposits of limestone. The layers of white calcium carbonate, built up in steps on the plateau, gave the site the name Pamukkale ("cotton castle"). Afterwards, we continue our drive to Selcuk to visit the Temple of Artemis, one of the seven wonders of the ancient world.  Then, continue to Izmir for our overnight stay.

Overnight: Kaya Thermal, Izmir (2 nights) (B, D)
Day 07: Izmir/Ephesus/Izmir
This morning, drive to the age-old city of Ephesus*, once a trade center of the ancient world and, later, a religious center of early Christianity. The structures found here are a reminder of the city's former status as a major port in the ancient Mediterranean. There is nothing like standing on the stage of the amphitheater where John of Ephesus (or of Asia) spoke to the Ephesians. We then walk to the ancient library where scholars studied. The Library of Celsus, which was reconstructed out of its original pieces, was built in 125 BC by Julius Aquila, and held over 12,000 scrolls, making it the largest library in the Mediterranean. We also explore the 2000-year-old plumbing system, which is more sophisticated than what we have in many parts of the world today. After our exploration, we enjoy lunch in a nomadic tent in Selcuk to taste the local dish Gozleme.  Continue to Sirince where we experience one of the most beautiful villages in Turkey.  The Orthodox Christian Greeks who lived here during the Ottoman empire were famed for their wine making, and Muslim Turks who moved here from Thessaloniki in 1924 restarted wine making using local fruits.  We will have the opportunity to shop and taste the delicious wines of the village. (B, L, D)
Day 08: Izmir/Canakkale (Drive)
Scenic drive to Bergama to visit the Asklepion, a healing temple during the times of Ancient Greece. The Asklepion dedicated to Asclepius, god of medicine and healing, was built in mid-4th century BC inside a hidden valley where the springs were believed to have healing effects. Visit Pergamon*, with its well preserved remains, before continuing to Troy*. Troy (Truva or Troya in Turkish) is an ancient city in northwestern Turkey, made famous in Homer's epic poem, the Iliad. According to the Iliad, this is where the legendary Trojan War took place. Today, it is an archaeological site, a Turkish national park and a UNESCO World Heritage Site popular with travellers from across the globe. Dinner is enjoyed at Canakkale.

Overnight: Kolin Hotel, Canakkale (1 night) (B, D)
Day 09: Canakkale/Gallipoli/Istanbul (Drive)
After breakfast, we drive to Gallipoli to visit Anzac Cove, Nek, Conk Bair, Lone Pine and 57th Regiment Memorial.  It was here in World War I where the Gallipoli campaign sought to break the stalemate on the Western and Eastern fronts to help the Russians. It is perceived as a defining moment in Turkey's history—a final surge in the defense of the motherland as the Ottoman Empire crumbled. The struggle formed the basis for the Turkish war for independence and the founding of the Republic of Turkey eight years later under Mustafa Kemal Ataturk, a commander at Gallipoli. The Gallipoli campaign is the first campaign of World War I that led to heavy casualties for Australia and New Zealand. The campaign is often considered to mark the birth of national consciousness in Australia and New Zealand, and the date of the landing, April 25, is known as "Anzac Day". Continue on to Istanbul for our overnight stay.

Overnight: Kent (Old City) Hotel, Istanbul (1 night) (B)
Day 10: Depart Istanbul
After breakfast, we are transferred to Ataturk Airport (IST)**.  Check out time is by 1100 hrs. Please note that departure transfers to (IST airport) are provided by the hotel's shuttle and are only available at 0900 hrs and 1300 hrs. For those departing after 1300 hours, a private transfer is available at US$ 50 per person, based on a minimum of 2 people. Istanbul is an ideal city to extend your stay. For details, please contact us. (B)
** For those departing from Sabiha Gokcen International Airport (SAW), a surcharge of US$ 50 per person per transfer will apply, based on a minimum of two people.
B=Breakfast, L=Lunch, D=Dinner