Out of some 17508 Islands that form Indonesia, Java is undoubtedly the richest and greenest. It has a wide variety of attractions including scenic landscape dotted with villages housing people from different ethnic groups and cultures. Add to that are towering volcanoes, dense forests, manicured rice paddles and teeming towns.   Along with its culture, arts, crafts that Bali offers, make this 11 days Overland Jakarta to Bali a journey into the diversity that just one island of Indonesia has to offer.
Tour Information
Duration
:
11 days
Minimum
:
02 persons
Maximum
:
08 persons
Price (From)
:
US$ 2495
Includes international air
Day 02: Jakarta/Bogor/Bandung (Drive)
(B, L)
Day 04: Bandung/Baturaden (Drive)
(B, L)
Day 05: Baturaden/Dieng Plateau/Yogyakarta (Drive)
(B, L)
Day 06: Yogyakarta
(B, L)
Day 07: Yogyakarta/Bromo (Drive)
(B, L)
Day 08: Bromo/Bali (Flight)
(B)
Day 09: Kintamani & Besakih (Drive)
(B, L)
Day 10: Tanah Lot Tour
(B)
B=Breakfast, L=Lunch, D=Dinner
Day 01: Arrive Jakarta
Upon arrival at Jakarata we are warmly and traditionally welcomed and then transferred to our hotel.
Overnight: Hotel Santika, Jakarta (1 night)
Day 02: Jakarta/Bogor/Bandung (Drive)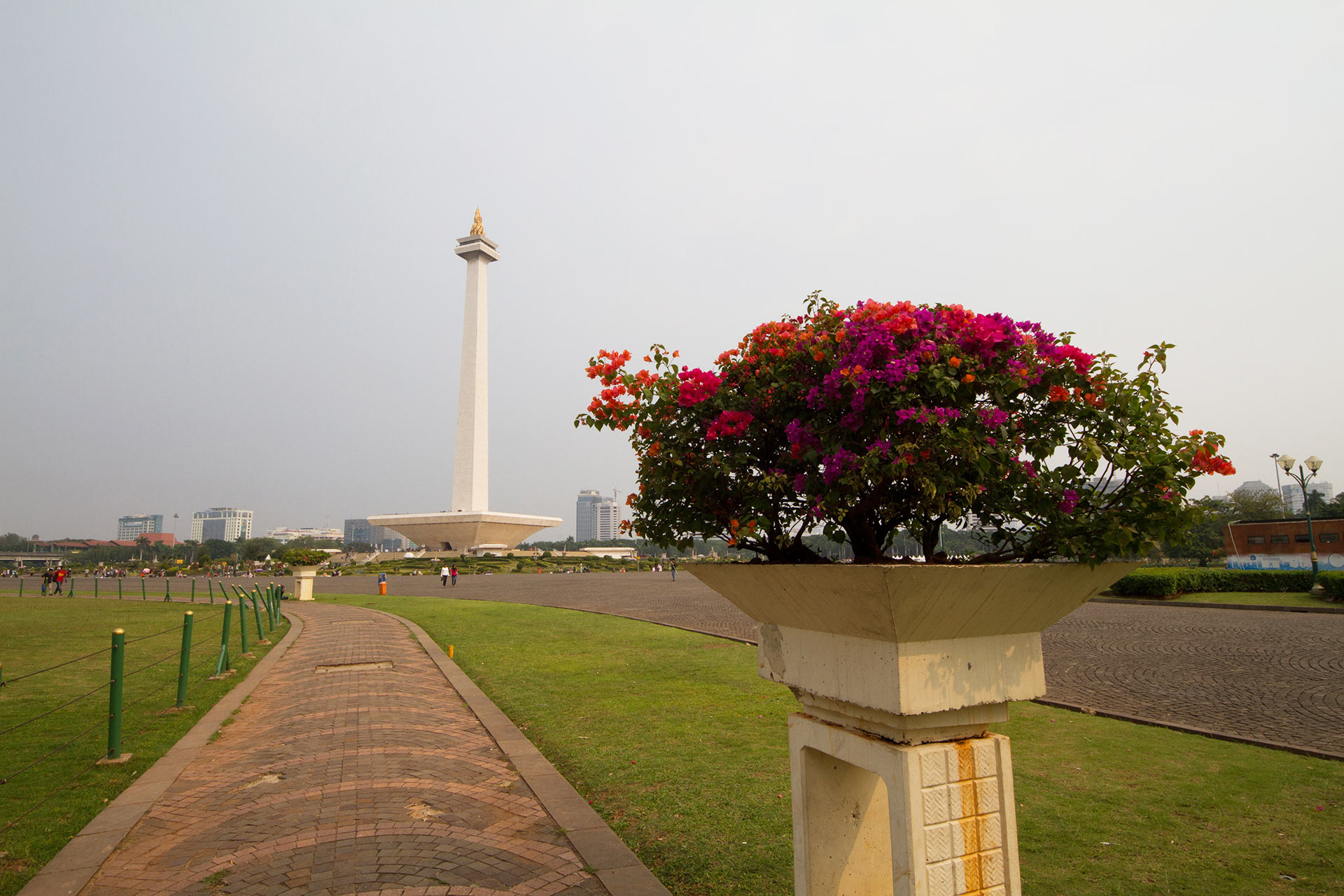 We start our exciting overland journey with a tour of Indonesia's capital to include the National Monument, standing at 137-meters capped with a 50 kgs flame of gold on top symbolizing the nation's independence. Covering more than 165 hectares giving visitors a glimpse of the breathtaking diversity of the Indonesian archipelago. At Bogor visit the world class Bogor botanical garden, situated just behind the stunning 19th-century presidential palace. This botanical garden was officially established by the Dutch in 1817 and featuring over 15,000 species of tropical plants from around the world. Within 87 hectares are over 400 palm species, 5,000 trees and an orchid house with 3,000 varieties. Lunch at a local restaurant continue drive through serpentine road via Puncak-Pass, famous with its spectacular view of tea plantation on the mountain slope heading to Bandung.
Overnight: Jayakarta Hotel, Bandung (2 nights) (B, L)
Day 03: Bandung
Start the day with a scenic drive through the mountain resort of Lembang surrounded by flowers & vegetable gardens as we head to the crater of Mt. Tangkuban Perahu. The amazing winding road to the crater passes green vegetable gardens and mountain forests ending at the rim of the crater, where we get a panorama view. Driving down hills we pass tea plantations as we head to Sari ater, a resort well known mineral water spas good for healing some skin diseases. Soak your feet in the hot water pool and relax. Lunch at a local restaurant then return to Bandung where we are entertained by the Udjok Angklung Orchestra with a traditional bamboo music performance. (B, L)
Day 04: Bandung/Baturaden (Drive)
We depart for Cangkuang Lake, a small lake in the vicinity of Garut around 70 kms south of Bandung. Visit the Cangkuang Temple standing on an island in the middle of the lake. We cross to the lake on bamboo rafts. Continue to Tasikmalaya for lunch and visit the local handicraft centres. A rural scenic view as we cross the border to Central Java passing teakwood and rubber plantations enroute. Our destination is Baturaden.
Overnight: Aston Purwokerto, Baturaden (1 night) (B, L)
Day 05: Baturaden/Dieng Plateau/Yogyakarta (Drive)
Another interesting day as we drive to Wonosobo from where we take an excursion to Dieng Plateau (2,600m above sea level) visiting some of Java's oldest temples standing in open fields. Our next destination is the famous cultural centre of Yogyakarta.
Overnight: Yogyakarta Plaza Hotel, Yogyakarta (2 nights) (B, L)
Day 06: Yogyakarta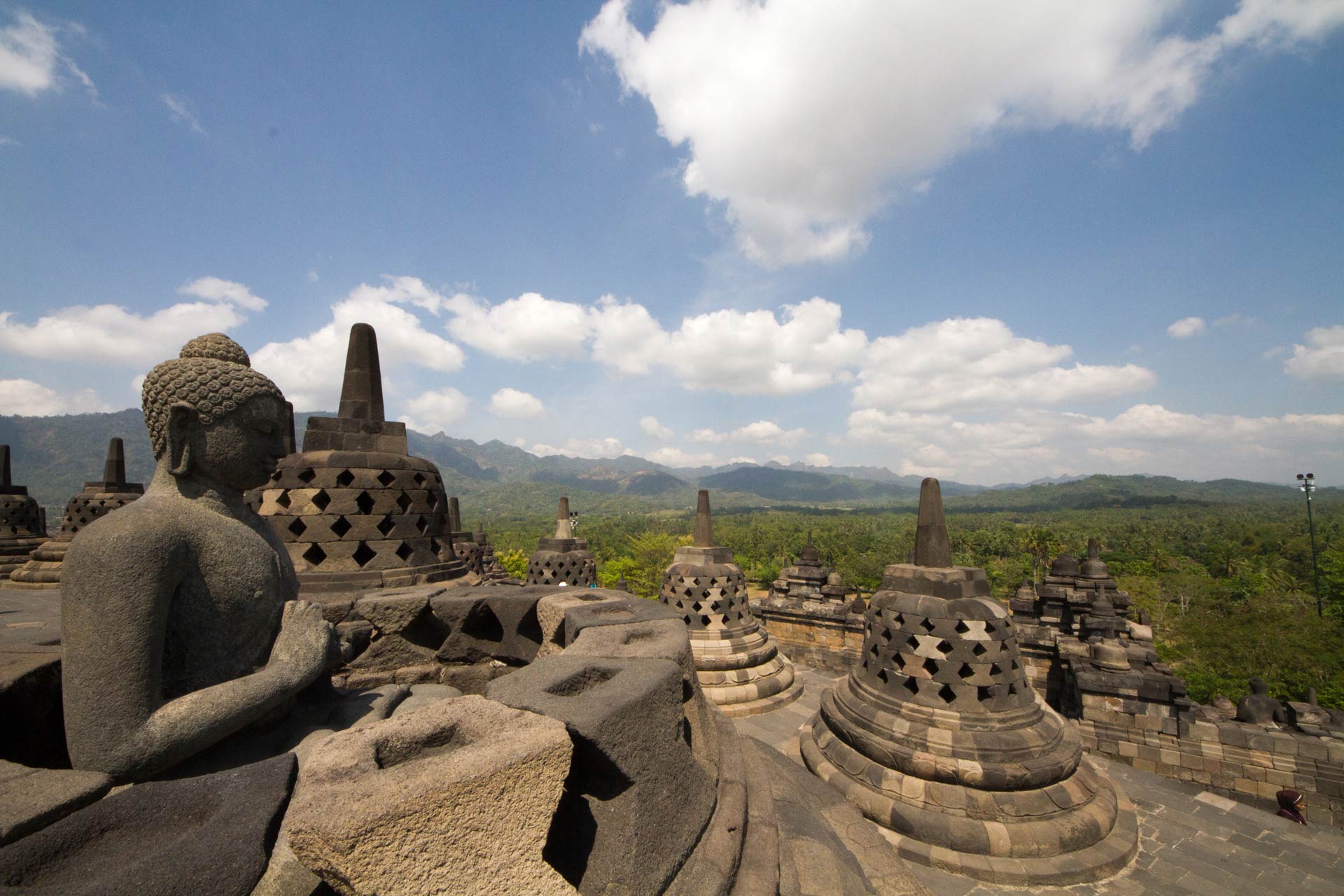 We start with a visit to the famous and majestic Borobudur Temple - one the greatest ancient architectural monuments. Built between AD 750 and 850 using forced labor from the surrounding countryside, Borobudur predates Angkor Wat in Cambodia by three centuries. Though a Buddhist creation, it incorporates Persian, Babylonian and Greek influences. We also visit the nearby villages where the art of stone masonry is still being done in much the same manner as the peasants who built this astonishing monument. We also visit temples of Pawon and Mendut. Optional tours of the Jogjakrta city and the Prambanan Temple as well as an evening dinner at Purawisata using the local transportation "Becak" (traditional tricycles) is available. (B, L)
Day 07: Yogyakarta/Bromo (Drive)
A different experience as we take a train to Jombang (departs at 0655 hrs arriving at 1100 hrs) from where we connect by a road transfer to Trowulan Museum. From here we continue to Bromo for our overnight.
Overnight: Lava View Lodge, Bromo (1 night) (B, L)
Day 08: Bromo/Bali (Flight)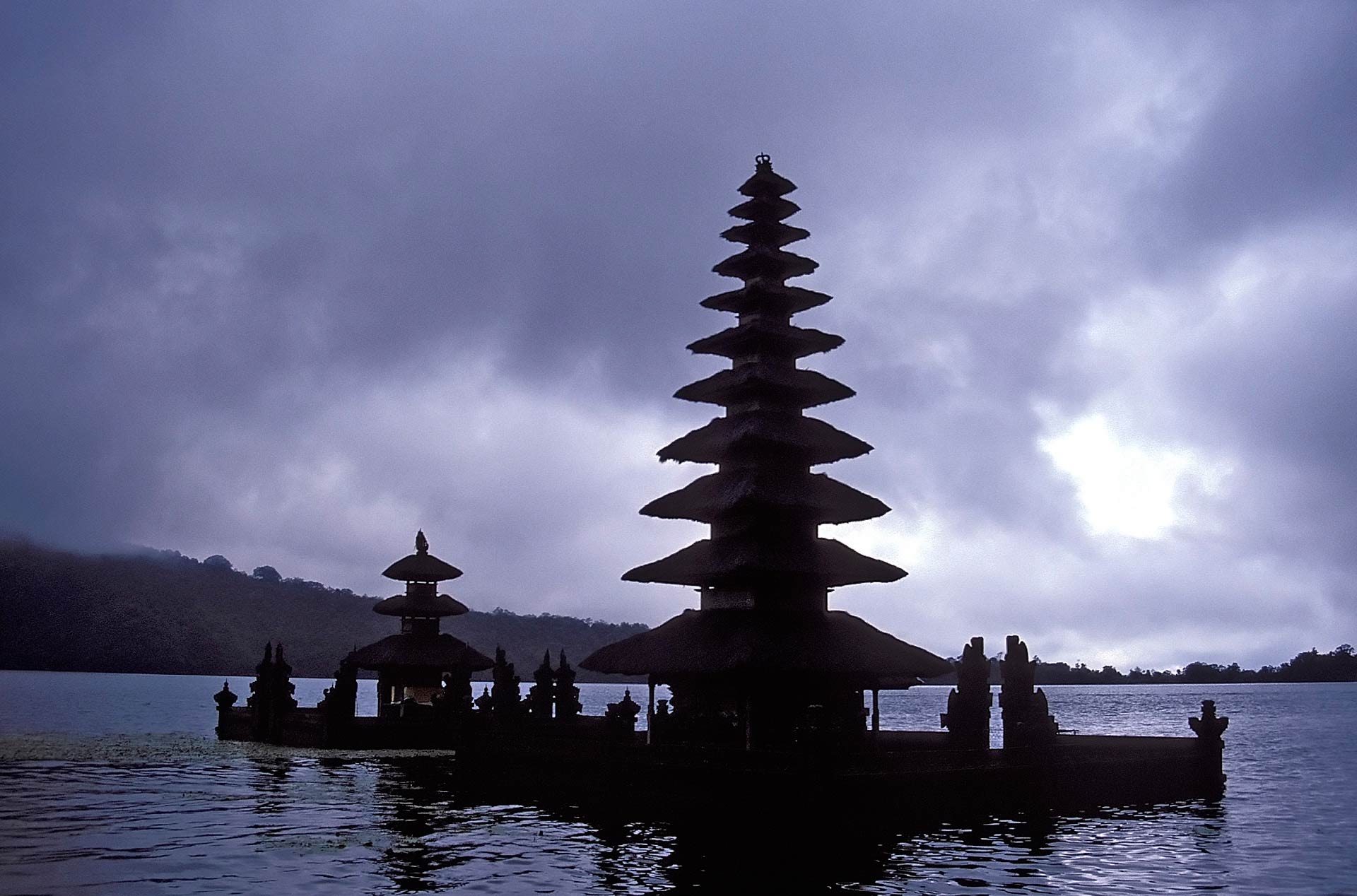 Early morning drive by a jeep to Cemoro Lawang village and Mount Penanjakan (2770m) where we see the magnificent sunrise and the unique view. From here we continue to Mt. Bromo and ride on a horse pass the spectacular "sand sea", and finally an optional climb of 245 stairs to reach to the rim of the crater. After enjoying the lovely sunrise and view of Mount Bromo we return to our hotel for breakfast and are transferred to Surabaya Airport. A short flight gets us to Ngurah Rai Airport in Bali where we are met and transferred to Kuta for our overnight.
Overnight: Pramar Sanur Hotel, Bali (3 nights) (B)
Day 09: Kintamani & Besakih  (Drive)
We drive to Batubulan village to see the famous Barong and Keris dance performances. This is followed by a visit to the art and handicraft villages of Celuk, Batuan, Mas and Ubud, to witness gold and silver work, hand weaving woodcarving and painting. Proceed to Goa Gajah (Elephant Cave), a Hindu meditation center dating back to the 11th Century and the Then Tampak Siring to see the holy spring water Temple, Tirta Empul. Next we view the magnificent panorama of the still active Mt. Batur volcano and Lake Batur. Lunch at a local restaurant.(B, L)
Day 10: Tanah Lot Tour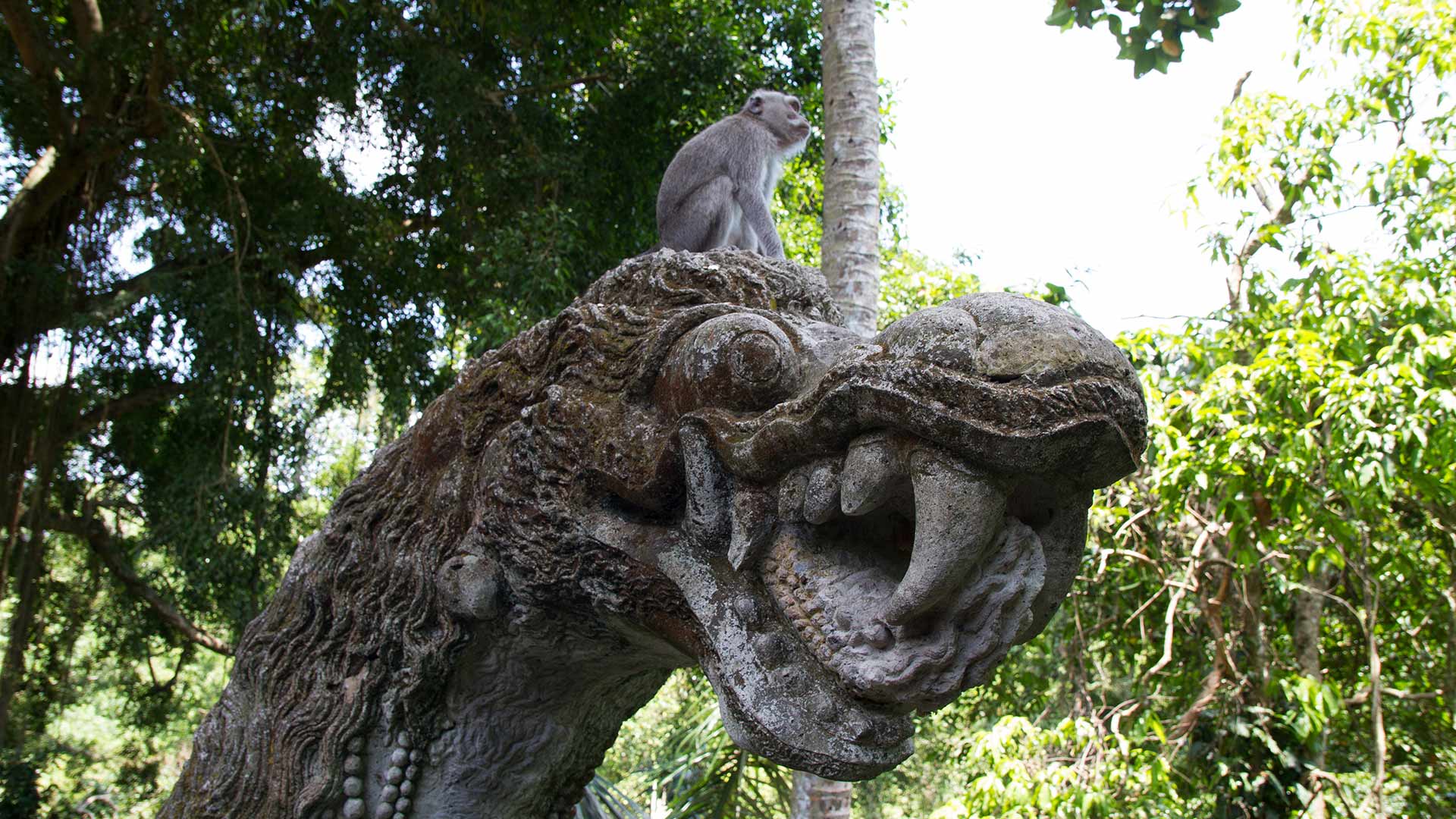 Morning tour of to Mengwi to view the beautiful Taman Ayun Royal Temple and to the holy monkey forest at Kedaton - noted for its temples inhabited by colonies of friendly monkeys. This is followed by a visit of the Tanah Lot temple built on a small, offshore island of barren-rock. Afternoon at leisure to enjoy Bali. (B)
Day 11: Depart Bali
Our 11 days Overland Jakarta to Bali comes to an end. You will be transferred to the airport for your flight out. (B)
B=Breakfast, L=Lunch, D=Dinner
Departure Dates & Prices
We accept payments in US$, CA$ as well as in other convertible currencies like EUR, AUD and GBP. Tour prices have been costed in US$. CA$ price shown below is an indicative amount reached at by using the conversion rate at the time of web posting and will be applicable if there is no change in the conversion rate. Should the currency conversion rate change, the US$ pricing will prevail. Bestway Tours & Safaris offers a conversion rate protection. Once full payment has been received and no modification has been made to the tour itinerary, we will honour that rate. For complete payment procedures, please click here
Notes
March 22, 2023 | March 11, 2024 | March 29, 2025 is Nyepi Day (Bali's Day of Silence).
The silence begins at sunrise around 6:00am on Nyeli Day and lasts for the next 24 hours.
All shops are closed.
Guests are recommended to stay inside the hotels/resorts area.
When listening to music or watching TV in your hotel rooms, kindly keep the sound at minimum level.
There will be no traffic in the whole of Bali island.
Ngurah Rai airport (DPS) will be closed on Nyeli and no flights will be operating.
Emergency medical and police services remain functional.
Inclusions
Tour Price Includes
Accommodation as mentioned or similar, including hotel taxes
17 Meals as mentioned (B=Breakfast, L=Lunch)
All sightseeing and transfers by private transportation
Services of local English speaking guides
Entrance fees to museums and sites included in the itinerary
Dance performances as mentioned
Not Included
International airfares
Domestic airfare within Indonesia (currently at US$ 110 per person)
Insurance/visas
Tips/gratuities
Participants
This tour operates on a minimum of 02 and a maximum of 08 participants
Customised Itinerary
If you would like to have a tour on dates other than the above ones or with a customised itinerary, please contact us and we will be happy to work out an exclusive program for you.
Contact Info
You may e-mail us at bestway@bestway.com or call 1-604-264-7378. Residents of U.S.A./Canada may call us toll free at 1-800-663-0844.