Day 01: Oct 23, 2020: Arrive Mumbai
Arrive in Mumbai. Namaste! We are warmly welcomed the traditional Indian way with hands clapped together, and transferred to our hotel located in view of the Gateway of India, where Carl Jung got his first real impression of India. Evening, we will witness the lighting of the lamps by the women staff of the hotel. This tradition signifies an auspicious beginning and we start our experience of India with "blessings".

Overnight: Trident Nariman Point, Mumbai (1 night)
Day 02: Oct 24, 2020: Mumbai/Bhopal (Flight) 
After breakfast, we visit the 'Chhatrapati Shivaji Maharaj Vastu Sangrahalaya' Museum, established during the early 20th century when it was known as The Prince of Wales Museum. We shall drive by Chhatrapati Shivaji Terminus*, formerly known as Victoria Terminus Station, an outstanding example of Victorian Gothic Revival Architecture in India, blended with themes deriving from Indian traditional architecture. The building, designed by the British Architect F. W. Stevens, became the symbol of Bombay as the 'Gothic City' and the major international mercantile port of India. Its remarkable stone dome, turrets, pointed arches and eccentric ground plan are close to traditional Indian palace architecture. Members of the British Association for the Advancement of Science left from this station in their special tourist train for their 5,000-mile journey around India. Our next stop is at Mani Bhawan, where Mahatma Gandhi stayed during the Freedom Struggle. The house has been converted into a museum. Though Jung never wrote about Gandhi, Evangeline has studied his work, vividly remembering the day of his assassination. She notes where 'Gandhi' can expand 'Jung's' experiences and ideas into current global politics and economic concerns.  Indeed, Gandhi envisioned 'hand production' as a potent and creative force against imperial intrusions, and his legacy helped shape the 1947 post-Independence national planning of India. From here, we leave for a short driving tour of The Hanging Gardens, the Zoroastrian Towers of Silence and bustling Crawford Market. We end our driving tour at the Dhobi Ghat, the world's largest and most fascinating outdoor laundry. The word Dhobi Ghat is used all over India to refer to any place where washers do their laundry. Afternoon, airport transfer for our flight to Bhopal. On arrival in Bhopal, we are transferred to our hotel.
Overnight: Jehan Numa Palace, Bhopal (2 nights) (B)
Day 03: Oct 25, 2020: Bhopal  
Morning starts with an exploration of the Buddhist Monuments at Sanchi* consisting of a group of monolithic pillars, palaces, temples and monasteries in varying states of conservation, most of which date back to the 2nd and 1st centuries BCE. It is the oldest Buddhist sanctuary in existence and was a major Buddhist centre in India until the 12th century AD. Sanchi, at the time of the 1937 solstice, was a central, new and vivifying experience for Jung. We shall arrive at the same time of day he did – early morning, with its extraordinary clarity and light. On our way back, we visit Udaygiri Caves, a group of rock-cut cave sanctuaries carved into a sandstone hill from 4th and 5th centuries AD. Though there is no record of the group of scientists visiting the Udaygiri caves, we are including them for a magnificent and important sculpted aspect of Vishnu as Boar, significant to Jung, rescuing the maiden earth from where she has sunk to the bottom of the sea. Evening, we enjoy a special dinner at Under the Mango Tree Restaurant at Jehan Numa Palace. (B, D)
Day 04: Oct 26, 2020: Bhopal/Delhi/Varanasi (Flight)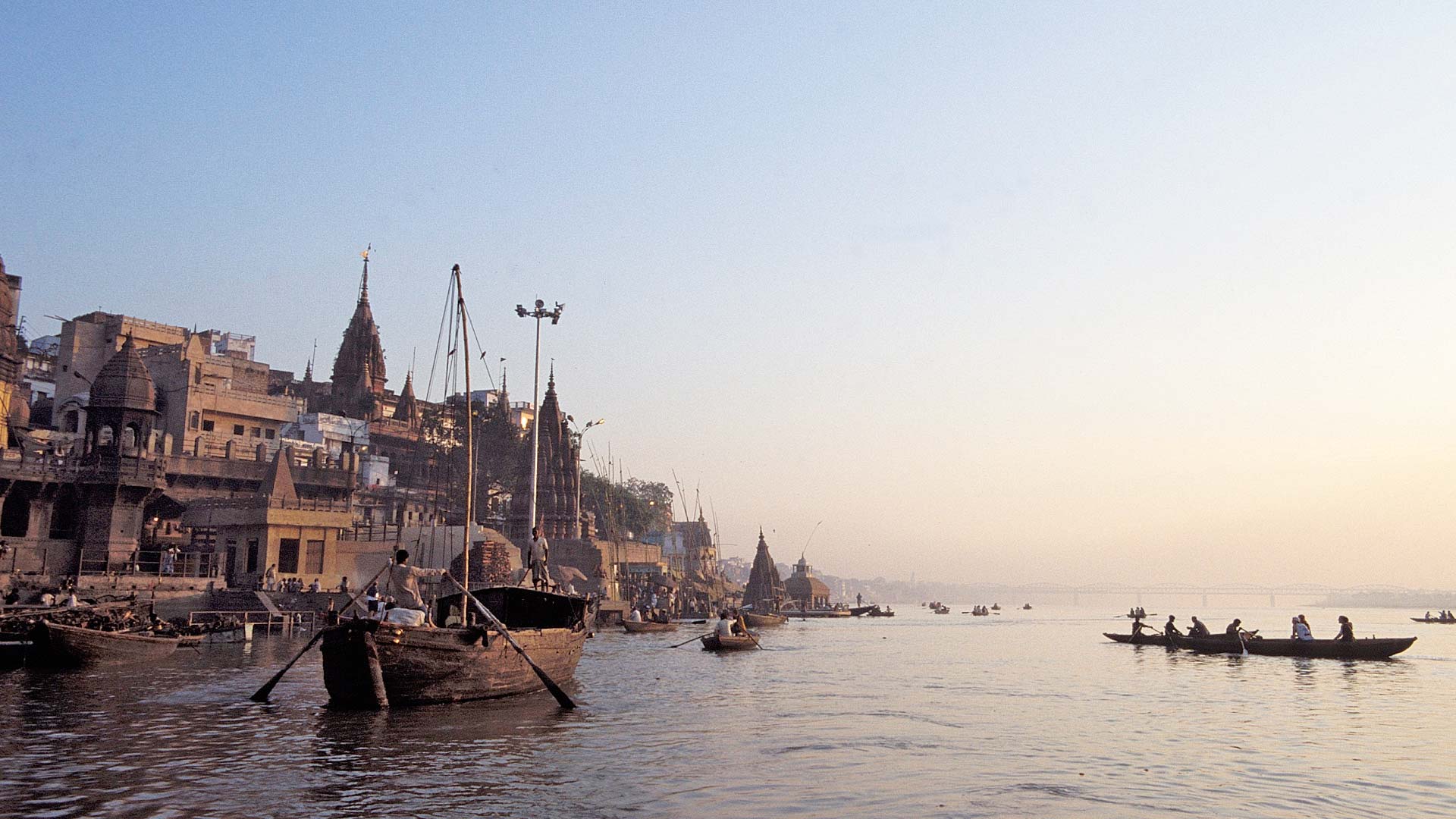 Early morning transfer to Bhopal airport for our flight to Delhi, from where we take a connecting flight to Varanasi. Varanasi is the spiritual centre of Hindus, Buddhists and Muslims and is also the pilgrim centre for Hindus who come daily to dip themselves in the holy water of the Ganges. It is the oldest living city in India. Upon arrival in Varanasi, we are transferred to our hotel.
Evening, we take the traditional and popular rickshaws to get to the banks of the Ganges to witness the devotional Aarti ceremony performed immediately after sunset by devout Hindus. One of the cardinal principles of Hinduism is the belief in the holiness of the River Ganges. Sir James Jeans, who had become president of the visiting group of scientists at the unexpected death of Lord Rutherford, declared that the visiting group had been most impressed by their visit to Banaras, as Varanasi was then known. A few days earlier, he and Jung had had Christmas dinner together in Delhi!

Overnight: Taj Ganges, Varanasi (2 nights) (Cold Breakfast, D)
Day 05: Oct 27, 2020: Varanasi
The early risers will take a sunrise cruise on the River Ganges for a very serene experience. Every morning, scores of pilgrims and priests fill the riverbanks, bathing in the holy waters and performing various other rituals. This unique experience can imaginatively transport you to another world.
After the boat ride, we return to our hotel for a leisurely breakfast. After breakfast and some rest time, we shall visit Assi Ghat. This is where the Swiss artist Alice Boner made her home in Varanasi for 40 years (1936 – 1978). Boner introduced herself to Jung and offered him sorely needed hospitality. Over the years she had also attended a few Eranos conferences in which Jung participated. Her carefully renovated home is now The Alice Boner Institute, under the guidance of Harsha Vinay, and in collaboration with the Zurich Rietberg Museum. After lunch here, and being introduced to the Institute's unfolding developments, we visit the Alice Boner gallery in the Bharat Kala Bhavan Museum at the Banaras Hindu University. We will see her own impressive triptych that took ten years to complete, and her collection of Indian miniature paintings. This will be followed by a visit of the Bharat Mata Temple, which houses a huge marble relief map of India; the Durga Temple and the Tulsi Manas Mandir.
The city is also famous for its homemade silk sarees and we visit some of the houses where the beautiful sarees are woven. This will give us the unique opportunity to be inside an Indian home – a tale of its own. (B, L)
Day 06: Oct 28, 2020: Varanasi/Kolkata (Flight)
This morning after breakfast, we explore Sarnath, the site where Buddha gave his first sermon after attaining enlightenment. The Ancient Buddhist Site of Sarnath contains Chaukhandi Stupa, a lofty brick structure crowned with an octagonal tower, as well as the remains of several stupas, monasteries and the famous Ashokan back-to-back four lions from about 250 BCE, which became the official symbol of India in 1950. We will learn more about Ashok in Orissa.
Evening, we are transferred to the airport for our flight to Kolkata and our hotel. Kolkata, or as it was previously known as, Calcutta, is the capital of India's West Bengal state. Founded as an East India Company trading post, it was India's capital under the British Raj from 1773 to 1911. Today it's still known for its grand colonial architecture, art galleries and cultural festivals.

Overnight: The Oberoi Grand, Kolkata (2 nights) (B)
Day 07: Oct 29, 2020: Kolkata
After breakfast, we begin a driving tour of significant parts of one of India's gems, Calcutta, gathering glimpses of what Jung and his colleagues would have seen. We shall pass the Howrah Bridge, iconic symbol of modern Kolkata, and view heritage buildings of Kolkata city, including the Portuguese churches, Jewish synagogues, Dalhousie Square, the Writers' Building, Governor's House and the Victoria Memorial, with its formal gardens and water courses, conceived by Lord Curzon to commemorate the British Empire at its peak. We will have time for a visit to St. John's Church, one of the first public buildings erected by The East India Company, and modeled after London's St. Martin's- in-the-Fields. Evangeline has found interesting and mercurial connections here.
'Calcutta', considered the second most important city to London in the heyday of the British empire, was where the British Association for the Advancement of Science had come to celebrate the Silver Jubilee of the Association of the Indian Science Congress. We will be staying at the same hotel where Jung returned after he fell ill in Calcutta. It was here that he had a dream about the need to return to his own life's work, addressing inner and outer shadows of the intrusive imperial world. The hotel is just around the corner from where Evangeline lived as a teenager, and it immediately gave life to archival treasures she found at the ETH in Zurich.
After our short drive to taste the still grand 'Imperial leftovers', we have time to enjoy the marvels of the India Museum, one of the oldest in the world. The compound walls of the Botanical Survey section of the museum were walls shared by Evangeline's home. Most excitingly, astonishing discoveries related to legendary Indian natural dyes and fabrics are currently emerging through the work of Dr. Himadri Debnath from a 'forgotten corner' of the museum to which we will be introduced. This emerging work of reclamation has involved connecting threads of scholars, dyers, historians, conservers and botanists, as well as contemporary artisans and traders. This Calcutta Museum discovery was made in 2009, the same year that Jung's Red Book was unveiled in New York at the Ruben Museum. Seeing both revelatory developments, together with far-reaching dialogue, it is possible to further our thoughts and actions regarding the urgent need to protect our lands, air, rivers and oceans from chemical intrusions.
After our museum visit, we will walk for a couple blocks past the famous New Market. There will be time for rest, shopping and individual quests or an optional visit to Mother Theresa's house. Kolkata is home to Mother Theresa House, headquarters of the Missionaries of Charity, founded by Mother Teresa, whose tomb is on site. Mother Teresa was known to Evangeline's mother and father.
Evening, we enjoy dinner at our hotel, where we will be joined by the remarkable Amrita Mukerji, whose pioneering work in involves the re-establishment of natural dyes through her collaborative creation of 'Indigo Sutra'. Together with some of the young fabric artisans and their work our hearts and minds will be thrilled. (B, D)
Day 08: Oct 30, 2020: Kolkata/Bhubaneshwar (Flight)
After breakfast, we will be bused to our walk around Kali Ghat Temple. Kalighat was a Ghat (landing stage) sacred to Kali on the old course of the Hooghly river (Bhāgirathi). Some have suggested that Jung was overcome precisely by this site. Indeed, Jung's being laid low in Calcutta paradoxically brought up his own deepening capacity to relate to feminine matters after age 60, and his capacity to care for the world in ways he had only imagined before. The name 'Calcutta' is said to have been derived from the word Kalighat. The river, over a period, has moved away from the temple. The temple is now on the banks of a small canal called Adi Ganga, which connects to the Hooghly. We enjoy lunch at a local restaurant.
Next, our bus will take us to Kumartuli. This unique potter artisan village dating back 400 years is perhaps the oldest of its kind in the world, producing a large number of idols of Goddess Durga, West Bengal's most important deity. From this very interesting site we are transferred to the airport for our flight to Bhubaneshwar. On arrival, we are transferred to our hotel.

Overnight: Trident Hotel, Bhubaneshwar (2 nights) (B, L)
Day 09: Oct 31, 2020: Bhubaneshwar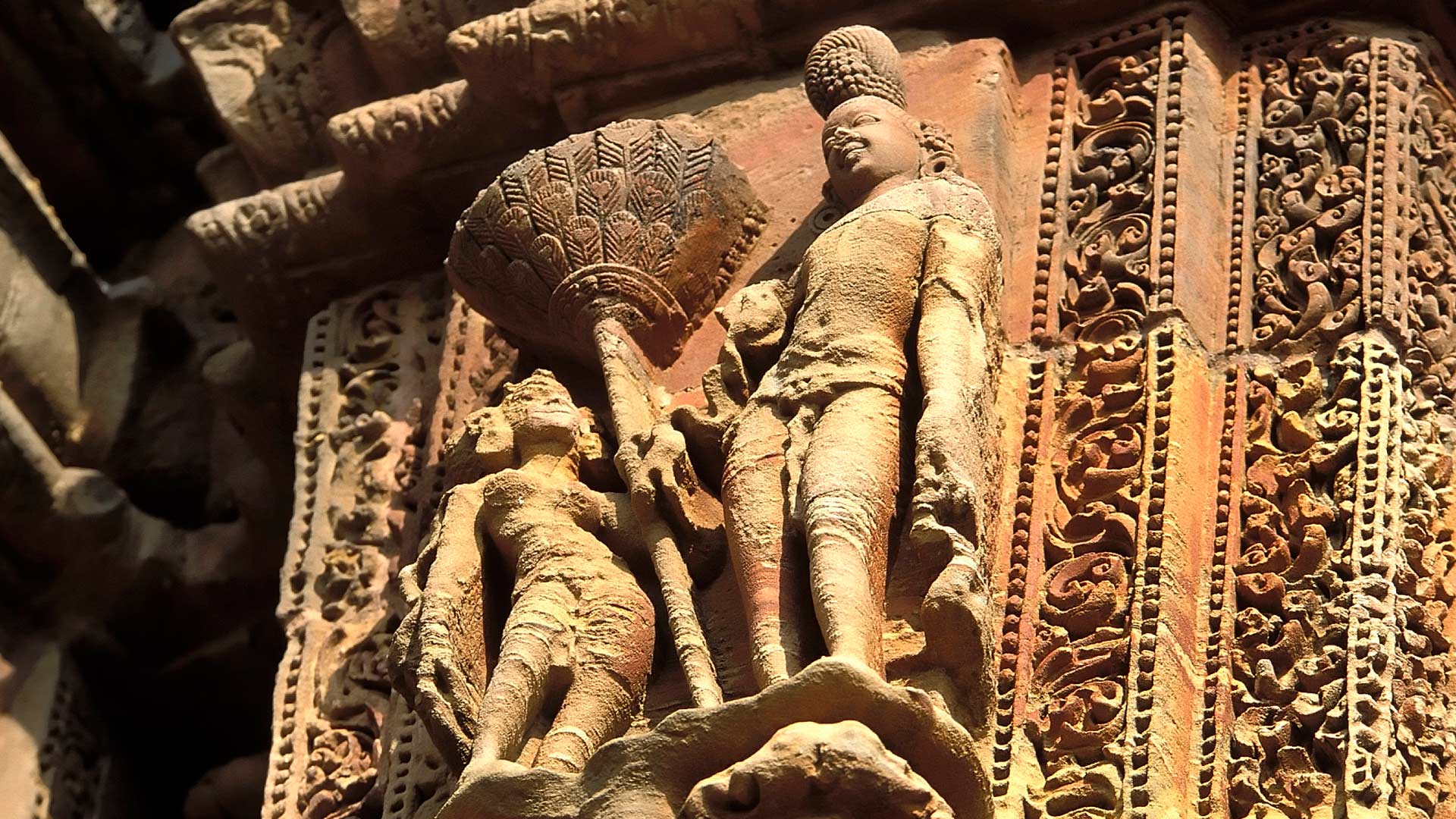 Recovering from collapse in Calcutta, still roiling from overwhelming impressions of India, Jung was able to regain some equilibrium in Orissa, now Odisha, a state that to this day is enriching through its profound history, arts, festivals, land forms and Bay of Bengal coast line. Jung would have arrived in Cuttack by overnight train. This former state capital and center of marvelous silver work was also Evangeline's home for her first two-and-a-half years. The capital of modern Odisha, Bhubaneshwar, is known as one of the ancient temple towns of India.  There are still as many as over a hundred temples, some of which are masterpieces of Hindu architecture and contain exquisite carvings and sculptures, some of which Jung sketched. Today we visit the Rajarani, Mukteshwar, Parasurameswar and Lingaraja Temples (from the outside, as we are not Hindus). We shall also visit local stone carvers as they practice traditional sculpting. This area impacted Jung, resonating with his earlier artistic development that he considered necessary for recovery and sustained potency through a chaotic and brutalizing First World War. Though we will not be entering local turbulent zones, we face the realization of seeing Jung's work, and the work of artisans, in the context of the polluted cluster/industrial area of deepest ecological crisis off India's north-east coast, where 'root people', indigenous people, confront state, national and global forces and the enormous aluminum industry. The visiting scientists of 1937 to 1938 also noted that they were entering into a situation of "resource-centered tension" as the world approached the Second World War. (B, D)
Day 10: Nov 01, 2020: Bhubaneshwar/Hirapur/Puri (Drive)
After breakfast, we check out from our hotel and drive to Hirapur to visit the famous 64 Yogini Temple. This beautiful circular Yogini temple, constructed between the 8th and 10th centuries and surrounded by open swaths of paddy fields, was not discovered until 1953 by K. N. Mahapatra, eminent historian and archaeologist of Orissa. Though not seen by Jung, the Haripur temple has a profound impact for contemporary viewing in our current time of women's studies in the academic study of religions, as well as for Jung's very significant contributions through the end of his life. It is the only still active Chausath temple surviving in India. Adorned in red vermillion cloth, Mahamaya is the presiding deity of the temple.
We then continue to visit the Dauli Elephant, where it is noted that King Ashoka renounced wars for the rest of his life, encountered Buddha and converted to Buddhism in 300 BCE. Ashoka became a major proponent of faith across the Indian subcontinent. He was known from the Volga River to Japan. Into the side of the great Dauli Elephant sculpture are inscribed some of Ashoka's edicts for the development of democratic values and practices for his vast kingdom. They included care of the lands, the jungles, all animals and the people who live in the jungles. Both the Nobel Prize-winning economist and historian Amartya Sen and his Holiness the Dalai Lama involve the ancient Dauli Elephant site teachings in their call for a new global ethic of just behavior and truth speaking. Evangeline has engaged with this elephant in her own life and in presenting her work.
Later, continue to Puri and, enroute, stop at the famous painting village of Raghurajpur. On arrival in Puri, we check in at our hotel. Remainder of the day is free to relax on the beach or a walk through town.
Overnight: Mayfair Heritage, Puri (2 nights) (B, D)
Day 11: Nov 02, 2020: Puri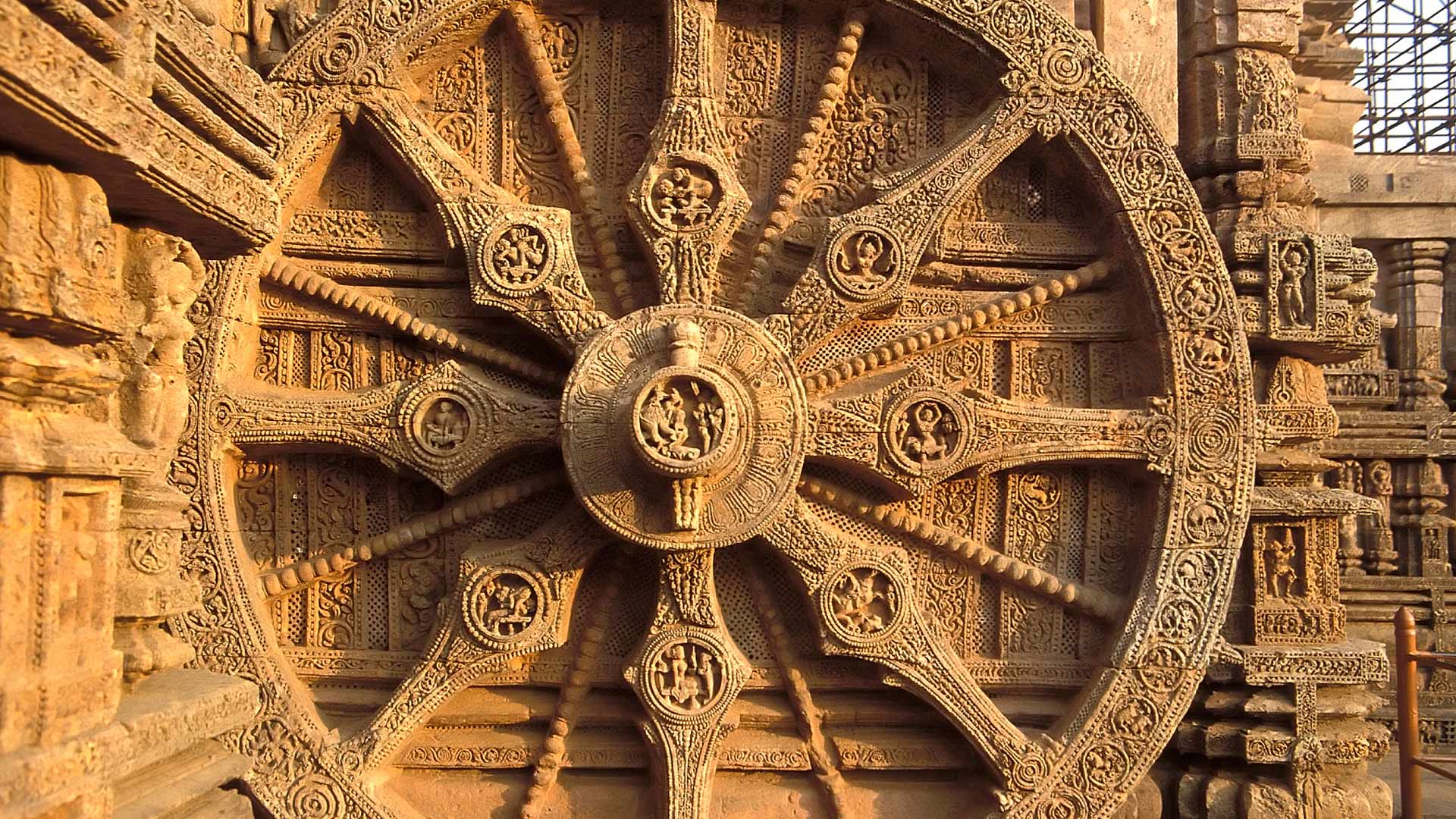 The coastal town of Puri is known for its 11th century temple, Jagannath Puri, which we will walk around this morning. After that, we drive to Konark to visit the UNESCO Heritage Site of Konark Sun Temple. Most ancient civilizations have been sun-worshippers and, in India, a 13th century dynasty has left behind the Konark temple, a beautiful temple shaped like a sun rise chariot with intricately carved stone wheels and pillars. India's famous poet-author Rabindranath Tagore wrote of the monument: "Here the language of stone surpasses the language of man". The sun chariot is completely different than the Sun Chariot of which Jung dreamed, made of the bones of the dead, and with which Jung had to inwardly engage in his early confrontation with Nazi – like invasions. Lunch is enjoyed on the shore of the Bay of Bengal, from where we return to our hotel in Puri with time on the beach again. We know that Jung was impressed by the structure and ornamentation of the Puri and Konark temples, making a few sketches. He had probably been introduced to these marvels by Alice Boner when in Banaras. In collaboration with Sadasive Rath Sarma, Alice Boner translated rare texts which showed the continuation of Tantric teaching and architecture from the 9th to 17th century. This work was republished in 2005. (B, L, D)

Day 12: Nov 03, 2020: Puri/Bhubaneshwar (Drive) & Bhubaneshwar/Chennai (Flight)
After an early breakfast, we bus to Bhubaneshwar airport for our flight to Chennai, previously known as Madras. Jung made this journey too, but by train, a journey that Evangeline made eleven times in her adolescence. On arrival we visit India's oldest surviving British church, St. Mary's Church, built in 1680. Next, we visit to the People Park, the beautiful Marina Beach and the clock tower. After that we check in at our hotel.
Evening, we are in for the treat of a sumptuous dinner at a world famous restaurant, the Southern Spice Restaurant at Taj Coromandel.

Overnight: Hyatt Regency, Chennai (2 nights) (B, D)
Day 13: Nov 04, 2020: Chennai
We tour Chennai as we further explore some of south India's arts and artisans. We shall visit the National Art Gallery & Museum, which contains some of the best collections of bronzes in the country including a famous icon of Nataraja. Metaphorically, a parallel has been drawn between the cosmic dance of the Nataraja and the modern study of the 'cosmic dance' of subatomic particles. Jung's relationship with Nobel Prize winner Physicist Wolfgang Pauli is a significant reflective connection, particularly bearing in mind Pauli's own 1953 India journey to 'dancing Shiva and Parvati' of the Elephanta Caves just off Mumbai's mainland shore. A model of this Nataraja 'dance', made at a workshop we shall visit, was unveiled in the grounds of the European Organization for Nuclear Research close to Geneva, Switzerland, in recognition of India's close connection with Switzerland.
Jung visited Kanchipuram probably finding here the ten small models of the avatars of Vishnu that he took home.  The famous Kailasantha shrine in Kanchipuram is one of the masterpieces of Indian architecture. We will also bear in mind that Kanchipuram is the home of the silk weavers who are said to have descended from Sage Markanda, the master weaver of gods who is supposed to have woven tissues from lotus fiber. (B, D)
Day 14: Nov 05, 2020: Chennai/Mahabalipuram/Pondicherry (Drive)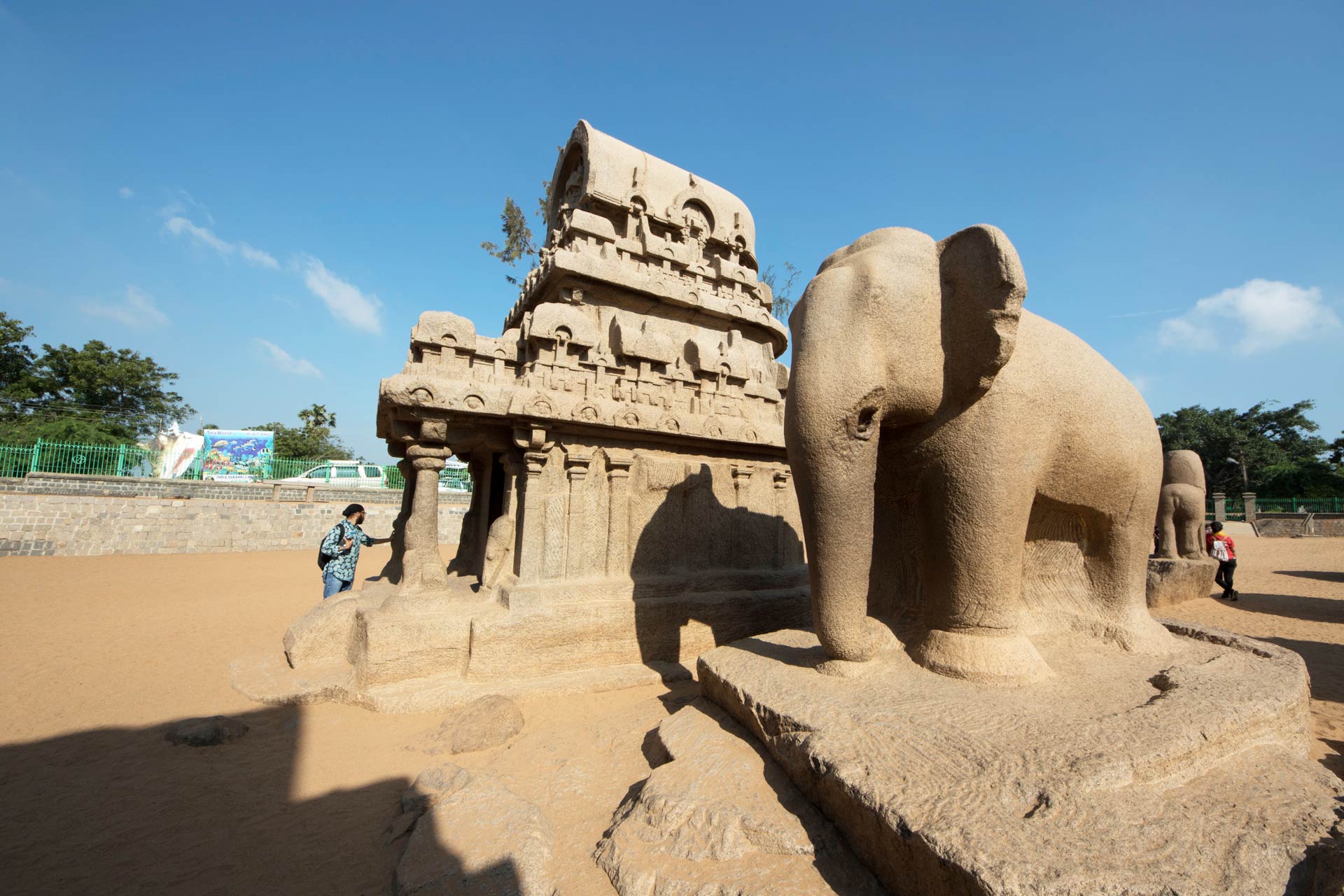 After breakfast, we drive to Mahabalipuram, where we visit the majestic Group of Monuments*. This group of sanctuaries, founded by the Pallava kings, was carved out of rock along the Coromandel Coast in the 7th and 8th centuries. It is known especially for its rathas (temples in the form of chariots), mandapas (cave sanctuaries), giant open-air reliefs such as the famous 'Descent of the Ganges', and the temple of Rivage, with thousands of sculptures to the glory of Shiva. Jung visited Mahabalipuram and its stunning rock sculptures. They became significant to Jung during his recovery from his 1944 illness. What they signified to him was to bring him back to the people "to whom he felt he belonged". After a stop at a local restaurant for lunch (on your own), we continue our journey to Pondicherry. On arrival at Pondicherry, we check in to our hotel. Remainder of the day is free to relax.
Overnight: Villa Shanti, Pondicherry (1 night) (B, D)
Day 15: Nov 06, 2020: Pondicherry/Swamimalai (Drive)
After breakfast, we proceed to Aurobindo Ashram, the ashram at Auroville. This experimental community was built by followers of Sri Aurobindo, a philosopher-prophet born in 1870, famous for his Integral Yoga and philosophical literary works. In the International Town where people from all over the world reside, we will find the Matrimandir, the famous monument built by the Auroville Society representing a lotus flower. Jung did not go here. However, it is important  viewing in considering contemporary and global religious and spiritual developments. Time allocated to visit the Matrimandir temple, which is subject to permit. After vising the Ashram, we drive to Swamimalai and check in to our hotel.

Overnight: INDeco Hotel, Swamimalai (2 nights) (B, D)
Day 16: Nov 07, 2020: Swamimalai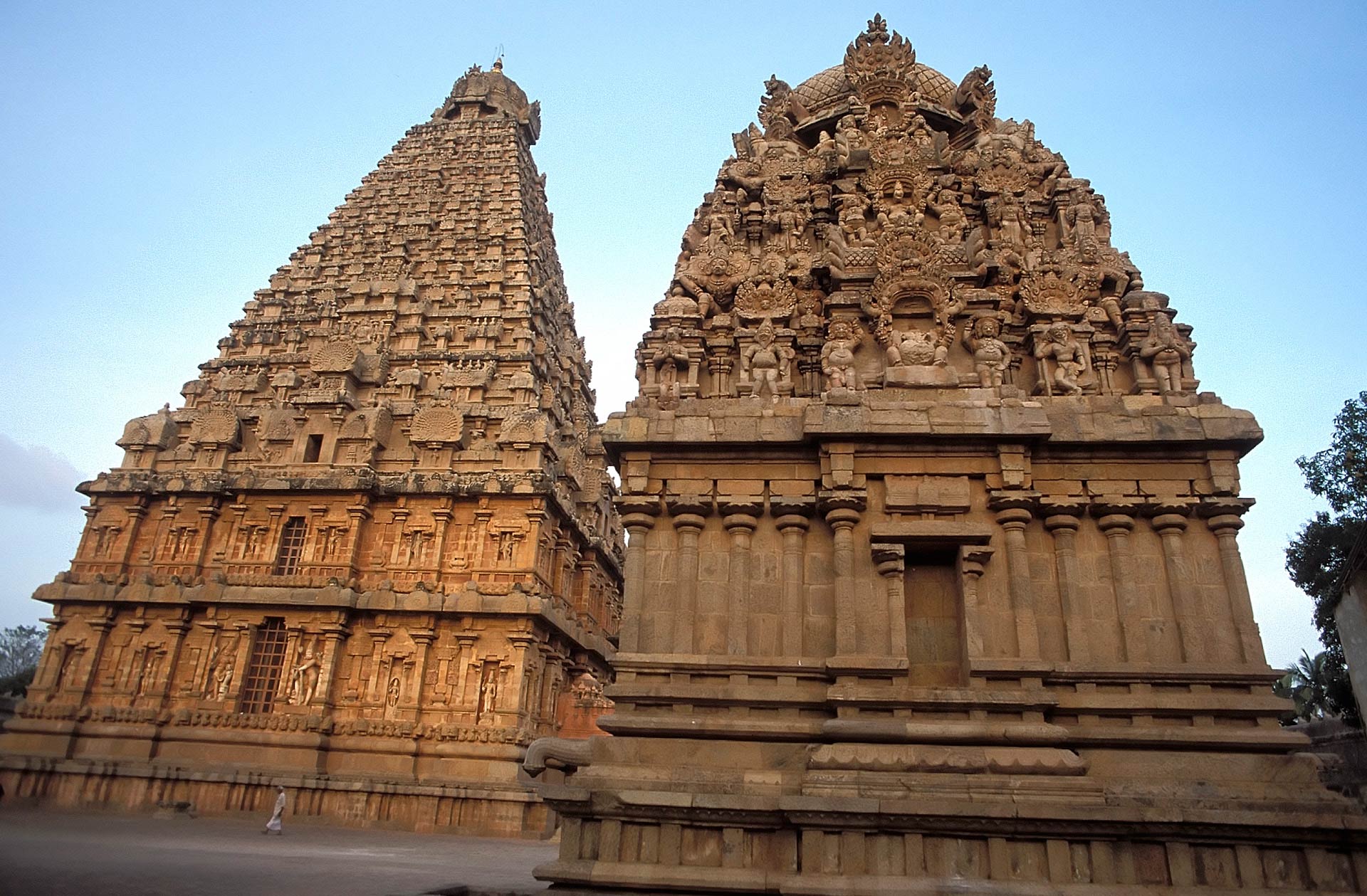 Viewing artisans at work, we are reminded that the importance of 'hand work' is actually built into the Indian Constitution. Today we visit bronze casters, working in a street they have inhabited for several centuries. Later in the day we shall visit the workshop where the Geneva Nataraja was constructed. The creation of these exquisite bronze images is through the process known as Cire Perdue or the "Lost Wax" technique. A model of the image is first made in wax and then coated with layers of clay to create a mold, which is heated to allow the melting wax to flow out through a hole at the base. A molten alloy of five metals (Pancha Loha) is poured into the hollow. When it cools the mold is broken and the image is finished and polished. In the evening, we visit the pilgrimage temple of Lord Murugan in Swamimalai. (B, D)
Day 17: Nov 08, 2020: Swamimalai/Tanjore (Drive)
After breakfast, we drive to Tanjore and visit the Tanjore Palace Museum. The Thanjavur palace was originally constructed by the rulers of Thanjavur Nayak kingdom and then served as the official residence of the Maratha kings. When most of the Maratha kingdom was annexed by the British Empire in 1799, the Thanjavur Marathas continued to hold sway over the palace and the surrounding fort.  The bronze sculpture collection here is one of the finest in India. Next, we visit the "Big Temple". Brihadeeswara Temple* is an architectural masterpiece that has been designated as a UNESCO World Heritage Site. This temple, completed as early as 1010 by Rajaraja Chola, was the center of the vast Chola empire. The Siva Lingam here is gigantic, more than 12 feet tall. The Nandi facing the sanctum is also 12 feet in height. At the entrance of sanctum sanctorum, one can see the two idols of Ganesha in the corridor. The main hall of the temple was used by the dancers and musicians performing in service of Shiva. We may also be fortunate to enjoy the music as on certain day local musicians entertain the people over dinner.
Overnight: Svatma Tanjore, Tanjore (1 night) (B, D)
Day 18: Nov 09, 2020: Tanjore/Madurai (Drive) 
After breakfast, we drive to Madurai.  Jung left India via Madurai, and then crossed over into Ceylon. After checking in to our hotel, there will be an afternoon rickshaw ride around town.  In the evening, we shall attend the night-time rituals at the famous Meenakshi Temple of the goddess, whose 'ever-open eyes' Jung noted. Close by, Evangeline discovered the shop of the traders in fabric where Jung made a purchase and where Evangeline has twice travelled to meet descendants. Trading remains of crucial importance in cultural, societal, political and historical developments, and we all benefit from this awareness.  At least from Roman days, Madurai was famous for its flourishing trading and artistic engagements with jasmine, poetry, fabric and spices.
Overnight: The Gateway Hotel Pasumalai, Madurai (3 nights) (B, D)
Day 19: Nov 10, 2020: Madurai
Early morning, we visit the incredible flower market, where one can see a large variety of flowers. This is a unique opportunity for us to mingle and meet the local growers and florists. After breakfast at our hotel, we are joined by Ramaswami Pitchipan, Professor Emeritus of the department of immunology of Madurai Ramaraj University. Together we will visit the small village where he and his team, including Virimandi, conducted ground breaking genetic research pertaining to human migration.  This was associated with the Genographic Project, in conjunction with the University of Oxford, and pertained to tracing the first migrations out of Africa, into India and further south. Ramaswami will introduce us to the resilient Dravidian heritage of South India, where many cycles of worldly events have unfolded over at least 20 to 30 thousand years. Learn more at: https://epdf.tips/deep-ancestry-inside-the-genographic-project.html. Refreshed with tender coconut milk and a packed lunch, we shall continue to the nearby Jain rock caves, religious forms that predated Hinduism in this area.  Our simple or strenuous heritage walk, your choice, will be guided by local archeologists. (B, L, D)
Day 20: Nov 11, 2020: Madurai
Enjoy a relaxing day for shopping, revisiting the temple or getting an Indian massage.
This evening, our farewell supper, at the historic Gateway Hotel Pasumalai, will be with Professor and Mrs. Pitchipan, to celebrate them and their life work, as well as the efforts of all of us moving towards a challenging recognition of and respect for our deep and shared humanity. Ramaswami's life-long and pioneering scientific work, as he described it, drew Evangeline to him in the ambiance of Madurai and her famous Goddess Temple in 2013, 2014 and 2018. In discussing his ground-breaking scientific research Ramaswami notes that of course he is proud to be Indian with such ancient roots, but more importantly, he is proud to be a human being still journeying to uncover the depths of what this means. For Evangeline, this furthered her appreciation of Jung's efforts towards the imaginative, rigorous engagement and challenges of becoming deeply human, beyond theories and creeds of nation and race. (B, D)
Day 21: Nov 12, 2020: Madurai/Chennai (Flight) /Depart Chennai
After an incredible tracing expedition of Carl Jung's India journey, seen through contemporary, personal and historical lenses, we are transferred to the airport for our flight back home. Please contact us for optional extensions to places nearby, since pre- and post-tours will be offered. (B)
B=Breakfast, L=Lunch, D=Dinner
Post Tour of the Golden Triangle with the Taj Mahal
India is a land that offers some of the most remarkable architecture of palace forts, monuments, mausoleums and gardens. A lot of this is best seen in Northern India where the three rich architecture wonder cities of Jaipur, Agra and Delhi are located. In this 6 days optional extensions we see 7 UNESCO World Heritage Sites including the most photographed building in the world, the Taj Mahal. After our main tour, this optional tour gives a whole different and yet continuing facet to the richness that India has to offer in culture, people, history, architecture and lifestyle.
Day 01: Nov 12, 2020: Madurai/Chennai/Jaipur (Flight)
Today we are transferred to airport for our flight to Chennai where we take our connecting flight to Jaipur. Upon arrival at Jaipur we are transferred to our hotel. Balance of the day is free.

Overnight: Trident Hotel in Jaipur Deluxe Garden View (2 nights) (D)
Day 02: Nov 13, 2020: Jaipur
Today we will be treated like the royalty of yesteryear with a ride to the majestic Amber Fort*. Perched on a hillside on the outskirts of town, the palace was constructed by Maharaja Man Singh. The fort, which started construction in 1592, comprises a number of gardens, courtyards and palatial spaces derived from Mughal architecture and are a distinguished example of 17th Century Rajput architecture.
We return to Jaipur to see the beautiful the Hawa Mahal, the Palace of Winds, where the ladies of the royal court used to watch the city from behind its intricately carved facade. We then visit the majestic City Palace, which houses a rare collection of Indian art and the Jantar Mantar*, an astronomical observatory built in the early 18th century that includes a set of some 20 main fixed instruments designed for the observation of astronomical positions with the naked eye. It is an expression of the astronomical skills and cosmological concepts of the court of a scholarly prince at the end of the Mughal period. The evening is free to rest or perhaps enjoy both shopping and get a cultural experience of the bazaar. Jaipur is noted for its craftsmen, skilled in brass inlay, lacquer work and stone setting. (B, D)
Day 03: Nov 14, 2020: Jaipur/Fatehpur Sikri/Agra
After breakfast we drive to Fatehpur Sikri, the beautiful capital built in 1640 by the Mughal King, Akbar the Great. The city was later abandoned for lack of water. A superb example of Mughal architecture, it stands perfectly preserved in the desert. We also visit the artistically designed mausoleum of Salim Chisty who is reputed to have prayed for a son for Akbar leading to the birth of Salim Jehangir. From here we continue a countryside drive to Agra. On arrival we check in our hotel.
Overnight: Trident Hotel in Agra Deluxe Garden View (1 night) (B, D)
Day 04: Nov 15, 2020: Agra/Delhi
In the morning we visit to one of the most beautiful monuments in the world, the Taj Mahal*. An immense mausoleum of white marble built between 1631 and 1648 by the Mughal emperor Shah Jahan in memory of his favourite wife, the Taj Mahal is the crown jewel of Muslim art in India and across the world. Set in a vast Mogul garden located on the right bank of the Yamuna River, this funerary monument combines elements and styles of Persian, Central Asian and Islamic architecture. Later we visit Agra Fort*. This powerful fortress of red sandstone encompasses, within its 2.5-km-long enclosure walls, the imperial city of the Mughal rulers. It comprises many fairy-tale palaces, audience halls and two very beautiful mosques. Afternoon we drive to Delhi. On arrival we check in our hotel.
Overnight: Vivanta by Taj Hotel in Delhi Superior Charm Room (2 nights) (B, D)
Day 05: Nov 16, 2020: Delhi
An introduction of India with a tour of New Delhi. We visit the famous India Gate followed by the Houses of Parliament, Connaught Place and Humayun's Tomb*. This tomb, built in 1570, is of particular cultural significance as it was the first garden-tomb on the Indian subcontinent. It inspired several major architectural innovations, culminating in the construction of the Taj Mahal.  We continue to Qutb Minar and its Monuments* Built in the early 13th century the red sandstone tower of Qutb Minar is 72.5 m high. The surrounding archaeological area contains funerary buildings, notably the magnificent Alai-Darwaza Gate, a masterpiece of Indo-Muslim art and two mosques.
Our afternoon concentrates on Old Delhi, we drive pass to the Red Fort Complex*. Named for its massive enclosing walls of red sandstone, it is adjacent to an older fort, the Salimgarh, built by Islam Shah Suri in 1546, with which it forms the Red Fort Complex. After that, we embark on a captivating journey on a Rickshaw passing through the narrow lanes of the famous Chandni Chowk Bazaar, it was originally built by Mughal Emperor Shah Jehan for his daughter Jahan Ara in 17th Century since then many changes have taken place however it remains Old Delhi's one of the Oldest and busiest markets in Delhi. Finally end our rickshaw ride at Jama Masjid, Mughal majesty and India's largest mosque. After visiting the mosque, we proceed to Raj Ghat, the cremation site of Mahatma Gandhi. (B, D)
Note: Red fort & Birla House are closed on Monday and shops in Chandni Chowk are closed on Sundays.
Day 06: Nov 17, 2020: Delhi/ Onward flight
Today we are transferred to airport for our flight to onward destination.