Day 01: Arrive Nairobi (KENYA)
Karibu! We are warmly received in Kenya's capital, Nairobi, and transferred to our hotel. The Kiswahili language here is often easily understood as many people mix the vernacular with English words. In fact, more people in Kenya speak English than in any other African country.

Overnight: : Sarova Panafric Hotel, Nairobi, (1 night)

Day 02: Nairobi/Amboseli (Drive)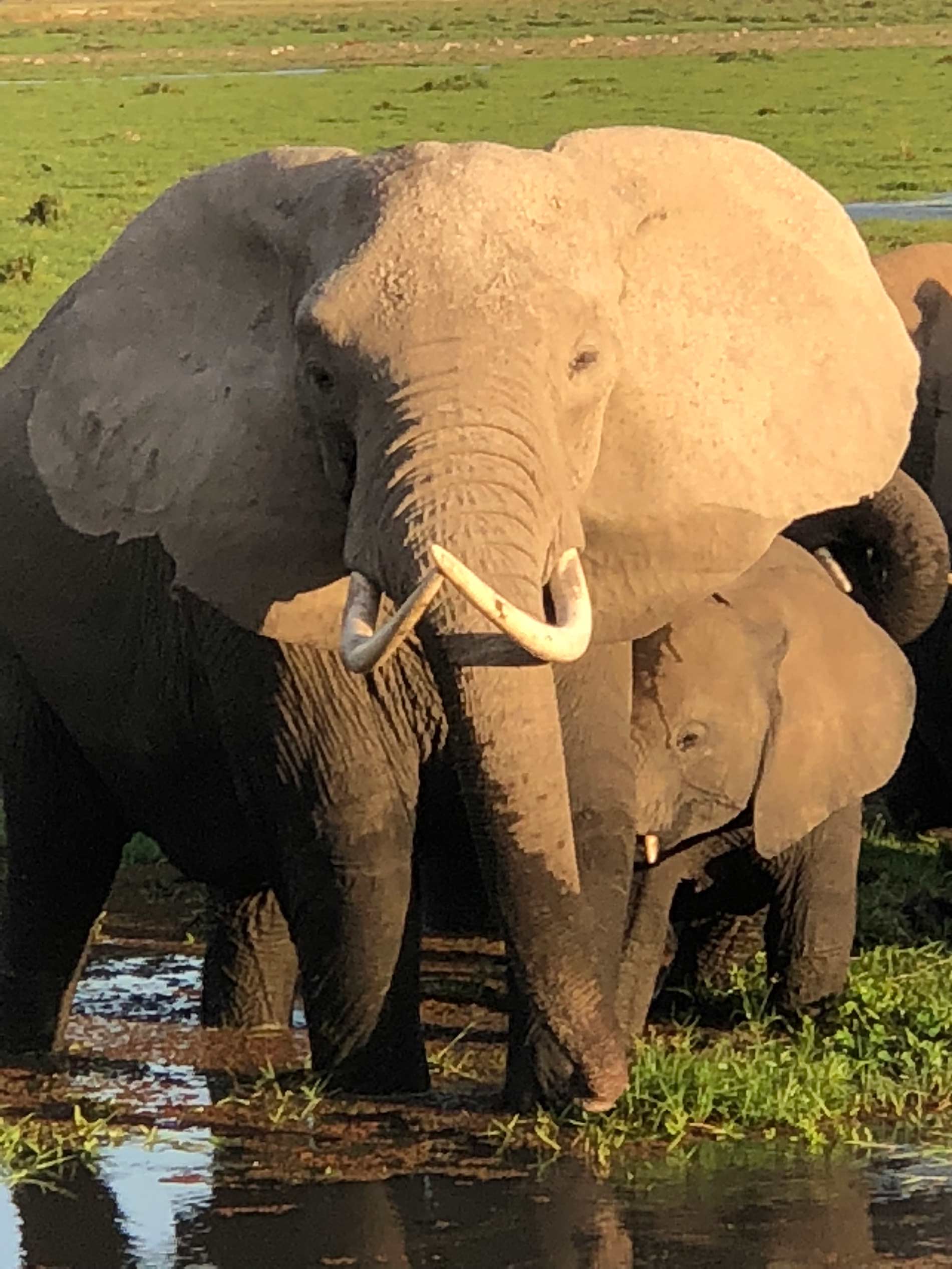 This morning, we journey to Amboseli, arriving in time for lunch. Amboseli is a photographer's paradise. The park provides stunning views of Mount Kilimanjaro, the world's tallest stand-alone mountain. On clear days, we have the chance to snap photos of Amboseli's vast herds of elephants against the majestic backdrop of Africa's tallest peak. Afternoon, we enjoy our first of 15 safaris. In our specially constructed game vehicle, each person has a window seat, meaning we won't miss a moment of the animal action.

Overnight: Amboseli Serena Lodge/Amboseli Oltukai Lodge, Amboseli (1 night) (B, L, D)
Day 03: Amboseli/Nairobi (Drive)
After breakfast, we embark on our second safari, giving us yet another opportunity to see one of Africa's most unique wildlife destinations.  After a four-hour adventure through the African wilderness, we enjoy a hot lunch at Amboseli. At around 3PM, we start our drive back to the capital city of Nairobi. En route, we have a chance to see the day-to-day life of the Kenyans as we pass through villages and hamlets. Upon arrival in Nairobi, we are transferred to our hotel, where we enjoy dinner.
Overnight: Sarova Panafric Hotel, Nairobi (1 night) (B, L, D)

Day 04: Nairobi/Lake Naivasha (Drive)
After an early breakfast, we set off on an exciting tour of Nairobi, giving us a chance to learn about this city's beauty and history. We stop at Sheldrick Elephant Orphanage to interact with the gentle and fascinating animals living here, visit the giraffe centre and explore the Karen Blixen Museum, the former home of the famous Danish author of Out of Africa. Following a hot lunch, we drive to Lake Naivasha - a stunning freshwater lake in Kenya. The waters of the lake draw a great range of game to its shores. Giraffes wander among the acacia, buffalo wallow in the swamps and colobus monkeys call from the treetops while the lake's large hippo population sleep the day out in the shallows.
Overnight: Lake Naivasha Sopa Lodge/Naivasha Simba Lodge, Naivasha (2 nights) (B, L, D)
Day 05: Lake Naivasha /Lake Nakuru National Park/Lake Naivasha (Drive)
Today, we embark on a full day excursion, exploring the Great Rift Valley and Lake Nakuru National Park*. The park supports a wide range of ecological diversity, including greater and lesser flamingos, as well as more than 80 species of bird—a highlight for any birdwatcher! The lake is also known for the black and white rhinoceros who call it home. We experience morning and afternoon game drives through this wildlife haven, with a stop for lunch, before we head back to our lodge.
Overnight: Lake Naivasha Sopa Lodge/Naivasha Simba Lodge, Naivasha (B, L, D)
Day 06: Lake Naivasha/Masai Mara (Drive)
Before leaving Lake Naivasha, we have an opportunity to enjoy an optional add-on boat safari on the lake. Game viewing from the water provides a unique perspective as we spy giraffes, hippos and an extraordinary variety of bird life from our boat. Afterwards, we traverse the Great Rift Valley and ascend its western rim into the Maasai land. In this stunning landscape, red-clad Masai warriors tend their herds of cattle among the wildlife, admirably unmoved by the presence of large predators. After a hot lunch at a local restaurant in  Narok County, we embark on one of the most exciting game drives any African safari can offer. Our destination today is the incredible Masai Mara probably the world's most well known game reserve.  Here, we have the opportunity to catch views of lions, leopards, cheetahs and a large variety of herbivores during our afternoon game drive.

Overnight: Mara Serena Lodge/Ashnil Lodge, Masai Mara (2 nights) (B, L, D)

Day 07: Masai Mara
An adventurous day ahead as we enjoy morning and afternoon game drives in the spectacular Masai Mara Game Reserve. Blessed with a permanent water supply, Masai Mara has a year-round population of game. All of the Big Five animals – elephant, buffalo, lion, leopard and rhino – are quite common on this scenic grassland, as well as cheetah, hippo, zebra and giraffe (rounding out the Big Nine!). Additionally, the Mara is the perfect place to take part in a balloon safari. During this unforgettable hour-long experience, take in the beautiful birds-eye view of the vast Mara followed by a delightful champagne breakfast at the centre of the park. Because of the popularity of balloon safaris, it is highly advisable to book well in advance. Let Bestway Tours & Safaris know at the time you book the tour, so that your balloon spot can be secured as early as possible. After our two extraordinary game drives at the Mara, we drive back to our lodge in time to freshen up and enjoy dinner. (B, L, D)
Day 08: Masai Mara/Lake Victoria (Drive) (TANZANIA)
A long day ahead as we depart for Tanzania, home to Mount Kilimanjaro, the exotic spice island of Zanzibar and some of the best game viewing in the world at Serengeti and Ngorongoro Crater game parks. We drive first to the enchanting Lake Victoria, the largest fresh water lake in Africa. It offers a tranquil combination of lakeside charm and traditional villages. Enjoying a box lunch en route, we should be able to reach the Isebania border crossing in about 5 hours. At the border, we bid farewell to our Kenya guide and driver before proceeding with immigration and customs formalities. After crossing the border, we will be welcomed by our Tanzania safari guide and get settled in our new vehicle. Proceed to Lake Victoria, an approximately 3-hour road journey, where we will stay in the lovely Speke Bay area. The evening is free to soak in the lakeside charm. Dinner will be at our hotel.

Overnight: Serenity Eco Resort/Speke Bay Lodge, Lake Victoria (1 night) (B, L, D)

Day 09: Lake Victoria/Serengeti (Drive)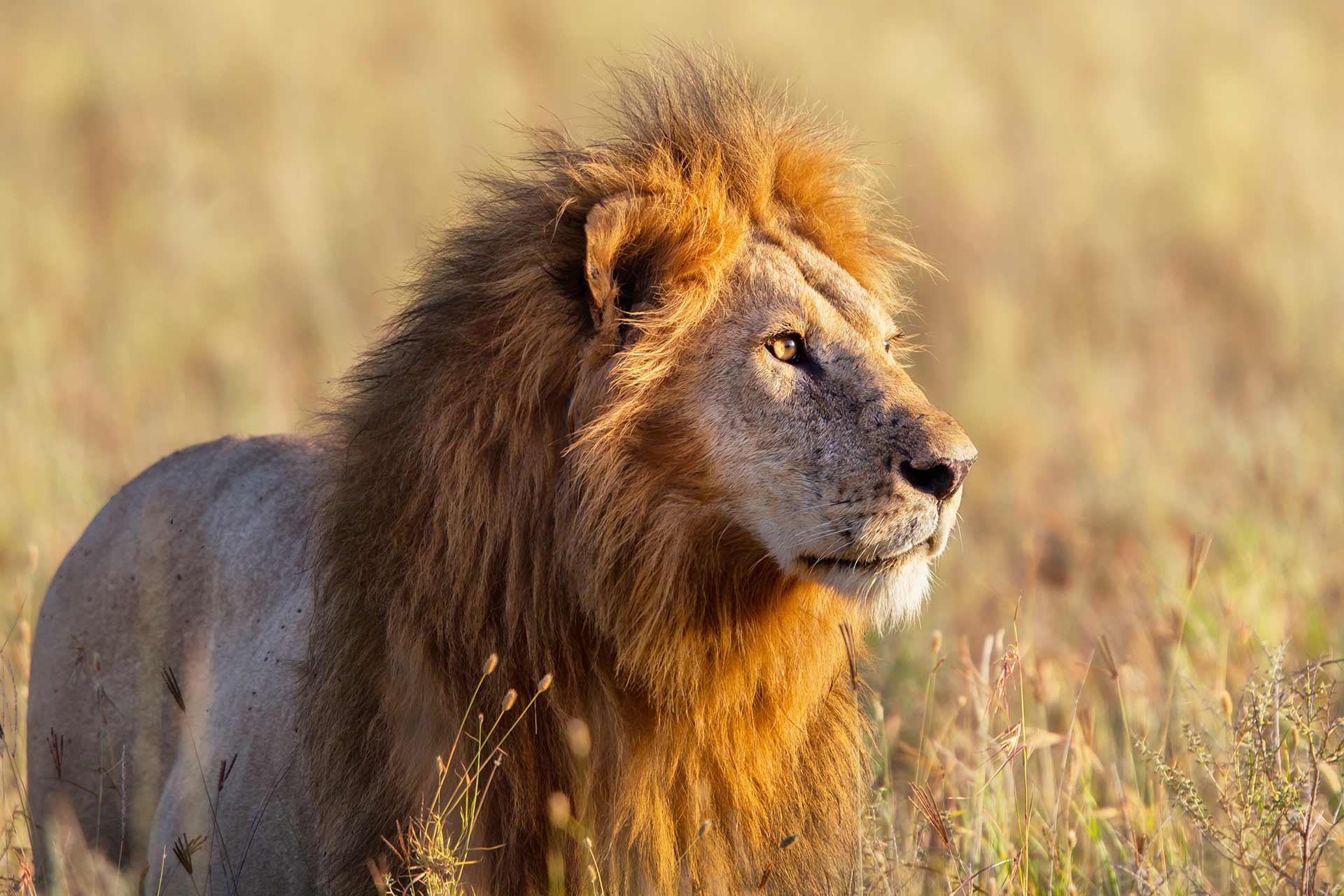 For early risers, there is a unique opportunity to participate in optional activities such as boating or canoeing on Lake Victoria, or visiting a local fishing village (advisable to pre-book). After an early lunch, we continue to the majestic Serengeti National Park*, entering via the Ndabaka Gate located on the western side. As soon as we cross the gate, we will see huge numbers of game as we safari along the western corridor towards the centre of the park. Serengeti is the prime place to witness the Great Migration, when more than two million wildebeest and other large mammals, followed by thousands of predators, cross the plains and the Grumeti River. Unlike the Masai Mara, Seregenti experiences the Great Migration several times during the year. Dinner is savoured at the well known Serengeti Serena Safari Lodge.

Overnight: Serengeti Serena Safari Lodge/Mbalageti Tented Lodge, Serengeti (2 nights) (B, L, D)

Day 10: Serengeti
Enjoy a day of adventure at the world famous wildlife sanctuary of Serengeti National Park* (14,763 square kilometers). Serengeti contains the largest remaining concentration of plains game in Africa, on a scale which has no parallel anywhere in the world. The abundance of herbivores includes wildebeest, zebra, gazelle, topi, buffalo and hartebeest, to name but a few. Serengeti is also famous for its predator population, including lion, cheetah, leopard and hyena, as well as a wide variety of birdlife, believed to be in the region of 500 species. What's more, the park is well known for its rare views of tree-climbing lions. Serengeti is a UNESCO World Heritage Site, as well as a Biosphere Reserve, which means it is a site that promotes conservation and continued sustainable use in order to improve the relationship between people and their environments. Here, it is also possible to take part in a popular hot air balloon safari followed by a champagne breakfast, providing an incredible overhead view of the park and its animal residents. Pre-booking this optional activity at the time you book your tour with Bestway is highly advised. (B, L, D)

Day 11: Serengeti/Ngorongoro Crater (Drive)
After breakfast at the hotel, we have yet another day of exciting game drives in Serengeti National Park. The extensive grasslands are interspersed with kopjes, rocky outcrops resembling islands on the flat plain that each host their own wildlife communities. We also discover the Seronera River, which flows through the park, providing habitats for a variety of birds, mammals and reptiles. Afternoon, we proceed to Nabi Hill gate, where we enjoy our picnic lunch before journeying to the Malanja depression and entering the Ngorongoro Conservation Area.

Overnight: Ngorongoro Serena Lodge/Neptune Ngorongoro Luxury Lodge, Ngorongoro (1 night) (B, L, D)

Day 12: Ngorongoro Crater/Lake Manyara (Drive)
Today, we explore the Ngorongoro Conservation Area*, which spans vast expanses of highland plains, savanna, savanna woodlands and forests. Established in 1959 as a multiple land use area, the region features wildlife coexisting with semi-nomadic Maasai pastoralists practicing traditional livestock grazing. Its crowning jewel is the spectacular Ngorongoro Crater, the world's largest caldera. We descend to the famous Ngorongoro Crater for a day of superb game viewing, as it is a haven for an estimated 30,000 large mammals. We have the chance to spot lion, leopard, cheetah, elephant, hyena, hippo, wildebeest, baboon, gazelle, the endangered black rhino and many more species. After our safari, we drive to Lake Manyara. Ernest Hemingway called Manyara "the loveliest I had seen in Africa". Evening, enjoy the spectacular view of Lake Manyara National Park with its serenity that beats anything else in Africa. Option here to take part in a unique night game drive (pre-booking advised).
Overnight: Lake Manyara Serena Lodge/Kirurumu Tented Lodge, Lake Manyara (2 nights) (B, L, D)

Day 13: Lake Manyara/Depart Arusha
This morning, enjoy the last safari of our journey, through Lake Manyara National Park, one of the finest parks in Tanzania. Buffalo, wildebeest, zebra, giraffe and tree-climbing lions are all part of the game experience, as well as over 300 migratory birds. After we've explored this photographer's haven, we bid farewell to the game and people before driving to Arusha. We enjoy a boxed lunch en route. We are then transferred to the airport for our departure flight. International flights should be booked to depart after 6 PM. Or, extend your Tanzanian journey with a climb of famous Kilimanjaro, a safari through the south of the country (very different from the sections of Northern Tanzania covered on this tour!) or a visit to the incredible Indian Ocean island of Zanzibar. (B, L)

B=Breakfast, L=Lunch, D=Dinner