Day 01: Arrive Tunis
Bonjour and Merhaba! We are warmly welcomed to Tunisia and are driven to the hotel. Check in time starts from 1400 hrs.

Overnight: Majestic Hotel, Tunis (2 nights)

Day 02: Tunis
Our first exploration of this unique land starts with a visit to the Medina of Tunis*, which is one of the first Arab-Muslim towns of the Maghreb (698 A.D.). With its souqs, urban fabric, residential quarters, monuments and gates, this ensemble constitutes a prototype among the best conserved in the Islamic world. Our next stop is the Bardo Museum, famous for its fine collection of mosaics. The Punic vestiges, array of Roman mosaics and unique sculptures in this museum are truly astounding! In the afternoon, enjoy a tour of Carthage*. Founded by the Phoenicians, Carthage is an extensive archaeological site, located on a hill dominating the Gulf of Tunis and the surrounding plain. Metropolis of Punic civilization in Africa and capital of the province of Africa in Roman times, Carthage has played a central role in Antiquity as a great commercial empire. During the lengthy Punic wars, Carthage occupied the territories that belonged to Rome, which then destroyed its rival in 146 A.D. The town was rebuilt by the Romans on the ruins of the ancient city. We continue to Sidi Bou Said, a splendid Moorish village perched atop a headland. (B, D)
Day 03: Tunis/Dougga/Kairouan (Drive)
Morning departure to visit the archaeological site of Dougga/Thugga*. These ruins of a complete city with all its components are a testimony to more than 17 centuries of history. They are an outstanding example illustrating the synthesis between different cultures: Numidian, Punic, Hellenistic, and Roman. Continue on to Kairouan.

Overnight: La Kasbah Hotel, Kairouan (1 night) (B, D)
Day 04: Kairouan/El Jem/Port El Kantaoui (Drive)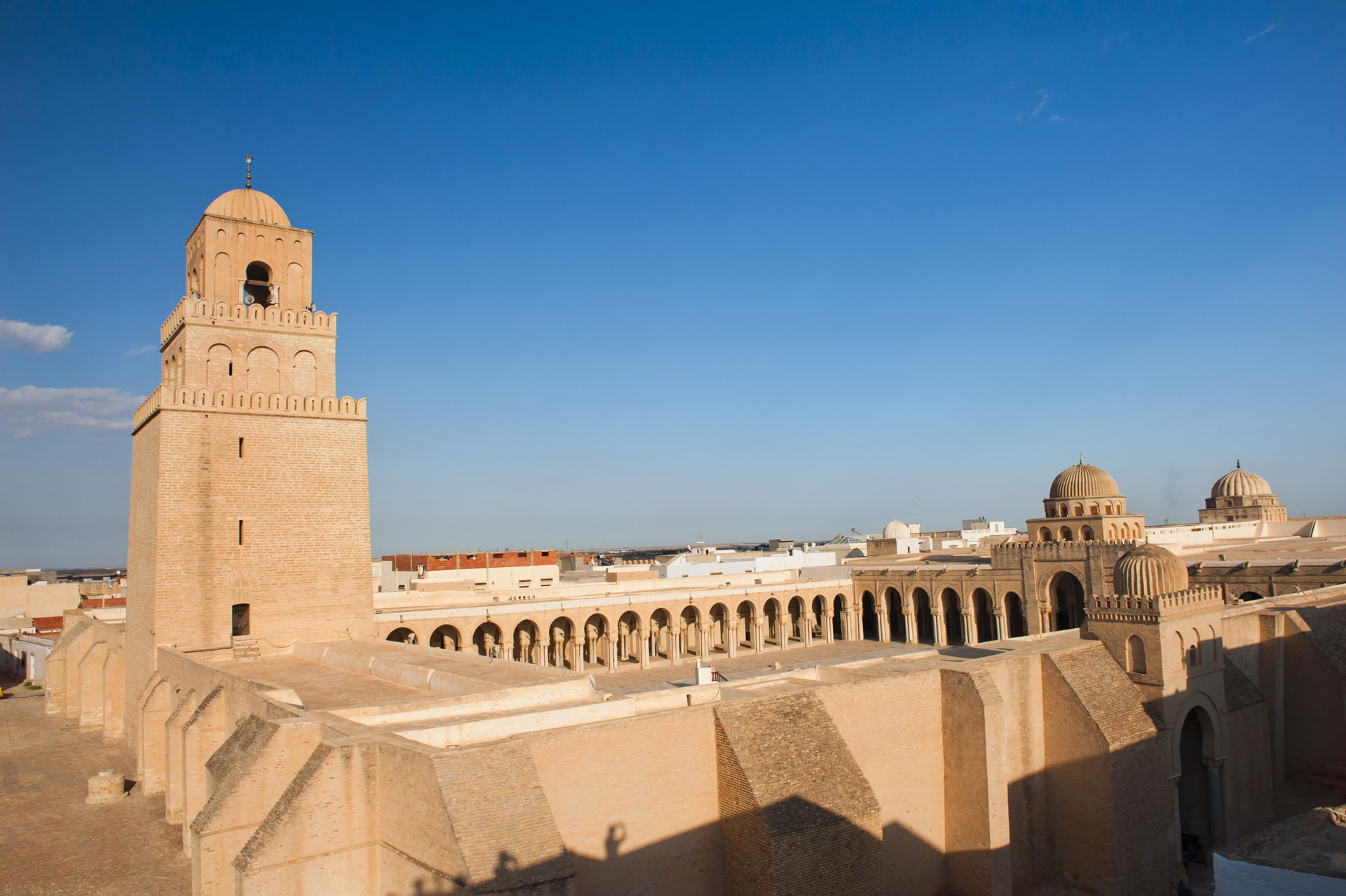 An exciting morning ahead as we tour the holy city of Kairouan*. Founded in 670, the city flourished under the Aghlabid dynasty in the 9th century. Despite the transfer of the political capital to Tunis in the 12th century, Kairouan remained the Maghreb's principal holy city. Its rich architectural heritage includes the Great Mosque, with its marble and porphyry columns, and the 9th-century Mosque of the Three Gates. Afternoon we depart for El Jem*, where we explore the impressive ruins of the largest colosseum in North Africa, a huge amphitheatre which could hold up to 35,000 spectators. This 3rd-century monument illustrates the grandeur and extent of Imperial Rome. Continue to Port El Kantaoui.

Overnight: El Mouradi Hotel, Port El Kantaoui (1 night) (B, D)
Day 05: Port El Kantaoui/Sousse/Hammamet (Drive)
Our first stop will be Sousse*, which was an important commercial and military port during the Aghlabid period (800–909). This is a typical example of a town dating from the first centuries of Islam. With its kasbah, ramparts, medina (with the Great Mosque), Bu Ftata Mosque and typical ribat (both a fort and a religious building), Sousse was part of a coastal defense system. Next we make our way to Hammamet, to visit the Spanish fortress and the Medina.

Overnight: Le Sultan Hotel, Hammamet (1 night) (B, D)
Day 06: Hammamet/Kerkuane/Tunis (Drive)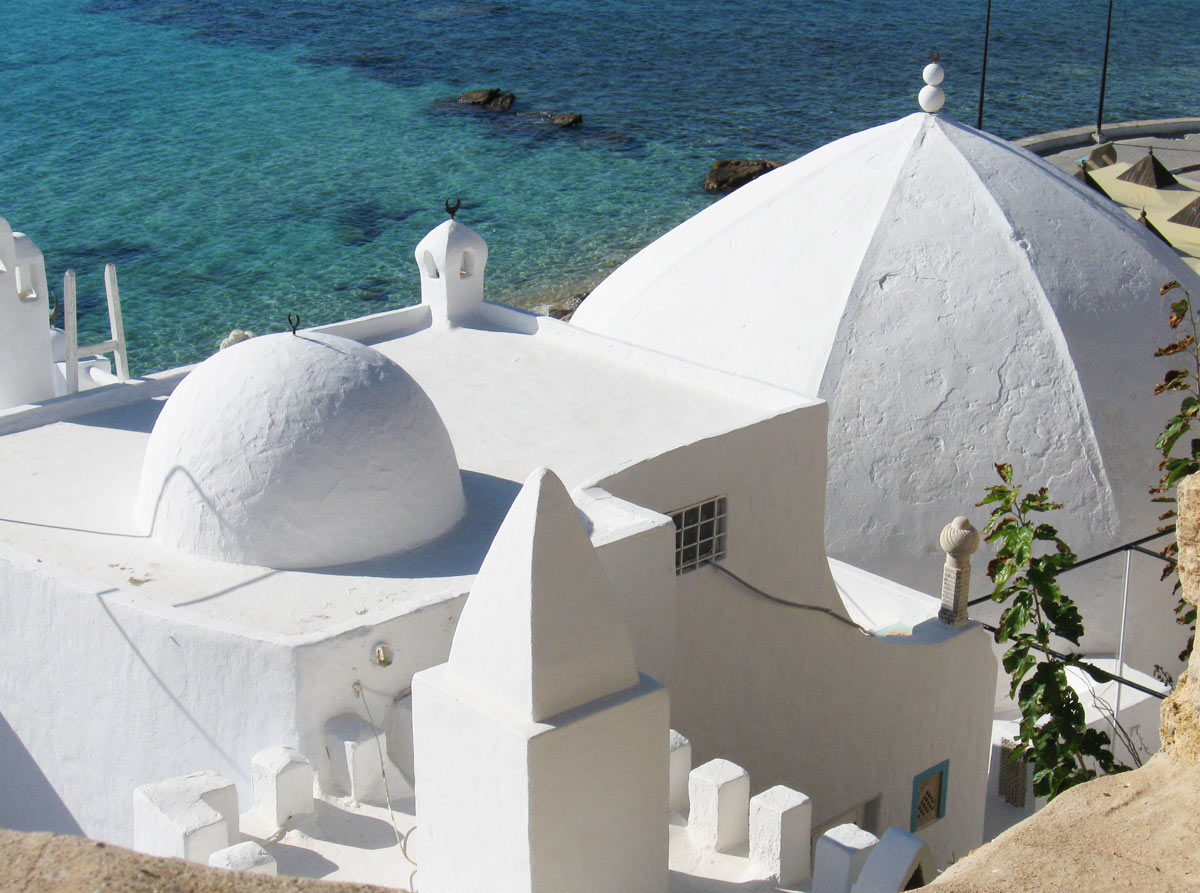 We drive to the coastal town of Nabeul, the main centre of the Tunisian pottery industry. Then we head to Kelibia, to visit the recently restored fortress overlooking the harbor. In the afternoon, we visit the Punic Town of Kerkuane and its Necropolis*. This Phoenician city was probably abandoned during the First Punic War (c. 250 B.C.) and as a result, was not rebuilt by the Romans. The ruins are the only surviving example of a Phoenician-Punic city.

Overnight: Majestic Hotel, Tunis (2 nights) (B, D)

Day 07: Tunis
Today we explore the ruins of Utica, set on a low hill, composed of several Roman villas. Their walls still preserve decorative floor mosaics. To the northwest of these villas is a Punic necropolis, with Punic sarcophagi. In the afternoon, we visit Thuburmo Majus or Colonia Julia Aurelia Commoda, its Roman name. Originally a Punic town, it became a Roman veteran colony which allowed former soldiers to start their post-army lives with land of their own. Its strategic location and access to trade routes made it an important establishment. (B, D)
Day 08: Depart Tunis
After our enlightening journey through millenary history, we are transferred to the airport for our departure flight.   Check out time is by 1100 hrs. Or, a great opportunity here to extend our adventure with some of our other small group cultural tours! (B)
B=Breakfast, L=Lunch, D=Dinner
Departure Dates & Prices
We accept payments in US$, CA$ as well as in other convertible currencies like EUR, AUD and GBP. Tour prices have been costed in US$. CA$ price shown below is an indicative amount reached at by using the conversion rate at the time of web posting and will be applicable if there is no change in the conversion rate. Should the currency conversion rate change, the US$ pricing will prevail. Bestway Tours & Safaris offers a conversion rate protection. Once full payment has been received and no modification has been made to the tour itinerary, we will honour that rate. For complete payment procedures, please click here
Notes
For travel periods from July 01 until Sep 17, the hotels in Hammamet require a minimum of 5 nights stay; therefore, the program during the above stated period will be adjusted, with most hotel nights being spent in Tunis and day excursions arranged to visit other cities/sites.
Inclusions
Tour Price Includes
Accommodation as mentioned or similar, including hotel taxes
13 Meals as mentioned (B=Breakfast, D=Dinner)
All sightseeing and transfers by private transportation
Services of local English speaking guides
Entrance fees to museums and sites included in the itinerary
Not Included
Any airfares
Insurance/visas
Tips/gratuities
Participants
This tour operates on a minimum of 02 participants
Customised Itinerary
If you would like to have a tour on dates other than the above ones or with a customised itinerary, please contact us and we will be happy to work out an exclusive program for you.
Contact Info
You may e-mail us at bestway@bestway.com or call 1-604-264-7378. Residents of U.S.A./Canada may call us toll free at 1-800-663-0844.