Day 01: Arrive Nairobi (kenya)
Jambo bwana! We are cordially welcomed as we arrive at Jomo Kenyatta International Airport and are transferred to our hotel in Nairobi. Balance of the day is free. Depending on your arrival time, Nairobi offers quite a few optional activities, including visits to the Sheldrick Elephant Orphanage and Karen Blixen Museum.

Overnight: Nairobi Safari Club, Nairobi (1 night)
Day 02: Nairobi/Kilimanjaro/Amboseli (drive)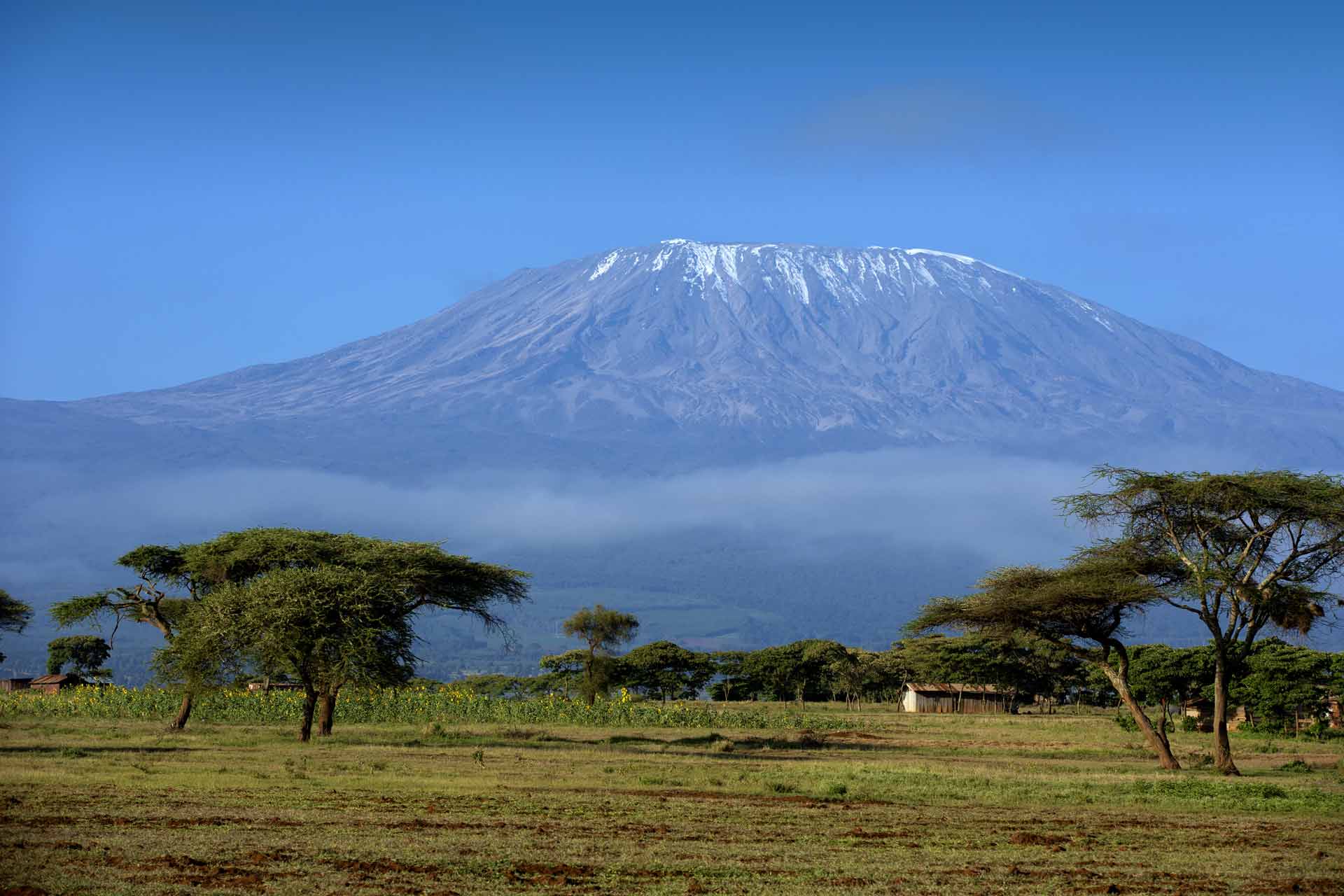 After a short pre-safari briefing and introduction to our safari guide/driver, we take a photogenic drive over the Athi Plains. Before we enter Amboseli National Park, enjoy an outstanding view of Mount Kilimanjaro (subject to weather). At 5,895 meters, the Uhuru Peak makes Kilimanjaro the highest mountain in Africa. Lunch at the lodge is followed by our first afternoon game drive. Amboseli is famous for its vast herds of elephants and stunning views of Kilimanjaro on clear days.

Overnight: Kilima Safari Camp, Amboseli (2 nights) (B, L, D)

Day 03: Amboseli
Morning and afternoon game drives to view wildlife against the backdrop of Mount Kilimanjaro. The bull elephants here have some of the largest tusks in Kenya. In addition to elephant, spot zebra, wildebeest, giraffe, impala, leopard, caracal, serval cat and other large mammals. The park also boasts rich bird life such as ibis, egret, avocet, common and saddle-billed stork, secretary bird, heron, vulture, duck and goose. (B, L, D)
Day 04:Amboseli/Lake Nakuru (Drive)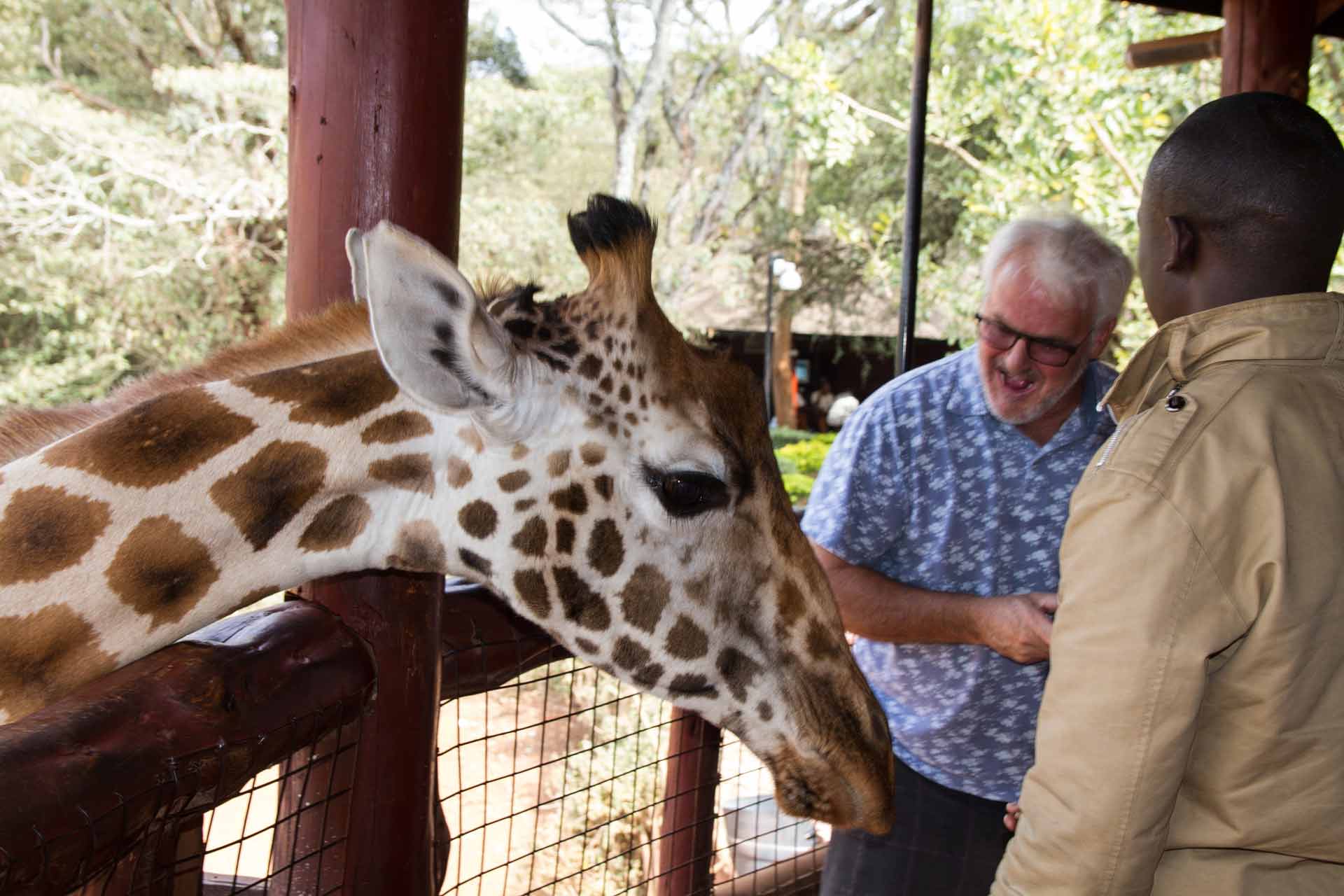 We drive a short distance to the beautiful Lake Nakuru* and start with a morning game drive at Lake Nakuru National Park.  This spectacular park is home to many animals including waterbuck, leopard and Rothschild giraffe. The park is also a sanctuary for rare black rhinos. Lunch at the lodge before we enjoy another exciting game drive in the afternoon.
Overnight: Lake Nakuru Lodge, Lake Nakuru (1 night) (B, L, D)
Day 05: Lake Nakuru/Great Rift Valley/Masi Mara (drive)
We traverse the Great Rift Valley and ascend its western rim into the Masai land. Here, red-clad, spear-holding Masai warriors tend to their herds of cattle, admirably unmoved by the presence of large predators. We enjoy an afternoon game drive in the Mara, famous for the yearly wildebeest and zebra migration of more than a million mammals.

Overnight: Mara Sopa Lodge, Masai Mara (2 nights) (B, L, D)

Day 06: Masai Mara
Early morning and afternoon game drives in Masai Mara National Reserve, Kenya's best and most scenic game park. At the northern extremity of the unique Serengeti ecosystem, blessed with a permanent water supply, the Masai Mara has a thriving, permanent population of plains game, augmented in the dry season by the migration of more than a million wildebeest and zebra from the vast, parched Serengeti plains. Of the Big Five, elephant, buffalo, lion and leopard are quite common, while even the much rarer rhino might be spotted. Hyena are plentiful and the cheetah is often seen. Besides being the setting for the ancient and often tragic spectacle of the Great Migration, other marvels of the Masai Mara include giraffe, elephant, red-tailed monkeys and a host of antelope. Optional excursions at an additional cost include bush walks, Masai community visits and hot air ballooning over the majestic plains. (B, L, D)
Day 07:Masai Mara/Nairobi (Drive) /Muscat (Flight) (OMAN)
After our unforgettable Kenyan safari, we take a leisurely drive to the Nairobi airport for our departure flight. This will be an overnight flight to Muscat.
Overnight: Flight (B)
Day 08: Muscat
As we arrive in Muscat, the pearl of the Gulf region, we are warmly received and transferred to our hotel.  Evening is free to enjoy the beach area and the local souq (bazaar).

Overnight: Al Falaj Hotel, Muscat (1 night) (B)
Day 09: Muscat/Nizwa (Drive)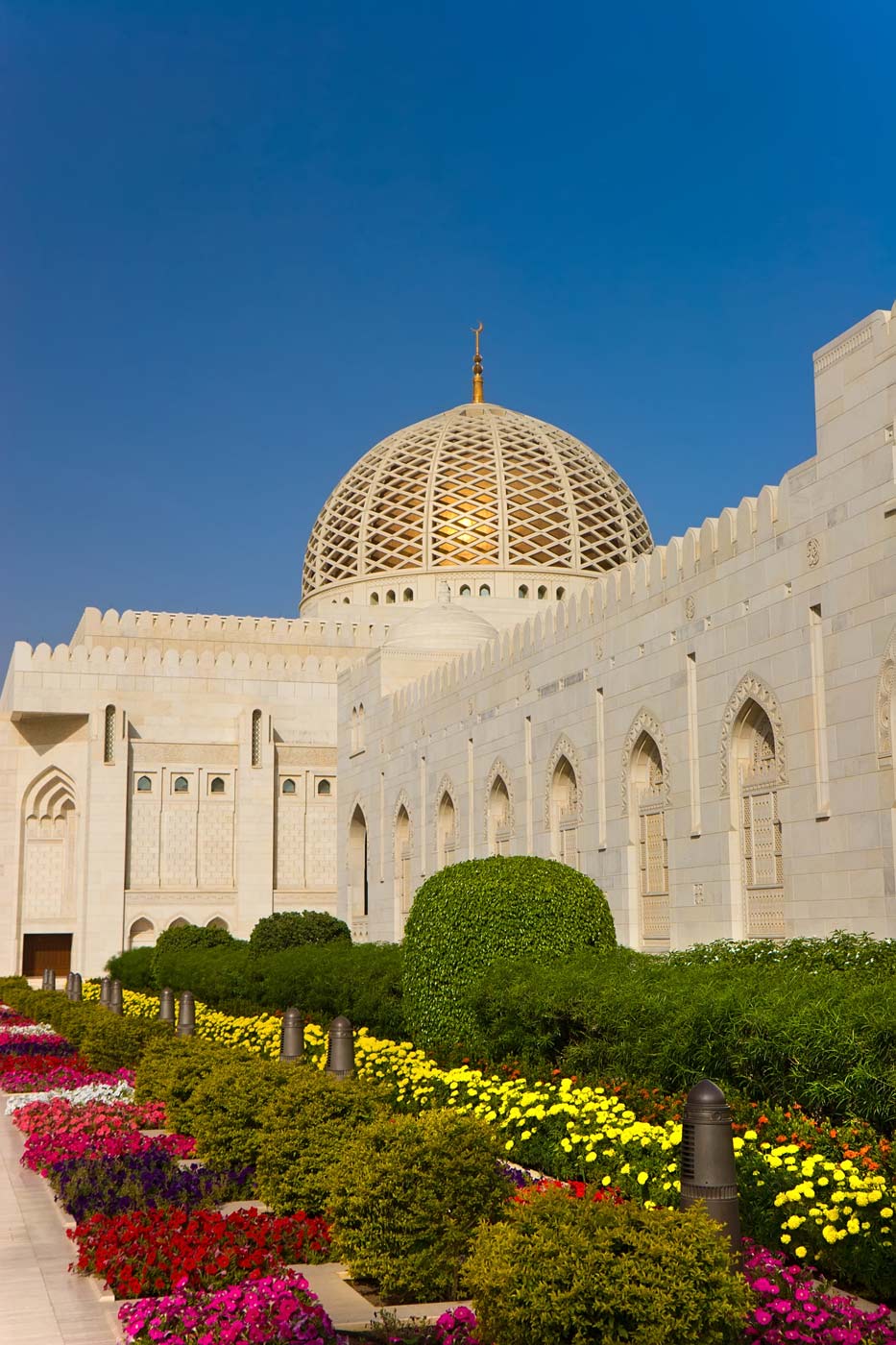 Our Oman experience starts with a visit to the Grand Mosque, truly an architectural marvel. Continue with a drive-through tour of Muscat before taking on the enchanting Batinah coast. From here, we journey to the scenic mountains, crossing through the Hajjar ranges to the forts in Nizwa. Terraced farming and beautiful villages await us along the way. This region is also known for its honey, and beekeeping has been practiced here since ancient times. We meet one of the beekeepers and learn about their traditional beekeeping method, housing bees in the hollowed out trunks of date palms. We have been working very closely with the local beekeepers to bring economic benefits and tourism to this charming community.
Then it is time to start driving up the Western Hajjar Mountains, rising over 2,000 meters. We explore the village of Al Hamra, at the foot of the mountains, where 400-year-old mud houses are still standing and occupied. To experience Nizwa, we will be staying at a traditional house in the old village of Misfat Al Abriyeen, where time stands still! (The house is clean and basic, with shared toilets, and caters to foreign tourists – alternative hotel accommodation available). Time permitting, we can take a walk around this village to see its fascinating history, agriculture and falaj watering system.
Overnight: Misfah Old House (traditional house – shared bathroom), Nizwa (1 night) (B, D)

Day 10: Nizwa/Wahiba Sands (Drive)
Forts and castles are Oman's most striking cultural landmarks. It is estimated that there are over 500 forts, castles and towers in Oman, each with a unique architecture and style. Today we will visit the Jabreen, perhaps the finest of them all. Its dungeons, passages, rooms and ceilings are decorated with fine carvings, paintings and inscriptions. Next enjoy a photo stop at the Bahla Fort*, a UNESCO site. We visit the 17th century circular Nizwa Fort and the Nizwa souq, famous for intricate silver jewelry. Built on a solid base of rock, the huge tower was designed to withstand the vibrations of 24 cannons. Continue our drive towards Wahiba Sands. Running south from the Eastern Hajjar Mountains to the Arabian Sea, the Wahiba Sands is a sand sea stretching hundreds of kilometers. The colourful and scenic dunes rise nearly 150 meters, making this the perfect place for both the romantic and the adventurous. The roller-coaster ride over these dunes will provide us with a thrill! Living within and along the sands are approximately 3,000 pastoralist Bedouins belonging to different tribes, along with their herds of goats and camels. We will have a chance to meet the Bedouin people, known for their friendliness and hospitality. At the camp, we have time to enjoy camel rides or simply explore the dunes on foot. The day culminates with viewing a spectacular sunset over the dunes, followed by dinner (generally BBQ).

Overnight: Desert Palm, Wahiba Sands (1 night) (B, D)

Day 11: Wahiba Sands/Coastal Oman/Old Muscat (Drive)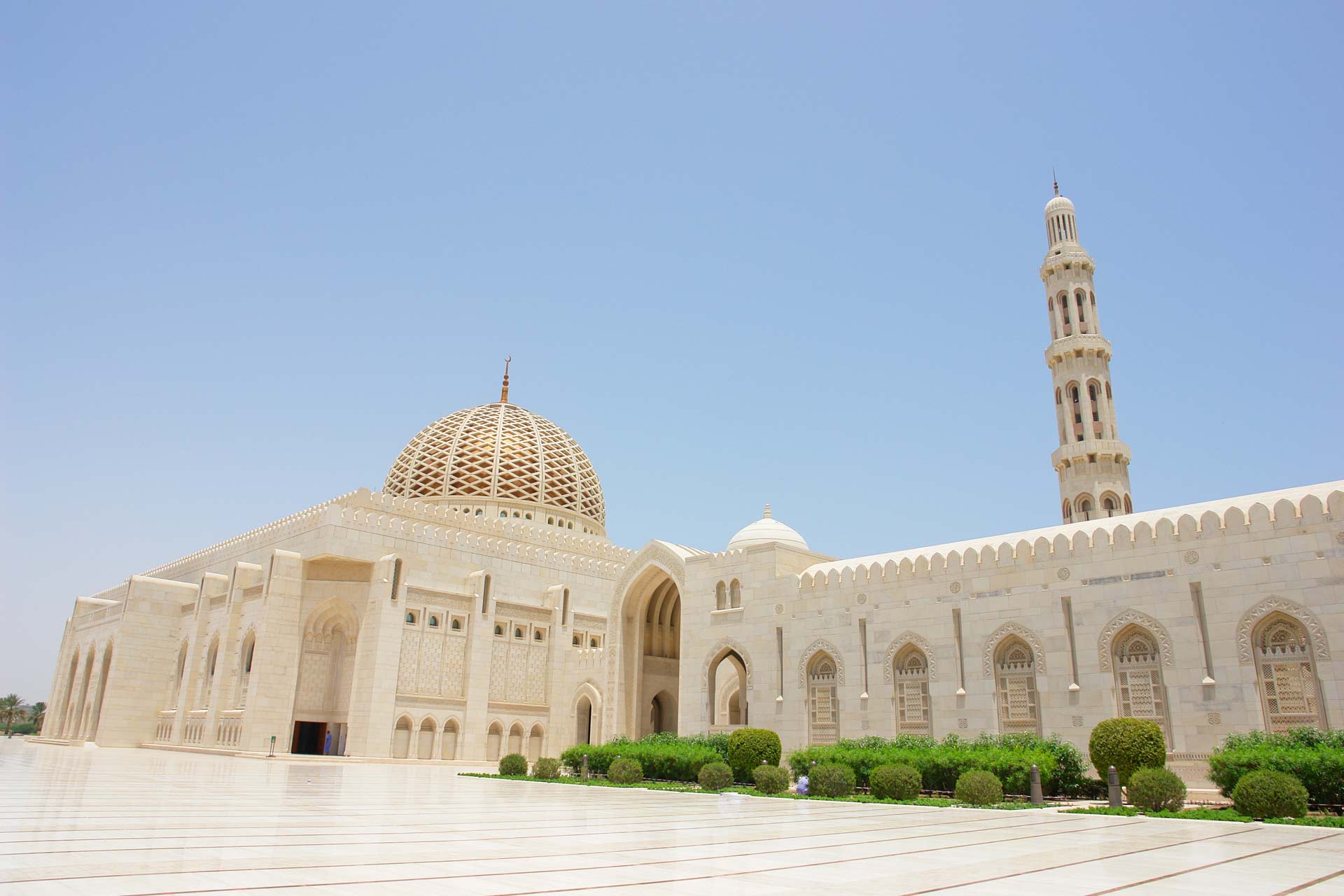 An early morning rise to explore the dunes on foot and watch their shifting colours. Enjoy optional camel rides before bidding farewell to the dunes. As we drive to Muscat, we see a cross section of Oman's geography, taking in arid lands, wadis and coastal villages. With stunning views of the waters of the Arabian Sea on one side and the rocky cliffs on the other, this is an exciting drive along the coast. We stop at the town of Sur for a short visit. Sur has historical importance and dhows used to sail from here to India and other countries. We also visit Ayja, a charming village with quaint houses on both sides of narrow alleys, and goats and sheep wandering the streets. Stop at the Bimah Sinkhole, a spectacular limestone crater with blue green water at the bottom.
Upon arrival in Muscat, we explore Old Muscat. A unique blend of ancient and modern, Muscat is a beautiful, clean city. First visit is the Bait Al Zubair Museum, which provides a window into Oman's rich heritage and culture. Next is a photo stop at the magnificent Al Aalam Palace (the official residence of Sultan Qaboos), which is flanked by the twin Portuguese forts of Mirani and Jalali. Finally, we immerse ourselves in the enchanting Muttrah souq, with its narrow covered alleys and exotic smells of mounds of spices, coffees, ancient remedies and enticing perfumes.

Overnight: Al Falaj Hotel, Muscat (1 night) (B, L)

Day 12: Muscat/Dubai (Flight) (UAE)
We are transferred to the airport for our flight to Dubai, where the ultra-modern and the traditional exist side by side. We are welcomed upon arrival and transferred to our hotel. Balance of the day is free.

Overnight: Ramadha Inn Jumeira, Dubai (3 Nights) (B)

Day 13: Dubai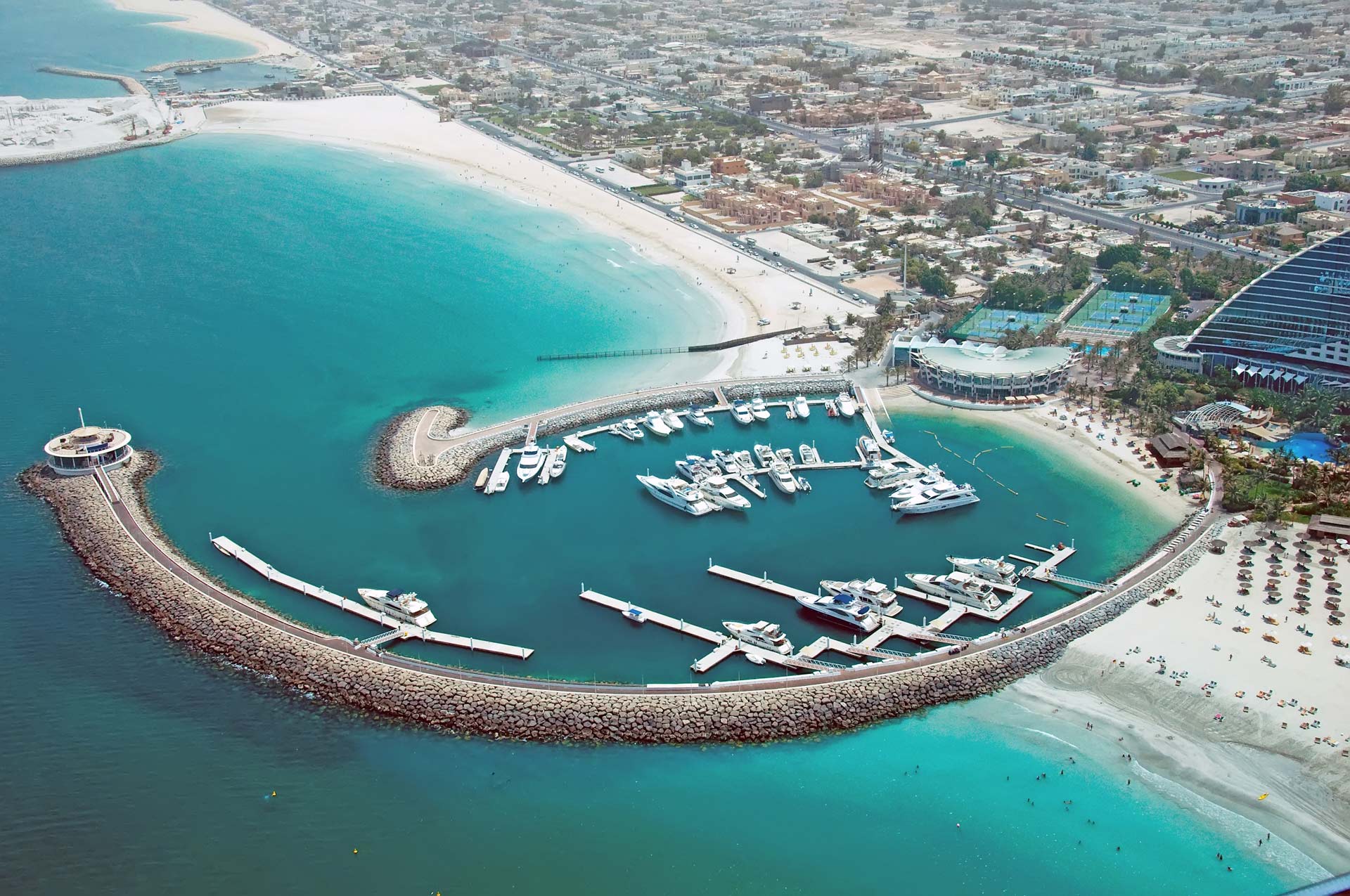 Enjoy a city tour of Dubai, the second largest Emirates in UAE. Dubai is famous for its wild and modern architecture designs. Our tour starts from the Jumeirah area, where we visit the magnificent Jumeirah Mosque, then drive on Jumeirah Beach Road, passing by to the Islamic Art Centre. Experience ultra-luxury with a photo stop in Burj Al Arab, the world-famous 7-star hotel. Continue to Sheikh Zayed Road and admire the modern skyscrapers lining the road. Next we experience Dubai's rich history, including the wind tower houses towards the Bastakia area, the Al Fahidi Fort and the Dubai Museum. We end our tour through the many faces of Dubai with a creek-side cruise on an authentic Abra (an ancient local water taxi) and a pass by the spice and gold souk. Enjoy an afternoon high tea at Burj Al Arab before returning to the hotel. (B, High Tea)

Day 14: Dubai
We have the day free to experience vibrant and ultra-modern Dubai. Relax, enjoy some world-class shopping or take part in optional activities, including a tour of Abu Dhabi, the thriving capital of the UAE, or an exciting desert safari through the arid lands surrounding Dubai. Please contact Bestway Tours & Safaris to pre-book. (B)

Day 15: Depart Dubai
After experiencing this unique African Safari with Oman and Dubai, we are transferred to the airport for our departure flight. Or join one of Bestway's other small group cultural journeys! (B)

B=Breakfast, L=Lunch, D=Dinner