Romania is a central European country known for the forested region of Transylvania, preserved medieval towns such as Sighişoara and many fortified churches and castles, notably clifftop Bran Castle, long associated with the Dracula legend. The area is ringed by the Carpathian Mountains, which are popular for trekking, climbing, skiing and bathing in natural thermal spas.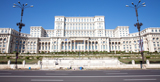 A Cultural tour of Romania & Bulgaria
In this 11 days journey we explore two of the most interesting gems of Eastern Europe – Romania and Bulgaria. From stone churches, fortresses and painted churches,..
Read More >>>
A Cultural tour of Bulgaria & Romania
In this journey we visit 13 UNESCO World Heritage Sites, exploring the legacy of ancient Thrace, the Rock-Hewn Churches of Ivanovo, the Wooden Churches of Maramures and the Churches of Moldavia..
Read More >>>
A Cultural tour of Romania
The land of Romania is famous for many reasons – it's vampires including the world renowned Dracula, to it's Communist dictatorial days under Ceausescu – not to mention Turkish Ottoman rule of the principalities of Wallachia and Moldovia..
Read More >>>