Ethiopia is the only country in Africa that has never been subject to a colonial power and its people have a proud tradition of fighting for their independence. The country is also unusual for its rich Orthodox Christian heritage, which the Ethiopians maintained even at a time when all of its neighbours embraced Islam in the 7th century. Wander through rock-hewn churches, the awe-inspiring landscape of the Rift Valley and meet people who will make you feel welcome.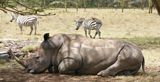 A Cultural tour & safari of Ethiopia, Uganda, Rwanda & UAE
Our Journey In Diversity starts off in ancient Abyssinia modern day Ethiopia – amongst the oldest civilisation centres in Africa. Here we traverse the famous Historic Route visiting Baher Dar, Gondar, Axum, Lalibela and Addis Ababa..
Read More >>>