Bulgaria is a Balkan nation with diverse terrain encompassing Black Sea coastline, rivers, including the Danube, and a mountainous interior. A cultural melting pot with Greek, Slavic, Ottoman and Persian influences, it has a rich heritage of traditional dance, music, costumes and crafts. At the foot of domed Vitosha mountain is its capital, Sofia, dating to the 5th century B.C.E.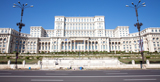 A Cultural tour of Romania & Bulgaria
In this 11 days journey we explore two of the most interesting gems of Eastern Europe – Romania and Bulgaria. From stone churches, fortresses and painted churches,..
Read More >>>
A Cultural tour of Bulgaria & Romania
In this journey we visit 13 UNESCO World Heritage Sites, exploring the legacy of ancient Thrace, the Rock-Hewn Churches of Ivanovo, the Wooden Churches of Maramures and the Churches of Moldavia..
Read More >>>