Mauritius will enchant you, will uplift your soul, making you feel that you belong to the chosen few. Every visitor enjoys personal attention. Every encounter is an opportunity to discover a friendly face. Behind each smile lies the promise of a unique holiday. The contrast of a multitude of colours and tastes, the island, set in its turquoise sea, is an oasis of peace and tranquillity. Mauritius, a melting pot where past and present are smoothly blended together, offers an essential beauty that will compel to return to its shores time and time again. May your stay with us remain engraved in your memory forever.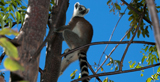 A Cultural tour of Madagascar, Comoros, Mayotte, Mauritius, Rodriguez, Reunion & Seychelles
The Indian Ocean is home to a large variety of fascinating islands each of which is inhabited by peoples from Asia, Africa and Europe..
Read More >>>