Landlocked between India and Tibet, Nepal spans terrain from subtropical jungle to the icy Himalaya, and contains or shares eight of the world's ten highest mountains. Its cultural landscape is every bit as diverse: Nepal has a dozen major ethnic groups and two of the world's great religions, Hinduism and Buddhism, overlap and mingle with older tribal traditions, testimony to the Nepalis' great tolerance and good sense of humour. Founded on trans-Himalayan trade the kingdom of Nepal is a land of sublime scenery, time-worn temples, and some of the best walking trails on earth. It is a multi-faceted destination with something for everyone from the avid hiker or mountaineer to the eager cultural tourist.
Duration:
13 days
Special Value Tour
Itinerary Revised
A Cultural tour of Nepal & India
This two country tour combines the great highlights of the Kathmandu Valley and Northern India. It is a very popular combination for tourists who wish to enjoy culture and nature, as you not will only see the magnificent heritage ancient Buddhism and the Mughal Empire,..
Read More >>>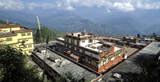 A Cultural tour of India, Sikkim, Bhutan & Nepal
Experience the majestic and serene Himalayas as we explore the highlights of West Bengal and Sikkim in India, the Kingdom of Bhutan and Kathmandu Valley in Nepal..
Read More >>>