Beautiful Africa rewards visitors with the exciting thrill of discovery. From the wonderful Victoria Falls to the Ngorongoro crater, this extraordinary continent is a magnificent destination for those prepared to step off the more beaten holiday tracks.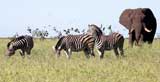 Duration:
16 days

A Cultural tour & safari of Kenya, Tanzania, Zimbabwe & Zambia
Kenya and Tanzania are known for their breathtaking game sightings of hundreds of animal species in pristine wilderness, while majestic Victoria Falls is considered one of the seven natural wonders of the world..
Read More >>>