The world's fourth largest island known for its biodiversity unique wildlife and long coastline, Madagascar is probably the least of the visited islands. However, the island is home to the rare and interesting species of reptiles and animals that include Red-bellied Lemurs, the Indri, birds and the Aye-aye. This is the land of both natural and cultural attractions that few countries can offer.
Duration:
12 days

A Cultural Heritage & Photo Journey discovering with Peter Langer
Often referred to as the Eighth Continent, the island's legendary uniqueness is best reflected by its plethora of amazing lemurs, colorful chameleons, endemic birds and fascinating baobabs, all of which combine to make for a truly exceptional safari..
Read More >>>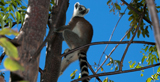 A Cultural tour of Madagascar, Comoros, Mayotte, Mauritius, Rodriguez, Reunion & Seychelles
The Indian Ocean is home to a large variety of fascinating islands each of which is inhabited by peoples from Asia, Africa and Europe..
Read More >>>