South Africa is a very diverse and culturally rich area. With such things as adventure, wild life, beautiful flora & fauna, enchanting scenery of everything from white sand beaches to the sand dunes of the desert, all in a relatively small region, this has been a long sought after destination. South Africa's excellent infrastructure draws favourable comparison with countries such as Australia or the United States. Good air links and bus networks, excellent roads and a growing number of first-class hotels B&Bs make South Africa a perfect touring country.
Duration:
20 days

A Cultural tour & safari of South Africa, Swaziland & Lesotho
The Republic of South Africa is a diverse multi cultural country. This 20 days small group overland journey from Johannesburg to Cape Town takes us through the culture, history, wildlife and landscape of this rich diverse land..
Read More >>>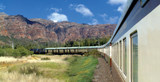 Duration:
14 days

A Cultural tour & safari of South Africa & Namibia
On this exclusive charter with an English-speaking tour guide, enjoy a stunning trip of almost 3000 km across Africa. The African Explorer, your comfortable private train, takes you all the way from the natural wonders of Cape Town to Namibia...
Read More >>>