The Caucasus region sits between the Black Sea on the West and the Caspian Sea on the East, and comprises the newly independent states of Armenia, Azerbaijan, and Georgia. Since 2004, these three countries have been included in the EU's Neighborhood Policy. The Caucasus Region consists of two highly dependent net energy importers surrounded by some of the world's energy giants (i.e. Russia, Iran, and to a smaller but growing extent, Azerbaijan). Energy priorities of the Caucasus countries, therefore, are two-fold: to diversify their energy supplies; and to cash in on transit revenues as their neighbors develop export facilities which traverse their territory. The tempestuous history and diverse geography of Armenia, Georgia and Azerbaijan are intertwined. The snow-clad Caucasus and Black Sea once formed a trade route with ancient Greece. Later on, the Arabs, Ottoman Turks and Mongols ravished these little known lands. Our Caucasus tours reveal the abiding beauty and hospitality of the Caucasus. Heading east, we cross into Azerbaijan. Our Caucasus tours journey along an ancient caravan route, which for centuries has connected Baku on the Caspian Sea with Tbilisi and the West. Pausing at Sheki, once famous for its silk-weaving and embroidery, we visit the exquisite Khan's Palace and enjoy a walk into the Caucasus foothills. Our tour ends at Baku, with ample time to wander the backstreets and bazaars of the Old Town, a treasure trove of shops and street cafes.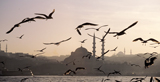 A Cultural tour of Turkey, Armenia & Georgia
This tour reveals the abiding beauty and hospitality of Turkey and the Caucasus. We start exploring the historic areas of amazing Istanbul before we head to pristine Lake Van and Kars in Turkey..
Read More >>>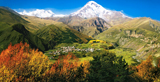 A Cultural tour of Azerbaijan, Georgia & Armenia
This extraordinary 16-day tour takes us to an extremely complex and fascinating part of the world. Persians, Khazars, Arabs, Huns, Turko-Mongols and Russians have all invaded and migrated into the Caucasus, each contributing to the region's intricate history and astounding architecture..
Read More >>>