Greece is a country in southeastern Europe consisting of 2 mainland peninsulas and thousands of islands throughout the Aegean and Ionian seas. It's often called the birthplace of Western civilization, and Athens, its capital, retains ancient landmarks including the 5th-century-B.C.E. Acropolis citadel and Parthenon temple. Greece is also known for its beaches, from the black sands of Santorini to the party resorts of Mykonos.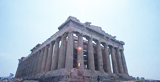 A Cultural tour of Turkey & Greece
Two of Europe's richest civilisations have been combined in one 14 days journey. We start with Constantinople - or modern day Istanbul in Turkey and through Canakkale, Troy, Pergamum, Kusadasi, Ephesus, Pamukkale and Marmaris..
Read More >>>