Step out into the vast open plains that dominate much of Tanzania to meet one of the largest, wildest animal populations in the world. Wildebeest, monkey, antelope, lion, cheetah, crocodile, gazelle, flamingo - you name it. Tanzania offers some of the best wildlife spotting opportunities on the continent in famous parks such as the Serengeti, the mysterious crater of Ngorongoro and Mt Kilimanjaro. You can also explore Zanzibar, one of several islands off Tanzania's coast, a former spice centre that still reflects bygone days of exotic trade.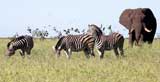 Duration:
16 days

A Cultural tour & safari of Kenya, Tanzania, Zimbabwe & Zambia
Kenya and Tanzania are known for their breathtaking game sightings of hundreds of animal species in pristine wilderness, while majestic Victoria Falls is considered one of the seven natural wonders of the world..
Read More >>>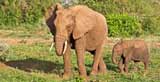 Duration:
07 days
Itinerary Revised
A Cultural tour & safari of Tanzania
Africa is well known for its wild game and one of the best places for African safari vacations is Northern Tanzania. This region includes the wonderful game parks of Serengeti, Ngorongoro and Lake Manyara, all teeming with wildlife in their natural habitats..
Read More >>>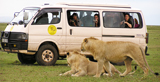 A Cultural tour & safari of Kenya & Tanzania
An artistically tailored safari that explores the cultural heritage of Kenya & Tanzania with exciting game safaris. Most safari packages to Kenya & Tanzania ignore the rich cultural heritage of the region, this 15 days cultural and game safari includes visits to 8 UNESCO World Heritage Sites,..
Read More >>>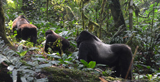 A Cultural tour & safari of Kenya, Tanzania, Uganda & Rwanda
This exciting safari combines game drives in East Africa's most renowned national parks including, amongst others, Masai Mara and Amboseli in Kenya; Serengeti, Ngorongoro Crater and Lake Manyara in Tanzania;..
Read More >>>