Step out into the vast open plains that dominate much of Tanzania to meet one of the largest, wildest animal populations in the world. Wildebeest, monkey, antelope, lion, cheetah, crocodile, gazelle, flamingo - you name it. Tanzania offers some of the best wildlife spotting opportunities on the continent in famous parks such as the Serengeti, the mysterious crater of Ngorongoro and Mt Kilimanjaro. You can also explore Zanzibar, one of several islands off Tanzania's coast, a former spice centre that still reflects bygone days of exotic trade.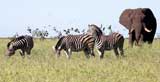 Duration:
15 days

A Cultural tour & safari of Kenya, Tanzania, Zimbabwe & Zambia
An artistically designed safari for both individuals and families. In East Africa we start chasing the Big Five and many other species in world renowned game reserves of Masai Mara, Ngorongoro, Serengeti and Lake Manyara..
Read More >>>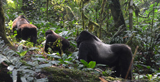 A Cultural tour & safari of Kenya, Tanzania, Uganda & Rwanda
This exciting safari combines game drives in East Africa's most renowned national parks including, amongst others, Masai Mara and Amboseli in Kenya; Serengeti, Ngorongoro Crater and Lake Manyara in Tanzania;..
Read More >>>