Moldova, an Eastern European country and former Soviet republic, has terrain encompassing forests, rocky hills and vineyards. It shares linguistic and cultural roots with its neighbor, Romania. Its wine regions include Nistreana, known for its reds, and Codru, home to some of the world's largest cellars. The capital, Chișinău, has Soviet-style architecture and the National Museum of History, exhibiting ethnographic and art collections.
A Cultural tour of Moldova
On this unique 13-day journey we get to explore some of the least visited sights in Europe, as we explore Ukraine, Transnistria and Moldova. We get to visit the Ukraine's historical cities of Kiev, L'viv and Odessa, see the ghostly wastelands of Chernobyl, the site of the world's worst nuclear disaster..
Read More >>>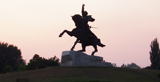 A Cultural tour of Moldova
Landlocked between Romania and Ukraine, this is probably Eastern Europe's most unknown country. It was part of the Soviet Empire and is still largely influenced by the politics of the East and the West..
Read More >>>
A Cultural tour of Romania
The land of Romania is famous for many reasons – it's vampires including the world renowned Dracula, to it's Communist dictatorial days under Ceausescu – not to mention Turkish Ottoman rule of the principalities of Wallachia and Moldovia..
Read More >>>