Zululand is one of the 11 district municipalities of KwaZulu-Natal province in South Africa. The seat of Zululand is Ulundi. The majority of its 804,456 people speak IsiZulu. Gets an identity i's own as it is part of a larger historical area also known as Zululand.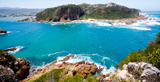 A Cultural tour & safari of South Africa, Eswatini (Swaziland) & Zululand
Our journey of South Africa covers the most important cultural and historical sites, the majestic cities – urban and rural..
Read More >>>