Sikkim was an isolated, independent Buddhist kingdom until it joined India in 1975. Now a fully fledged Indian state, it is predominantly Hindu, with a population made up of 75 percent Nepalese Gurungs, and less than 20 percent Lepchas - its former rulers. Nepali is the lingua franca and the Nepalese are socially and politically the most dominant people in the state. culturally, historically and spiritually, Sikkim's strongest links are with Tibet, who gave the state its name - sukh-im, "happy homeland". The landscape ranges from sweltering deep valleys a mere 300m above sea level to lofty snow peaks such as Kanchenjunga, which at 8586m is the third-highest mountain in the world. The capital city, Gangtok at 1870m follows the extreme contours of the land and all roads snake around its precarious slopes. It has good facilities and magnificent post-monsoon views. There are over two hundred monasteries, mostly belonging to the ancient Nyingmapa sect. Pemayangtse in west Sikkim is the most important historically; Tashiding, is another important and active Nyingmapa monastery, surrounded by prayer flags and chortens and looking across to snow-capped peaks and Rumtek, near Gangtok is probably the most influential monastery in Sikkim, as it was the home of the sixteenth Gyalwa Karmapa.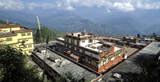 A Cultural tour of India, Sikkim, Bhutan & Nepal
Experience the majestic and serene Himalayas as we explore the highlights of West Bengal and Sikkim in India, the Kingdom of Bhutan and Kathmandu Valley in Nepal..
Read More >>>