Day 01: Arrive Nairobi (KENYA)
Karibu! We are warmly received in Kenya's capital, Nairobi. The Kiswahili language here is often easily understood as many people mix in English words, in fact more people in Kenya speak English than in any other African country.

Overnight: Pan Africa Hotel (1 night)
Day 02: Nairobi/Lake Naivasha (Drive 94 Kms/2 hours)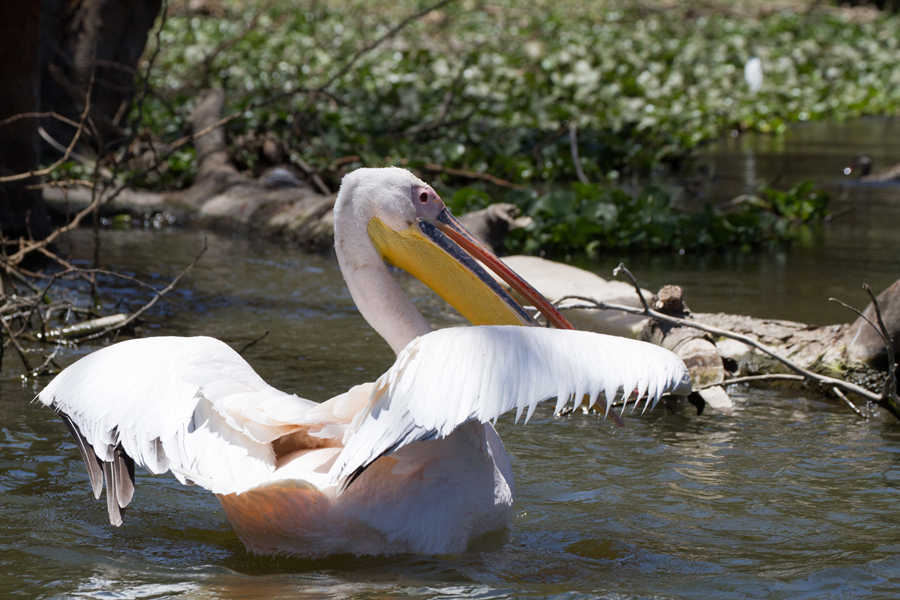 After breakfast we drive to Lake Naivasha, which is located north west of Nairobi. Lake Naivasha is part of the Kenya Lake System in the Great Rift Valley*, home to 13 globally threatened bird species and some of the highest bird diversities in the world. It is the single most important foraging site for the lesser flamingo anywhere, and a major nesting and breeding ground for great white pelicans. The property features sizeable mammal populations, including black rhino, Rothschild's giraffe, greater kudu, lion, cheetah and wild dogs and is valuable for the study of ecological processes of major importance. We arrive just in time for lunch after which we enjoy a unique experience on a boat safari on Lake Naivasha. The waters of the lake draw a great range of game to these shores. Giraffes wander among the acacia, Buffalo wallow in the swamps and Colobus monkeys call from the treetops while the Lakes large hippo population sleep the day out in the shallows.

Overnight: Lake Naivasha Sopa Lodge or Lake Naivasha Simba Lodge, Lake Naivasha (1 night) (B, L, D)
Day 03: Lake Naivasha/Masai Mara (Drive 278 Kms/5 ½ hours)
After breakfast we continue on our 4x4's to the incredible Masai Mara Game Reserve known for its game drives through rough and country side road and home to the Big Five and Big cats, Lion, Leopard and Cheetah. As we enter the Mara we start with a game drive before reaching our deluxe lodge.

Overnight: Mara Serena Lodge or Ashnil Lodge or Mara Sarova Camp, Masai Mara (2 nights) (B, L, D)

Day 04: Masai Mara
Morning and afternoon game drives in this spectacular game reserve, all with superb photographic opportunities. Blessed with a permanent water supply, Masai Mara has a permanent population of plains game. The "big five" - elephant, buffalo, lion, leopard and rhino are quite common. We may take an early morning optional balloon excursion to experience a birds-eye view of the vast Mara. (B, L, D)

Day 05: Masai Mara/Serengeti (Drive 59 Kms/1½ hours) (TANZANIA)
Today we depart for Tanzania, home to the best game in the world. We cross the Isebania Border to Tanzania – also the home of Mount Kilimanjaro, the world famous Serengeti and Ngorongoro Crater Game Parks as well as the spice island of Zanzibar. Our destination is Serengeti which literally means "endless plains".

Overnight: Serengeti Serena Lodge or Bilila Lodge Kempinski, Serengeti (2 nights) (B, L, D)
Day 06: Serengeti
We begin our Tanzanian adventure at the world famous wildlife sanctuary - the Serengeti National Park which at 14,763 sq kms is the largest National Park in Tanzania. Summed up as 'one of the most unique areas in the world', Serengeti contains the largest remaining concentration of plains game in Africa, on a scale, which has no parallel anywhere in the world. The abundance of herbivores includes wildebeest, Zebra, Gazelle, Topi, Buffalo, and Hartebeest, to name but a few. Serengeti is also famous for Predators e.g. Lion, Cheetah, Leopard, Hyena and contains a wide variety of birdlife, believed to be in the region of 500 species. (B, L, D)

Day 07: Serengeti/Ngorongoro Crater (Drive 75 Kms/2 hours)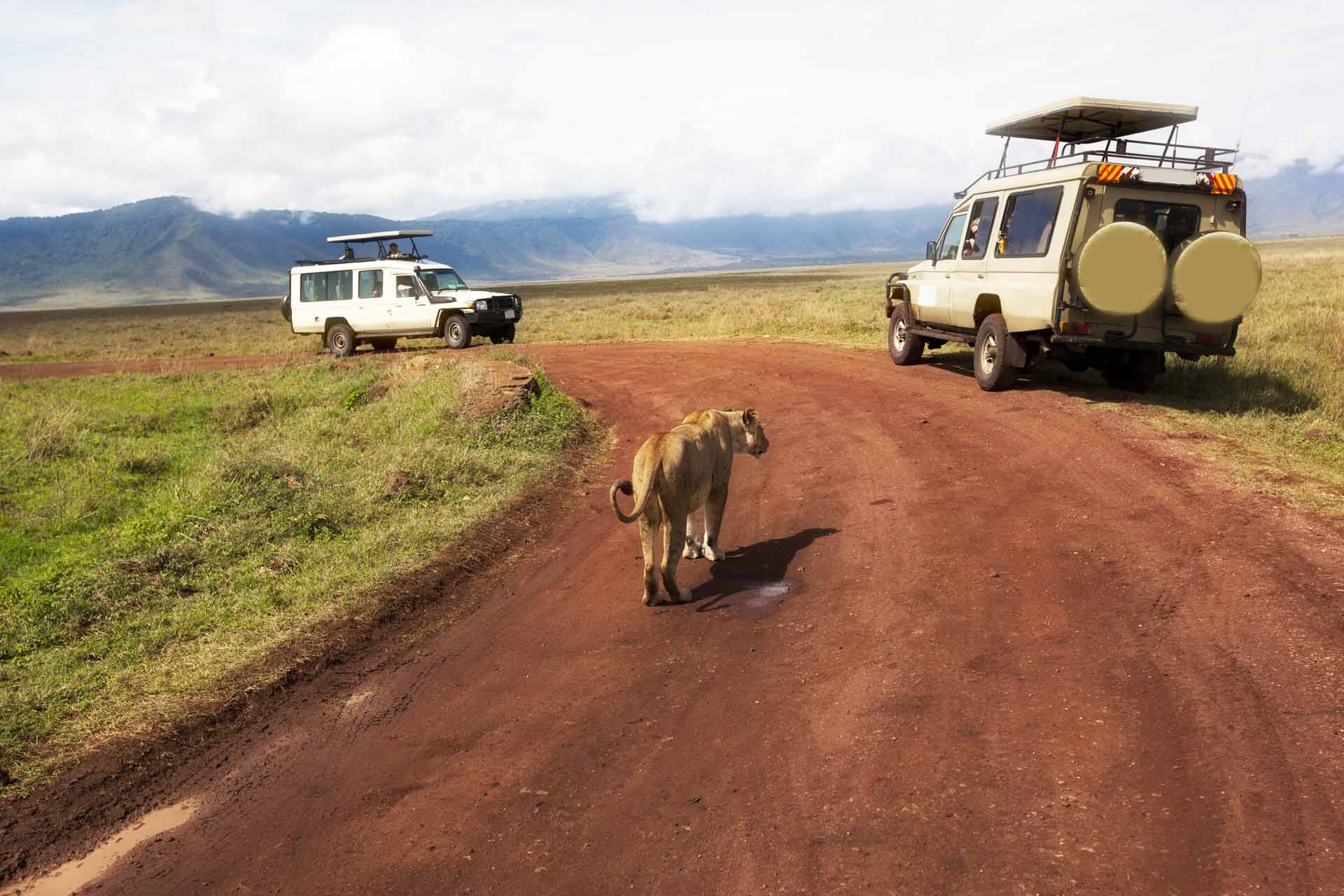 Another day game drive in Serengeti National Park with picnic lunch. We explore various areas like Moro kopjes and Gol kopjes. The extensive grasslands are interspersed with Kopjes rocky outcrops like islands in the flat plain, each with their own wildlife communities. Discover the Seronera River which flows through the park, providing habitats for a variety of birds, mammals and reptiles. In the afternoon we proceed to Nabi Hill gate were you enjoy our picnic lunch before proceeding to the Malanja depression in the Ngorongoro Conservation Area.

Overnight: Ngorongoro Serena Lodge or Ngorongoro Explorean, Norongoro (1 night) (B, L, D)
Day 08: Ngorongoro Crater/Lake Manyara (Drive 60 Kms/1 hour)
Today we explore the Ngorongoro Conservation Area*, which spans vast expanses of highland plains, savanna, savanna woodlands and forests. Established in 1959 as a multiple land use area, with wildlife coexisting with semi-nomadic Maasai pastoralists practicing traditional livestock grazing, it includes the spectacular Ngorongoro Crater, the world's largest caldera. Extensive archaeological research has also yielded a long sequence of evidence of human evolution and human-environment dynamics, including early hominid footprints dating back 3.6 million years. We descend to the famous Ngorongoro Crater for a day of superb game viewing as it is a haven for an estimated 30,000 large mammals, including lion, leopard, cheetah, elephant, hyena, hippo, wildebeest, baboon, gazelle and the endangered black Rhino. After our safari we drive to Lake Manyara in the late afternoon.

Overnight: Lake Manyara Serena Lodge or Kirurumu Tented Lodge, Lake Manyara (2 nights) (B, L, D)

Day 09: Lake Manyara
After breakfast we drive down to Lake Manyara National Park, which is one of the finest parks in Tanzania. You will enjoy your game drive followed by lunch. After lunch, we will visit the village of Mto Wa Mbu and The Great Rift Valley and then proceed to your unique safari lodge which offers a spectacular view of Lake Manyara National Park. (B, L, D)

Day 10: Lake Manyara/Arusha/Amboseli (Drive 285 Kms/6 hours) (KENYA)
After our Northern Tanzania game experience, we take another scenic drive crossing the beautiful Great Rift Valley to the colorful villages of Mto wa Mbu and Makuyuni. At Arusha, which is the exact center between Cape Town and Cairo, we stop for lunch. We then cross the Namanga border between Tanzania and Kenya and then drive to the Amboseli National Park that is situated at the foothills of Mount Kilimanjaro (5922 meters/19,430 ft). Amboseli is also famous for its vast herds of elephants and stunning views of Kilimanjaro. We take the opportunity of another game drive before checking into our lodge for the night.

Overnight: Amboseli Serena Lodge or Ol Tukai Lodge, Amboseli (2 nights) (B, L, D)

Day 11: Amboseli
After breakfast drive to Amboseli, situated at the foothills of Mount Kilimanjaro (19,430 ft). Amboseli is famous for its vast herds of elephants and stunning views of Kilimanjaro on clear days. Be sure to have your camera ready. Lunch at the lodge and afternoon game drive en route to your lodge in search of Elephant, Giraffe, Buffalo and much more. (B, L, D)

Day 12: Amboseli/Nairobi (Drive 220 Kms/4 hours)/Entebbe (flight) (UGANDA)/Kampala
After breakfast at our lodge, we again take on the wildlife against the backdrop of the highest peak in Africa. With lunch at the lodge, we before we are transferred to Nairobi airport for our flight to Entebbe. Upon arrival we are transferred to our hotel in Kampala.

Overnight: Lake Victoria Serena Resort, Lake Victoria (1 night) (B, L)

Day 13: Kampala/Bwindi National Park (Southern part) (Drive 475 Kms/7 hours)
After a drive-through tour of Kampala we drive through the countryside to Bwindi Impenetrable National Park*. Located in south-western Uganda, at the junction of the plain and mountain forests, Bwindi Park is known for its exceptional biodiversity and is the habitat of over 90 mammal species, a range of primates, including the world-famous mountain gorillas, as well as 23 Albertine Rift endemic bird species, including the African Green Broadbill and the Bar Tailed Trogon. On the way we visit the Royal Drum makers, to see how traditional African drums are made, stop at the Equator to stand in both, the Northern and Southern hemispheres simultaneously and also visit local villages and meet the local folks, arriving at Bwindi in time for our evening meal.

Overnight: Lake Mutanda Chameleon Hill Lodge, Bwindi National Park (2 nights) (B, L, D)

Day 14: Bwindi Impenetrable National Park - First gorilla viewing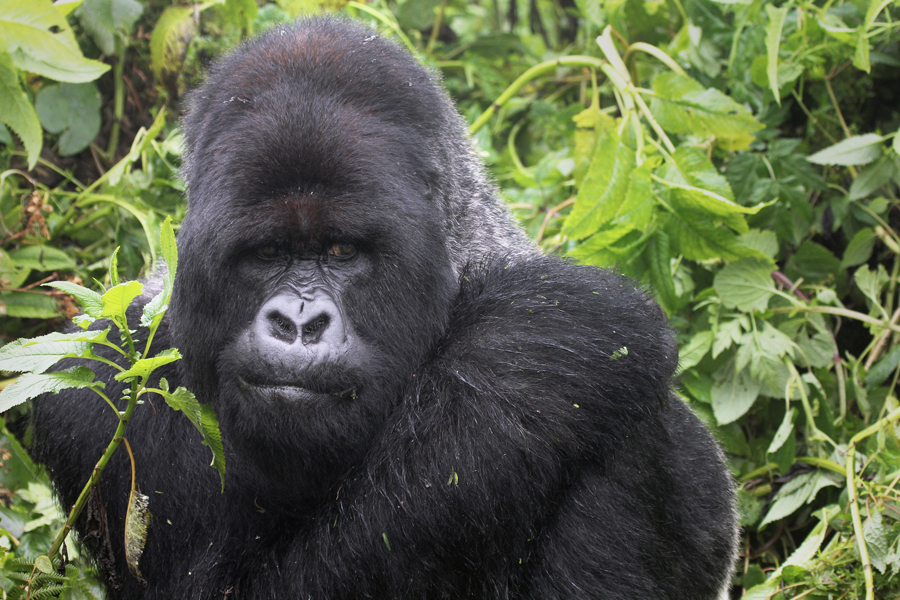 This morning we are set for an exciting day as we head out for our first gorilla viewing. We hike through the thick, verdant, rainforest to viewing the gorillas in their natural habitat. This is truly an amazing and an unforgettable experience. Actual trek times vary, depending on where the gorillas will be. Usually this excursion can take between 4 to 6 hours. Should you not participate in this excursion, you will not need to pay the Uganda gorilla-viewing fee. In this case you may partake of several optional activities, such as exploring the Batwa Trail, where the local tribe demonstrate hunting techniques, gather honey, point out medicinal plants and demonstrate us how to make bamboo cups, visit Ngarama Caves or see tribal traditional dances. (B, L, D)
Day 15: Bwindi/Parc National des Volcans (Drive 159 Kms/4 hours) (RWANDA)
We drive to the Uganda/Rwanda border and after the formalities we drive to Volcanoes National Park (Parc National des Volcans), which lies in northwestern Rwanda and borders Virunga National Park in the Democratic Republic of Congo and Mgahinga Gorilla National Park in Uganda. The national park is known as a haven for the mountain gorilla. It is home to five of the eight volcanoes of the Virunga, which are covered in rainforest and bamboo. The park was the base for the zoologist Dian Fossey. We relax in the afternoon in preparation for an early morning rise for our next gorilla viewing experience. The Mountain Gorilla View Lodge is a new mid-range lodge in the area and is ideally located for gorilla viewing excursions in Rwanda.

Overnight: The Mountain Gorilla View Lodge, Rwanda (2 nights) (B, L, D)

Day 16: Parc National des Volcans - Second gorilla viewing
Today we go on our second gorilla viewing trek, Volcanoes National Park is the definitive location in Africa to look for the rare mountain gorilla and also a great place to encounter golden monkeys. Trekking here involves less walking and is less strenuous than at trekking in Bwindi. An encounter with these beautiful creatures, which despite their size are remarkably nonaggressive, is a magical experience that is absolutely worth the price. In the evening we have the option to be entertained by the Ibyiwatu Cultural group to learn about Rwandan culture, music, dance, and drama or visit the twin lakes. (B, L, D)

Day 17: Ruhengere/Kigali (Drive 100 Kms/2 hours)
The safari portion of tour comes to a close as we drive to Kigali, Rwanda's capital through the foothills of the Virunga mountain range. Upon arrival we explore the city, visiting the Genocide Museum and the Caplaki Crafts Center. Time permitting we also visit the Mille Collins Hotel made famous by the movie, Hotel Rwanda. We are then transferred to our hotel.

Overnight: Lemigo Hotel, Kigali (1 night) (B, L, D)

Day 18: Kigali/Departure
After a wonderful experience of seeing and experiencing the heritage of Uganda and Rwanda, we are transferred to the airport. This journey can be ideally combined with our Kenya-Tanzania, Ethiopia and Southern African tours and safaris. (B)
B=Breakfast, L=Lunch, D=Dinner