Day 01: Arrive Delhi
Namaste! We are warmly welcomed at the airport in the traditional Indian way with hands clapped together and transferred to our hotel. The remainder of the day is free to relax.

Overnight: Vivanta By Taj Dwarka (5 Star), Delhi (2 nights)
Day 02: Delhi
We start our morning tour with a visit to New Delhi's Birla House, the former residence of Mahatma Gandhi before he was assassinated by Nathuram Godse in 1948. Next we visit the famous India Gate followed by the Houses of Parliament, Connaught Place and Humayun's Tomb*, built in 1570 as the first garden-tomb on the Indian subcontinent. We continue to the UNESCO World Heritage Site of Qutub Minar and its Monuments*. Built over the course of 300 years, the red sandstone tower of Qutub Minar is 72.5 meters and five stories high. The surrounding archaeological area also includes the magnificent Alai-Darwaza Gate, a masterpiece of Indo-Muslim art. Our afternoon concentrates on Old Delhi, starting with the Red Fort Complex*, named for its massive walls of red sandstone. The Red Fort and its sister construction, the 16th-century Salimgarh fort, are considered the zenith of Moghul creativity. After our visit, we embark on a captivating journey by rickshaw, passing through the narrow lanes of the famous Chandni Chowk Bazaar. Constructed by Moghul emperor Shah Jehan in the 17th century, this bazaar remains one of Old Delhi's oldest and busiest markets. We end our rickshaw ride at Jama Masjid, India's largest mosque. After visiting the mosque, we proceed to Raj Ghat, the cremation site of Mahatma Gandhi. In the evening, we enjoy a welcome dinner at a well-known local restaurant. (B, D)

Day 03: Delhi/Agra (Train)
After breakfast, we are transferred to the railway station for our Shatabdi Express train to Agra. These trains are fully air-conditioned and travellers enjoy complimentary meals. On arrival in Agra, we are transferred to our hotel.
Later we start our tour of Agra with a visit to one of the most well-known wonders of the world, the Taj Mahal*. An immense 17th century mausoleum of white marble built by order of the Moghul emperor Shah Jahan in memory of his favorite wife, the Taj Mahal is the jewel of Muslim art in India and a universally admired masterpiece of world heritage. We then visit Agra Fort*. This powerful fortress of red sandstone encompasses the imperial city of the Moghul rulers within its immense walls.  Here we explore fairy-tale palaces, audience halls and two very beautiful mosques. We also visit Itmad-Ud -Daulah, often referred to as the Baby Taj. A highly ornate edifice with elaborate carvings and inlay work, this mausoleum is considered to be the precursor of the Taj Mahal. We end our tour by visiting some of the local factories famous for their marble work and witnessing the complex art of inlaying precious and semiprecious stones on the marble from the Makrana Mines.

Overnight: Crystal Sarovar Premier (4 Star), Agra (1 night) (B)
Day 04: Agra/Bhopal (Train)
This morning, we are transferred to the railway station for our train to Bhopal, the capital of Madhya Pradesh. On arrival, we check in at our hotel. This fascinating and labyrinthine settlement is also known as the City of Mosques. Today we will be able to sample much of its Islamic splendour, with visits to the Jama Masjid, the Moti Masjid, and Taj-ul-Masajid, one of the largest mosques in Asia. This spectacular monument boasts two 18-storey high minarets and two massive domes. The massive pillars in the hall hold 27 ceilings through squinted arches of which 16 ceilings are decorated with ornate designs.

Overnight: Noor-Us-Sabah Palace (Heritage), Bhopal (2 nights) (B)
Day 05: Bhopal/Excursion to Sanchi & Bhimbetka
The Monuments at Sanchi*, the oldest Buddhist sanctuary in existence, are our destination today.  Consisting of monolithic pillars, palaces, temples and monasteries in different states of conservation, most of which date back to the 2nd and 1st centuries B.C., this ancient jewel was a major Buddhist centre in India until the 12th century A.D. On our way back to Bhopal, we visit Udaygiri Caves. Carved into a sandstone hill from 4th to 5th century A.D., these caves feature some of the oldest Hindu images and cave temples in India. In the afternoon, we visit the ancient Rock Shelters of Bhimbetka* in the foothills of the Vindhyan Mountains.  Five clusters of natural rock shelters mark the earliest traces of human life on the Indian subcontinent. The paintings found in the shelters appear to date from the Mesolithic Period over 30,000 years ago right through to the historical period.  Inhabitants of the 21 villages close to the site still have cultural traditions similar to those represented in the rock paintings. (B)
Day 06: Bhopal/Ujjain/Indore (Drive)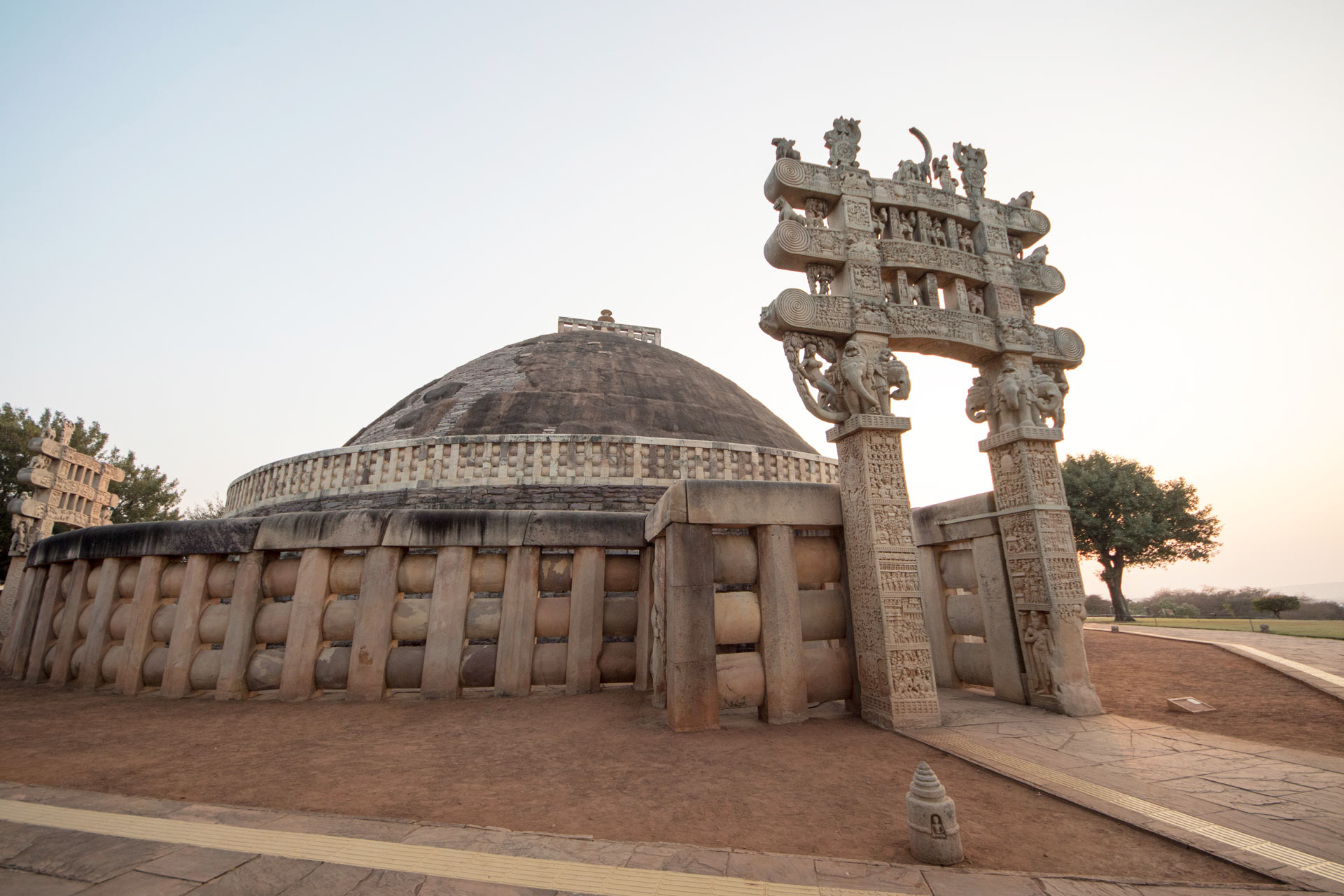 After breakfast, we drive to Indore. En route we visit the Mahakaleshwar Temple in Ujjain, one of the twelve shrines said to be the most sacred abodes of Lord Shiva. We arrive in Indore and visit the Kanch Mandir. This building boasts doors, pillars, ceilings and walls inlaid with thousands of pieces of glass. The temple also has paintings depicting stories from the Jain scriptures. We then continue to lavish Lalbagh Palace, one of the best neoclassical palaces in India.

Overnight: Radisson Blu Hotel Indore (5 Star), Indore (1 night) (B)
Day 07: Indore/Mandu (Drive)
We continue our journey after breakfast, driving to Mandu*, which features some of the finest examples of Afghan architecture in India. We explore this beautiful town, filled with rich and elaborate mosques, palaces and tombs that have been declared as a UNESCO World Heritage Site. Our tour visits Jahaz Mahal, Taveli Mahal, Asharafi Mahal, Tomb of Hoshang Shah, the Jain Temple, Jama Masjid, Baz Bahadur's Palace, Rupmati's Pavalion, Darya Khan's Tomb and Nil Kanth Palace. After our tour, we proceed to our hotel for check in.

Overnight: Malwa Resort (Basic 3 Star), Mandu (1 night) (B)
Day 08: Mandu/Ahmedabad (Drive)
Following our morning meal, we drive to Ahmedabad, the largest city of Gujarat. The city was founded by Sultan Ahmad Shah in 1411 A.D. . On arrival, we check in to our hotel. The remainder of the day is free to explore the diverse mix of ancient monuments and cutting-edge modern architecture that Ahmedabad offers.

Overnight: The Pride (4 Star), Ahmedabad (2 nights) (B)
Day 09: Ahmedabad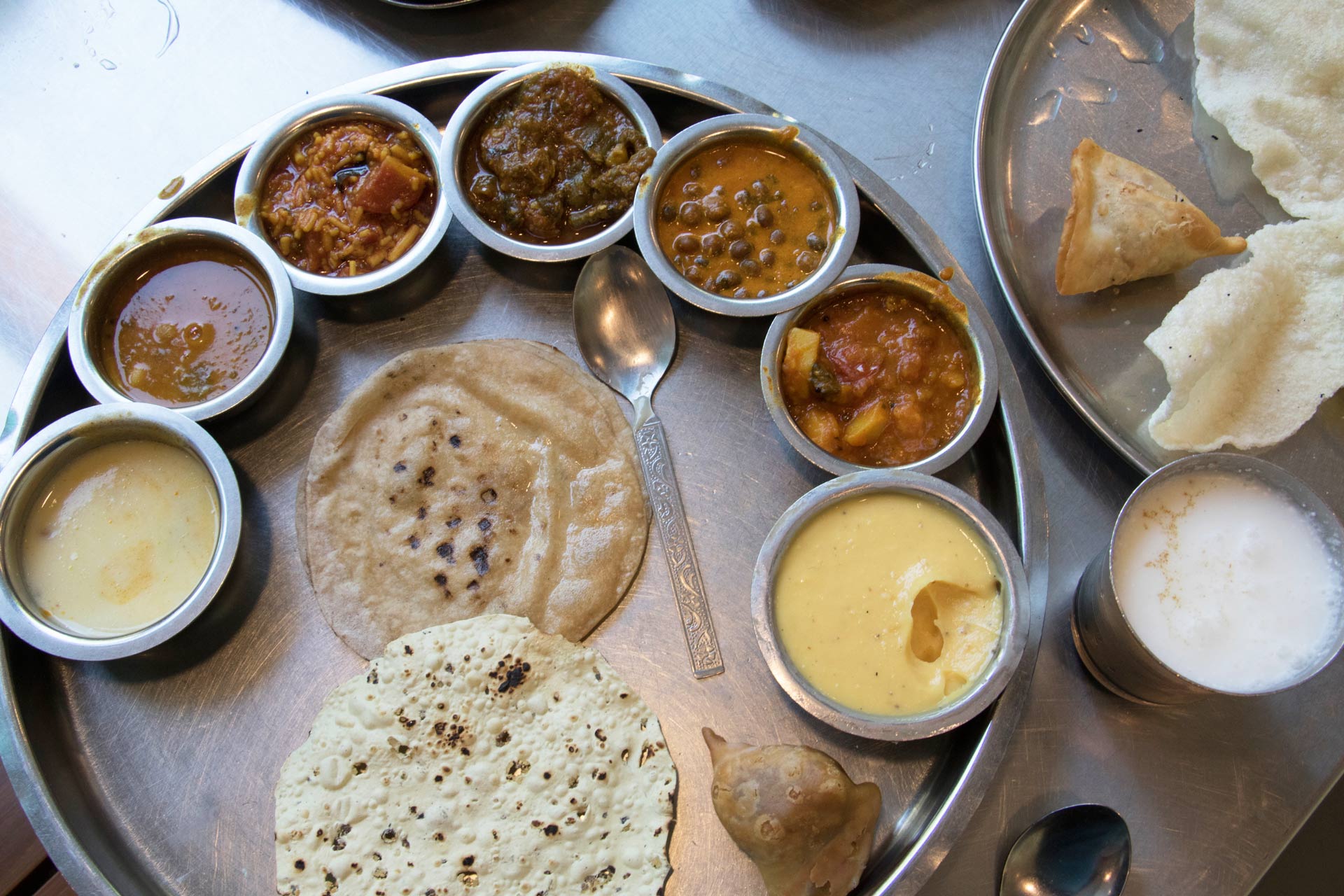 After breakfast, we explore Mahatma Gandhi's Sabarmati Ashram, formerly known as Satyagraha Ashram. Scenically situated on the west bank of Sabarmati River, the ashram houses a museum that features the largest collection of original manuscripts of Gandhi's letters and articles. Next we visit the Siddhi Sayad Masjid and the Swaminarayan Temple. In the evening, we are treated to a traditional Thali dinner. (B, D)
Day 10: Ahmedabad/Rajkot (Drive)
A beautiful journey ahead as we drive through rural Gujarat to Rajkot, the former capital of the princely state of Saurashtra. We visit Kaba Gandhi No Delo, the ancestral house of Mahatma Gandhi where he spent his childhood, now converted into Gandhi Smriti and Watson Museum.

Overnight: Imperial Palace (4 Star), Rajkot (1 night) (B)

Day 11: Rajkot/Bhuj (Drive)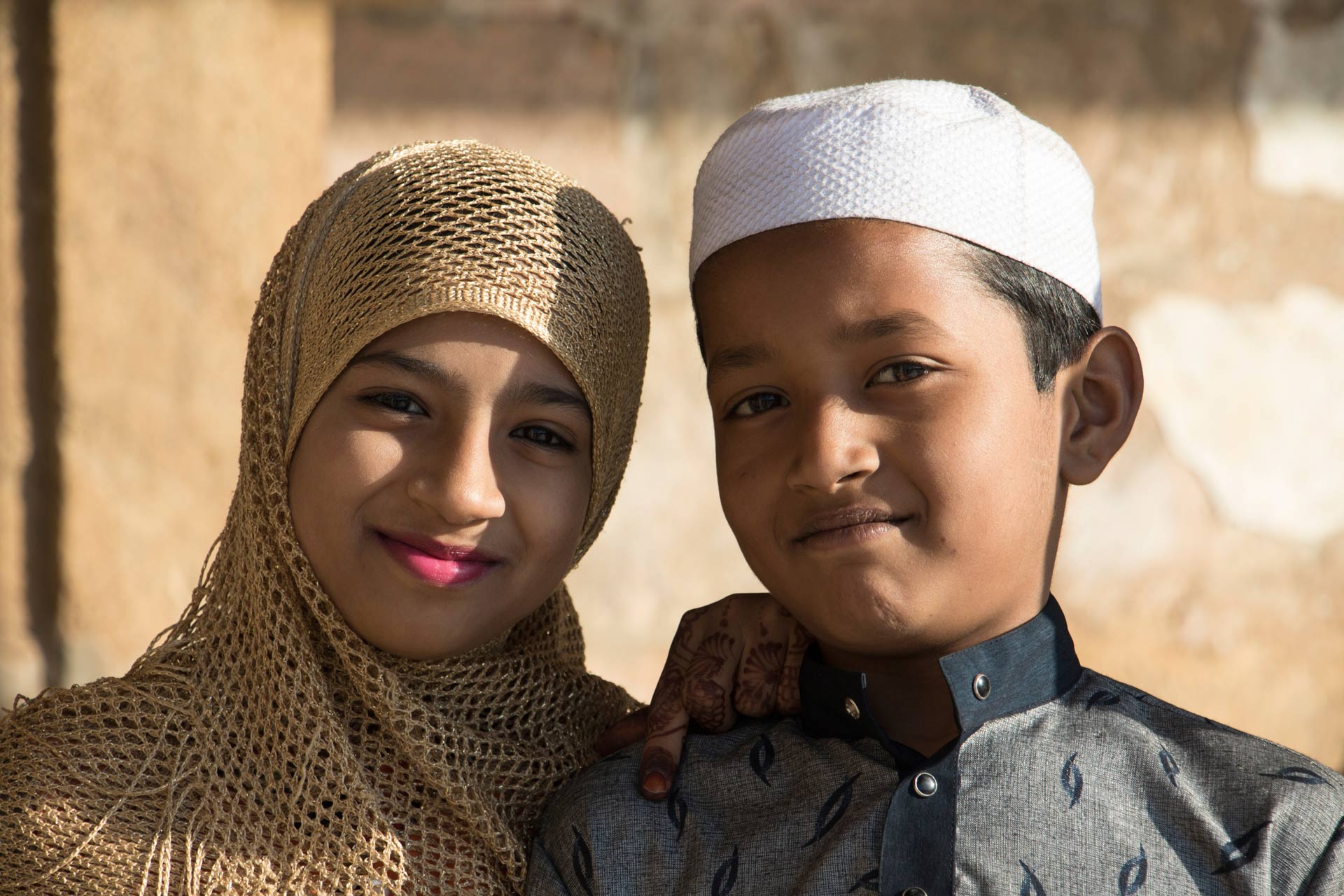 Following breakfast, we drive to Bhuj. This city boasts walls within walls, crenellated gateways, old palaces with intricately carved wooden pavilions, and brightly decorated Hindu temples. Our visit starts with Aina Mahal, a palace built in traditional Kutchi style. We then explore Maharao Sinh Madansinhji Museum, which has a varied collection of paintings, photos and embroideries, as well as the Hall of Mirrors, which was built in the 18th century. Later we visit Prag Mahal, the new palace built with ornate Italian marble and sandstone. Parts of it are now used as government offices but the vast Durbar Hall and the Clock Tower are open to the public. We also visit the Kutch Museum, built in 1877, which is the oldest museum in Gujarat. The exhibits include a picture gallery, an anthropological section, archeological finds, textiles, weapons, musical instruments and a ship.

Overnight: Hotel Prince (3 Star), Bhuj (2 nights) (B)
Day 12: Bhujodi
Today we enjoy a tour of the village of Bhujodi, a major textile center of Kutch. The vast majority of the city's 1200 inhabitants are involved in textile handicraft production. Here we can meet weavers, tie-dye artists and block printers, most of who belong to the Vankar community. (B)
Day 13: Bhuj/Mumbai/Aurangabad (Flight)
After breakfast, we are transferred to the airport to board our flight to Mumbai, where we connect to our flight to Aurangabad. On arrival in Aurangabad, we are transferred to our hotel. The remainder of the day is free.

Overnight: ITC WelcomHotel Rama International (4 Star), Aurangabad (2 nights) (B)
Day 14: Aurangabad
Today we enjoy a full day exploring the Ajanta Caves*, one of the oldest UNESCO World Heritage Sites in India. The first Buddhist cave monuments at Ajanta date from the 2nd and 1st centuries B.C. During the Gupta period between the 5th and 6th centuries A.D., many more richly decorated caves were added to the original group. The series of paintings at Ajanta are unparalleled in the history of Indian art, both for the wide range of subjects illustrated and the assured mastery of the medium. Ajanta's paintings and sculptures are also considered masterpieces of Buddhist religious art. (B)
Day 15: Aurangabad/Mumbai (Flight)
An exciting day ahead with a visit to one of Western India's cultural highlights, the Ellora Caves*. These 34 monasteries and temples, extending over more than 2 kilometers, were carved out of the wall of a massive basalt cliff. The uninterrupted sequence of monuments dates from A.D. 600 to 1000 and brings the civilization of ancient India to life. Later we also visit the Daulatabad fort and Bibi-Ka-Maqbra, the beautiful mausoleum of Rabia-ul-Daurani, wife of the Moghul Emperor Aurangazeb. In the late afternoon, we are transferred to the airport for our flight to Mumbai. On arrival in Mumbai, we are transferred to our hotel.

Overnight: President-IHCL SeleQtions (5 Star), Mumbai (2 nights) (B)

Day 16: Mumbai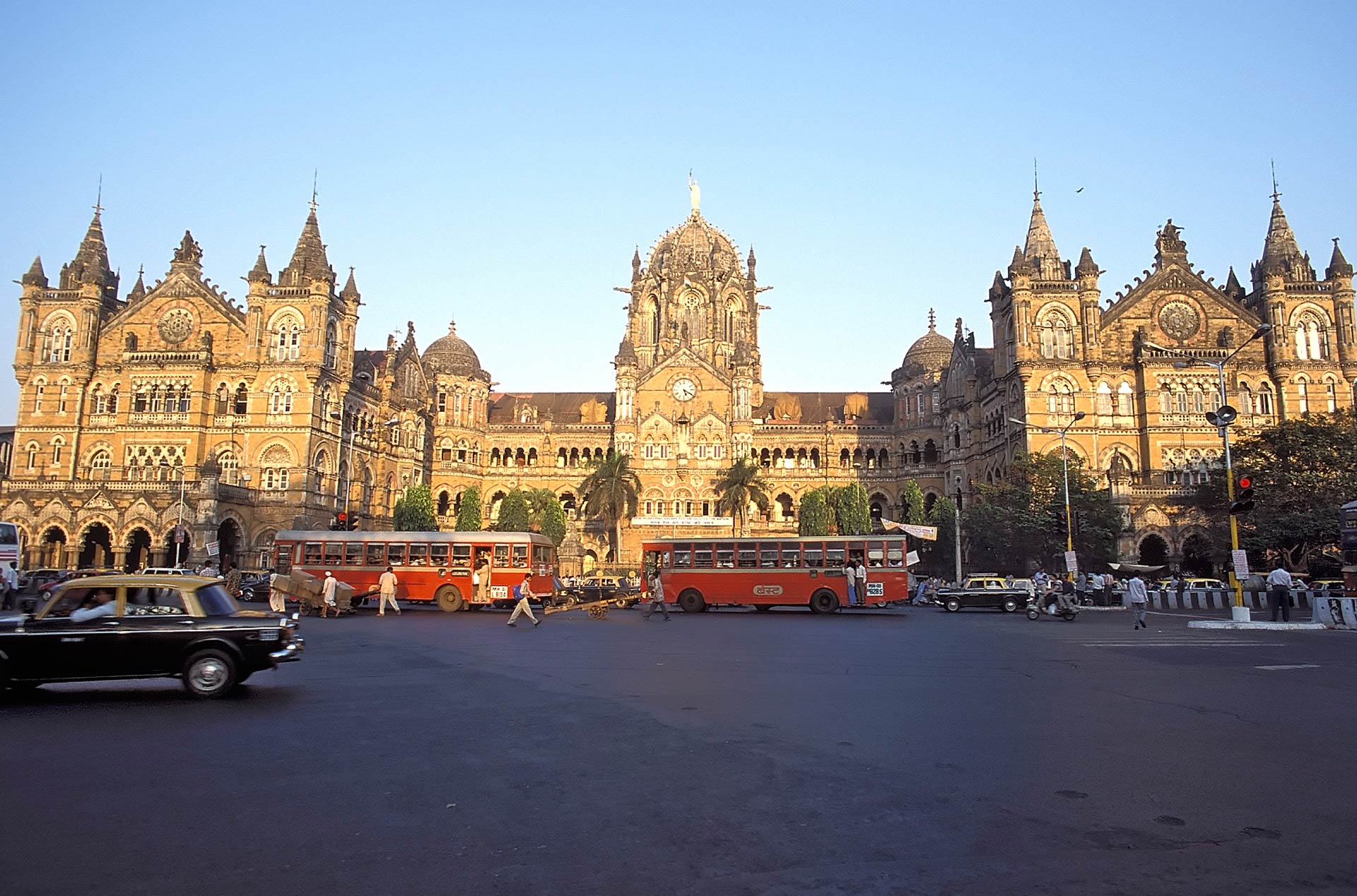 We start our day with a visit to the Gateway of India, Mumbai's most famous monument. Here we embark on our excursion to the Elephanta Caves*, located on an island in the Sea of Oman. The caves contain a collection of rock art linked to the cult of Shiva. Here, Indian art has found one of its most perfect expressions, particularly the huge high reliefs in the main cave. We return to Mumbai by motor launch and explore the Victorian Gothic and Art Deco Ensembles of Mumbai*, visiting the Prince of Wales Museum and Chhatrapati Shivaji Terminus*, formerly known as Victoria Terminus Station, an outstanding example of Victorian Gothic Revival Architecture in India, blended with themes deriving from Indian traditional architecture. The building, designed by the British architect F. W. Stevens, became the symbol of Bombay as the 'Gothic City' and the major international mercantile port of India. Its remarkable stone dome, turrets, pointed arches and eccentric ground plan are close to traditional Indian palace architecture. Our Next Stop is at Mani Bhawan, where Mahatma Gandhi stayed here during the Freedom Struggle. The house is now converted into a Museum. From here we leave for the Jain Temple and Hanging Gardens, the Zoroastrian Towers of Silence, the bustling Crawford Market and drive past Haji Ali, the tomb of a wealthy Muslim merchant. We end our tour at the Dhobi Ghat, the world's largest outdoor laundry. The word Dhobi Ghat is used all over India to refer to any place where many washers are present. (B)

Day 17: Depart Mumbai
Our exciting journey through India's Western Heritage comes to an end today as we are transferred to the airport for our departure flight. Or a convenient option here to extend our adventure with one of Bestway's many other India holiday tour packages to different regions of the country. (B)
B=Breakfast, L=Lunch, D=Dinner