Day 01: Arrive Medan
Welcome to Indonesia! Arrive in the northern city of Medan, where we are cordially welcomed and transferred to our hotel. Hotel check in starts at 2PM. Medan is well connected with flights from Singapore, Kuala Lumpur, Bangkok, Jakarta and Denpasar (Bali). The city is home to several ethnic groups, including Javanese, Batak, Chinese, Mandarin, Malay, Minangkabau, Karo and South Indian. Evening, we are introduced to Sumatra and this beautiful city, visiting the majestic 30-room Maimoon Palace, built in 1890. Then, we explore the Palace of Sultan Deli and the Grand Mosque of Medan, both known for their architecture and colours. Our day culminates with a delicious welcome dinner of local and regional specialties.
Overnight: Arya Duta Hotel (Deluxe Rooms), Medan (1 night) (D)

Day 02: Medan/Samosir Island (Drive)
After breakfast, we explore Medan further, seeing more sites and street scenes. Following a lunch consisting of typical Sumatran specialties, we take a scenic drive to Parapat Mountain and the stunning Lake Toba. En route, we see the North Sumatran rubber, oil palm and cocoa plantations depicting the lifestyles of rural Sumatra. We meet with Indonesians from all over the country and different walks of life as we cross Lake Toba by ferry, reputed to be the largest volcanic lake in the world.
Overnight: Samosir Villa Resort (Standard Rooms), Samosir Island (2 nights) (B, L, D)

Day 03: Samosir Island Exploration 
Today, we spend time in Samosir Island with its traditional villages of Tomok (the place of the old tombs of the Sidabutar Kings). At Ambarita, we see stone chairs and tables where the fate and execution of enemies took place. At this time, during the era of the Sialagan kings, cannibalism was still being practiced. At the Simanindo Batak Museum, we will see a compact exhibition illuminating Batak tribal culture, with wood carvings and traditional costumes. Lunch at a local Samosir restaurant. (B, L, D)
Day 04: Samosir/Parapat/Berastagi (Drive)
After a brief ferry ride to Parapat, we continue to Brastagi in the Karo Highlands. En route, we visit the Sipiso Piso waterfall, where we have a magnificent view of the falls. At Brastagi, we visit the traditional fruit market, truly a lively place. Time permitting, we will also view Gundaling Hills, known for its two active volcanoes. Hot lunch at a local restaurant.
Overnight: Hotel Grand Mutiara (Superior Rooms), Berastagi (1 night) (B, L, D)

Day 05: Berastagi/Medan (Drive)/Jakarta (Flight)
After breakfast, a leisurely drive to Medan, where we visit the Tjong File Mansion, former residence of a famous Chinese merchant. The architecture here is exceptionally interesting - a mixture of Victorian and Chinese with an exceptional collection of art works. We now bid farewell to Sumatra with a short flight to Indonesia's capital city of Jakarta.  We are transferred to our hotel for an overnight stay.

Overnight: Swiss Bell Bandara Bandara Hotel (Superior Rooms), Jakarta (1 night) (B)

Day 06: Jakarta/Pangkalan Bun (Flight)/Orangutan Sanctuary (Boat)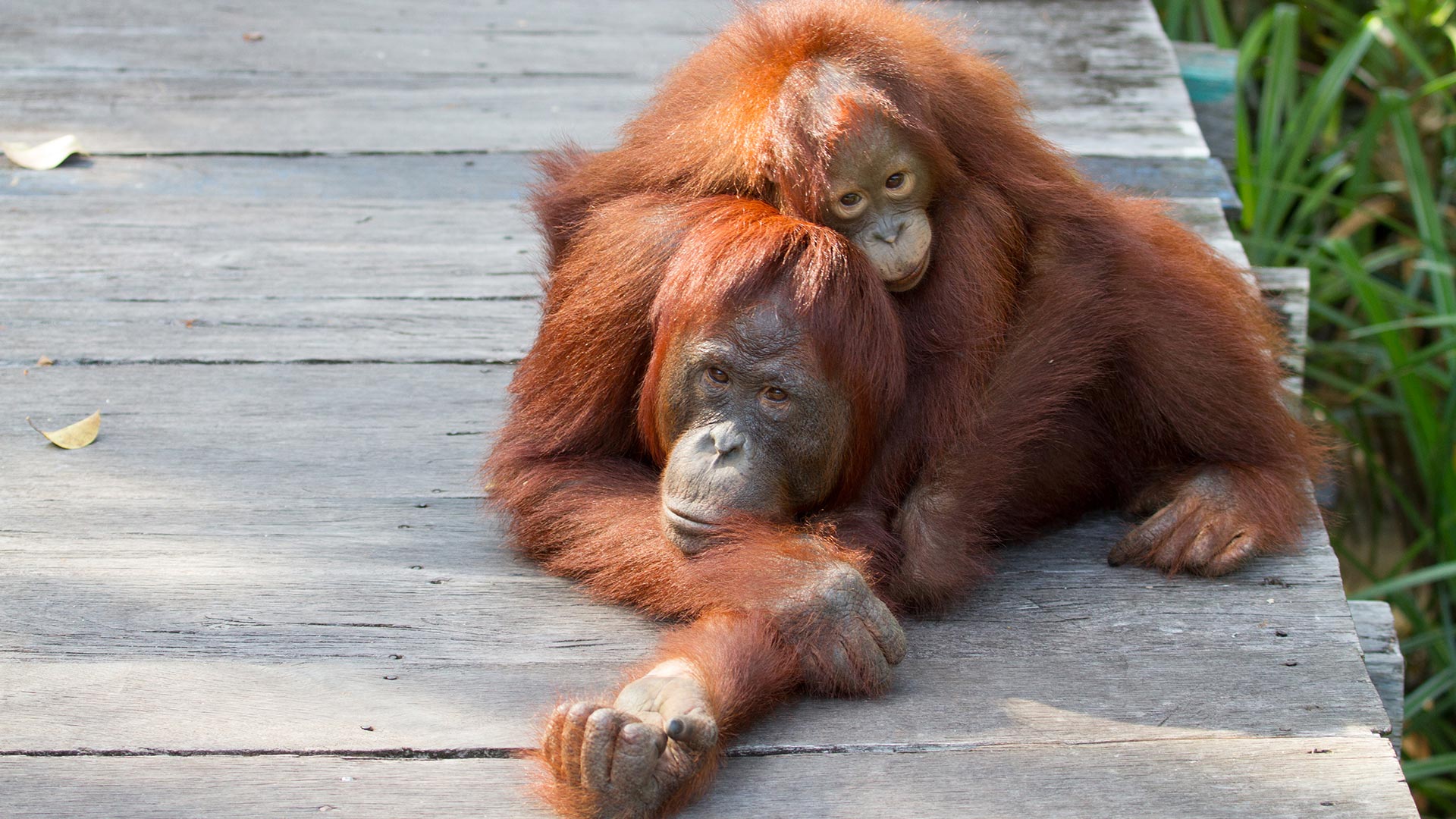 An early morning flight gets us to Pangkalan Bun, gateway to the world of the orangutans. We drive to the pier in Kumai from where we board our Klotoks - a traditional wooden river boat specially designed to help navigate along the streams of Tanjung Putin National Park. The park serves as an orangutan rehabilitation centre, where orphaned or formerly captive orangutans are trained to live in the wild. We view the daily hour-long feedings of the orangutans from the jungle platforms. The river cruise will be our first of many experiences in the rainforest watching birds and wildlife. Enjoying a delicious Indonesian lunch cooked onboard, we navigate the river viewing the birds and wildlife. The two-hour boat cruise gets us to Tanjung Harapan, where we enjoy a short walk in the jungles to reach the feeding station. We will be looking out for orangutans in their natural habitats and have close views before navigating up river to the Rimba Lodge for our two-night stay.

Overnight: Rimba Eco Lodge (Emerald Rooms), Pangkalan Bun (2 nights) (B, L, D)

Day 07: Pondok Tanguy and Camp Leakey (Boat)
Spend the day exploring nature at its best! We are in for more exciting sightings of orangutans as we take our boat to the feeding station at Pondok Tanguy. Here, orangutans are fed in the mornings. After a short jungle walk, we return to our boat and continue to explore the rainforest, enjoying another delicious lunch prepared by our boat crew. Arrive at the famous Camp Leakey, established in 1971 by orangutan researcher Biruté Galdikas. Trek through the jungles using an easy path directly to the feeding station located here. After an exciting day, we take our boat back to our lodge for the evening. (B, L, D)
Day 08: Pangkalan Bun/Semarang (Boat)/Yogyakarta (Flight)
After a three-hour boat cruise and drive appreciating the rural landscape, and a hot lunch at a Semarang restaurant, we take a flight to the historical city of Yogyakarta. Welcome in the traditional Javanese style. Evening is free. Located in the heart of Yogyakarta, The Phoenix Hotel Yogyakarta – an MGallery Collection, is luxury accommodation built in a colonial landmark from the early 1900's. We will enjoy a comfortable three-night stay.

Overnight: The Phoenix Jogja (Superior Rooms), Yogyakarta (2 nights) (B, L, D)

Day 09: Borobudur Excursion
Our tour of this historical city starts with a visit to the Kraton, the Sultan's Palace located in the city centre. The palace was the hub of the Mataram Islam kingdom and is now a center of the Javanese arts and culture. We then head to the Borobudur Temple complex. (Visit currently limited to the outside walls) This famous Buddhist temple, dates back to the 8th and 9th centuries and is a UNESCO World Heritage Site. It was built in three tiers: a pyramidal base with five concentric square terraces, the trunk of a cone with three circular platforms and at the top, a monumental stupa. The walls and balustrades are decorated with fine low reliefs and around the circular platforms are 72 openwork stupas, each containing a statue of Buddha. After lunch, at a local restaurant we visit the 9th Century Mendut Buddhist Temple. Evening, we are in for a treat of a delicious Yogyakarta dinner followed by an artistic theatre performance featuring a beautiful ballet of Ramayana. (B, L, D)
Day 10: Prambanan/Jogjakarta Road Flight to Makassar
Today, we visit the stunning Prambanan Temple Compounds, also a UNESCO World Heritage Site, consisting of 240 Hindu temples decorated with reliefs illustrating the Indonesian version of the Ramayana epic (please note we can only visit the temple until its outer trench). We will also see  masterpieces of stone carvings dating back to the 8th century. Lunch at a local restaurant. In the afternoon, fly to Makassar on South Sulawisi. Upon arrival, we are met and transferred to our hotel.
Overnight: Hotel Aryaduta, Makassar (1 night) (B, L, D)
Day 11: Makassar/Toraja Land (Drive)
We take a road journey through rural South Sulawesi with its own scenic landscape of South Sulawesi and villages to the famed Toraja Land. We will also enjoy a typical cuisine lunch at Barru Beach. Rantepao is a cool city, approximately 800m above sea level. We arrive at Tana Toraja early evening. It has a unique cultural set in stunning scenery with bright green rice terraces, tall limestone outcrops and bamboo graves set against a backdrop of blue misty mountains. Traditional Tongkonan houses stand proudly in this setting and in many ways the impacts of globalisation and tourism have not impacted the way of life. In fact, very little has changed in the last 100 years. Evening is free to visit the local bazaar and have personal encounters with the friendly Sulawesi people. We have a 3night stay at our heritage hotel.

Overnight: Toraja Heritage Hotel, Toraja Land (3 nights) (B, L, D)

Day 12: Toraja Land
Two full days at Toraja to allow us to witness the incredible Toraja. Our day begins with a visit to the market in Rantepao which draws people from all over the region for produce like fruits, vegetables, farming tools and live fish. We also visit the adjacent livestock market which is even more interesting and maybe louder followed by a visit of the royal family tombs at Suaya, a cliff-side gravesite guarded by wood-carved painted effigies, called tau tau. We see the huge trees in Kambira where babies and small children, after death, are traditionally buried in trees. The belief is that they will continue to grow with the tree. The Torajans do not bury their dead underground or in a cave. Before the corpse is placed in such a "tomb", it is laid to rest for a short period in the Tongkonan (the clan house). The belief is that the soul of the deceased would not leave, as long as the body is still at home. Afternoon, we visit Londa, the natural cave grave and the Kete Kesu village famous for its hanging graves and traditional woodcarving craftsmen. Lunch at a local restaurant in Rantepao with a lovely view of the rice fields. The Torajans are famous for their spectacular, expensive and rather gruesome burial rites. After a person's death, the body is kept, often for several years, while money is saved to pay for the actual funeral ceremony, known as "Tomate". During the funeral, which may last up to a week, ritual dances and buffalo fights are held, and animals sacrificed buffaloes ferry the soul of the deceased to the afterlife. Should there be a funeral ceremony taking place, we will attempt to attend one. (B, L, D)
Day 13: Toraja Land
Another interesting and culturally rich day as we see the unique 'Tongkonan' houses each decorated with several buffalo horns decorating their front doors. Later, we visit a traditional cotton weaving village of Batutumonga, which is surrounded by the highland area and has a beautiful landscape. After lunch, we visit Lo' ko mata, known for the unique graves placed on rocky slopes. We have time to walk across the villages Pana and Tikala and have a wonderful opportunity to meet the local folks' and maybe help them conversing in English. (B, L, D)
Day 14: Toraja Land/Makassar (Drive)/Bali (Flight)
Our journey touching some of the many islands of the world's largest archipelago is now coming to an end as we drive to Parepare town, where we have lunch. We continue to Makassar Airport for our flight to Bali. Upon arrival, we are transferred to Sanur in Bali. We overnight at the environmentally-friendly hotel bordered by sandy beach set in lush tropical gardens. The resort is known for spectacular ocean views.
Overnight: Sadara Boutique Hotel, Tanjung Benoa, Bali (1 night) (B, L)

Day 15: Depart Bali
After breakfast we are transferred to the airport for our departure flight. You may want to consider extending your stay and visit Bali's cultural heart, Ubud. This tour is also combinable with our other tours in the region. (B)
B=Breakfast, L=Lunch, D=Dinner