Day 01: Arrive Hanoi (VIETNAM)
Chao ban! (Welcome in Vietnamese). Upon arrival at Hanoi the capital city of Vietnam, we are cordially welcomed and transferred to our hotel. Hotel checkin time start from 1500hrs. Balance of the day is free. Hanoi (also spelt as Ha Noi) is known for its centuries-old architecture and rich cultures of Southeast Asian, Chinese and French influences. At its heart is the chaotic Old Quarter, where the narrow streets are roughly arranged by trade. Here is the real life of the city.

Overnight: Tirant Hotel, Hanoi, Deluxe Rooms  (1 night)
Day 02: Hanoi/Ha Long Bay (Drive)
After a good night's rest and breakfast, we emrak on a delightful 3 hours countryside drive to the enchanting Ha Long Bay. At noon we board our spectacular La Casts cruise boat and are welcomed with a drink before we start sailing through Cho Da, Dinh Huong, Ga Choi and Hoa Cuong limestone islets while a delicious Vietnamese and vegetarian lunch is served on board. Admiring the wonderful and picturesque rock formations we cruise through Con Vit islet (Duck Islet), Thumb islet and Gia Luan Harbor and the lagoon area where we drop anchor for swimming or just simply sunbathe. A course of kayaking is also included before we get back into our boat and join the sunset party. Later, we are treated to a sumptuous meal which includes sea food as well vegetarian dishes – the Vietnamese style. After dinner our skipper and his team joins us of games including cards, chess, squid fishing, relaxing with massage service. Cruise itinerary is dependent on weather conditions.

Overnight: La Casta cruise, Junior Suite Cabin, Ha Long Bay, (1 night) (B, L, D)
Day 03: Ha Long Bay/Hanoi (Drive)
Enjoying the serenity and beautiful scenery of Ha Long Bay, we enjoy breakfast followed by a visit o the famous Frog Pond. We have time to enjoy kayaking and exploring the landscape before we get onboard the boat and start with the exit formalities after the sendoff lunch and we head back to Hanoi.  We arrive early evening and have the balance of the day free to enjoy Hanoi on our own.

Overnight: Tirant Hotel, Hanoi (1 night) (B, L)
Day 04: Hanoi/Hue (Flight)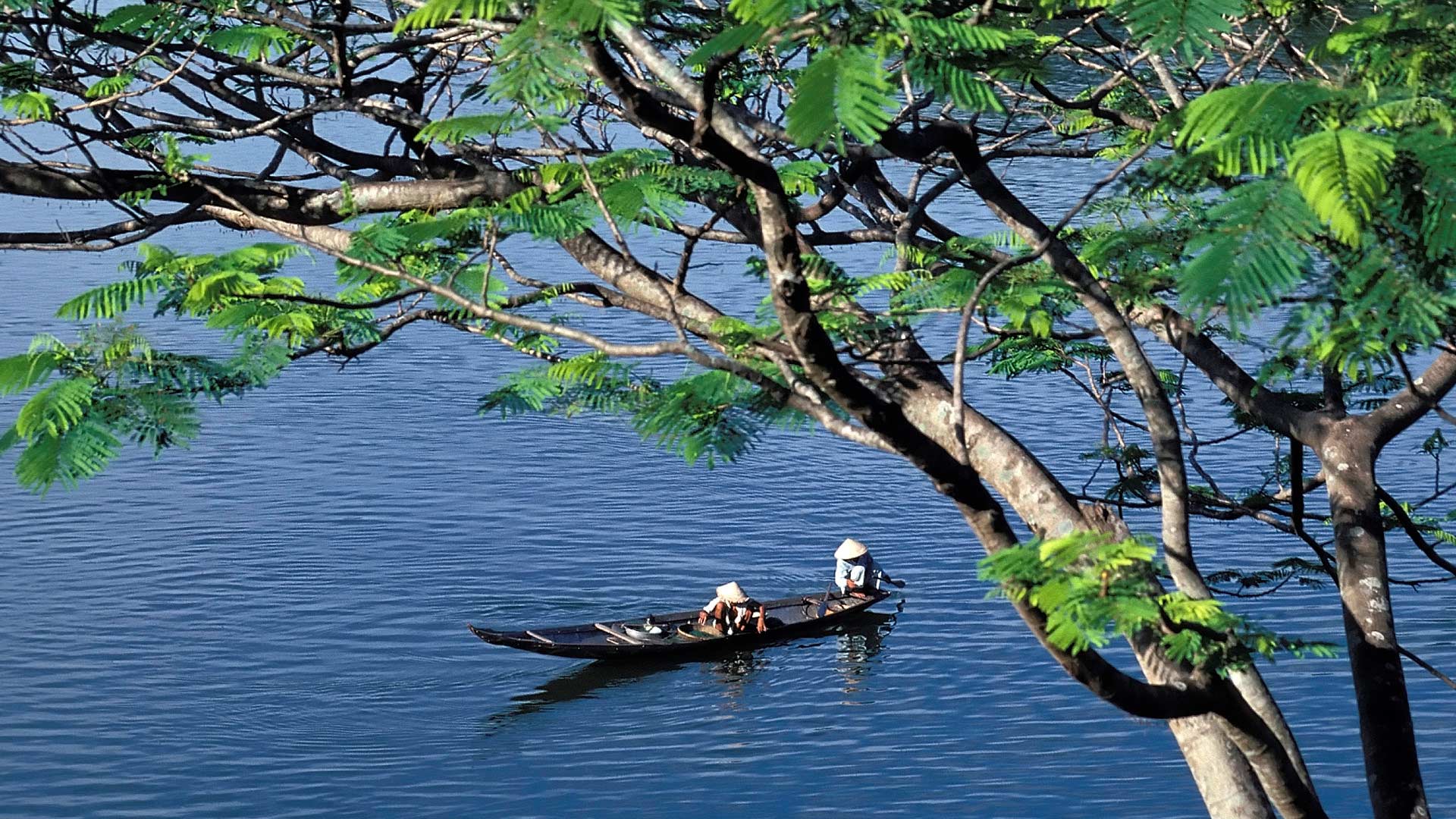 Enjoy a tour of Hanoi city where we visit the Ethnology Museum  followed by the Hanoi downtown where the action is. We will stop to see  Hanoi Opera House and walk  to Hoan Kiem Lake. Historical buildings like the Hanoi Post Office, City Hall, Flower Garden & Ly Thai To Statue,  St. Joseph Cathedral all add to the mosaic that Hanoi offers.  We have a fun one-hour pedicab ride around the Old Quarters of Ha Noi and visit Bach Ma Temple and Ma May Ancient House. Our day culminates at the busy Hang Da Market before we take a late evening flight to Hue. Upon arrival we are met and transferred to our hotel for our 2 night stay.

Overnight: Thanh Lich Royal Boutique Hotel, Hue Boutique deluxe Rooms (2 nights) (B)
Day 05: Hue
A jaunt to Tu Duc Tomb, once the Royal Palace of Tu Duc, is where our day begins. Constructed between 1864 and 1867, its pavilions are framed in a tranquil setting of forested hills and lakes. The Khai Dinh Tomb, the last monument of the Nguyen dynasty, sits magnificently on the slopes of Chau E Mountain in Chau Chau Village and houses a long staircase flanked by dragons and decorated with stunning ceiling murals and ceramic frescoes. We will have a hot lunch before we get to the bank of the Perfume River, Thien Mu Pagoda was a hotbed of anti-government protests during the early 1960s. The Emperor Minh Mang Tomb complex built in 1840, is known for its magnificent architecture, military statuaries and elaborate decorations. It is perhaps the most beautiful of Hue's pagodas and tombs, a fitting end to a spectacular day. (B, L)
Day 06: Hue/Danang/Hoi An (Drive)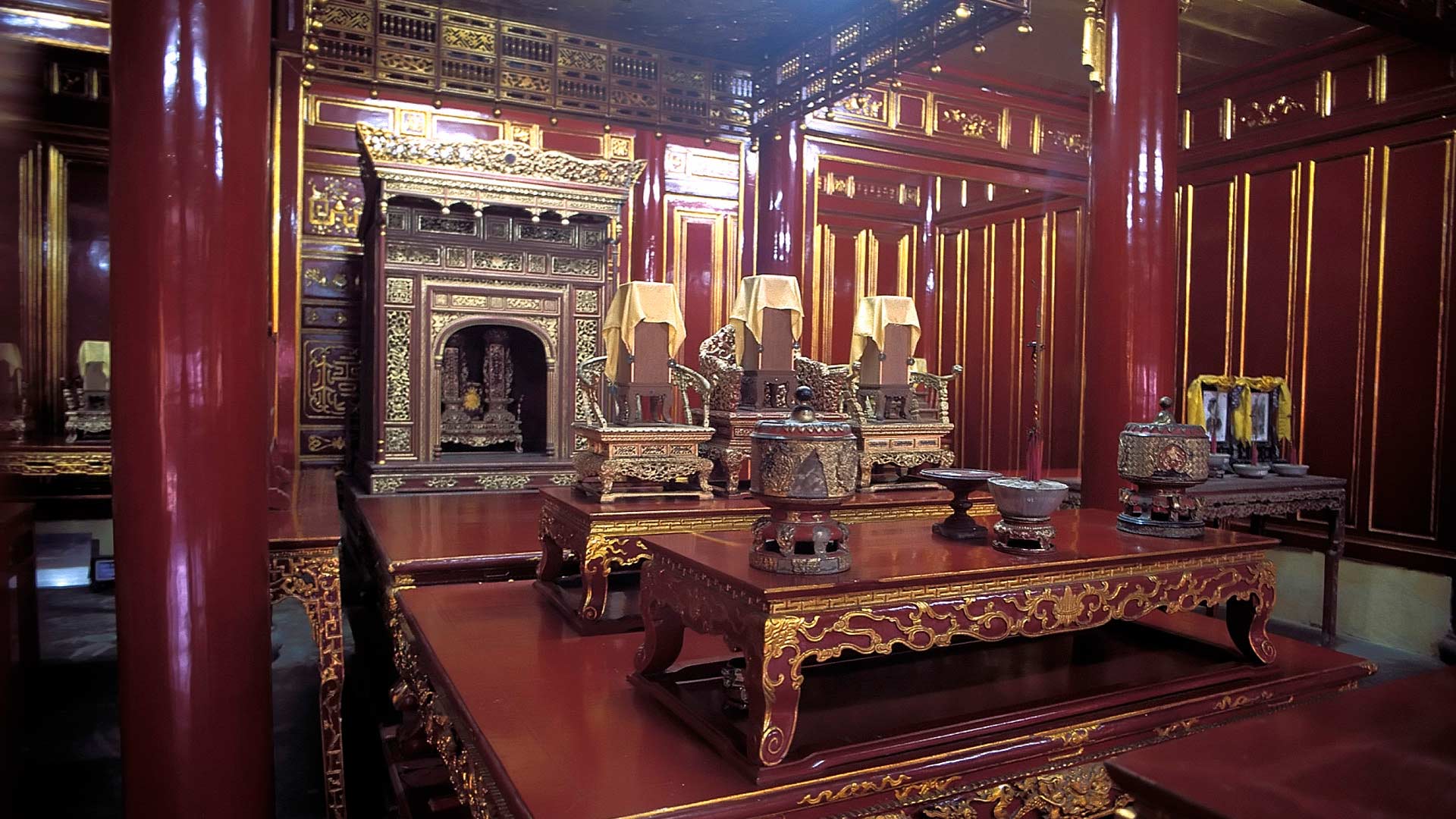 Enroute to Hoi An, we visit Cham Museum founded in 1915 by the Ecole Francaise d'Extreme Orient. It houses  the finest open-air collection of Cham sculptures in the world. The Marble Mountains consist of 5 stone hillocks with each representing one of the five elements of the universe. The largest and most famous, Thuy Son, has a number of natural caves, in which Buddhist sanctuaries have been built over the centuries. We continue to Hoi An, a picturesque riverside town south of Danang. Known as Faifo to early western traders, it was one of South East Asia's major international ports from the 17th to 19th centuries.

Overnight: Mulberry Collection Silk Marina, Hoi An, ROH rooms (2 nights) (B)
Day 07: Hoi An/Tra Que/Hoi An
An interesting day ahead. One of the secrets to the flavor of Cao Lau - the famous food specialty from Hoi An, is the fresh vegetables grown at the Tra Que village, located on the banks of a lagoon. Here we will have an opportunity to become a local farmer joining the farm workers the villagers in Tra Que vegetable garden, learning how they grow and prepare vegetables. Then we visit a local home for a cooking demonstration. Learn how to cook and prepare some of Hoi An specialty dishes such as Bánh Xèo (crepe filled with shrimp, meat and bean sprouts), Cao Lầu (a local specialty of noodle soup), and Tam Hửu (rice rolls filled with steamed shrimp and pork).  Of course, the best part is that we get to savor the dishes we have made.  Afternoon, enjoy a walking tour of the enchanting port town of Hoi An to visit the ancient structures comprising the 400 year-old Japanese Covered Bridge, residential houses, assembly halls, historic and ancient pagodas, shops offering silk lanterns, paintings and high quality ready to wear clothing. (B, L)

Day 08: Hoi An/Danang (Drive)/Saigon (Flight)
Driving back to Danang and we take a short flight to Saigon - Vietnam's largest cities and probably the most well-known too.  We have an afternoon city tour to explore some of the most interesting sites, including the beautiful neo-Romanesque Notre Dame Cathedral, the Central Post Office, the Opera House also known as "Saigon Concert Hall', the Jade Emperor Pagoda with its colorful and mysterious ambiance, the Reunification Palace and Ben Thanh Market.

Overnight: Grand Hotel Saigon (1 night) Premium Deluxe Rooms (B)
Day 09: Saigon/Cai Be/Vinh Long/Can Tho (Drive)
Our exploration today is of the famous Binh Tay Market and Thien Hau Pagoda the 19thC. Buddhist Temple. At Can Be, we take a boat ride on the Mekong River to Binh Hoa Phuoc Islet. Here we will have a chance to mingle with local peasants, learn the secrets of their bonsai gardening, visit local homes where the families produce tiles and ceramics, visit rice-paper kiln, coconut-candy kiln and observe daily country life. A typical Vietnamese lunch at a local home will also be arranged. Afternoon we visit the 130-year old house and Binh Thuy communal house in Binh Thuy ward, 5 kms from downtown Can Tho. It will have been an intresting day into the spiritual and religious world of the locals.

Overnight: Victoria Can Tho Resort, Can Tho (1 night) Superior Rooms (B, L)
Day 10: Can Tho/Chau Doc (Drive)
Morning take a boat ride to Cai Rang floating market, the biggest wholesales market of fruits and vegetables in the Mekong Delta. Here the photo opportunities are end-less as we will be witnessing typical daily activities of the local people who are selling, buying, bargaining and serving breakfast on boats. On the way to the car, a stop will be made at a local farmer's house to visit his orchard, which is followed by a 30-minute break for drinking tea and enjoying fruits. After a hot lunch at a local restaurant we head for Chau Doc and if time permits a visit will also be made to Thoai Ngoc Hau Temple and Tay An Pagoda.

Overnight: Victoria Chau Doc Hotel (1 night) Superior Rooms (B, L)
Day 11: Chau Doc/Phnom Penh (CAMBODIA)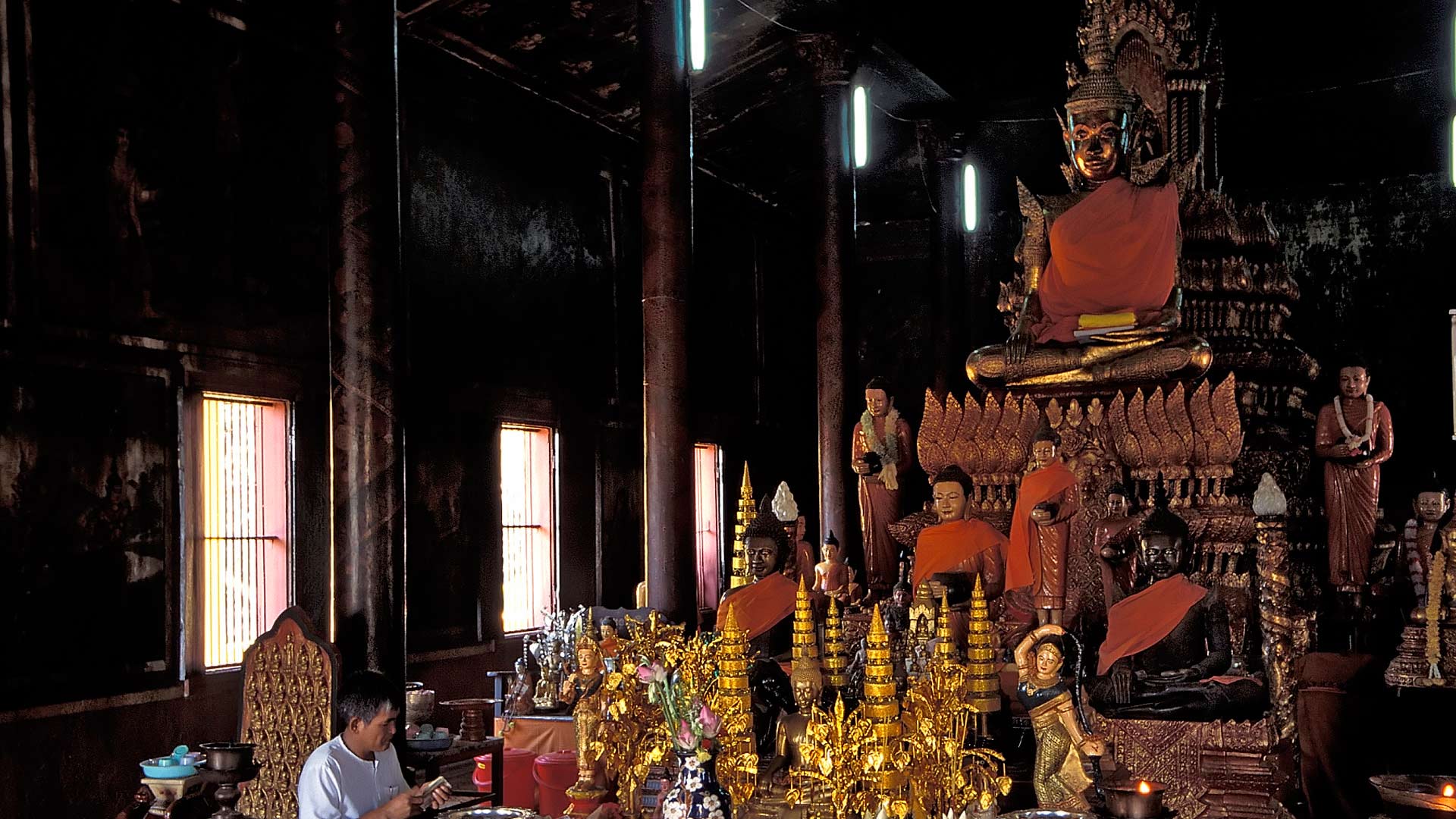 A speed-boat ride along the Mekong River crossing from Chao Doc in Vietnam to Phnom Penh in Cambodia. Sohm swaakohm! (Welcome in Khmer). Phnom Penh, the Cambodian capital, is located at the confluence of the beautiful Mekong, Bassac and Tonle Sap rivers. The city is considered to be the loveliest of the French-built cities in Indochina. It  was founded as a small monastery in 1372 by a rich Khmer woman by the name of Penh after she found four Buddha statues in a tree trunk on the bank of the Mekong. She set up the monastery at a nearby hill or "Phnom". We have a 2 night stay at Phnom Penh.

Overnight: Amanjaya Pancam Hotel, Phnom Penh (2 nights) Deluxe Rooms (B)
Day 12: Phnom Penh
We start the day with a visit to the Wat Phnom temple, where the first pagoda was built. Later we explore Wat Ounalom which was built in 1443 to house one single hair of Gautam Buddha. It comprises of 44 structures facing the Silver Pagoda. At the National Museum we see a fine collection of Khmer artifacts including a beautiful 6th C bronze statue of Vishnu. After a hot lunch at a local restaurant we visit The Tuol Sleng Museum (Museum of Genocide) which became the Khmer Rouge's main torture and interrogation center and was known as Security Prison 21. We culminate the day with a visit to the Central Market, distinguished by its central dome and filled with shops selling jewelry, fabrics and all kinds of souvenirs making it a great place for shopping and talking to people. (B, L)
Day 13: Phnom Penh/Siem Reap (Flight)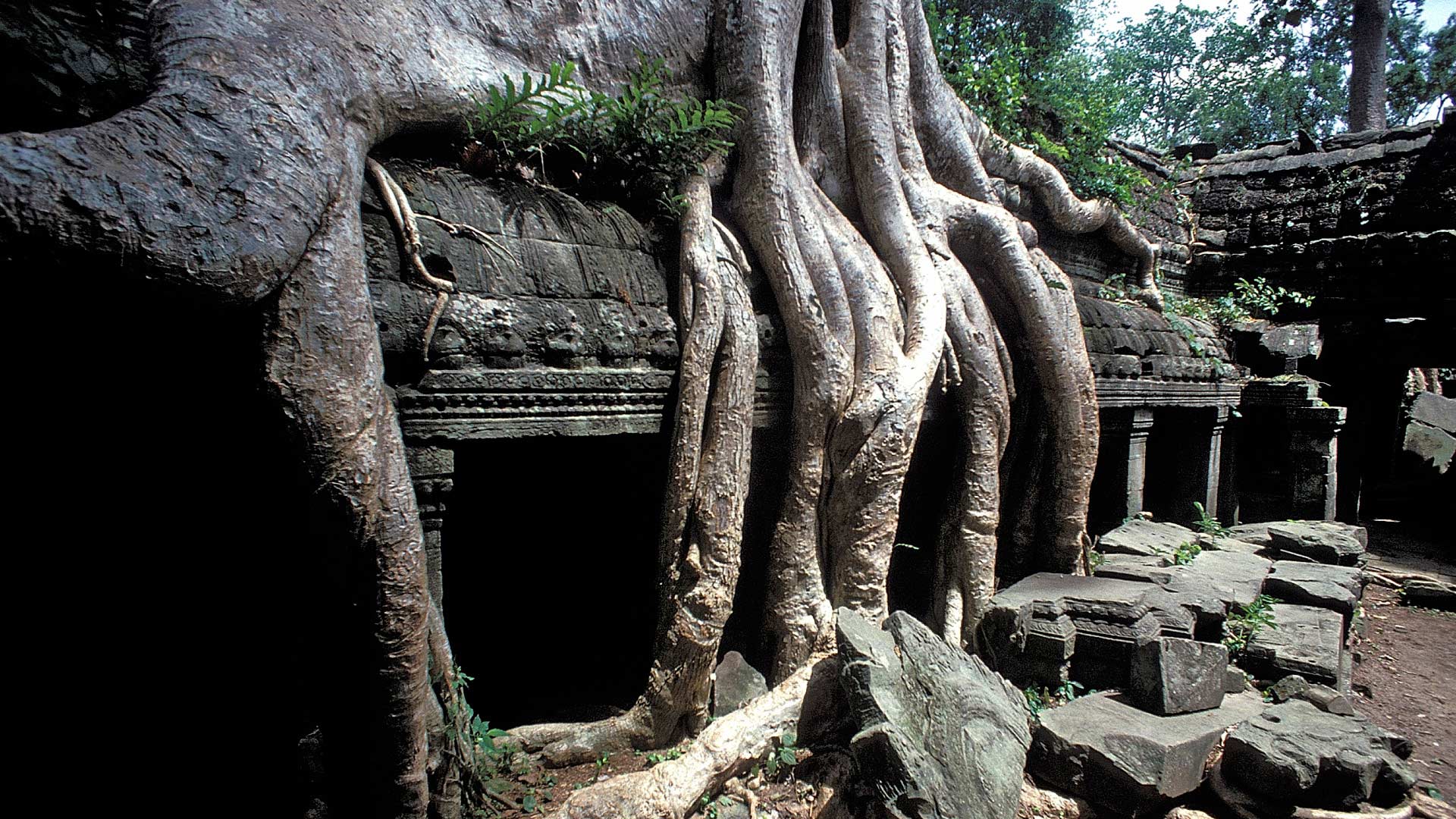 A short flight and we are in Siem Reap the most famous of all cities in the region! Here we tour the majestic Angkor Wat. This temple was constructed over a period of 30 years and illustrates some of the most exquisite examples of Khmer and Hindu art. In 1992, the monuments and the city of Angkor were declared a World Heritage Site. Our next stop is at the Angkor Thom, a fortified Royal City encircled by a moat of a 100m wide with five monumental gates. In the center of the walled city are the most important monuments including the Baphuon, the Terrace of Elephants and the Bayon - Jayavarman VII's temple mount standing at the center of Angkor Thom. This is one of the most popular and interesting of Angkor's monuments with its narrow corridors, steep flights of stairs and an amazing collection of towers. We have a busy 2 night stay in Siem Reap.

Overnight: Anjali by Syphon, Siem Reap (2 nights) Deluxe Rooms (B)
Day 14: Siem Reap
We spend another day at Siem Reap and visit more interesting sites. Banteay Srei, built late in the 10th century, is a square Hindu temple with entrances on the east and west. We also visit the three central towers decorated with male and female divinities and beautiful filigree relief work. Banteay Samre, Ta Keo and Ta Prohm. One of the most popular attractions of Angkor, Ta Prohm looks very much as most of the Angkor monuments would have appeared when European explorers first stumbled across the site. Pre Rup and Eastern Mebon wrap-up an extraordinary day of sightseeing with a recollection of the Jewels of Vietnam and Cambodia. Evening we are treated to a farewell dinner at a local restaurant, where while we recollect the great memories encountered in this trip of the 2 Jewels a traditional dinner of Khmer cuisine is served. (B, D)
Day 15: Depart Siem Reap
Time flies and it is now to say adieu. After breakfast we are transferred to the airport departure flight. Hotel check out time is by 1100 hrs. (B)
B=Breakfast, L=Lunch, D=Dinner