Day 01: Arrive Amman
Ahlan Wasahlan is Arabic for "Welcome". Upon our arrival at Amman Airport we are warmly welcomed and transferred to our hotel. Check in from 1500 hrs. Balance of the day is free for you to recover from your flight.
Overnight: Movenpick Hotel (3 nights)
Day 02: Amman/Jerash/Ajloun/Umm Qais/Amman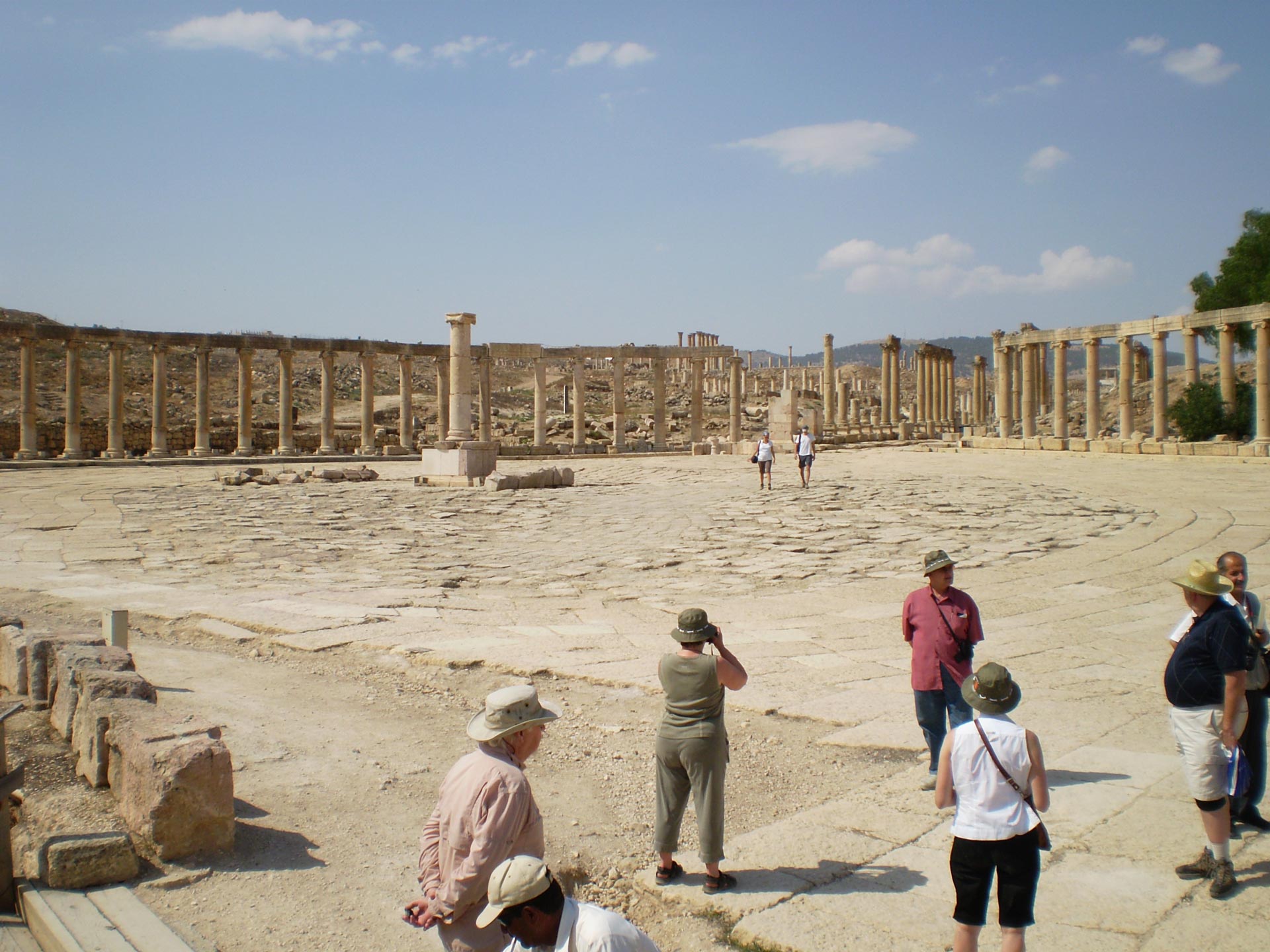 Visit the ancient city of Jerash to visit the most complete and well-preserved city of the Roman Empire.  Nestled in a green and well-irrigated valley in the biblical land of Gilead, the remains of the ancient city have long attracted tourists from all around the world.  We will be visiting its original temples, theaters, plazas, paths and colonnaded streets. Then drive through the pine forests and olive groves until we reach the city of Ajloun to visit its castle, more formally known as Qalaat er-Rabad. This historic castle was built atop Mt. Auf (1250m) between 1184 and 1188 by one of Saladin's generals (and nephew), 'Izz ad-Din Usama bin Munqidh. The castle commands views of the Jordan Valley and three wadis leading into it – making it an important strategic link in the defensive chain against the Crusaders, and a counterpoint to the Crusader Belvoir Fort on the Sea of Galilee (Lake Tiberias) in present-day Israel and the Palestinian Territories. Next stop is Um Qais, which offers beautiful views over the Northern Jordan valley, Sea of Galilee, and the Golan Heights. (B, D)
Day 03: Amman/Madaba/Mt. Nebo/Kerak/Petra
We start our journey to the market town of Madaba, which is best known for a collection of Byzantine-era mosaics. The most famous of these is the mosaic map on the floor of St George's Church.  Then onto Mt. Nebo, where according to the final chapter of the Book of Deuteronomy, Moses ascended Mount Nebo to view the Land of Israel, the land that he would never be able to enter, and to die; he was buried in an unknown valley location in Moab.  According to Christian tradition, Moses was buried on the mountain, although his place of burial is not specified. We now will be visiting the Kerak Castle, which is one of the largest crusader castles in the Levant. Construction of the castle began in the 1140s, under Pagan, Fulk of Jerusalem's butler. The Crusaders called it Crac des Moabites or "Karak in Moab", as it is frequently referred to in history books. The siege of Kerak is portrayed in the 2005 movie Kingdom of Heaven. In that film, a fictitious conversation between Baldwin and Saladin allows the king to save the castle without engaging in battle.  For the Battle of Kerak's scenes, 400 extras as well as 200 horses were included. After our visit we head for the Pink City of Petra, the Crown Jewel of Jordan.
Overnight: Old Village Hotel (2 nights) (B, D)
Day 04: Petra
Established possibly as early as 312 BC as the capital city of the Nabataeans, Petra is a symbol of Jordan, as well as Jordan's most-visited tourist attraction. It has been a UNESCO World Heritage Site since 1985. The site remained unknown to the Western world until 1812, when it was introduced by Swiss explorer Johann Ludwig Burckhardt.   This morning we enter Petra on horseback through a narrow gorge carved in the sandstone and at the end of the path, we will be rewarded with the most stunning view of the Treasury. This approach to site was made famous in popular culture through the movie "Indiana Jones and the Temple of Doom". During filming in 1989, the cast and crew became guests of King Hussein and Queen Noor.  The Petra basin boasts over 800 individual monuments, including buildings, tombs, baths, funerary halls, temples, arched gateways, and colonnaded streets, that were mostly carved from the kaleidoscopic sandstone by the technical and artistic genius of its inhabitants. After our morning visit of Petra we have the afternoon free to enjoy Petra on our own. (B, D)
Day 05: Petra/Wadi Rum
After breakfast we climb a hill in order to get to a special position which will give us a superb view of the overall site. We then pass through the "secret" way and climb the mountain of Al Madras then pass Al Jabal Al Jiff Abd Danour Khanzah and get a fantastic view of the Treasury. Next we come to the Altar of Sacrifice through Wadi Farasa. We also visit the Renaissance Tomb, the Tomb of the Roman Soldier, the Triclinium, the Temple of the Garden and Foundation of Lions. It then descends towards the Siq and eventually into the city. This particular excursion gives you a special opportunity to film your own adventure video, which you will definitely want to share with your friends and family.
After our visit we head to the UNESCO World Heritage Site of Wadi Rum, situated in southern Jordan, near the border with Saudi Arabia. It features a varied desert landscape consisting of a range of narrow gorges, natural arches, towering cliffs, ramps, massive landslides and caverns. Petroglyphs, inscriptions and archaeological remains in the site testify to 12,000 years of human occupation and interaction with the natural environment. The combination of 25,000 rock carvings and 20,000 inscriptions trace the evolution of human thought and the early development of the alphabet. The site illustrates the evolution of pastoral, agricultural and urban activity in the region.

Here Thomas Edward Lawrence, the British archaeologist, military officer and diplomat established his headquarters during the Arab Revolt against the Ottomans in the First World War. Important scenes of the movie "Lawrence of Arabia" were filmed at this location and provide a truly historical setting. The film is regarded as a masterpiece of world cinema and is ranked near the top on many lists of the best films ever made. The American Film Institute ranked the film 5th in its original and 7th in its updated list of the greatest films and 1st in its list of the greatest films of the "Epic" genre. In 1991, the film was deemed "culturally, historically, or aesthetically significant" by the Library of Congress and selected for preservation in the United States National Film Registry. Additionally, O'Toole's performance is often considered one of the greatest in all of cinema. However it is known that camels caused several problems on set. O'Toole was not used to riding camels and found the saddle to be uncomfortable. While in Amman during a break in filming, he bought a piece of foam rubber at a market and added it to his saddle. Many of the extras copied the idea and sheets of the foam can be seen on many of the horse and camel saddles. The Bedouins nicknamed O'Toole "'Ab al-'Isfanjah" (أب الإسفنجة), meaning "Father of the Sponge". The idea spread and to this day, many Bedouins add foam rubber to their saddles.
King Hussein himself visited the set several times during production and maintained cordial relationships with cast and crew. During the production of the film, Hussein met and married Toni Gardner, who was working as a switchboard operator in Aqaba and became Princess Muna al-Hussein, the mother of the current King Abdullah II of Jordan.
Overnight:  Sun City Camp (2 nights) (B, D)
Day 06: Wadi Rum
Early this morning we might also enjoy an optional (extra fee) hot air balloon trip to watch the sunrise over Wadi Rum. Today we explore the Wadi Rum desert in 4x4 Jeeps to Khaz'ali Canyon in Wadi Rum, where petroglyphs etched into cave walls depicting humans and antelopes dating back to the Thamudic times. The village of Wadi Rum itself consists of several hundred Bedouin inhabitants with their goat-hair tents, concrete houses and the headquarters of the Desert Patrol.   Wadi Rum is an incredible expanse of red earth, high pinnacles of rock and majestic landscapes and changes colors at different times of the day. The surrounding landscapes have been used in a number of science fiction and fantasy films, such as The Last Days on Mars, The Martian, Mortal Kombat: Annihilation, Red Planet and Prometheus. (B, L, D)
Day 07: Wadi Rum/Dead Sea
After breakfast we drive to the Dead Sea. At 400 m below sea level, this extraordinary body of intense blue water, polished smooth like oiled skin on a windless day in winter or ruffled into salty whitecaps during the summer winds, lies at the lowest point on earth. The extreme salinity of the water has nothing to do with the Dead Sea being below sea level; rather it comes about because of the high evaporation rate. This salinity makes for an almost intolerable environment for all but the most microscopic of life forms. Indeed, the only things you're likely to see in the Dead Sea are a few buoyant tourists.  The rest of the day is to spend on the beach or to enjoy the facilities being offered, extra charges, at the hotel.
Overnight: Holiday Inn Hotel (1 night) (B, D)
Day 08: Dead Sea/DEpart Amman
This morning we head for Ghor Al-Mazra'a community, where we will have an opportunity to learn from the local residents the rich cultural heritage and simple lifestyle of the Dead Sea region.   Together, we will be making simple bread and a local dish called Gallayet Bandorah (tomato based stew).   After a simple but no less delicious lunch we continue onto the airport for our flight out. (B, L)
B=Breakfast, L=Lunch, D=Dinner
Departure Dates & Prices
We accept payments in US$, CA$ as well as in other convertible currencies like EUR, AUD and GBP. Tour prices have been costed in US$. CA$ price shown below is an indicative amount reached at by using the conversion rate at the time of web posting and will be applicable if there is no change in the conversion rate. Should the currency conversion rate change, the US$ pricing will prevail. Bestway Tours & Safaris offers a conversion rate protection. Once full payment has been received and no modification has been made to the tour itinerary, we will honour that rate. For complete payment procedures, please click here
Notes
• Travel between Easter, Eid Al Fitr, Eid Al Adha, Christmas, & New Year, a surcharge will be applied. Please
contact us
for details.
• In case an English through guide/escort is required then there will be a supplement surcharge of US$ 395 per person base on a minimum of two persons in the group.
**Zikra Initiative is only available in agricultural seasons, late Nov to late March.
Inclusions
Tour Price Includes
Accommodation as mentioned or similar, including hotel taxes
15 Meals as mentioned (B=Breakfast, L=Lunch, D=Dinner)
Ground transportation
Services of local English speaking guides/drivers
Entrance fees to museums and sites included in the itinerary
6 hours jeep safari at Wadi Rum
Not Included
International airfares
Insurance/visas
Tips/gratuities
Participants
This tour operates on a minimum of 02 and a maximum of 08 participants
Customised Itinerary
If you would like to have a tour on dates other than the above ones or with a customised itinerary, please contact us and we will be happy to work out an exclusive program for you.
Contact Info
You may e-mail us at bestway@bestway.com or call 1-604-264-7378. Residents of U.S.A./Canada may call us toll free at 1-800-663-0844.