Day 01: Arrive Addis Ababa (ETHIOPIA)
Upon arrival at Addis Ababa we are warmly received and transferred to our hotel. The balance of the day is free to recover from the flight. Founded in 1886 by Menelik II, Addis Ababa is located at 2,500 m above sea level in one of the highest parts of the Entoto Mountain chain (3,000 m above sea level).

Overnight: Ambassador Hotel/Jupiter Hotel/Dreamliner Hotel, Addis Ababa (1 night)
Day 02: Addis Ababa/Baher Dar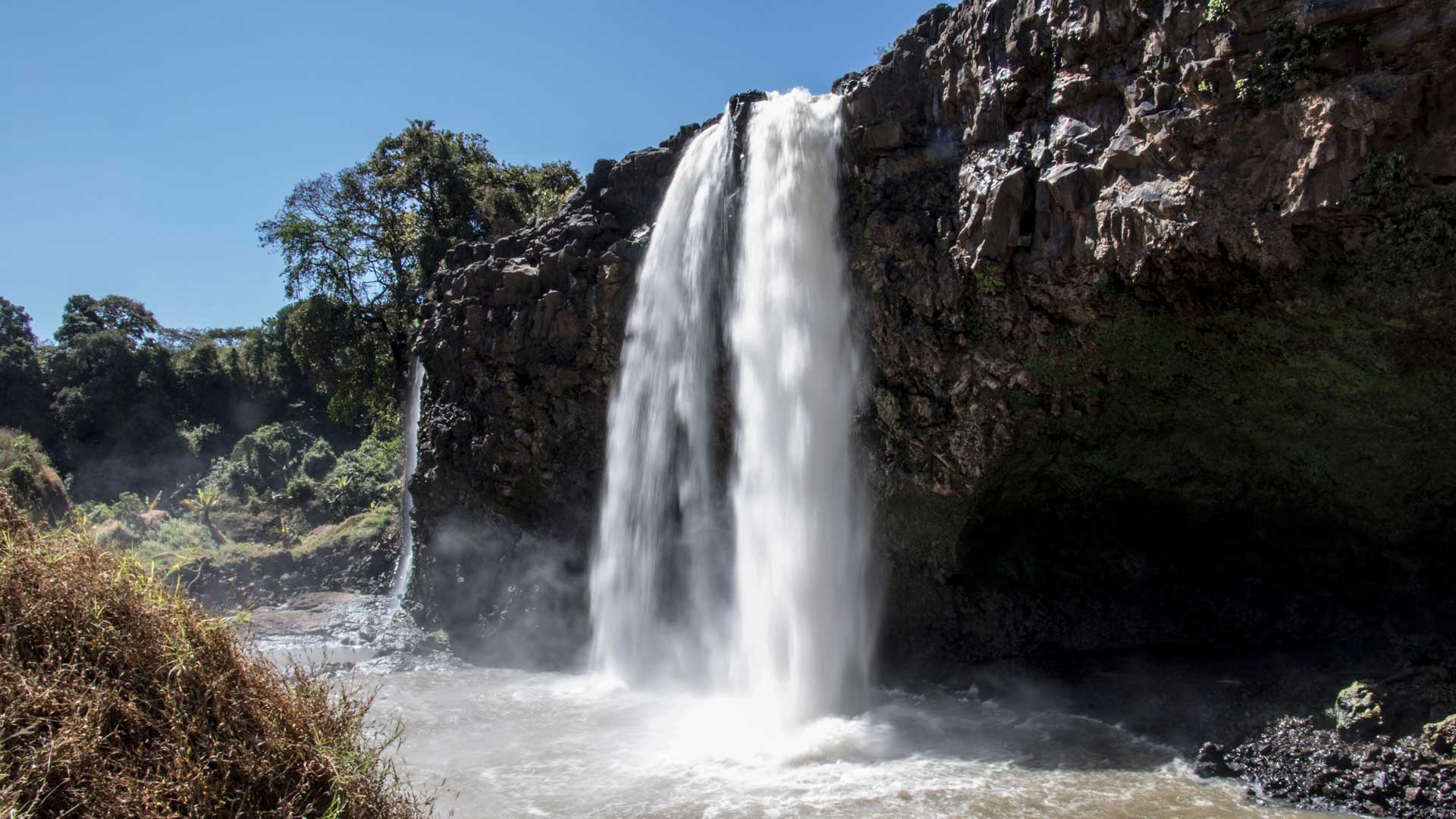 A short flight gets us to Baher Dar, a pleasant city located on the shores of Lake Tana, Ethiopia's largest lake. After checking into our hotel, we drive to the Blue Nile Falls, known locally as Tissisat (smoking water). 100 m wide, the water plunges for 45 m, giving rise to steam clouds and rainbows. We climb down to the base of the falls for a closer look and then ascend on the other side. The round trip takes about 10 minutes. We then cross the Blue Nile by boat to return to the point of departure. After lunch we explore Lake Tana and its islands by boat. There are 37 islands on Lake Tana and 30 of them have churches and monasteries of great historical and cultural interest. We tour monasteries dating to 14th century, visiting Ura Kidane Mihret and Azwa Mariam, famous for their old manuscripts, crosses, icons and paintings.

Overnight: Avanti Blue Hotel/Soliana Hotel, Baher Dar (1 night) (B, L, D)
Day 03: Baher Dar/Gondar (Drive)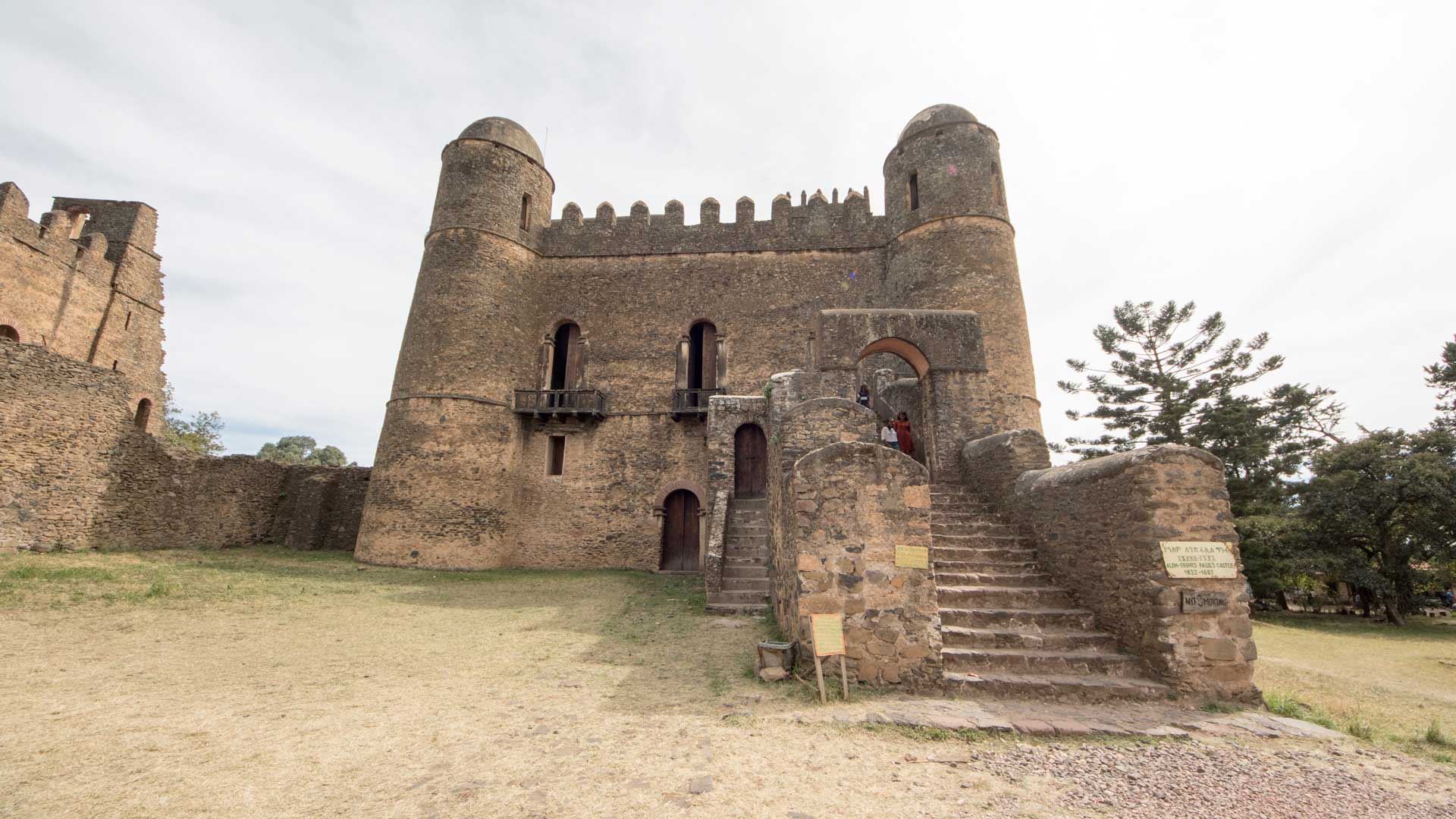 We drive to Gondar the first capital city of the Ethiopian Empire, founded in 1632 by the Fasilidas. Here a dozen castles were built by various emperors over the course of 236 years. The city feels more European than African and features a distinct Islamic influence. We visit the 17th century royal palace compound, the bath of King Fasil, the Debre Birhan Selassie Church, the ruined palace of Queen Mentowab and the church of Qusquam. We explore a Falasha (Jewish) village where we will have an opportunity to meet Ethiopian Jews and learn about their culture. In the evening we visit Mini Fogera to enjoy Asmari music and food.

Overnight: Mayleko Lodge/Taye Hotel, Gondar (1 night) (B, L, D)
Day 04: Gondar/Axum
Today we fly to Axum, one of the oldest continuously inhabited places in Africa. The Kebre Nagast ('Book of Kings') recounts how Axum was the city in which the Queen of Sheba resided in the 10th century B.C. Legend has it that the son of Queen of Sheba and King Solomon brought the Ark of the Covenant to Axum and that it remains preserved in a sanctuary to this day. Axum was the capital of the long Axumite reign, one of the oldest African empires, and represented a crucial link between Africa and Asia for almost a thousand years. We visit the Stelae Park, Queen of Sheba's palace, the Axum Museum, church of Saint Mary of Zion (where the original Ark of the Covenant is believed to have been housed). We will also see King Kaleb's Castle, Mai Shum and visit the tomb of King Bazen and museum inside the church grounds.

Overnight: Yeha Hotel/Sabean Hotel, Axum (1 night) (B, L, D)
Day 05: Axum/Lalibela
A short flight gets us to Lalibela. The city contains 11 monolithic churches carved out of pink granite rock in the 12th century and are a UNESCO World Heritage Site. Each church (Bet) has a unique architectural style; all are superbly carved and most of them are decorated with well-preserved paintings. The entire city may be described as a sculpture dedicated to the glory of God. Before lunch we visit the first group of the 11 medieval monolithic rock hewn cave churches of this 13th-century "New Jerusalem." After lunch, we visit the famous Yemrehane Kristos Church.

Overnight: Lal Hotel/Harbe Hotel/Tukul Village, Lalibela (2 nights) (B, L, D)
Day 06: Lalibela
After breakfast we take an excursion to visit the unique cave church of Neakuto Leab, followed by a visit of the second group of the 11 medieval monolithic rock hewn cave churches, built by King Lalibela, including the famous Bete Giorgis. (B, L, D)
Day 07: Lalibela/Addis Ababa (Flight)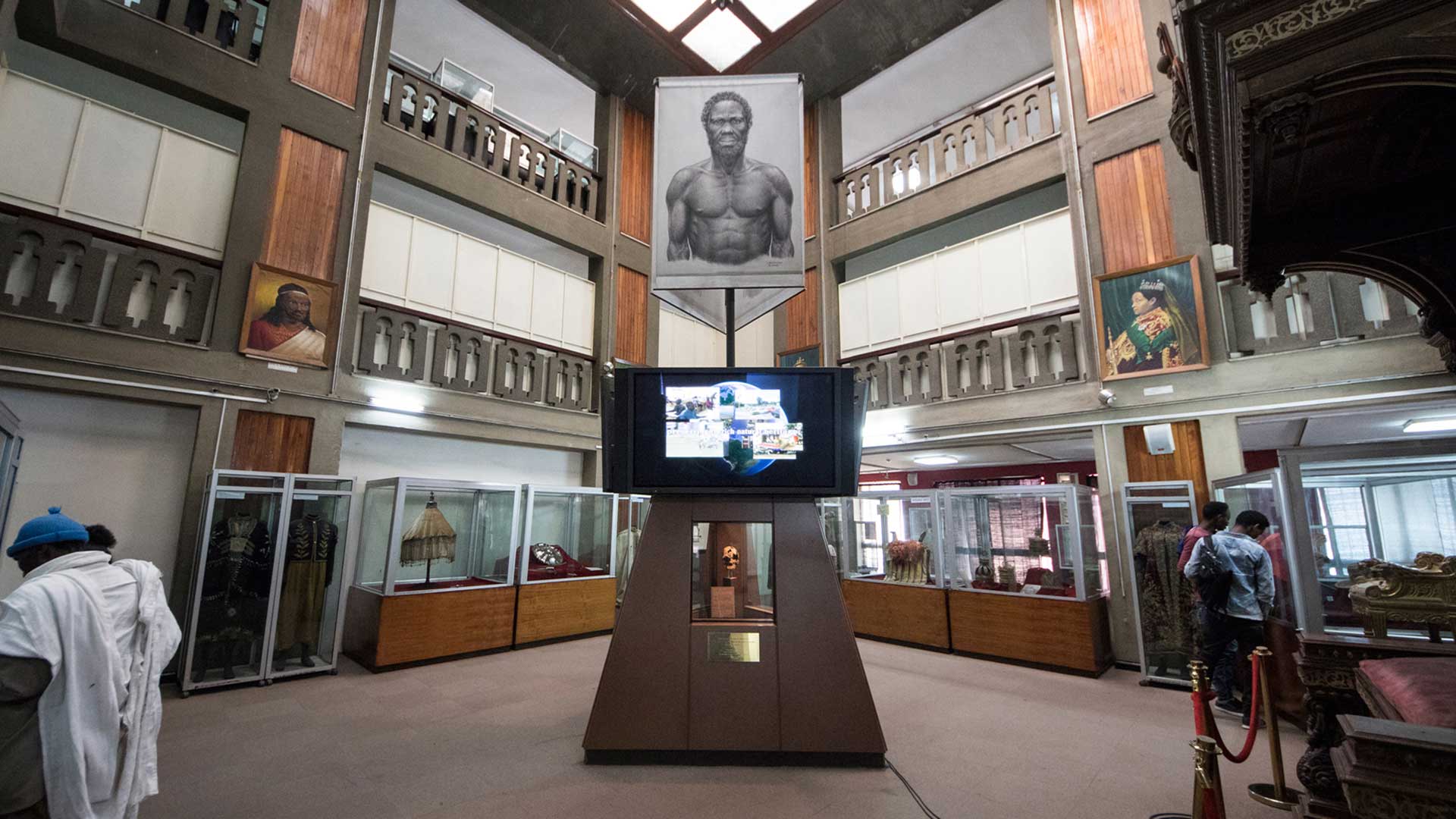 In the morning we fly to Addis Ababa. Upon arrival we are transferred to our hotel. In the afternoon we explore Ethiopia's capital visiting the National Archaeological Museum and the Mercato (Italian for market, as the main covered market still in use dates from the colonial administration of the late 1930s), the largest outdoor market in the world. Tonight our Ethiopian hosts bid us farewell dinner Ethiopian style.

Overnight: Ambassador Hotel/Jupiter Hotel/Dreamliner Hotel, Addis Ababa (1 night) (B)
Day 08: Addis Ababa/Entebbe (UGANDA) (Flight)
Transfer to the airport for our flight to Entebbe. Upon arrival at Uganda, we are cordially welcomed and are transferred to our hotel.

Overnight: Boma Guest House, Entebbe (1 night) (B)
Day 09: Entebbe/Lake Mburo National Park (Drive)
After breakfast, we head south to Lake Mburo National park. Enjoy the enchanting green scenery, stop at villages, meet the local folks before we stop for lunch. The next stop is on the 25,000 miles longimaginary line called Equator. Check out the fact from the myths of what happens at the Equator but definitely a photo of yourself with one leg on the northern and the other on the southern hemispheres. As we arrive at the Lake Mburo National Park we take a game drive. It is the best place in the country to see Eland Antelope, Zebra, Topi, Impala, and Acacia. The five lakes within the park attract hippos, crocodiles, and a variety of around 332 species of water birds, while fringing swamps hide black and yellow papyrus gonalek.

Overnight: Rwakobo Rock Lodge, Lake Mburo National Park (1 night) (B, L, D)
Day 10: Lake Mburo/Bwindi (Drive)
After breakfast, we take another scenic drive to Bwindi Impenetrable Forest National Park*. The ancient rainforest of Bwindi spans 331 sq. km and   boasts 120 mammal species, the famed mountain gorillas, a range of primates, as well as 23 Albertine Rift endemic bird species, includingthe African Green Broadbill, the Bar Tailed Trogon etc. We will be travelling through the lovely countryside with beautiful terraced hills of Uganda and arrive Bwindi. Bwindi is best known for the largest collection of gorillas with some 9 groups of families habituating there. Dinner at our lodge.
Overnight: Lake Mulehe Gorilla Lodge, Bwindi (2 nights) (B, L, D)
Day 11: Bwindi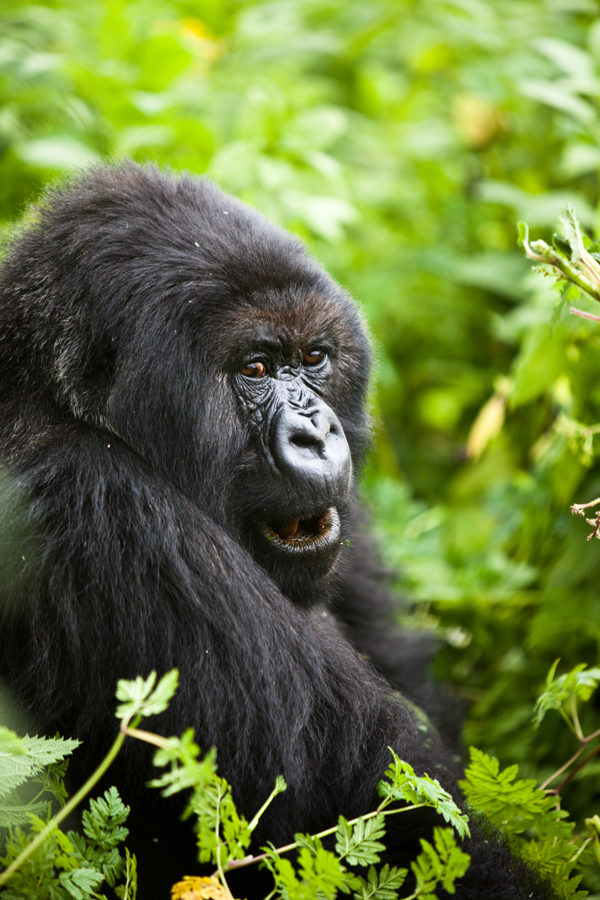 The most awaited day. Gorilla tracking is a captivating and unforgettable experience, which more than repays the effort needed to reach Bwindi and the trek through the jungles. We start at 0730AM in small groups of no more than 8 with a local guide and silence is the word here. Hiking through the thick, verdant, rainforest to eventually come across the gorillas in their natural habitat, is an amazing and unforgettable experience. Actual trek times can vary as gorillas are wild animals after all. Should you choose not to participate in this excursion, you will not need to pay the Uganda gorilla-viewing fee. In this case you may partake of several optional activities, such as exploring the Batwa Trail, where the local tribe demonstrate hunting techniques, gather honey, point out medicinal plants and demonstrate us how to make bamboo cups, visit Ngarama Caves or see tribal traditional dances. (B, L, D)

Day 12: Bwindi/Ruhengeri (RWANDA) (Drive)
We bid farewell to the Pearl of Africa, as Winston Churchill called Uganda, and cross the border to Rwanda. Border formalities and within no time we are at the Parc National des Volcans. Here you have a choice to either do another gorilla tracking or encounter the golden monkeys. The park located close to the Democratic Republic of Congo, which is another country that boats gorillas.
Overnight: Davinci Lodge, Ruhengeri (2 nights) (B, L, D)
Day 13: Ruhengeri
Today we go on our second gorilla viewing trek, Volcanoes National Park is the definitive location in Africa to look for the rare mountain gorilla and also a great place to encounter golden monkeys. Trekking here involves less walking and is less strenuous than at trekking in Bwindi. An encounter with these beautiful creatures, which despite their size are remarkably nonaggressive, is a magical experience that is absolutely worth the price. Starring into the eyes of these gentle giants is a truly once in a lifetime experience. Should you not participate in the above excursion, you will not need to pay the Rwanda gorilla-viewing fee. In this case you may partake of several optional activities, such as Ibyiwatu Cultural group performance, where you will be entertained, and learn more about Rwandan culture, music, dance, and drama or take a visit to the twin lakes or an join in an optional tracking of the Golen Monkey tracking or an optional visit the tomb of Diana Fossey. (B, L, D)

Day 14: Ruhengeri/Kigali (Drive)/Dubai (UNITED ARAB EMIRATES) (Flight)
Raking a rural view of Rwanda through the rolling hills of Rwanda via the base of the magnificent volcanoes of the Virunga mountain range, we arrive at the capital late morning and commence on a brief city tour of Kigali.   Then transfer to the airport our flights via Addis Ababa to Dubai to experience a completely different world. Upon arrival we are welcomed and transferred to our hotel.

Overnight: Raintree Deira City Center Hotel, Dubai (3 nights) (B)
Day 15: Dubai
Our specially designed historical tour of Dubai starts with visiting the ancient townhouses of the rich merchant of the region who came from Bastak and settled on the creek of Dubai which is now called Bastakia. We then visit 150-year old Fort Fahidi and the Dubai Museum. Next we walk through the ancient souk of textiles and later cross by a traditional abra (water taxi) to arrive at the spice souk and continue to the gold souk where an array of gold and jewellery are displayed. We then visit the Al Hamadiya School followed by the heritage village and the ancestral palaces of the ancient sheikhs of the Bu falasa tribe. Our Dubai tour also includes the Jumeirah mosque, Burj Khalifa, Zabeel Palace and historical Dubai creek. In the afternoon we have an incredible desert experience as we take on a desert safari. This is a 6-hour excursion, which takes us on 4x4 vehicles over the sand dunes culminating with a barbecue dinner ubder the stars with entertainment and music. (B, D)
Day 16: Dubai
Today we are free to explore Dubai. We could enjoy the many attractions of the Emirate, such as visiting the only 7-star hotel in the world, engage in more shopping adventures or take an excursions to the neighbouring emirates of Abu Dhabi or Sharjah. (B)
Day 17: Depart Dubai
After the experiencing the great cultural and natural of our tour, we are transferred to the airport for our departure flight. Optional extensions available within the United Arab Emirates or to neighbouring countries. (B)
B=Breakfast, L=Lunch, D=Dinner