Day 01: Arrive Muscat
Ahlaan - Welcome to Oman! Upon arrival at the newly built and state of the art, Muscat International Airport we are warmly welcomed by our Omani English-speaking tour guide. As we drive to our hotel, we will get the first impression of the clean and green capital of the country. Check in time at our hotel is after 14:00 hours.
Evening, a complimentary tour of the Muttrah souq, a traditional Arab market located at the corniche that offers narrow covered alleys where the exotic smells of spices, coffee, ancient medicinal remedies, enticing perfumes and frankincense fill the air. The souq will take us to the times of the Arabian Nights. This brief tour gives an authentic introduction of what Oman is all about and is with our compliments. The tour will start at and end at our hotel from 530PM to 730PM. Dinner on your own which you can have at your hotel or at one of the restaurants at the beautiful Corniche and then make your own way to the hotel.
Overnight: Park Inn by Radisson, Muscat (2 nights standard rooms)
Day 02: Muscat
Renowned in ancient times for its frankincense and today for its magnificent architecture and traditional hospitality, Oman occupies a strategically important location, for which it has long been a prize for empire builders.
We start exploring the capital city, Muscat located on the shores of the Arabian Sea. Though the city has undergone dramatic development in the past three decades, its unique history and culture has still been preserved. Our first stop is the Royal Opera House, which is the leading arts and culture organization of the Sultanate of Oman. The opera house complex includes an auditorium, theatre, landscaped gardens and an arts centre. At old Muscat, the most charming part of the city, we explore the Bait Al Zubair National Museum, taking us into Oman's rich history and culture. We will also have a photo stop at the magnificent Al Aalam Palace, the official residence of Sultan Qaboos, flanked by the twin Portuguese forts of Mirani and Jalali.
Balance of the day is free. Evening an optional dinner with an Omani family in their home. Enjoy authentic homemade Omani delicacies while the family engages us in interesting conversations about various aspects of Omani life and culture. You are welcomed to converse with questions to get an insight into the lifestyles of the traditional Omani families. (B, L)
Day 03: Muscat/Wadi Shab/Sur/Ras Al Jinz (Drive)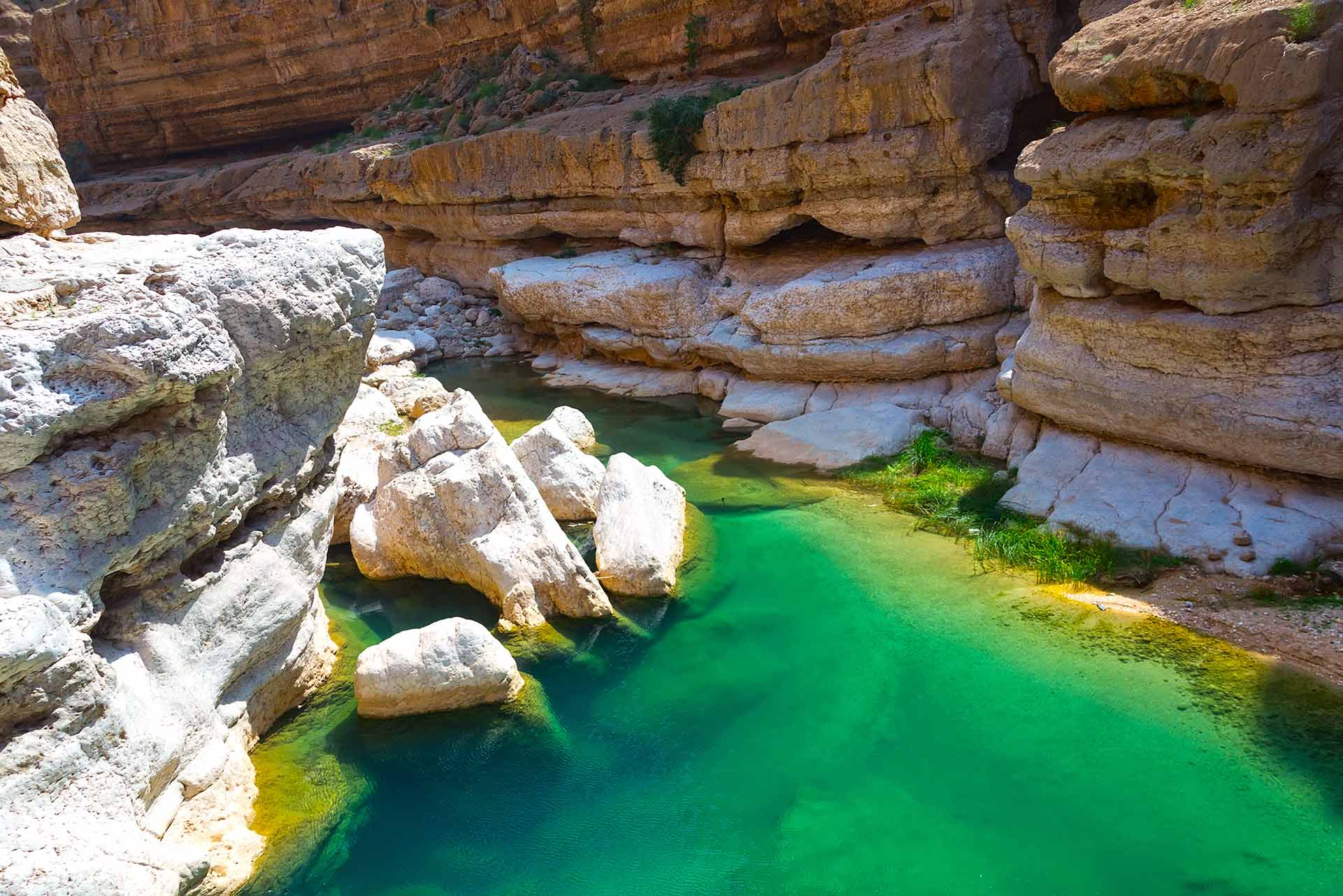 Discover another of Muscat's magnificent highlights as we visit the Grand Mosque, an architectural marvel and landmark of the city. (Grand Mosque is open Saturday to Thursday from 8:00 to 11:00 hours only). Continue on a lovely coastal drive and see stunning views of the waters of the Arabian Sea on one side and rocky cliffs on the other. A stop is made at Bimah Sinkhole, a spectacular limestone crater with blue-green water at the bottom, and Fins Beach known for its lovely white sands.
Oman is famed for its wadis (desert valleys) and we visit Wadi Shab set between cliffs or Wadi Tiwi. A walk through the narrow roads leads us to lush plantations and pools with clear water. Due to time limitation we can only visit one of these Wadis.
After wadi explorations, we continue our journey and visit Qalhat*, one of the oldest towns located on the trade route and seaport in Oman. A photo stop at the tomb of the holy lady, Bibi Miriam, which stands high up on a cliff.
At the coastal village of Sur, we will see dhows (traditional sailboats) making their way to as far afield as India. Many of Oman's richest folks live here, and we will admire their seaside mansions. We will visit the Dhow building yard in Sur (subject to permit), where, if we're lucky we will see workers constructing one of these lovely ships. After our short exploration of Sur, we visit the village of Ayja, a charming town with quaint houses lining narrow streets next to goats and sheep wandering.
The climax of the day is at Ras Al Jinz. Here is one of the largest nesting areas for green turtles. Every year, mostly between April and August, over 20,000 turtles swim from the Indian Ocean to nest here, dig their space and the lay their eggs. It is an unforgettable sight. Early morning one can also see the turtles dig their way from the sand and crawl back to the ocean!

Overnight: Ras Al Jinz Turtle Reserve (1 night carapace rooms) (B, L, D)
Day 04: Ras Al Jinz/Jalan Bani bu Ali/Wadi Bani Khalid/Wahiba Sands (Drive)
Take in some of Oman's fascinatingly diverse landscapes today, from verdant wadis, towering sand dunes to charming oasis. We drive along rugged shores of central Oman's east coast, offering unspoiled and breathtaking sceneries of Oman's desert hinterland. See fishing villages and do some bird-watching. Turning inland again, we will see some of the less-visited towns of Oman, Jalan Bani Bu Hassain and Jalan Bani Bu Ali. These towns have large number of watch towers, old fortified houses, forts and crumbling walls. In Jalan Bani Bu Hassan, we see (from the outside only) the 500-year-old Al Hamouda Mosque with 52 geometrically designed domes. We will see an old fort belonging to a powerful Omani tribal family.
Taking the winding road up to the picturesque Wadi Bani Khalid we see beautiful mountain formations and falaj (small irrigation canals) and mango trees. Farmers in the area, despite the rough terrain, have managed to cultivate land at the foothills of the mountain by using different systems of crop irrigation. *
Running south to the Arabian Sea, the sandy Wahiba sea is almost 200Kms long and 100Kms wide. Some of its dunes rise to as much as 150 meters. Passing many Bedouin dwellings, we experience the hospitality of the local residents. Bedouins here are mainly nomadic herders of goats and camels. Perhaps the highlight of our day is viewing the spectacular sunset over the dunes at our ex]co friendly desert camp, along with dinner (usually barbecue style).
Overnight: Sama Al Wasil Camp, Wahiba Sands (1 night Chalet) (B, L, D)
Day 05: Wahiba Sands/Ibra/Bahla/Jabreen/Jebel Akhdhar(Drive)
Early morning, we get time to explore the dunes on foot, or just watch the shifting colours of the sands. Adieu to the desert, as we continue inland to the great mountainous backbone of Oman. Sand laps at the threshold of farmland and a string of border towns mark the transition zone between nomadic and settled peoples. In the oasis villages of Oman, desert and village economies have mingled for ages, to their mutual benefit.
The cultural highlight of today is a visit to the town of Ibra, where a unique women-only market is held every Wednesday. Serving Bedouins from the surrounding Sharqiya Sands, this market caters exclusively to the needs of women. Traditional textiles, objects made from frankincense, henna, homemade lotions and cosmetics, are just some of the items on sale here. Medieval times come back with animals like camels and goats turns into a bustling area where women clad in traditional costumes barter, chat and work. Lots of pictures before we continue driving towards Nizwa, taking in some of Oman's most striking forts. Oman has more than 500 forts, castles and towers, historically used as defensive bastions or lookout points. It has also helped in preserving their culture. We visit the historical Bahla Fort*, a UNESCO World Heritage Site. This mud-walled oasis in the middle of the desert owes its prosperity to the Banu Nebhan tribe, who made Bahla their capital from the 12th to the 15th century.
At Jabreen we see the finest of Omani castles known for its decorations of fine paintings, unique architecture and beautifully carved doors. Built in 1675, Jabreen remains an authentic expression of Omani craftsmanship. The castle was built during peace time and the architecture reflects that.
Continue our scenic drive on the winding road to Jebel Akhdhar (2000-meter elevation), the green jewel of the Al Hajjar mountain ranges. Jebel Akhdhar is famed for its fruit orchards, laid out on terraces along the mountain slopes and irrigated by the traditional falaj watering systems. From July to September, peaches, apricots, figs, grapes, apples, plums and pears are cultivated here. Due to time constraints we will visit either Bahla Fort or Jebel Akhdar. Check in for two nights stay at the luxurious resort Sahab Hotel located 2000meters above sea level.

Overnight: Sahab Hotel, Jebel Akhdhar (2 nights Studio) (B, L, D)
Day 06: Jebel Akhdhar
Day free to relax and take in the beautiful scenery of Jebel Akhdhar. Tiny villages dot the landscape of peaks, gorges, wadis and known as the green mountains. People visit to enjoy its pleasant climate, mountain ranges, farms, aflaj heritage houses. It is one of the most popular tourist destinations in Oman. People from all over come here to enjoy explore its pleasant climate, mountain ranges, farms, aflaj, heritage houses. Roses bloom in Spring and fill the air with fragrance. We have the opportunity to explore some of the many walking paths. Perhaps do a short easy trek from Al Aqur to Al Ayn, or from Ash Shirayiah to Wadi Bani Habib. At the nearby Al Manakher village one can explore the two famous natural caves – Al Sahil and Sal Bibian Al Khandar. village Our guide will be able to recommend some of the optional activities one can experience. (B, L, D)
Day 07: Jebel Akhdhar/Nizwa/Misfat Al Abriyeen/Nizwa (Drive)
Wake up early for our downhill journey toward Nizwa. We visit the picturesque weekly (Fridays only) cattle market where people from villages in the region bring their livestock to trade showcasing roots of the traditional culture here.
We visit the famous round fort of Nizwa, built in the 17th century. Here we explore the souq adjacent to the fort, which is famous for its intricate silver jewelry. We also see artisans at work. Next, drive around the old village of Al Hamra before we start our drive up to the mountains. We will also explore the village of Misfat Al Abriyeen, where 400-year-old mud houses are still standing and occupied. Take a walk here and admire the history, agriculture and the falaj watering system. We will see crops such as dates, lemons and mangoes grown in abundance . Our starlit evening is spent in Nizwa, well known also for its handicrafts and silversmiths. Experience the romance of bygone days.
Overnight: Golden Tulip Hotel, Nizwa (1 night standard rooms) (B, L)
Day 08: Nizwa/Bilad Sayd/Wadi Bani Awf/Muscat (Drive)
A good part of the day is spent exploring local villages as we drive through unpaved roads on our 4x4's. As we drive towards Muscat, we will get spectacular view of the Bilad Sayt Village from atop of a cliff. Seated at the foot of the Hajar mountain ranges, this village is one of the most picturesque in Oman. The closely clustered homes of mud and stone are surrounded by date palms. Free time to meet and converse with the locals and take on the panoramic beauty of rural Oman.
Continuing along the meandering Wadi Bani Awf we reach the main road and journey back to Muscat along the fertile Batinah coast, dotted with beautiful beaches, forts and fishing villages. Upon arrival, we check in to our Muscat hotel. This evening, we have the option to join an opera performance (at additional cost/subject to availability and it is highly recommended to pre-book).
Overnight: Park Inn by Radisson, Muscat (1 night standard rooms)

Day 09: Depart Muscat
After our fascinating journey through the deserts and forts of the Sultanate of Oman, we are transferred to the airport for our departure flight. What an incredible journey! (B)

FRANKINCENSE EXTENSION (Optional Days 09 to 12)
Day 09: Arrive Salalah
Upon arrival at Muscat from Nizwa, we are transferred to the airport for our evening flight to Salalah. Upon arrival, we are met and transferred to our hotel. Known as Dhofar in ancient times, the Salalah region used to export frankincense all over the world. In fact, according to legend, one of the three wise men who travelled to honour the infant Jesus, travelled from Dhofar carrying frankincense!
Overnight: Crowne Plaza Hotel, Salalah (3 nights) (B, L)

Day 10: Salalah
We start with a visit to the old fishing village of Taqah, famous for its traditional Dhofari houses. Here, we explore the century-old Taqah Castle, former official residence of the governor of the region. We continue on to see the ancient ruins of the once-famous city of Sumharam (Khor Rohri)*. This city was the easternmost outpost of the Hadhramut Kingdom on the ancient incense route between the Mediterranean Sea, the Persian Gulf and India. It is now a UNESCO World Heritage Site. Next, a picturesque drive leads us to Mirbat, the ancient capital of Dhofar. Stroll through the streets lined with ancient Omani mud houses and visit the twin-domed Bin Ali's Tomb, a classic example of medieval architecture, for a photo stop.
On our way back to western Salalah, we explore the natural spring of Ayn Razat, beautifully situated against the backdrop of lush mountains. As we proceed to the Qara mountains, we wind up the steep incline and see herds of camels and cattle. Here, we visit the ancient tomb of the Prophet Job, where we learn about his biblical story against a backdrop of rural Dhofari beauty.
Afterwards, proceed to the white sand beach of Mughsail – a stunning view especially during high tide when we see waves burst through natural blow holes. Continuing toward the western border of Oman we see the historical frankincense trees growing in their natural valley habitat. We take a short walk into the valleys to smell the Holy Incense amidst scenic views. On our return journey, we enjoy a photo stop at Mughsail's lagoon, where migratory birds are a common sight. (B)

Day 11: Salalah
Day free to explore the many optional attractions Salalah offers.
Highly recommended full-day tour of the Ubar. We take 4x4 vehicles up through the Qara mountains with spectacular views en route to the lost city of Ubar, Atlantis of the desert. Atlantis of the Sands refers to a legendary lost city in the Southern deserts of the Arabian Peninsula which had been destroyed by a natural disaster or as some say, as a punishment by God. This search was popularised by the 1992 book, Atlantis of the Sands – the search for the Lost City of Ubar by Ranulph Fiennes. Apart from the English name coined by T. E. Lawrence (Lawrence of Arabia), the city is commonly called, Ubar, Wabar or Iram. (B)

Day 12: Depart Salalah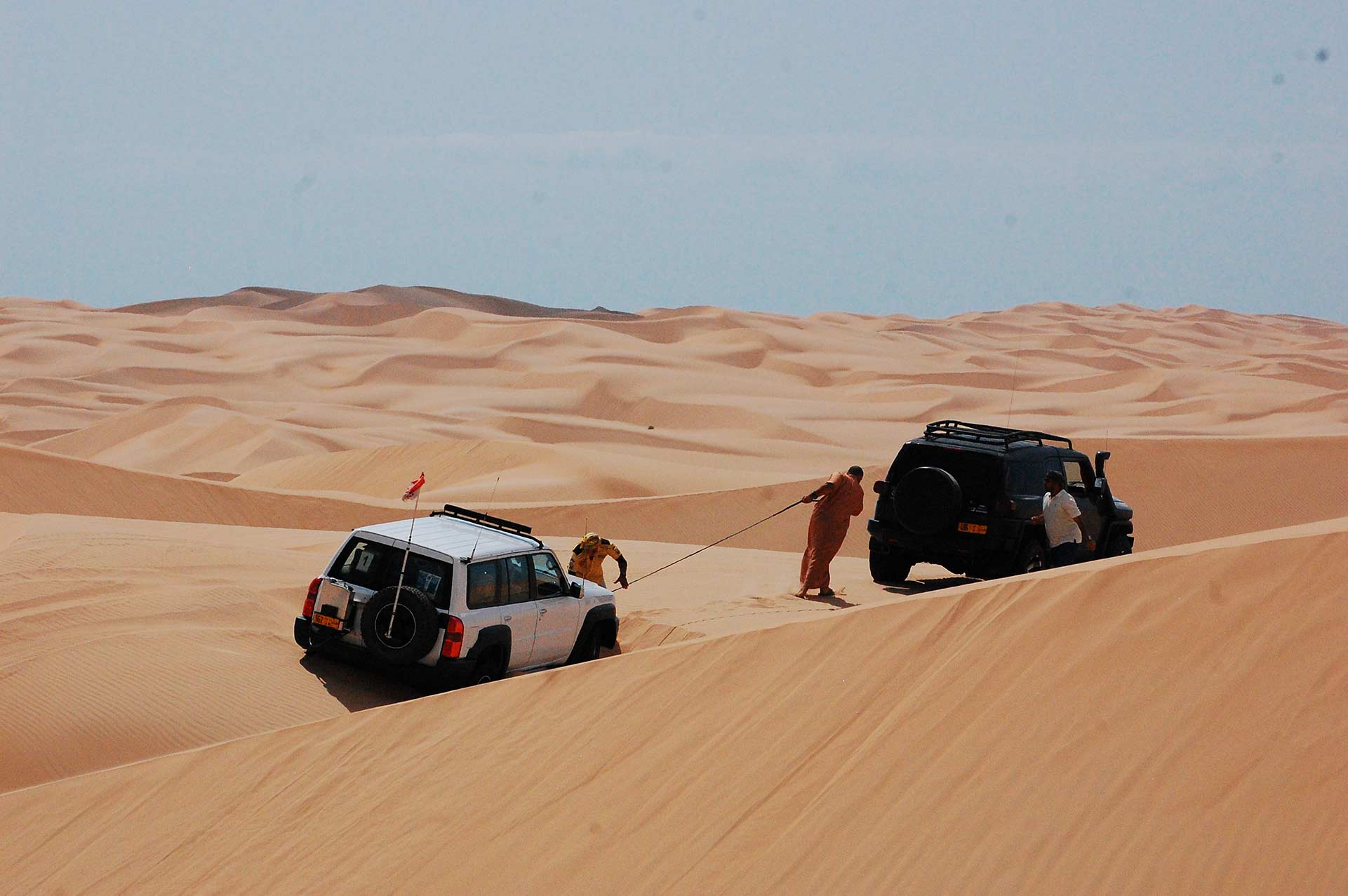 This morning, we visit the fascinating Museum of the Frankincense Land opened in 2007 at the UNESCO World Heritage Site Al Balid Archaeological Park*. Here we get a detailed orientation of the history and business of Frankincense. The museum's two main halls follow the history of the ancient frankincense trail, as well as Oman's rich marine legacy, including meticulously carved replicas of the ancient boats and ships of the Omani maritime trade.
Afterwards, drive through lush green plantations of vegetables and fruits, with the option to have a brief stop in old Salalah town to taste some fresh coconut water (cost not included). We also enjoy a photo stop at the impressive Sultan Qaboos Mosque.
Next, explore the Official Palace of His Majesty the Sultan (Al Husn Palace) and culminate the Oman experience as we stroll through Haffah souq, a traditional market famous for the sale of high-quality frankincense and other traditional souvenirs. Here, we find streets lined with incense boxes, clary incense burners colourfully decorated with traditional patterns and more. It will be aroma, aroma, orama everwhere as we mingle with the local shopkeepers and buyers. A cultural experience rarely seen anywhere else.
After an eye opener journey through Oman, we are transferred to Salalah Airport for our onward flight. (B)

B=Breakfast, L=Lunch, D=Dinner