Day 01: October 14, 2024: Arrive Chennai
NAMASTE! We are warmly welcomed at Chennai Airport, India and transferred to our hotel. Balance of the day is free. A late breakfast at our hotel in Chennai which till 1998 was known as Madras. Vibrant Chennai is the capital of Tamil Nadu state and is the guardian of its artistic and architectural heritage. Hotel check-in time is 1500hrs.

Overnight: Taj Coromandel, Chennai (5-Star Deluxe) (3 nights)
Day 02: October 15, 2024: Chennai
Chennia is well known for its museums and its temples. We will explore these and also add another feature by tasting its delectable South Indian food. Evening, subject to availability, we visit a film studio and get a glimpse behind the scenes of a Kollywood movie. Kollywood is the name coined for Tamilnadu's prolific film industry, which is a strong rival to India's Bollywood film industry. Evening we are treated to our welcome dinner at Chennai's favourite Southern Spice Restaurant. This award-winning restaurant instantly transports us back in time. Rich interiors, along with an ambience that spells traditional grandeur, complement a quintessential South Indian menu. Satiate the gourmand in you with this distinctive and unforgettable Chennai experience. (B, D)
Day 03: October 16, 2024: Chennai
Embarking on a journey to uncover the artistic treasures of South India, we start with the enchanting Kapaleeshwarar Temple. This historic temple has played a significant role in the city's religious and cultural heritage. Initially built in the 7th Century, it faced destruction at the hands of the Portuguese but was subsequently reconstructed by the Vijayanagar kings in the 16th century. Named after Lord Shiva, with "Kapalam" meaning head and "Eeshwarar" referring to Shiva, the temple's origin is rooted in a mythological tale of penance and devotion.
Nestled in the vibrant Mylapore neighborhood, the Kapaleeshwarar Temple is a marvel of architecture and sculptural art. Devotees and visitors alike are captivated by its intricate designs and the spiritual ambiance that pervades the premises. The temple stands as a testament to the enduring reverence for Lord Shiva in the region. Our next stop is the Fort St. George built in 1644 and was the inaugural British fortress and headquarters of the British East India Company. Today, it houses the Tamil Nadu Legislative Assembly and offers a glimpse into India's colonial past. The Fort Museum, located within the fort's grounds, exhibits an array of artifacts including coins, medals, paintings, and letters from the colonial era.
Renowned for its exceptional bronze collection spanning from the Christian era to the present, the museum showcases masterpieces of artistic brilliance. We will see Buddhist, Jain, and Hindu sculptures alongside 600 inscriptions on copper plates, rare coins, Stone and Iron Age artifacts, antiques, musical instruments, arms, jewelry, and vintage stamps. (B, D)
Day 04: October 17, 2024: Chennai/Dakshinachitra/Mahabalipuram (Drive)
An interesting day ahead as today we have a close interaction with local artisans. We travel south to Cholamandal, an artist colony known for contemporary art in India. Here we explore Cholamandal Artist Village and spend time exploring the diverse range of artwork created by local artists. We will also visit Dakshinachitra Heritage Museum – a living museum showcasing the art, architecture, crafts, and performing arts of South India. DakshinaChitra, meaning "a picture of the south", is a heritage village where the lifestyle of South Indians is displayed based on their states, through the architecture of the region and the living conditions and habits of the people. Enjoy a traditional South Indian Thali Lunch, before heading to the renowned city of Mahabalipurram for dinner and overnight at our deluxe resort.

Overnight: Taj Fisherman's Cove Resort, Mahabalipuram (5-Star) (1 night) (B, L, D)
Day 05: October 18, 2024: Mahabalipuram/Pondicherry (Drive)
After breakfast we explore the UNESCO World Heritage Site of Mahabalipuram, known for its rock-cut temples and sculptures. Here guided by Dr Inglis we will also see the Rathas (Carved Temples) where we admire the famous rathas, boulders carved into temples, showcasing the famous Pallava architecture. At Mandapas (Cave Sanctuaries) we discover the cave sanctuaries with intricate sculptures depicting deities and mythological stories. Witness the impressive open-air reliefs, including the iconic 'Descent of the Ganges' carving.
At the Shore Temple we will explore this magnificent Temple dedicated to Lord Shiva, known for its exquisite sculptures. We will also meet and interact with the stone carvers working at the site and learn about their craftsmanship. Spend your time exploring the temples and sculptures of Mahabalipuram, before continuing to our next highlight, Pondicherry and check in to our Heritage Hotel for a 2 night's stay.
Overnight: La Villa Shanti, Pondicherry (Heritage) (2 nights) (B, D)
Day 06: October 19, 2024: Pondicherry
Often referred to as the 'French Capital of India', Pondicherry is a vibrant city located on the south-eastern coast of India. Brimming with unspoiled beaches, heritage buildings, French and Tamil quarters, ancient temples and churches and a colonial ambience, this French Colony has a plethora of things to do and see.
Our day begins by exploring Auroville, a remarkable experimental township that aims to realize human unity and sustainable living. This unique site is home to some 50,000 people from different parts of the world, all united in their pursuit of a harmonious existence.
As we venture deeper into Auroville, we'll discover the soul of the city at its very center—the magnificent Matrimandir monument. This awe-inspiring structure, adorned with a large golden sphere, seemingly emerges from the earth. Located in the vast open area known as 'Peace,' it symbolizes the birth of a new consciousness and serves as a focal point for spiritual seekers.
Our next stop is the renowned Sri Aurobindo Ashram. This spiritual community evolved from a small group of disciples of Sri Aurobindo, a spiritual leader. It is today amongst the largest ashrams in India.
(Optional) You can start your day at the ashram with a soul-nourishing meditation around the Samadhi, a memorial dedicated to Sri Aurobindo. This serene and tranquil experience sets the tone for a day of spiritual exploration and introspection. Evening we are free to explore this unique city on our own – it has a lot to experience from. (B, D)
Day 07: October 20, 2024: Pondicherry/Chidambaram/Tanquebar/Kumbakonam (Drive)
Embark on a picturesque journey to Chidambaram, allowing us to witness the beauty of rural India along the way. At Chidambaram, we visit the magnificent Nataraja Temple, renowned for its antiquity and architectural splendor. This temple holds immense significance as it is associated with rich festive traditions, music, dance, and the iconic Cosmic Dance of Shiva. Explore the temple complex, admire the intricate sculptures, and learn about the fascinating legends associated with the site, including the dance duel between Shiva and Kaali and the rediscovery of the Tevaram hymns.
Our next stop is at Tarangambadi (Tanquebar) a historic trading post that played a significant role in The Danish colonial history in India during the early 17th Century. Discover the town's captivating past and explore its cultural heritage. At the famous Dansborg Fort, a testimony to the Danish presence in Tarangambadi we marvel at the impressive Viking architecture, stone walls, and cannons facing the sea. Gain insights into the colonial history and imagine the bustling activities that took place within its walls.
At the Jerusalem Church and Danish Homes, we explore a historical site that reflects the Danish influence in Tarangambadi. Stroll along King Street, adorned with a memorial dedicated to the original Danish settlers. Danish Colonial era is also an interesting study and we will admire the old Danish gateway with its wooden doors, a testament to the town's historical connections. We enjoy lunch at the 17th Century Danish Bungalow now converted into a beautiful Heritage Hotel. Explore the Danish Fort, built in 1620, and marvel at its stone walls and cannons. The fort has been transformed into an archaeological museum, offering a deeper understanding of the region's history and heritage.
Continue our journey to Kumbakonam, a cultural hub known for its temples and traditions. Enjoy the evening exploring the local markets or indulging in the region's culinary delights. We have a two nights stay at a boutique hotel.
Overnight: Mantra Koodam, Kumbakonam (Boutique Hotel) (2 nights) (B, L, D)
Day 08: October 21, 2024: Kumbakonam & Swaminalai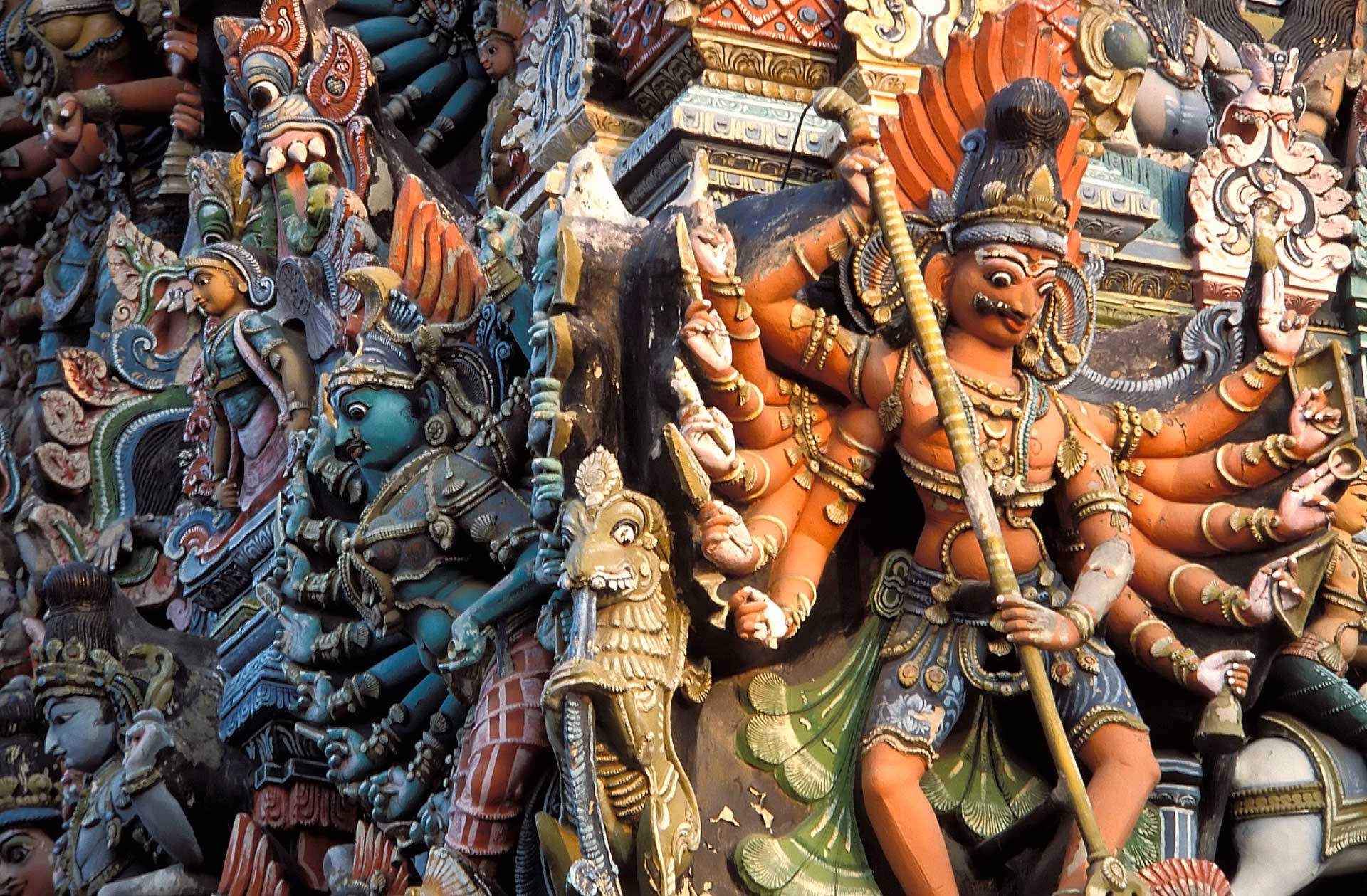 Our day starts with an exploration of the Airavatesvara Temple in Darasuram, renowned for its exquisite sculptures. This temple stands out for its unique architectural design, resembling a chariot being pulled by an elephant and a horse. As we enter the temple, we will be greeted by the imposing figures of Sankhanidhi and Padmanidhi, the Dwarapalakas, displaying vivid anatomical expressions that capture the exuberance of youth.
Later in the afternoon, we visit the bronze casters of Swamimalai, who have been inhabiting this street for centuries. Our accompanying scholar, Dr. Inglis, will provide us with a deeper knowledge and understanding of the region's rich artistic traditions. Highlight of this visit is witnessing the creation of exquisite bronze images using the ancient technique known as Cire Perdue, or the "Lost Wax" technique.
The process begins with crafting a model of the image in wax, which is then coated with layers of clay to create a mold. The mold is heated, causing the wax to melt and flow out through a hole at the base. A molten alloy, known as Pancha Loha, which is a blend of five metals, is poured into the hollow space. After the alloy cools and solidifies, the mold is broken, revealing the finished bronze image. The image is then meticulously polished to achieve its final lustrous appearance.
Visit to the bronze casters of Swamimalai renders a unique opportunity to witness the living heritage of this traditional art form and gain insights into the craftsmanship and artistic traditions that have been passed down through generations. Evening enjoy a bullock cart ride through the village of a bygone era. The bullock cart, a traditional mode of transportation in rural India, consists of a sturdy wooden cart pulled by a pair of well-trained bullocks. The rhythmic clattering of hooves and the gentle swaying of the cart create a soothing symphony that complements the unhurried pace of life. Ecounter a real village experience by meeting the friendly locals always with their warm smiles. We have a unique opportunity to engage in conversations and learning about their way of life, customs, deep-rooted traditions that define Swamimalai and our time there. (B, D)
Day 09: October 22, 2024: Kumbakonam/Tanjore (Drive)
Following breakfast, we drive to Tanjore. Our first stop is at the stunning Tanjore Palace Museum, originally constructed by the rulers of Thanjavur Nayak kingdom, then serving as the official residence of the Maratha kings. When most of the Maratha kingdom was annexed to the British Empire in 1799, the Thanjavur Marathas continued to hold sway over the palace and the surrounding fort. The bronze sculpture collection here is one of the finest in India. Next, we visit Brihadeswara Temple, an architectural masterpiece designated as a UNESCO World Heritage Site. Completed in 1010, this temple was the center of the vast Chola Empire. The temple boasts a gigantic Siva Lingam, more than 12 feet tall. The main hall was used by dancers and musicians performing in service of Shiva.
Overnight: Hotel Svatma Tanjore, Tanjore (Heritage) (1 night) (B, D)
Day 10: October 23, 2024: Tanjore/Karaikudi (Drive)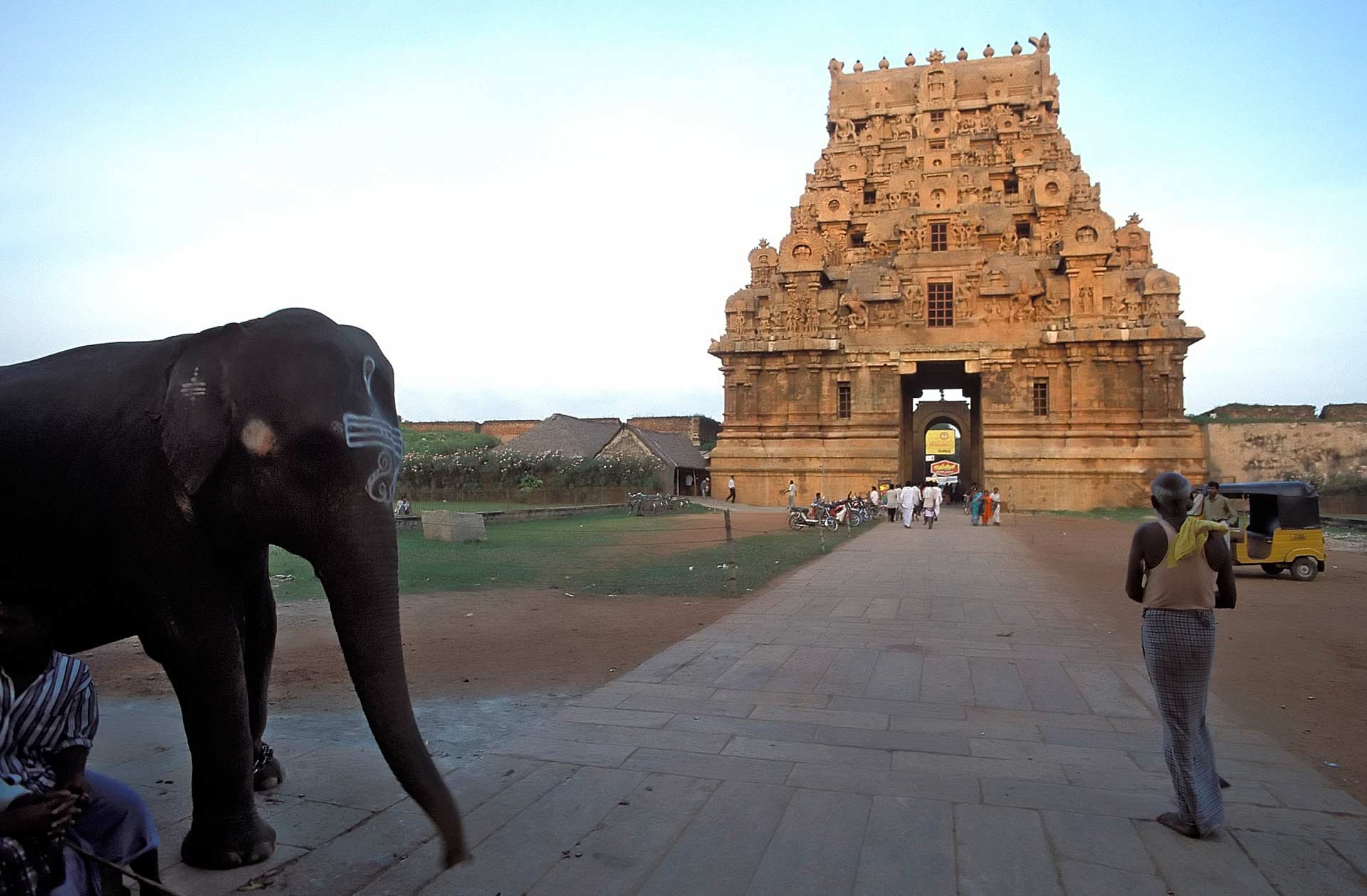 Our journey continues as we make our way to Karaikudi rich in cultural heritage, art and architecture, and has been declared a heritage town by the government. It's well-known for its houses embellished with marble and Burma teak, as well as its 18th Century mansions. Afternoon, we embark on an exploration of Chettinad Palace, offering a classic example of traditional Chettinad architecture. This ornate palace provides tantalizing examples of antique furniture, stained glass and beautiful wrought iron art pieces, as well as ornate doors and halls decorated with elephant tusks. Later, we will also visit an antique market.
Karaikudi is also famous for Chettinad cuisine - a traditional culinary style originating from the Chettinad region of Tamil Nadu, South India. It is known for its vibrant flavors, distinct spice blends, and use of aromatic spices. The cuisine is renowned for its artistic use of spices like black pepper, cinnamon, cloves, cardamom, fennel seeds, and star anise, which give the dishes a rich and unique taste. Evening we join our chefs at our hotel for a culinary session showcasing the best of Chettinad cuisine followed by dinner.
Overnight: The Bangala, Karaikudi (1 night) (B, D)
Day 11: October 24, 2024: Karaikudi/Madurai (Drive)
A two hours rural India drive gets us to Madurai. Enroute we visit Athangudi village known for its tiles. These colourful tiles not only adorn opulent homes in the region, but are also exported to other parts of the world. On arrival in Madurai, we check in to our heritage hotel for a two-night stay. Evening, we will experience the night closing ceremony of the lovely Meenakshi Temple. This is an incredible pooja (prayer) ceremony. During the ceremony, the idols of Sundareshwar (an avatar of Lord Shiva) and his consort Meenakshi (an avatar of Parvati) are carried in a grand procession to the bed-chamber, where they are kept for the night. Balance of the day is free. We have two nights stay at the Heritage Madurai a leading heritage hotel in India.

Overnight: Heritage Madurai, Madurai (Heritage) (2 nights) (B, D)
Day 12: October 25, 2024: Madurai
We embark on an excursion through the scenic villages north of Madurai. After a delightful drive, we continue on a picturesque walk along scenic pathways that lead us to an isolated temple. This temple holds a unique tradition of worshipping deities with clay images, providing an unforgettable and immersive experience. We will have the opportunity to witness the rituals and learn about the significance of this practice. Additionally, we meet talented potters in their workspaces and gain insights into their craft, appreciating the skill and artistry involved in pottery and know of the vast work that Dr Inglis has done in his research.
Then we will experience the awe-inspiring Meenakshi Temple, the majestic abode of the triple-breasted warrior goddess, Meenakshi. This temple is considered the epitome of South Indian architecture and holds immense importance in the aesthetic heritage of the region, comparable to the Taj Mahal in North India. As we explore this great temple, we will be captivated by its grandeur, intricate carvings, and vibrant sculptures. The temple is a testament to the legacy of the Nayak kings and is a bustling pilgrimage site that attracts devotees from all over the country.
Meandering through the streets surrounding the temple, we will witness the organized layout of the city on a concentric plan. These streets are devoted to different communities and occupations, providing a glimpse into the vibrant and diverse fabric of Madurai's culture. During our visit, we will immerse ourselves in the vibrant atmosphere, observing the rituals, and embracing the spiritual energy that permeates this sacred space.
To further explore the local culture, we enjoy a motored rickshaw ride through the bustling streets and partake in a leisurely walk through the vibrant markets. This will give us the opportunity to interact with locals, witness the vibrant colors, and experience the lively atmosphere of the market. We end our experience of Madurai with a street food walk. Embarking on a culinary street food walk tour in Madurai, Tamil Nadu, which will take us on a delightful journey through the vibrant flavors and aromas of the city's local cuisine. Known as the "Athens of the East," Madurai offers a rich culinary heritage with a wide range of street food options that will tantalize our taste buds. (B, D)
Day 13: October 26, 2024: Madurai/Chennai (Flight)
After an early breakfast, we are transferred to the airport for our flight to Chennai. Arrival transfer to the Taj Connemara. Afternoon is free to relax. Evening dress up in traditional local attire (if you wish) for our farewell dinner especially curated at the famous Rain Tree restaurant. Stepping into Rain Tree is like entering a grand colonial mansion. The restaurant's interior exudes an air of timeless sophistication with its high ceilings, opulent chandeliers, and rich wooden accents. The décor seamlessly blends traditional and contemporary elements, creating a warm and inviting atmosphere that is perfect for both intimate gatherings and formal occasions. The culinary offerings at Rain Tree are a delightful fusion of Indian and international flavors, expertly crafted by a team of talented chefs. The menu showcases a tantalizing array of dishes that cater to a variety of palates. From classic Indian delicacies to international favorites, every dish is prepared with meticulous attention to detail, using the finest of ingredients and innovative techniques. We conclude our evening with a special Bharatnatyam Dance performance.
An afternoon flight gets us to Chennai and then like all exciting experiences time does come to an end. Evening we have a lovely farewell dinner at the Southern Spice Restaurant – another leading name in the restaurants in India.

Overnight: Taj Connemara, Chennai (5-Star Deluxe) (1 night) (B, D)
Day 14: October 27, 2024: Depart Chennai
Our unique experience of the Arts & Artisans of South India comes to an end as we are transferred to the airport for our departure flight. Alternatively, continue your time in India with an extension to visit the majestic monument of the North, the Taj Mahal. Contact Bestway Tours & Safaris for additional information and suggestions. (B)
B=Breakfast, L=Lunch, D=Dinner