Day 01: Mar 06, 2024: Arrive Cochin (INDIA)
Namaste! Welcome to Cochin. We are welcomed the traditional Indian way with hands clapped together. After clearing Immigration, baggage collection and customs, we are met and warmly welcomed by Bestway Tours ground staff and transferred to our hotel.  Hotel check-in time is 1400hrs. Time for rest and then we have a welcome dinner curated especially by Joe. A great opportunity to meet all the participants on this amazing tour. It is therefore advisable that you arrive and check in no later than 2PM. Each participant will be met at the airport and transferred to the hotel. The only thing we will need is a copy of your flight itinerary with complete flight details.
Evening, we enjoy a memorable mouth-watering Welcome Dinner at the Brunton Boatyard put together jointly by Chef Joe and the local chef of Brunton Boatyard. This will be the first of many tastes of Kerala and Sri Lankan cuisines.
Overnight: Malabar House Deluxe Rooms (2 Nights) (D)
Day 02: Mar 07, 2024: Cochin
The city of Cochin is distinguished by considerable European influences especially in the architecture of this charming town. It is picturesquely located on several islands between the Arabian Sea and the Kerala backwaters are instantly apparent. Reflecting the maritime history of Kochi, the old buildings are a blend of Dutch, Portuguese and British architecture.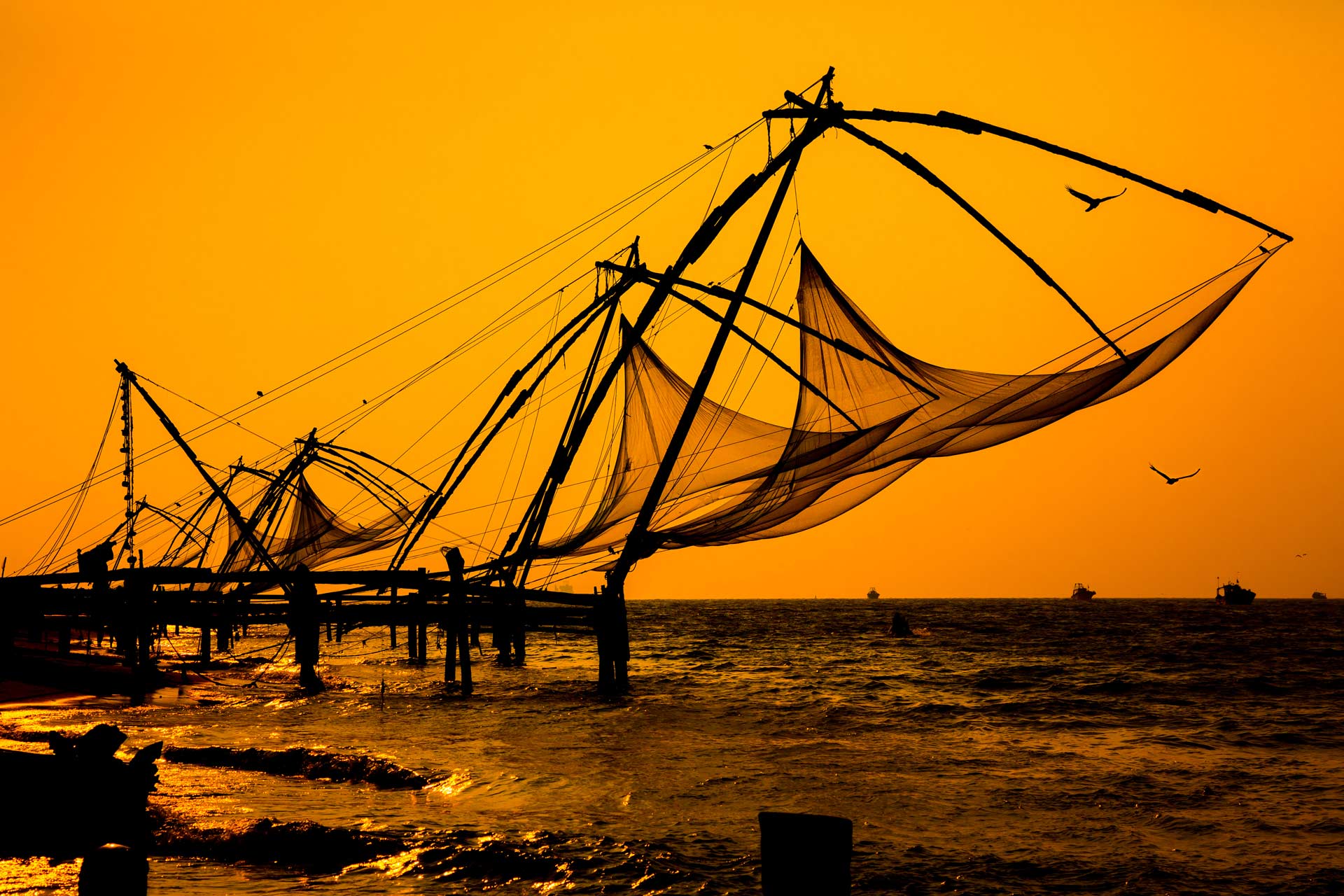 Early in the morning, we venture out for heritage walk to Fort Kochi and visit St. Francis Church, the oldest European church in India. It is also the original burial site of the renowned Portuguese explorer, Vasco da Gama who died in Koch in 1524 and his remains were subsequently transported to Portugal. Next visit the highly decorated Santa Cruz Basilica followed by a visit of the harbor. Chef, Joe displays skills to identify the best catch of the day which he will prepare to be served during dinner for us. We also, visit some local eateries that offer the best of traditional local for our breakfast.
We then wander through the old districts of Mattancherry and Fort Kochi where we see various European influences, merchant houses and old warehouses, the beautiful waterfront and narrow streets. Allow time to admire the colourful murals, including depictions of the Ramayana, in the 16th century Dutch Palace and visit the Pardesi Synagogue in Jewish Town. Next, we visit Ernakulam city where we enjoy lunch at the famous sea food restaurant Grand Pavilion located at the Grand Hotel, known for its best seafood dishes in the entire city.
After lunch, we cruise to visit the Bolghatty Palace, now a heritage hotel and observe the fascinating Chinese fishing nets in action, a sight most coveted by photographers internationally.
Evening, we attend a Kathakali show where the epic Ramayana comes to life. Classical dancers use larger than life gestures, wear outstanding and unique costumes with elaborate make up. Dinner at our hotel. (B, L, D)
◆ Tour Fort Kochi
◆ Seafood lunch at the famous Grand Hotel
◆ Harbor Cruise
◆ Kathakali dance performance
Day 03: Mar 08, 2024: Cochin/Alleppey/Kumarakom (Drive & Backwaters)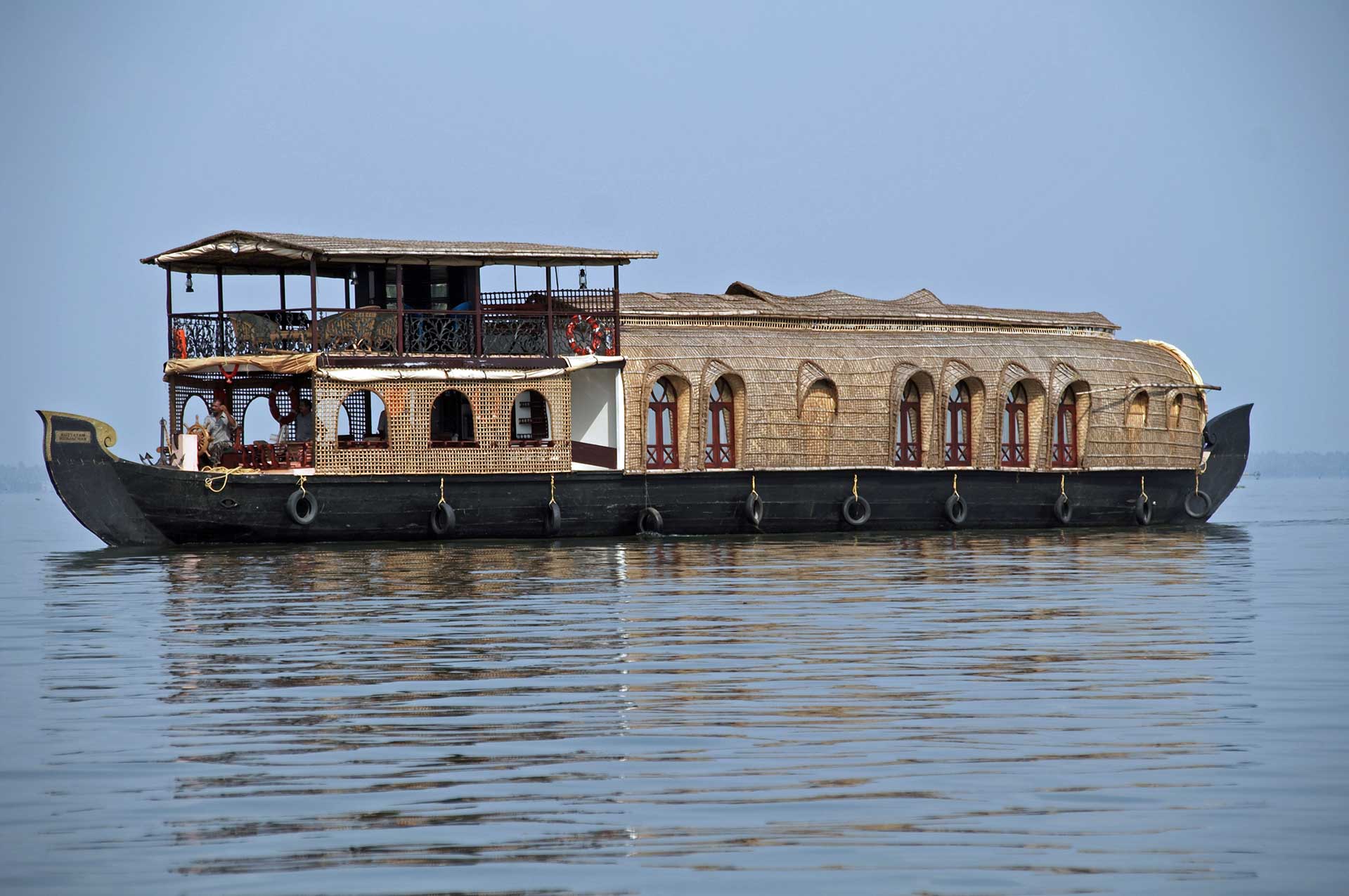 After a leisurely breakfast we drive to Alleppey and board our private houseboat to enjoy a four-hour cruise along the famous backwaters of Kerala. Lunch is on board our houseboat. Our journey begins through the picturesque backwaters and small lakes relaxing in the tranquility of Kerala's beautiful scenery. As we cruise, we come across many boats, canoes and other water crafts and observe the traditional way of life and activities of the local people. The families live on the banks of the river and earn their livelihood from it too.
After enjoying backwaters, we check into the Coconut Lagoon.
◆ Backwater cruise followed by lunch
Overnight: Coconut Lagoon, Kumarakom. Heritage Bungalow (2 Nights) (B, L, D)

Day 04: Mar 09, 2024: Kumarakom
Start the day with a delicious breakfast. The day's activity begins late morning as we visit Philip Kutty's farm. A special program has been arranged combining travel and culture with getting insights and lessons in Kerala cuisine. We will be working on a predominantly Syrian Christian cuisine with a strong backwater influence. It will involve meat, fish and vegetarian dishes with family touches passed down over the generations.
Other details
◆ Cooking classes are "hands-on" Classes or enjoy observing
◆ A small recipe booklet will also be provided
Balance of the day is free for personal activities. There is a lot to do here with the forests, lakes, enchanting waterways, walking trails, Ayurvedic Treatments, Massage therapies, Yoga and many more. (Payable directly). (B, L, D)
◆ Cooking class followed by lunch at the Philip Kutty's farm

Day 05: Mar 10, 2024: Kumarakom/Thekkady (Drive 140 Kms/4 Hrs)
The day starts with a scenic drive to Periyar, known also as Thekkady, where we visit the British-built dam in 1895. Periyar is a wildlife reserve, providing an ideal environment to track wild elephants, bison, deer, and various bird species. The tropical landscape surrounding us is adorned with tea, coffee, and other spices, creating a vibrant atmosphere.
In the afternoon, we enjoy a boat cruise on the lake within the Periyar Wildlife Sanctuary. From the tranquil setting of the lake, we will be impressed with the lush scenery while keeping an eye out for animals that come to the water's edge. It is common to spot herds of elephants, wild boars, or the magnificent Sambar Deer, enhancing our boating experience.
In the evening, we participate in a cooking session at Spice Village, followed by dinner. Chef Joe and a team of master chefs, representing various regions of the country, prepare a selection of dishes showcasing authentic flavors and aromas. Specializing in popular regional cuisines, each chef's expertise adds to the exquisite dining experience, allowing us to indulge in the exotic preparations.
Periyar offers us a blend of wildlife exploration, scenic beauty, and culinary delights.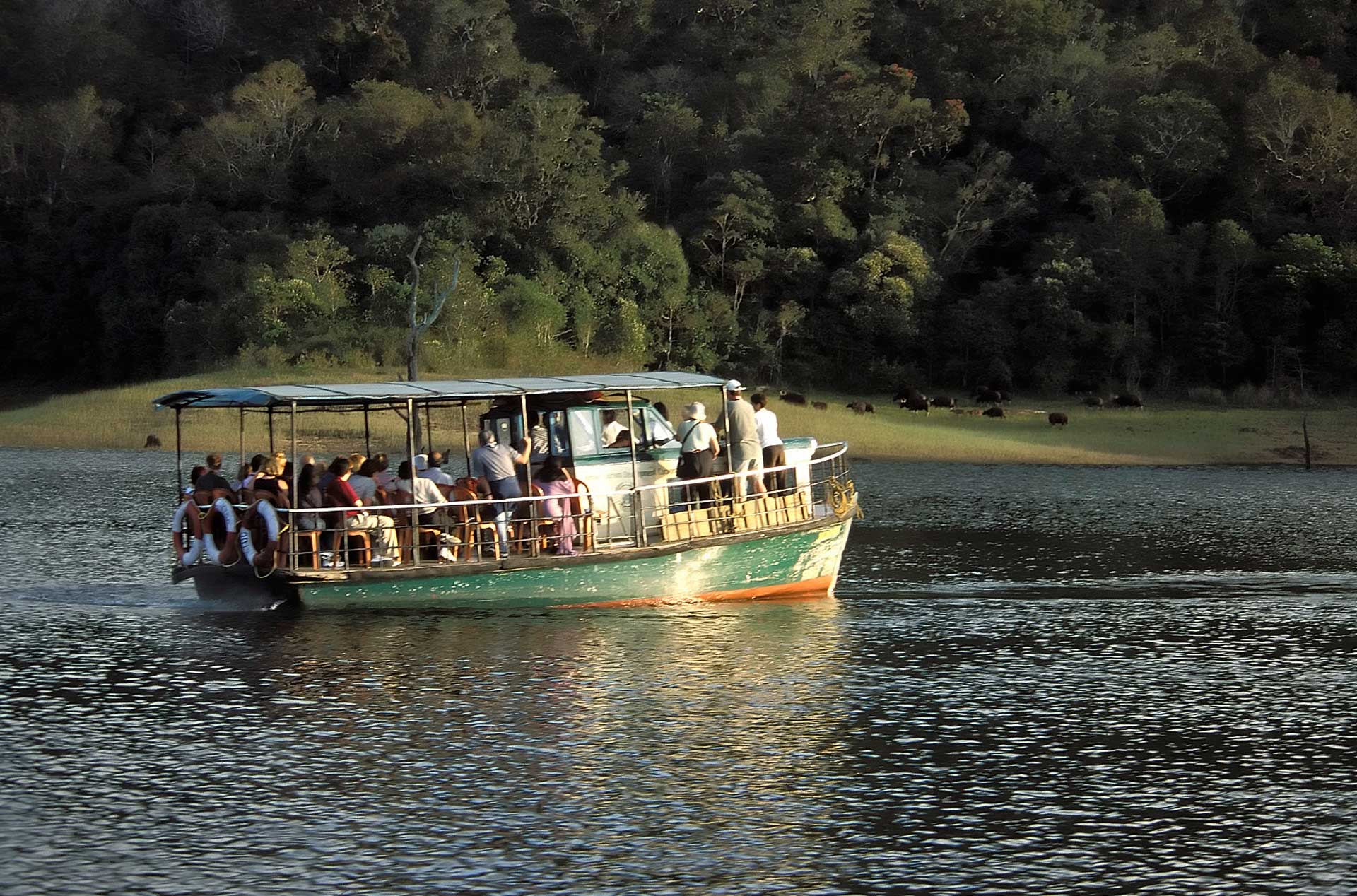 ◆ Afternoon boat ride on Lake Periyar
◆ Evening cooking session followed by dinner
Overnight: Spice Village. Thekkady. Spice Garden Cottages (2 Nights) (B, D)
Day 06: Mar 11, 2024: Thekkady
Take a guided Jungle walk through the Periyar Tiger Reserve/National Park, offering us a chance to see wildlife up close. The three hours walk is an easy to moderate level. Periyar is home to a variety of wildlife, including tigers and leopards. We then enjoy breakfast at our hotel.
Later in the afternoon, we visit a family home belonging to a native tribe, where we explore a spice plantation. This organic plantation employs natural pest control methods and showcases a range of spices and herbs used for culinary and medicinal purposes. The owner and his family, who possess extensive knowledge about their produce, guide us through the plantation and encourage us to engage our senses by smelling and tasting various clippings. We witness a demonstration of a home-cooked meal using the locally grown organic spices, and we have the option to stay for lunch with the family. Chef Joe may introduce us to eating with our fingers, in the traditional Indian way.
In the evening, we attend a Kalaripayattu show, an ancient martial art form considered the mother of all martial arts. The art form is believed to have originated 3000 years ago with sage Parasurama, who is credited with reclaiming Kerala from the Arabian Sea. The show highlights the skill, agility, and cultural significance of Kalaripayattu, with its influences on martial arts around the world.
Throughout the day, we engage in immersive experiences that connect us with nature, culture, and traditions. From the jungle walk to the spice plantation and the Kalaripayattu show, we will experience the beauty and significance of these aspects of Periyar. (B, L, D)
◆ Morning guided Jungle walk
◆ Visit native family home and spice plantation
◆ Demonstration of home cooked meal followed by lunch

Day 07: Mar 12, 2024: Thekkady/Madakkathanam (Drive 98 Kms/3 Hrs)
After breakfast, we drive to River Terrace Resort & Spa at Madakkathanam. Upon arrival we check in at our resort. Balance of the day is free for personal activities and enjoy Ayurvedic spa services on direct payment. The River Terrace Resort property consists of two acres situated on the banks of Thodupuzha River with over 100 meters of water access and a large landscaped area and it is located just three kilometers from the main town. A relaxed walk, yoga, massage is part of this resort.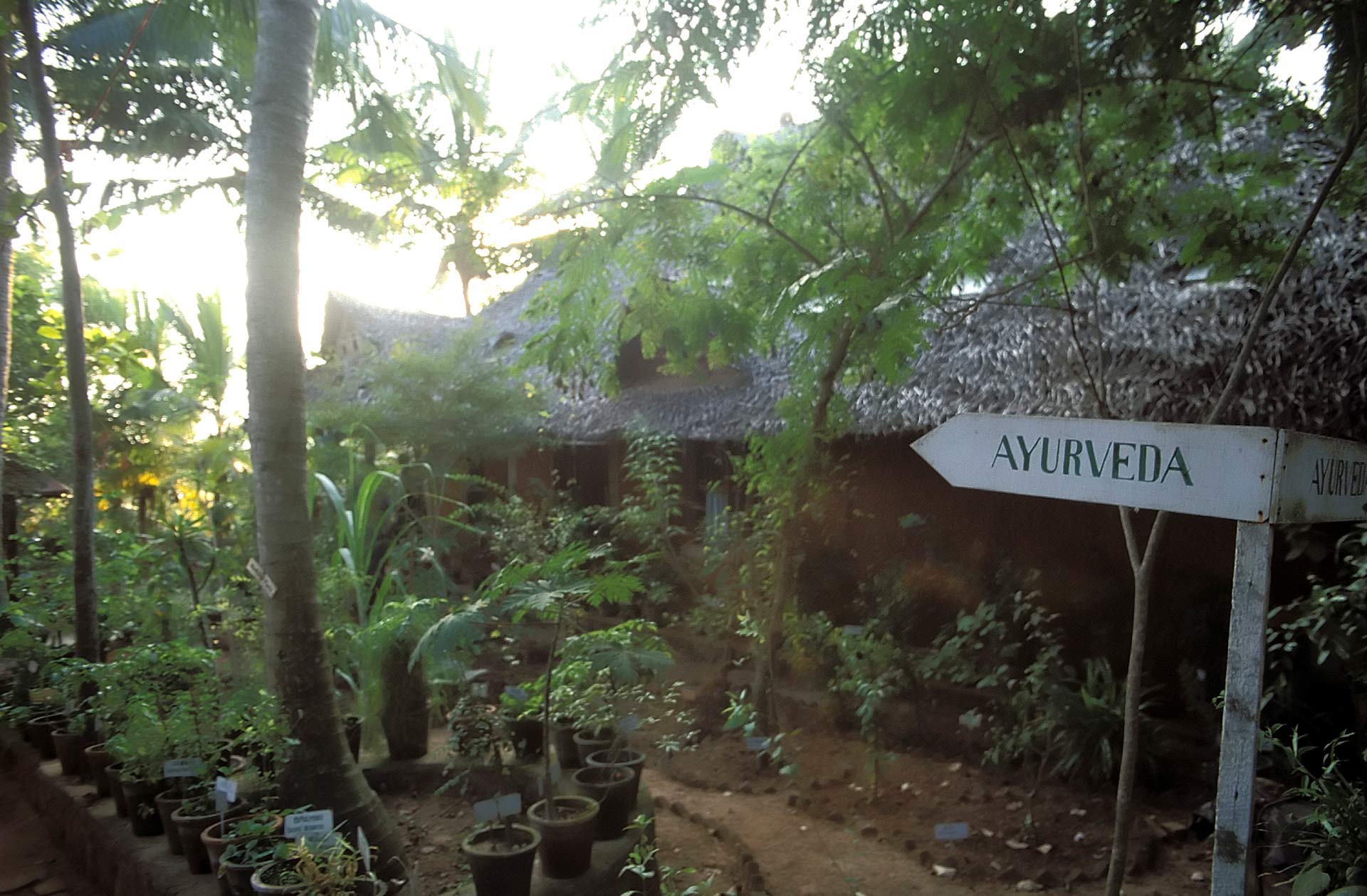 Overnight: River Terrace Resort & Spa, Madakkathanam. Executive Villa (1 Night) (B, D)
Day 08: Mar 13, 2024: Madakkathanam/Kothamanglam (Drive 25 Kms/45 mins) Kothamanglam/Thrissur (Drive 80 Kms/2 Hrs)
After breakfast, we drive to Kothamanagalam to visit rubber and coconut plantations. Our guides for the day are Peter and Pushpamma Jose, who happen to be Chef Joe's in-laws. They take us on a tour of their plantations, providing insights into their work with nature. We will see the cultivation of rubber and coconut and learn about their significance. After the plantation visit, we enjoy a pleasant lunch.
Following Kothamanagalam, we proceed to Thrissur and check in at our hotel. Evening we are the guests of Joseph and Mary Thottungal – any relation with our chef? We visit Joe's ancestral home and get a glimpse into Kerala's family life and learn about Joe's culinary journey. We are warmly welcomed by Joe's extended family, giving us the chance to experience local customs and engage in discussions about Indian culture, rituals, family life and religion. We will enjoy a delicious dinner prepared either by Mama Joe or her son, the Indo-Canadian chef.
This day offers a unique blend of plantation visits, family connections, cultural insights, and culinary experiences. It allows us to appreciate the agricultural and cultural heritage of Kerala. while also getting a glimpse into Joe's personal background and the traditions that shaped him.
◆ Private visit to the Kothamanagalam rubber and coconut plantations
◆ Home visits to Peter and Pushpamma Jose, Chef Joe's in-laws
◆ Visit Joe's ancestral home followed by dinner

Overnight: Hyatt Regency, Thrissur. Standard Rooms (1 Night) (B, L, D)
Day 09: Mar 14, 2024: Thrissur/Cochin (Drive 60 Kms/1 Hrs) Cochin/Colombo (Flight) (SRI LANKA)
Early morning, we bid farewell to Kerala and board for our short haul flight to Colombo, capital of Sri Lanka. On arrival we are met by our Sri Lankan guide and transferred to Colombo, the commercial capital of Sri Lanka or as it was known during the colonial times, Ceylon.
Afternoon we explore Colombo which will take us through the busy commercial areas, as well as the tree-lined residential Cinnamon Gardens. Visit Sea Street, the Goldsmith's quarter in Pettah, the bazaar area, a Hindu Temple, the Dutch Church of Wolfendhal, dating back to 1794, the historical Davatagaha Mosque dating back to 1895, and the Kelaniya Raja Maha Vihara (Buddhist Temple), believed to have been visited by Lord Buddha 2,500 years ago.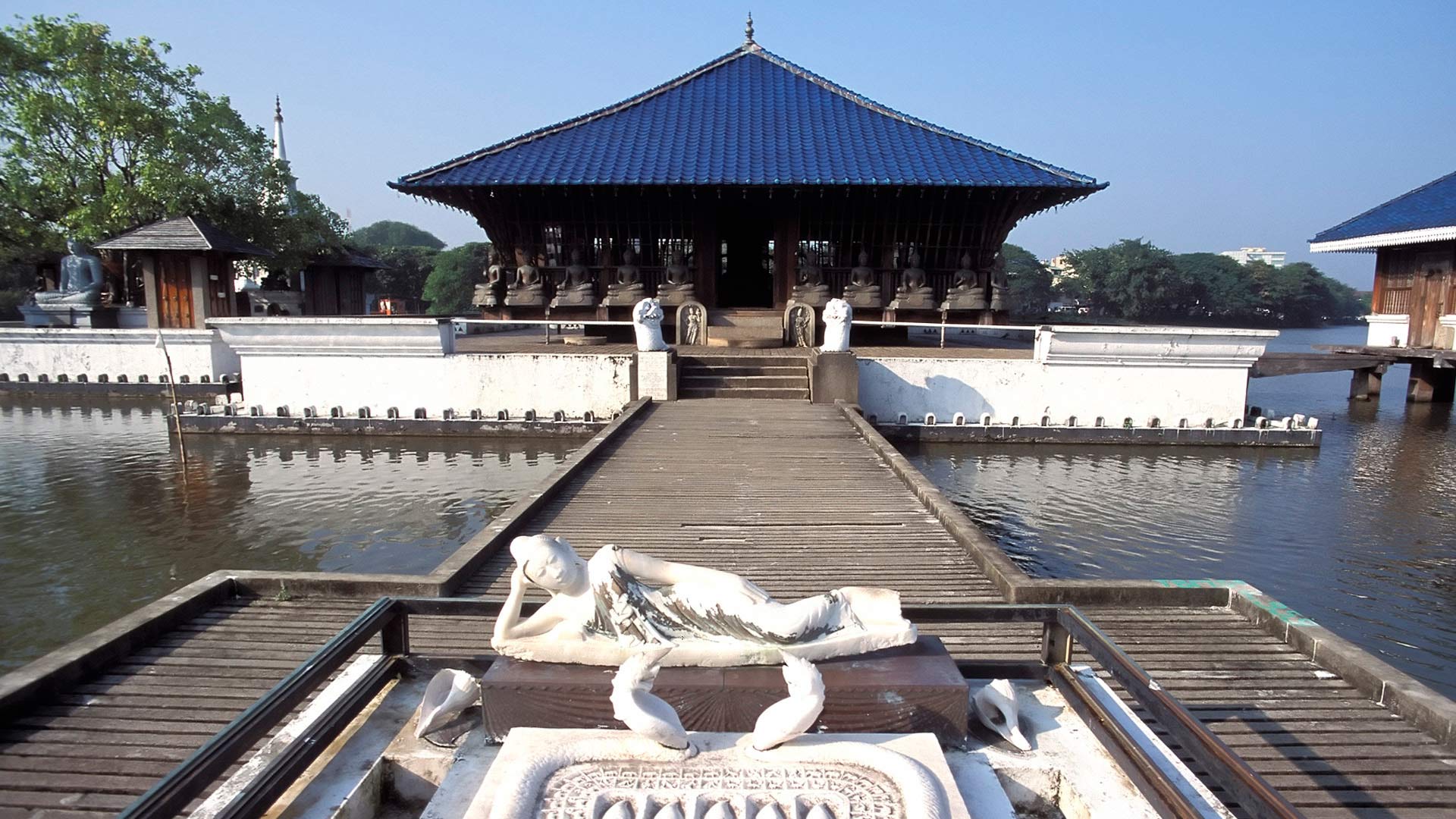 Later we enjoy dinner at a traditional popular restaurant called, Nuga Gama.
Overnight: Cinnamon Grand, Colombo. Premium Room (1 Night) (packed/ Cold Breakfast, D)

Day 10: Mar 15, 2024: Colombo/Kandy (Drive 120 Kms/3 Hrs)
After breakfast we leave for Kandy, the beautiful capital of the central highlands. En route we visit a local family and join with them to prepare a Kandyan lunch followed by lunch. Arrival Kandy and we check in for 2 nights at the Grand Kandyan a five-star hotel which boasts a blend of palatial grandeur and comforts typifying luxury in every corner, caters to all needs of a modern traveler. Located in the heart of the historical city of Kandy with 360degree view of spectacular mountain ranges, the hotel is just minutes away from The UNESCO world heritage center " The Temple of the Sacred Tooth Relic" and the city's premier shopping area.
Evening, we visit Buddhists much revered Temple of Tooth Relic of Lord Buddha and later join a cultural dance performance. Enjoy a special dinner at your hotel.
Overnight: The Grand Kandyan, Kandy. Standard Rooms (2 Nights) (B, L, D)
Day 11: Mar 16, 2024: Kandy: Train Journey, Tea Factory and Plantation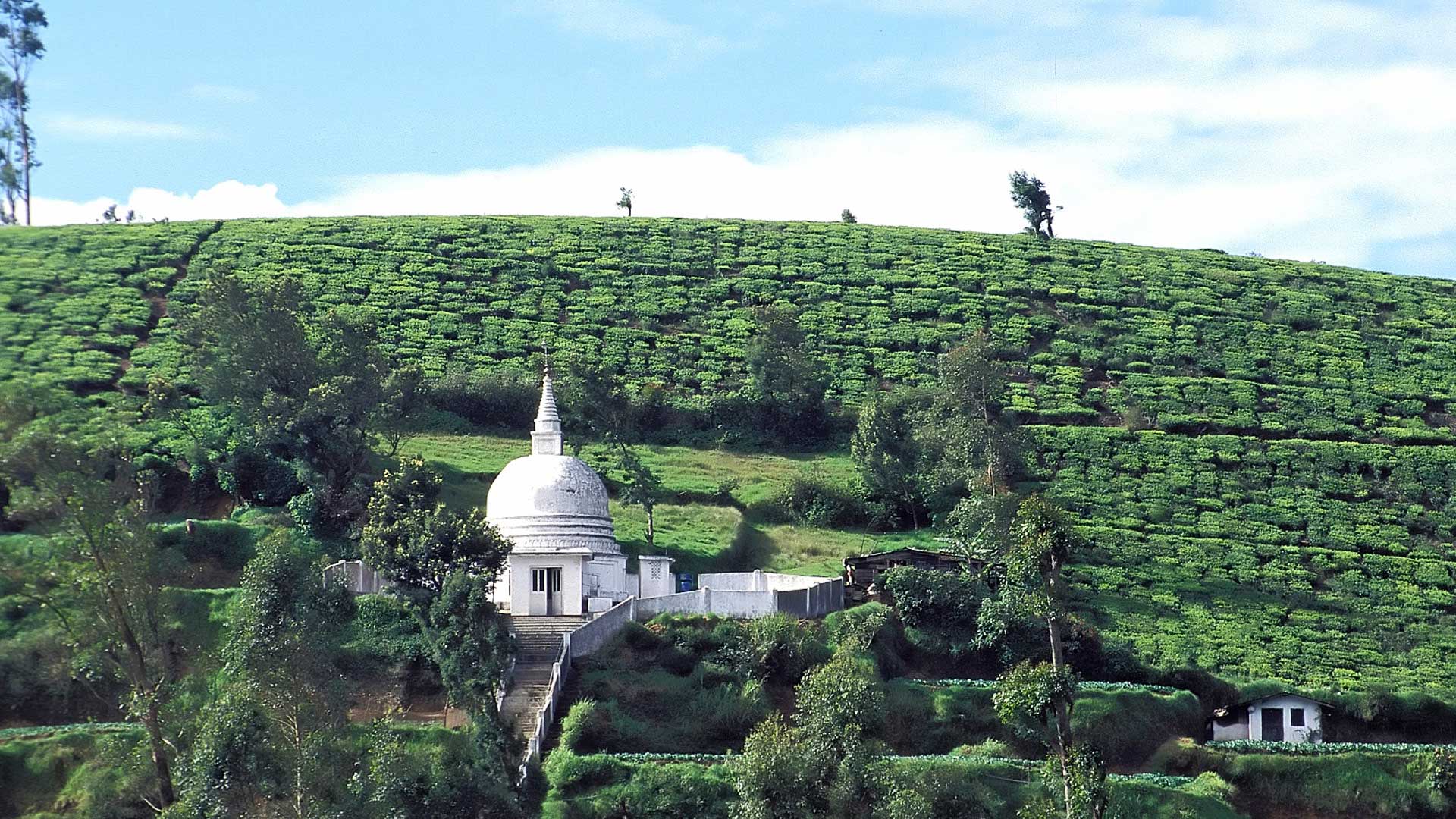 After breakfast, we leave for Kandy Railway Station where we board the morning train for scenic journey to Nanu Oya, which is the nearest railway station to Nuwara Eliya. Take a brief city tour of the colonial town of Nuwara Eliya and return to Kandy. En route stop at tea plantation and factory to get familiarized with the manufacturing process of the world famous, Ceylon Tea.
Train journey will take about 03 ½ - 04 hours from Nuwara Eliya to Kandy – 85 KM – Approx. 03 ½ hours' drive. (B, D)
Day 12: Mar 17, 2024: Kandy/Matale/Habarana (Drive 95 Kms/3 Hrs)
After breakfast we leave for Habarana the hub of the cultural triangle of Sri Lanka.
En route stop at Matale to visit a spice garden. Matale is the largest town of the Matale District of the Central Province, of Sri Lanka. It is 142 kms. from Colombo and close to Kandy. Surrounding the town are the Knuckles Mountain Range, the foothills were called Wiltshire by the British. It is a mainly agricultural area, where tea, rubber, vegetable, and spice cultivation dominate. We visit a spice garden which displays most of the spices Sri Lanka is famous for.
Proceed to Habarana afterwards and join with a local Sinhalese family and learn how to prepare traditional meal and enjoy the light lunch with them.
Later in the evening after mid-day heat climb to the summit of Sigiriya Rock Fortress. spectacular Rock Fortress is a World Heritage site and one of the major attractions of Sri Lanka. The Water Garden, Frescos of beautiful maidens, mirror wall with ancient graffiti, lions flatform and the remains of the summit of the rock will shows us the period of Sigiriya's glory.
Overnight: The Cinnamon Lodge, Habrana. Superior Rooms (1 Night) (B, L, D)
Day 13: Mar 18, 2024: Habarana/Jaffna (Drive 238 Kms/5 Hrs)
After breakfast we leave for Jaffna. At noon we go for a market and city visit.
Later in the afternoon join with a local Tamil family living in Jaffna and learn how prepare traditional meal. You will be familiar with the cooking authentic crab curry according to the Jaffna style. After cooking your meal, you can join with family to enjoy the dinner while sharing the lifestyle of people who are living most northern part of Sri Lanka and how it was before and after the civil war.
Overnight: The Thinnai Hotel, Jaffna. Vaalai One Bedroom Suite (2 Nights) (B, D)
Day 14: Mar 19, 2024: Jaffna
After breakfast we visit famous Hindu temples of Nallur and Naguleshwaram located in Jaffna. Proceed afterwards to visit a vegetable garden where they grow vegetables and fruits suites for weather condition of Jaffna. While visiting the farm you can pick few vegetables to cook for your lunch.
Join with a Tamil family who living there and prepare the lunch with them. Enjoy lunch and return to the hotel. Rest of the stay leisure. (B, L, D)
Day 15: Mar 20, 2024: Jaffna/Anuradhapura (Drive 196 Kms/4 Hrs)
After breakfast we leave for Anuradhapura, the first ancient capital of Sri Lanka.
In the afternoon enjoy a jeep safari of Wilpattu National Park. The park gets its name from more than 106 lakes called 'Villus' locally. These waterbodies come under the Ramsar Convention on Wetlands. This is Sri Lanka's largest and oldest park, an incredible 1,316 sq.Kms. which is home to the Sri Lankan Leopard, Elephant, Sloth Bear, Wild Water Buffalo, Sambhur and the Graceful Spotted Deer. It's also home to the island's resident and migratory birds, with its Lakes hosting Sri Lanka's wetland water birds.
Overnight: Palm Garden Village, Anuradhapurna. Standard Rooms (1 Night) (B, D)
Day 16: Mar 21, 2024: Anuradhapura/Negombo (Drive 170 Kms/4 Hrs)
After breakfast we explore Sri Lanka's first ancient capital, Anuradhapura. Anuradhapura is a living ancient city because of its Eight Sacred Sites for Singhalese Buddhists, Anuradhapura was the first capital of the island and remained such for 1500 years. Established in the 4th century BC, the capital evolved into one of South Asia's Great cities with the introduction of Buddhism a hundred years later. In its heyday, its great monasteries like the Abhayagiri were Buddhist universities of higher learning affiliated with the great monasteries of India.
A sampling of the Bodhi Tree under which Buddha attained enlightenment was brought to Sri Lanka in the 3rd century BC. Today, it is the oldest documented tree in the world and here you can live the deep-rooted religious beliefs of Sri Lanka's Singhalese Buddhists. It's also home to well preserved ruins, renovated Buddhist shrines and Dagobas, and the iconography of the Buddha image.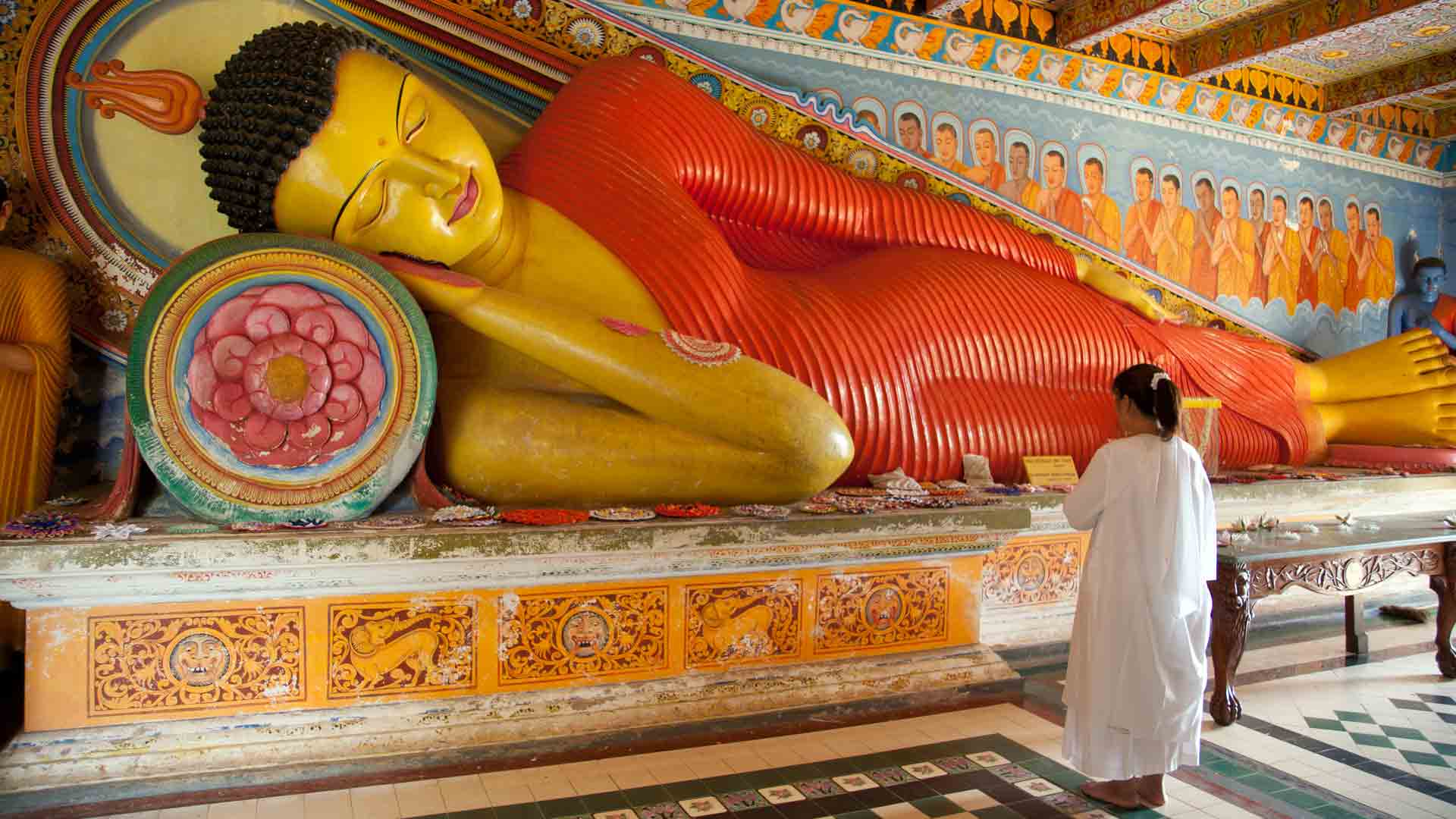 We proceed to the beach resort at Negombo where the balance of the day is free at leisure. Negombo, is also known for its delicious and wide variety of spiced, hot spiced and under spiced sea food. Watch the sunset reflect off the mirror-like waters of the sea. Eat, sleep, wake, indulge and repeat… life in paradise and make yourself at home!
Overnight: The Heritance, Negombo. Deluxe Rooms (2 Nights) (B)
Day 17: Mar 22, 2024: Negombo
Adorned in shades of beige and off white, the rooms at Heritance Negombo emit nothing less than the brilliant essence of Sri Lankan hospitality. Contemporary comforts such as plush furnishings and modern amenities bring to life the ultimate experience of luxury on a small island in the Indian Ocean. The views from our vibrant living spaces are simply meant to take your breath away! The hotel is also located close to the railway station allowing us to further explore the country and meet the people.
Stay all day at the beach resort and enjoy the beach. Evening we enjoy a specially set farewell dinner at our hotel. It will be time then to bid good bye as we may not all be departing for the airport at the same time and in the same flights the following day. (B, D)
Day 18: Mar 23, 2024: Negombo/Colombo/Home
Breakfast at our hotel. Hotel check out time is 1100AM. The incredible experience of Kerala & Sri Lanka, Indian & Sri Lankan foods, diverse cultures, families, history with culinary and cultural activities is now coming to an end. You will be transferred to the airport depending on your flight timings. (B)
B=Breakfast, L=Lunch, Sn=Snacks, HT=High Tea, D=Dinner