MADAGASCAR PHOTO SAFARI
A Cultural Heritage & Photo Journey with Peter Langer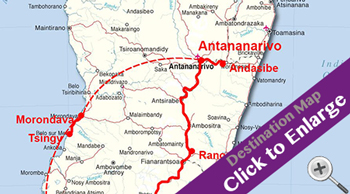 Often referred to as the Eighth Continent, the island's legendary uniqueness is best reflected by its plethora of amazing lemurs, colorful chameleons, endemic birds and fascinating baobabs, all of which combine to make for a truly exceptional photo safari.

On this journey we visit Ambohimanga World Heritage Site, photograph the flora & fauna of the rainforest in Andasibe-Mantadia & Ranomafama national parks, visit Fianarantsoa's lively market, explore the deep canyons & palm-lined oases of Isalo National Park, capture the famous Avenue of the Baobabs at sunrise and sunset, discover remarkable karstic terrain in Tsingy de Bemaraha National Park and visit local fishing communities along the coast. Above all, we will be aiming to photograph Madagascar's remarkable creatures, great and small.

Peter has been to Madagascar before. Whilst on tour, we will discuss a wide range of topics, including Madagascar's similarities with Indonesia, the country's unique nature and geography, the animist nature of religion on the island, the French colonial influences, art and architecture, contemporary Malagasy society and of course photography.This will allow us to make our photography of Madagascar's vast cultural and natural diversity more meaningful. Please be forewarned that Peter is not a camera technician and we kindly request that you know your equipment intimately.



ABOUT PETER LANGER
Peter Langer, one of Canada's leading travel lecturers and photographers. He is a cultural geographer and has travelled to over 160 countries. His photographs have been published by leading magazines worldwide and have been exhibited on several continents. He also has given lectures on cultural anthropology, geography, art, history, travel and tourism subjects in North America, South America, Asia and Europe.

Peter's photographs have appeared worldwide and have been exhibited on several continents. He has travelled to over 160 countries and his professional photographic material is widely sought after by a large number of publishers, governments and international airlines and tour operators. Peter completed well over 500 audio-visual projects and multi-image presentations for various governments, non-profit organizationS industries.
TOUR HIGHLIGHTS
1.
Many opportunities to photograph Madagascar's unique ecosystems and unusual life forms
8.
Explore the Rainforests of the Atsinanana, a UNESCO World Heritage Site
2.
Experience the extraordinary natural diversity of Madagascari
9.
Look for Golden Bamboo Lemurs in the Ranomafana Rainforest
3.
Visit and photograph a variety of the island's fascinating lemurs
10.
Visit Madagascar's 'Grand Canyon' in Isalo National Park
4.
Get some fantastic pictures of exotic chameleons and frogs using your macro lens
11.
Enjoy meeting the frindly local people at the lively Friday Market in Fianarantsoa
5.
Visit the Royal Hill of Ambohimaga, a UNESCO World Heritage Site
12.
Photograph fishing communities along the Indian Ocean
6.
Explore the remote Tsingy de Bemaraha Strict Nature Reserve, a UNESCO World Heritage Site
13.
Enjoy cultural encounters with the Malagasy people, renowned for their exceptional hospitality
7.
Two opportunities to photograph the legendary Avenue of the Baobabs
14.
Travel in a small group