Day 01: Arrive Jeddah
Our unique journey to one of the least visited country begins as we arrive in Jeddah, the major urban center of western Saudi Arabia and commercial capital of the Kingdom. Since the 7th century, Jeddah has hosted millions of Muslim pilgrims from all over the world on their way to Hajj. We are warmly received at King Abdulaziz International Airport and transferred to our hotel.  Check in time starts from 1500 hrs.   The balance of the day is free at leisure. In the evening our tour guide will join us for dinner and we will get our first introduction to the country and its people, along with our first taste of Saudi Arabian cuisine.
Overnight: Prime Al Hamra Hotel, Jeddah (2 nights) (D)
Day 02: Jeddah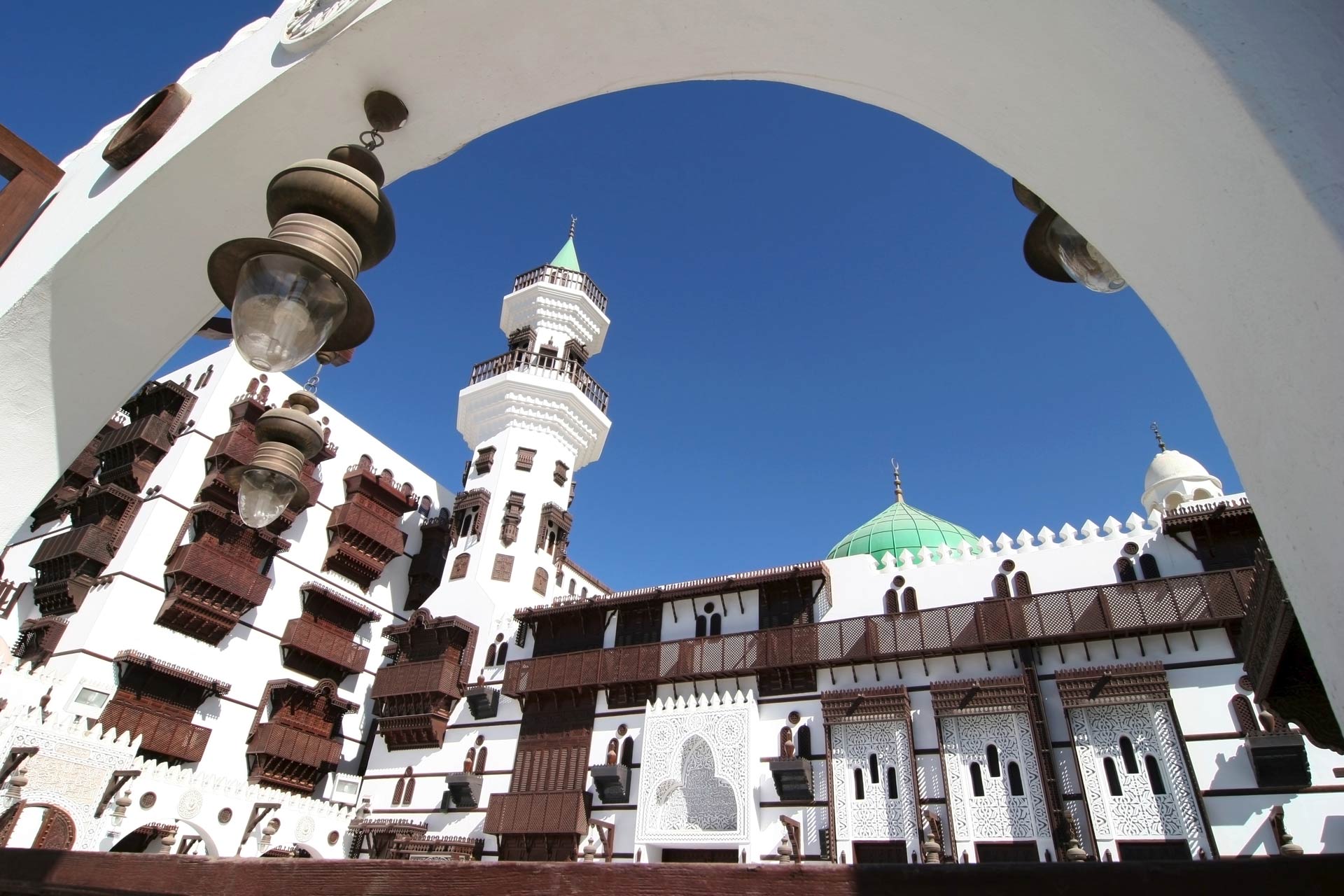 Our introduction of the Kingdom begins with a visit of Historic Jeddah, the Gate to Makkah. The city was established as a major port for Indian Ocean trade routes in the 7th century AD, feeding goods to Mecca. It was also the gateway for Muslim pilgrims to Mecca who arrived by sea. These twin roles saw the city develop into a thriving multicultural metropolitan area, characterized by a distinctive architectural tradition, including tower houses built in the late 19th century by the city's mercantile elites. We visit Bayt Nasseef (Nasseef House), one of the finest traditional houses in Jeddah, dating to the 19th century, which now serves as a museum and cultural centre. Albeit usually the visit to Bayt Nasseef is from the outside, at times we have been fortunate to get permission to visit the interior. We then visit the beautiful Al-Shafi Mosque, which dates to the early Islamic period and is one of the most historic mosques in the entire kingdom. Our day will conclude with a visit of the Abdul Rauf Khalil Art Museum, housing a large collection containing objects tracing the various pre-Islamic civilizations that inhabited the region; the rich Islamic cultural heritage of the city; and artifacts belonging to the Ottoman Turks. (B, L)
Day 03: Jeddah/Al Ula (Flight)
We start our day visiting the Jeddah Sculpture Museum on the Corniche, which brings together more than twenty world-famous modern sculptures. Afterwards we are transferred to the airport for a flight to Al Ula, which was historically located on the Incense route.  The governorate is also the home of the UNESCO site of Mada'in Saleh.  We will be met & transferred to our hotel.

Overnight: Tented Camp, Al Ula (2 nights) (B, L, D)
Day 04: Al Ula
Today's visit includes the first UNESCO site of the country - Mada'in Saleh was chosen for its well-preserved remains from late antiquity, especially the 131 rock-cut monumental tombs with their elaborate ornamented facades, of the Nabatean kingdom.  Other visits will also include the old mud village and Elephant Rock. (B, L, D)
Day 05: Al Ula/Sakara (Drive)
Today we drive to Sakara with stops at Haddajj water-well, Al Hamra Palace and al Radham Palace.  Check in our hotel.

Overnight: Raoum Inn, Sakaka (2 nights) (B, L)
Day 06: Sakaka/Al Jawf/Sakaka
We start our day with a visit of the Sakaka Fort, situated on high ground overlooking Sakaka from the northwest.  The fortress, also known as Zaa'bal Fortress and Zaa'bal Palace is at the heart of many legends and is believed to have been built in the 7th century B.C. Mud construction was added to the structure in the 3rd century AD. We then visit Al-Rajajil, sometimes referred to as the Standing Men, or Standing Stones, a collection of some fifty groups of man-made stone columns. The stones are arranged in groups of four or more, joined at the base and leaning outwards at random angles, that date back to the Chalcolithic period. Nicknamed the Stonehenge of Saudi Arabia, the Al-Rajajil stones are believed to have been erected more than 6,000 years ago. We then head to Dumat al-Jandal and visit Marid Castle, which commanded the old city of Adumato in the 3rd century AD. Dumat al-Jandal became the capital of the kingdom of Kindah in the 5th century AD. In 633 AD, Khalid ibn al-Walid captured Dumat Al-Jandal and it became a part of the newly formed Islamic empire. Here we visit its famous well, and Omar's mosque, named after the second Moslem Caliph: Omar Ibn Al Khatab. We will also have chance to visit the newly discovered rock carvings depicting camels at Al Jawf. (B, L)
Day 07: Sakaka/Riyadh (Flight)
In the morning we are transferred to the airport for our flight to Riyadh.  Upon arrival, we will enjoy lunch at a local restaurant. We then drive to Dir'iyah, located on the north-western outskirts of the Saudi capital. The At-Turaif District in ad-Dir'iyah was the first capital of the Saudi Dynasty, founded in the 15th century, it bears witness to the Najdi architectural style, which is specific to the centre of the Arabian Peninsula. In the 18th and early 19th century, its political and religious role increased, and the citadel at at-Turaif became the centre of the temporal power of the House of Saud and the spread of the Wahhabi reform inside the Muslim religion. Here we will see the remains of many palaces and an urban ensemble built on the edge of the ad-Dir'iyah oasis. Afterwards we check in to our hotel.
Overnight: Holiday Inn Meydan Hotel, Riyadh (2 nights) (B, L)
Day 08: Riyadh
Today we tour of Riyadh, starting with a visit to Qaṣr al-Maṣmak (Masmak Fort), a clay and mud-brick fort, with four watchtowers and thick walls, founded on stone blocks, lying in the center of the old city. It was built around 1865 during the reign of Mohammed ibn Abdullah ibn Rasheed. This building also played a major part in the kingdom's history, as it was here that the recapture of Riyadh, led by Ibn Saud, occurred in 1902. Next, we visit the National Museum of Saudi Arabia, designed by a Canadian architect Raymond Moriyama. Established in 1999, it is part of the King Abdulaziz Historical Centre and displays artifacts dating from pre-Islamic times to modern Saudi Arabia. Our visit here will give us an excellent insight into the country and its people.  We will also visit Murabba Palace before enjoying our lunch at a local restaurant. In the afternoon we will attend the Al-Jenadriyah, a cultural and heritage festival held in Jenadriyah during the month of February. The festival features a variety of activities, including camel races, performances of local music and dancing of the Ardah and the Mizmar, thus ending our exclusive tour with an impressions of Saudi Arabia's living heritage. (B, L)

Day 09: Depart Riyadh
Check out time is by 1100 hrs.  Transfer to airport for our flight out. (B)

B=Breakfast, L=Lunch, D=Dinner
Departure Dates & Prices
We accept payments in US$, CA$ as well as in other convertible currencies like EUR, AUD and GBP. Tour prices have been costed in US$. CA$ price shown below is an indicative amount reached at by using the conversion rate at the time of web posting and will be applicable if there is no change in the conversion rate. Should the currency conversion rate change, the US$ pricing will prevail. Bestway Tours & Safaris offers a conversion rate protection. Once full payment has been received and no modification has been made to the tour itinerary, we will honour that rate. For complete payment procedures, please click here
Notes
Mada'in Saleh is currently closed for renovations and is scheduled to reopen some time soon.  In case Mada'in Saleh is still closed we will visit Madain Shuaib instead. Tented accommodation includes A/C with ensuite private washroom facilities. Please note that due to changing local rules, tour itinerary is subject to change without notice.
Inclusions
Tour Price Includes
Accommodation as mentioned or similar, including hotel taxes
18 Meals as mentioned (B=Breakfast, L=Lunch, D=Dinner)
All sightseeing and transfers by private transportation
Services of a local English speaking guide/tour escort
Entrance fees to museums and sites included in the itinerary
Bottled water during touring
Local VAT (currently at 5%)
Not Included
International airfares
Domestic airfares (currently at US$ 250 for Jeddah/Al Ula – Sakara/Riyadh)
Insurance/ KSA visa and permit fees
Tips/gratuities
Participants
This tour operates on a minimum of 10 and a maximum of 20 participants
Customised Itinerary
If you would like to have a tour on dates other than the above ones or with a customised itinerary, please contact us and we will be happy to work out an exclusive program for you.
Contact Info
You may e-mail us at bestway@bestway.com or call 1-604-264-7378. Residents of U.S.A./Canada may call us toll free at 1-800-663-0844.