Day 01: Arrive Islamabad
Arrival. We are welcomed at the airport and transferred to our hotel. Check in starts from 1400 hrs.

Overnight: Serena Hotel, Islamabad (2 nights)
Day 02: Islamabad/Taxila/Islamabad (Drive)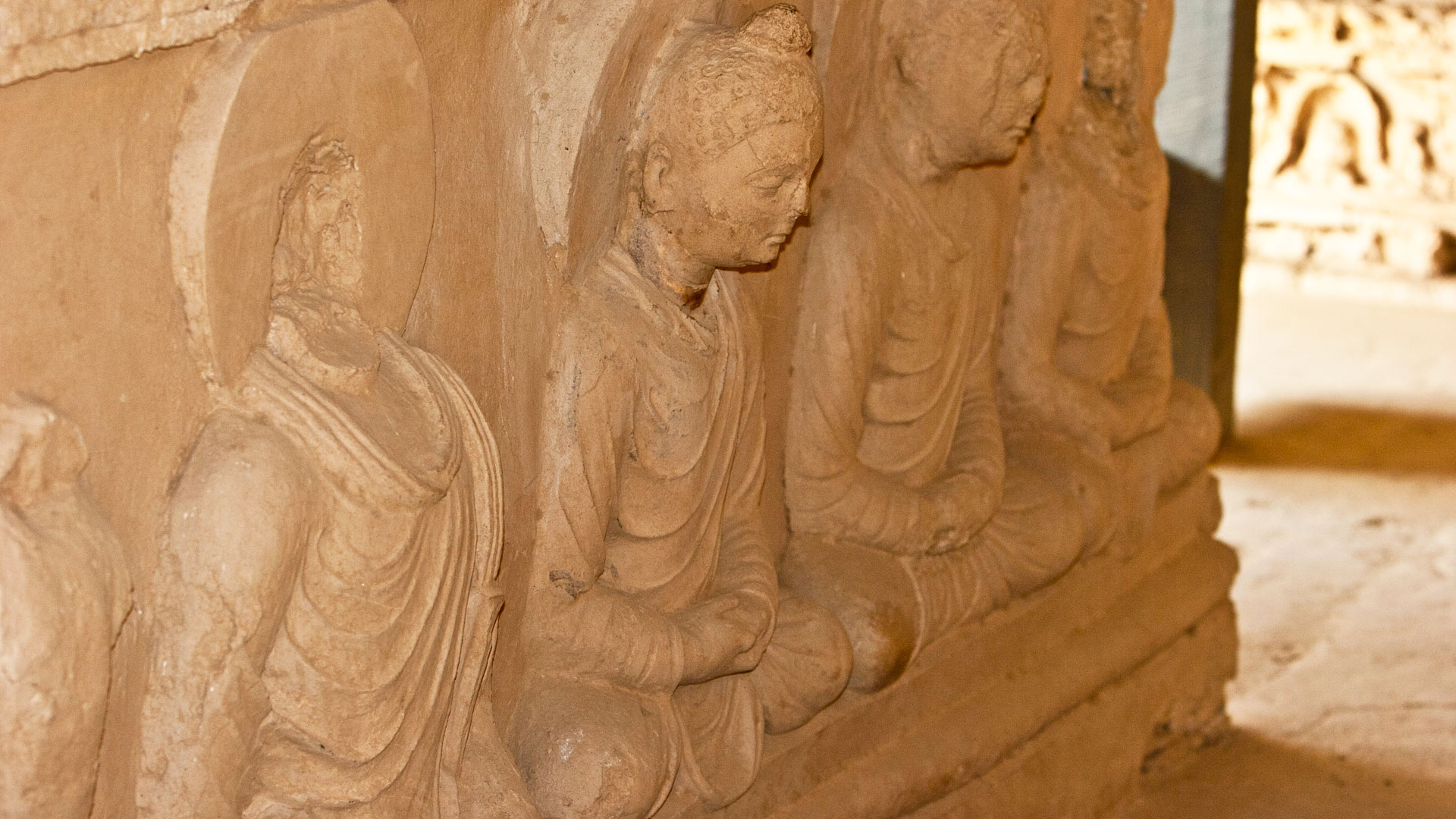 Explore the ruins of Gandhara civilization and the remains of ancient Buddhist sites in Taxila*. From the ancient Neolithic tumulus of Saraikala to the ramparts of Sirkap (2nd century B.C.) and the city of Sirsukh (1st century A.D.), Taxila illustrates the different stages in the development of a city on the Indus that was alternately influenced by Persia, Greece and Central Asia and which, from the 5th century B.C. to the 2nd century A.D., was an important Buddhist centre of learning. The history of Taxila spans over a thousand years - from 500 BC to 500 AD. The Taxila Museum reflects the original culture and tradition of the old Gandhara Civilization. From here we continue to Shakarparian (sweet hills) Gardens from where we get a panoramic view of Islamabad. We visit the Lok Virsa Museum housing a fascinating array of traditional handicrafts including embroidered costumes, old jewellery and intricate woodcarvings. It is a popular place for those wishing to buy traditional Pakistani crafts. We then drive past various modern streets and buildings – gracefully designed in Islamic architecture. The Islamabad portion of the tour culminates at one of the world's largest mosque - Shah Faisal Mosque. The architecture has a blend of the Ottoman minarets. The mosque is considered to be amongst the largest in the world. From here we drive to Rawalpindi and visit this much older town including the historical Raja Bazaar. (B, D)
Day 03: Islamabad/Chilas (Drive)
An early morning drive first to the scenic town of Abbotabad. From there we join the incredible Karakorum Highway with spectacular mountain scenery alongside the mighty Indus. We make several photo stops including at Besham, Dassu and Shittal Rock Carvings before arriving at the small mountain town of Chilas located almost at the foot Nanga Parbat.

Overnight: Panorama Hotel, Chilas (1 night) (B, D)
Day 04: Chilas/Gilgit (Drive)
We continue our drive on the amazing Karakoram Highway to Gilgit, the administrative centre of Northern Pakistan. Along the way we visit the ancient Buddhist petroglyphs near Chilas. We continue our way up north to the ancient silk route-trading town of Gilgit.

Overnight: Serena Hotel, Gilgit (1 night) (B, D)
Day 05: Gilgit/Hunza (Drive)
In the morning we explore Gilgit, including a visit to a local school, a Gilgiton home, the polo grounds, the mountain bazaar and the Buddha rock carving near Kargah. In the afternoon we take a spectacular drive through the Karakoram Range and stop in villages on our way to Karimabad, capital of the Hunza Valley, the inspiration for Shangri-La!

Overnight: Hunza Baltit Inn, Hunza (3 nights) (B, D)
Day 06: Hunza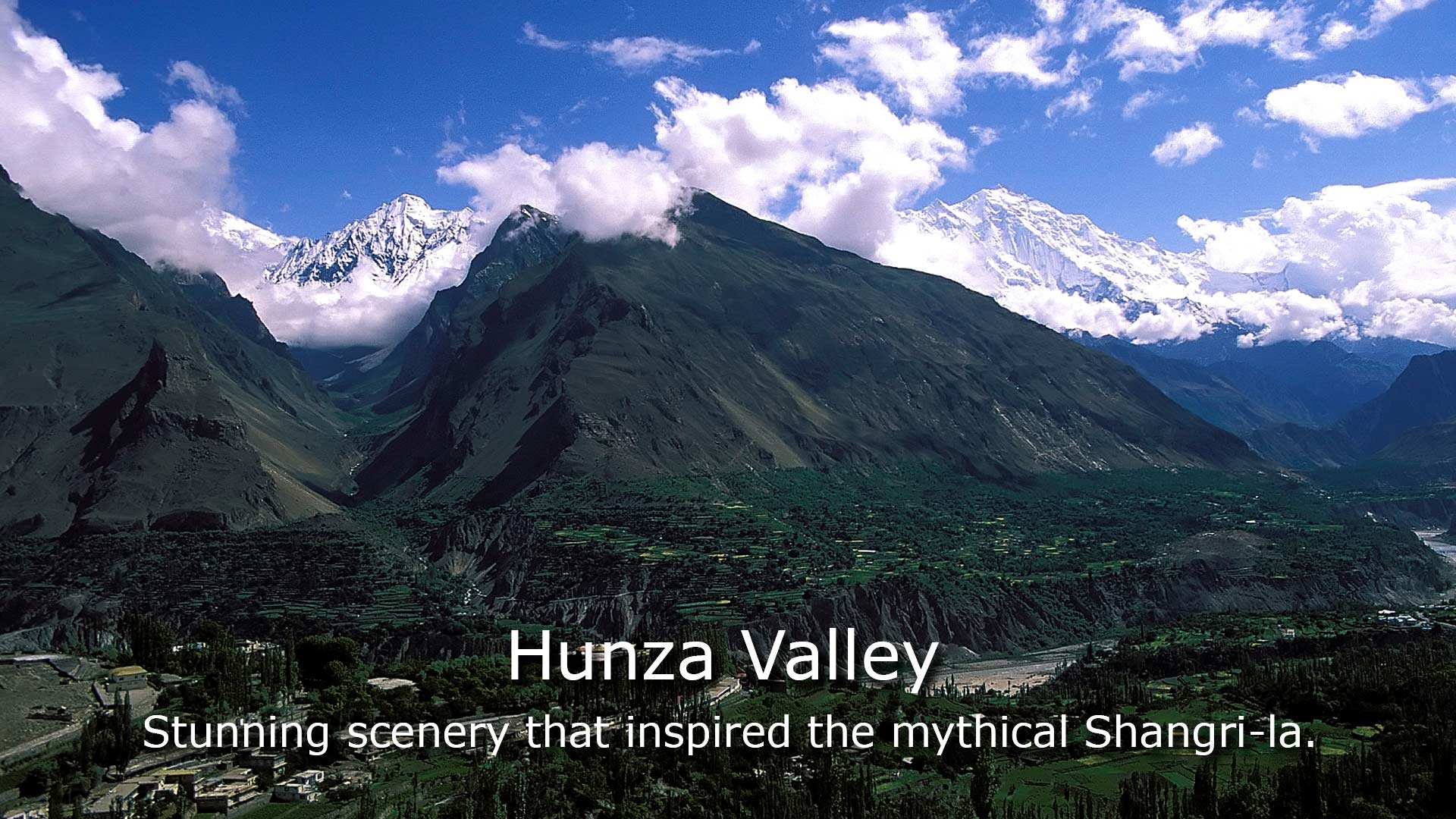 Very few places in the world compare with this small mountainous region, which was a semi-autonomous state until very recently, the ruling dynasty of Hunza having lasted for over 600 years. The scenic beauty of this area, with its greenery and snow-capped mountains, makes it a true paradise. During the summer there is an abundance of apricots, peaches, pears and grapes. Hunza lies on the ancient trade route to Kashgar in the Chinese province of Sinkiang. Today the Karakoram Highway runs along this route with Karimabad being the main town in the Hunza Valley. Hunza is probably most famous for the longevity of its people, due to their simplicity and natural diet, along with the unpolluted mountain air. Tibetan traders referred to the beauty of this humble paradise as "Shangri-La". The tour will include meeting with local folks, understanding the secrets of their longevity and also visit some of the important historical sites including the recently renovated, simple yet overpowering, Baltit Fort and the Ganesh watch Tower. Visit to Nagar Valley and Hopper Glacier are also included. Visit to the Baltit Fort is of immense interest. For many years the fort served as an administrative headquarter and home to the former Mirs (rulers) of Hunza. The porters who accompanied the Balti bride for the then Mir of Hunza built it more than 700 years ago. The style of construction originates from Ladakh. A maze of rooms serving as living and administrative offices were added periodically, designed with indigenous woodwork. It is strategically located on a prospect point, which gives it an immense overview of Hunza and neighboring valleys. Currently it serves as a Fort Museum with a good collection of exhibit of artefacts and musical instruments from Hunza. The fort is now administered by the Aga Khan Foundation Cultural Board, which undertook the reconstruction and renovations to its original grandeur. Visit to Hoper offers a fine view of some of the highest peaks in Hunza and Nagar. (B, D)
Day 07: Hunza
A most interesting experience as we head for the Khunjerab Pass which at 15,800 feet is the highest border crossing in the world. This one links Pakistan with China using the KKH (Karakorum Highway). In the year 2010 mar landslide in this region created a lake which has to be crossed in order to reach the Khunjerab Pass. This naturally created lake, called Attabad located in the Gojal village of Hunza valley means that we will change vehicles after crossing by boat to the other side of Attabad Lake. Do note that this excursion can be limited at anytime due to weather conditions like landslides, snow, etc. (B, D)

Day 08: Hunza/Gilgit (Drive)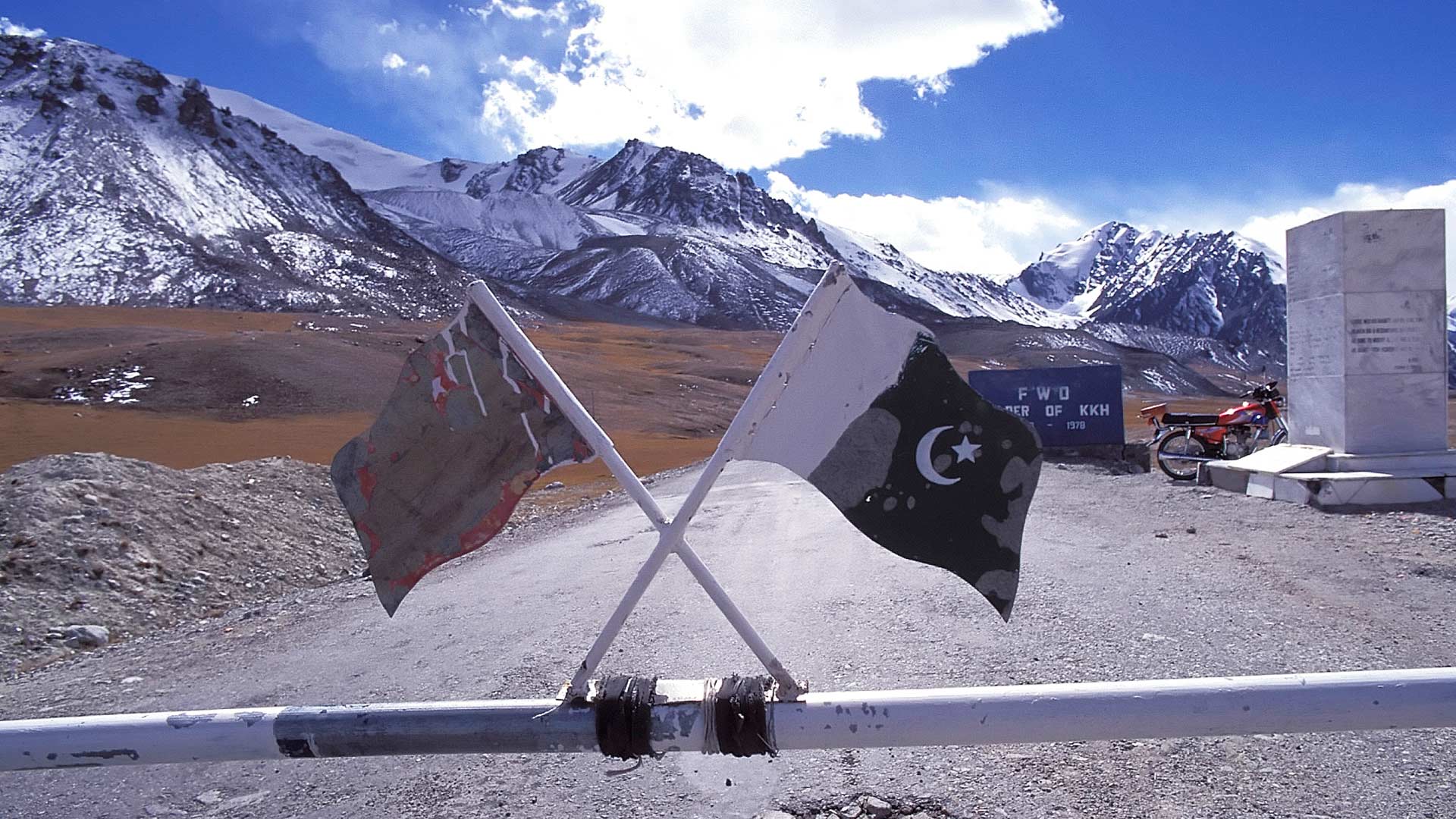 We enjoy a morning free at leisure to enjoy the Hunza Valley before our return drive to Gilgit.

Overnight: Serena Hotel, Gilgit (1 night) (B, D)

Day 09: Gilgit/Islamabad (Flight)
Early morning transfer to the airport for a spectacular mountain flight to Islamabad. Flights are subject to weather and backlog. Rest of the day at leisure.

Overnight: Serena Hotel, Islamabad (1 night) (B, D)

Day 10: Depart Islamabad
After our enlightening journey through some of the World's highest mountains, we are transferred to the airport for our departure flight. (B)

B=Breakfast, L=Lunch, D=Dinner
Departure Dates & Prices
We accept payments in US$, CA$ as well as in other convertible currencies like EUR, AUD and GBP. Tour prices have been costed in US$. CA$ price shown below is an indicative amount reached at by using the conversion rate at the time of web posting and will be applicable if there is no change in the conversion rate. Should the currency conversion rate change, the US$ pricing will prevail. Bestway Tours & Safaris offers a conversion rate protection. Once full payment has been received and no modification has been made to the tour itinerary, we will honour that rate. For complete payment procedures, please click here
Notes
N/A
Inclusions
Tour Price Includes
Accommodation as mentioned or similar, including hotel taxes
Domestic airfare: Gilgit/Islamabad (based on current application fares)
17 Meals as mentioned (B=Breakfast, D=Dinner)
All sightseeing and transfers by private transportation
Services of local English speaking guides
Entrance fees to museums and sites included in the itinerary
Not Included
International airfares
Insurance/visas
Tips/gratuities
Participants
This tour operates on a minimum of 02 and a maximum of 08 participants
Customised Itinerary
If you would like to have a tour on dates other than the above ones or with a customised itinerary, please contact us and we will be happy to work out an exclusive program for you.
Contact Info
You may e-mail us at bestway@bestway.com or call 1-604-264-7378. Residents of U.S.A./Canada may call us toll free at 1-800-663-0844.