Day 01: Arrive Tashkent (UZBEKISTAN)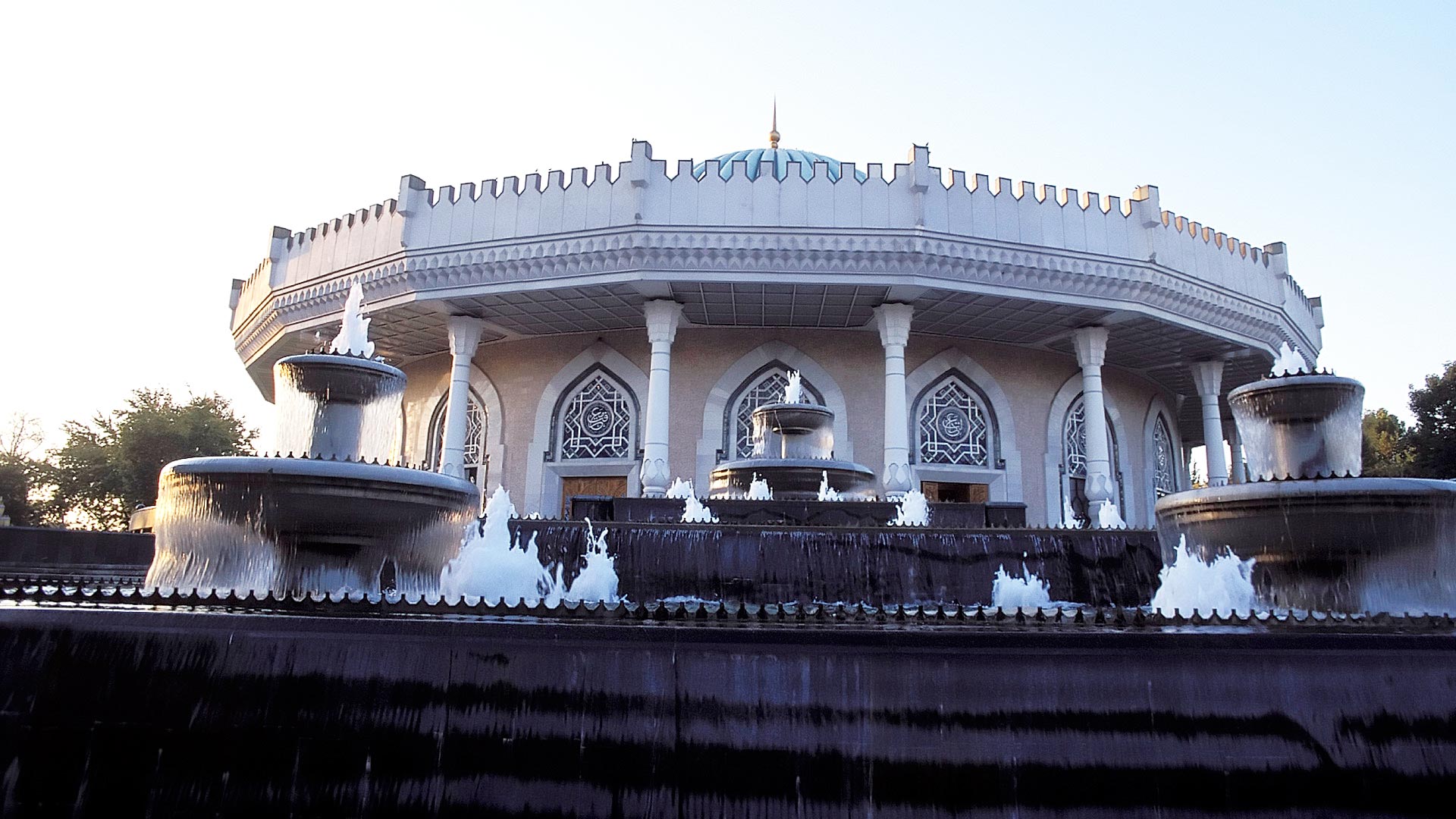 We are cordially welcomed upon arrival at Tashkent airport and transferred to our hotel. The rest of our day is free to relax or explore the leafy streets of Tashkent. As Central Asia's crowning jewel, Uzbekistan is full of ancient monuments and cultural traditions that testify of a rich history along the Silk Road.

Overnight: Lotte City Tashkent Palace Hotel, Tashkent (1 night)
Day 02: Tashkent/Nukus (Flight)
Our adventure takes off as we are transferred to the airport for our flight to Nukus, the gateway to the dying Aral Sea.  After transfer to our hotel, the rest of the day is free to stroll through this Soviet-style town and meet the locals.

Overnight: Jipek Joli Hotel, Nukus (1 night) (B, D)
Day 03: Nukus/Toprak Kala/Khiva (Drive)
This morning, we tour the Nukus Museum of Art (The State Art Museum of the Republic of Karakalpakstan). Opened in 1966, the museum houses a collection of over 82,000 items, ranging from antiquities from Khorezm to Karakalpak folk art and Uzbek fine art. Uniquely, the museum houses the second largest collection of Russian avant-garde in the world, after the Russian Museum in St. Petersburg. The museum represents the life's work of Igor Savitsky,who assembled an extensive collection of Karakalpak jewellery, carpets, coins, clothing and other artifacts, convinced the authorities of the need for a museum, and, following its establishment, was appointed its curator in 1966. Thereafter, he began collecting the works of the Russian avant-garde, whose paintings, although already recognized in Western Europe, had been banned in the Soviet Union during Joseph Stalin's rule and through the 1960s. Despite the risk of being denounced as an "enemy of the people", Savitsky sought out proscribed painters and their heirs to collect, archive and display their works. Afterwards we make our way to Khiva, whose well-preserved ancient centre was the last resting place for caravans before crossing the desert into Iran. En route, we enjoy visits to Shylpyk Kala, the only Tower of Silence dating from 4th and 5th century A.D. and Toprak Kala, a mud fortress found in the Kizilkum desert, dating from 1st and 2nd century A.D. This impressive fortress served as a winter retreat to a local princely family. Upon arrival in Khiva, we check in to our hotel.

Overnight: Malika Khevaek Hotel or Orient Star Madrassah Hotel, Khiva (2 nights) (B, D)
Day 04: Khiva
Today we go back in time, as we visit the Ichan-Kala*, the fabled inner town of the old Khiva oasis. Although few very old monuments remain, it is a coherent and well-preserved example of the Muslim architecture of Central Asia.  We explore the walled city and its remaining outstanding structures on foot, starting with Ichan Kala, Kalta minor, a half-finished minaret, Madrassah Rakhimkhon and Kunya Arg, which offers a panoramic view of the Khivan monuments. Later we explore the Hunarmand workshops, the Mausoleum of Pakhalavan Makhmud, featuring unique tile work, the imposing Islam Khodja Minaret and Museum, the Friday mosque with its many wooden pillars and the Tashauli harem quarters of the last Khan of Khiva.  Following our tour, we will have some free time to explore this legendary city on our own. Later we have the unique opportunity to interact with the locals by visiting with a Khivan family at home. We will see the newly-renovated Summer Residence of the last Khan of Khiva, which was constructed by the Russians as part of the Czarist policy to exercise political influence on local rulers in Central Asia. (B, D)
Day 05: Khiva/Bukhara (Train)
A new deluxe fast train has been introduced on the Khiva/Bukhara route, allowing us to enjoy a scenic ride through the Kizilkum Desert. (The train is subject to changing schedules. Otherwise, enjoy an equally scenic journey by road.) We arrive in the late afternoon in the city of Bukhara, which dates back over 2,000 years and boasts an impressive collection of more than 140 historical monuments. Bukhara is the most complete example of a medieval city in Central Asia, with an urban fabric that has remained largely intact. We check in to our hotel. In the evening, we could enjoy an optional folk show at Madrassah Gowkushan.
Overnight: Omar Khayam Hotel or Zargaron Plaza Hotel, Bukhara (2 nights) (B, D)
Day 06: Bukhara
Today we explore the Historic Centre of Bukhara*, which offers winding streets and ancient structures reminiscent of the Arabian Nights. On our full-day sightseeing tour, we will first walk through the old city. Here we visit the Poi Kalon minaret and mosque, as well as the Aziz Khan and Ulugbek madrassahs. Later make our way to the Tim Abdullah, Tilpak Frushan Covered Market, the Mohgaki Attari mosque, Lyabikhauz, the city pond, Madrassah Nadirkhon Devanbegi and Chor Minor.  In the afternoon we continue to explore some of the city's most important monuments, including the Arg Fortress, Zindan (the prison), Balakhauz mosque, Ismail Samanid mausoleum and Chasma Ayub (Joob's spring).  In the evening, we enjoy an unforgettable dinner: Walking the narrow lanes of Bukhara through the old Jewish quarters, we visit the house of miniature master Davlat Toshev, a Sufi painter known for his excellent miniatures who has exhibited his work in many parts of Europe. Here we will see his workshop and enjoy an intimate dinner with his family. (B, D)
Day 07: Bukhara/Shakre Sabz/Samarkand (Drive)
We depart for Samarkand, stopping at the Historic Centre of Shakhrisyabz*, birthplace of Tamerlane. Our visit includes Tamerlane's famous Ak-Saray Palace and the imposing 'pishtak', which supported a huge arched gateway. We can see part of the gateway still surviving, with its beautiful tile and mosaic work. This incredible palace took over a quarter century to construct, and Spanish ambassador Ruy Gozalez Clavijo was stunned by its intricate decorations during his visit in 1404.  Successive internal wars after the death of Tamerlane destroyed much of the structures. We will also see a sycamore tree dating from the 1300s. Shakhrisyabz is known for its embroidery and textiles, and we will have the opportunity to meet and interact with local artisans, before we drive to the historic city of Samarkand. In the evening we have an optional visit to Samarkand's legendary Registan Square for a riveting Sound & Light Show (Available only at certain times of the year).
Overnight: Grand Samarkand Hotel, Samarkand (2 nights) (B, D)
Day 08: Samarkand
Today we explore the Historic town of Samarkand*, a crossroad and melting pot of the world's cultures. Founded in the 7th century B.C. as ancient Afrasiab, Samarkand had its most significant development in the Timurid period from the 14th to the 15th centuries. Samarkand offers a rich history reflected in its magical monuments and winding streets. We start our discovery with a visit to Registan Square, known as one of the noblest public squares in the world. Later we visit Bibi Khanum's Mosque and Siyob Bazaar, a fascinating market reminiscent of the ancient Silk Road times. Next, we head to the Shahi Zinda royal necropolis.  Later we explore Observatory, built by Ulugbek, one of the most renowned astronomers of his time and Tamerlane's grandson.  Built in the 1400s, the structure was only rediscovered 100 years ago. We then visit a Kunhil traditional paper mill, where paper is made from the bark of mulberry trees. Afterwards we drive to Gur Emir, the glorious mausoleum of Tamerlane, his grandson Ulugbek and their courtiers. (B, D)
Day 09: Samarkand/Tashkent (Train)
In the morning we are transferred to the train station for a ride back to Tashkent.  The ret of the day is free at leisure.   Evening enjoy a Farewell Dinner at a local restaurant.
Overnight: Lotte Hotel, Tashkent (1 night) (B, D)
Day 10: Depart Tashkent
After a fascinating cultural adventure through Uzbekistan, we are transferred to the airport for our departure flight.  Alternatively, we suggest enjoying unique extensions, which will take you to Lake Issyk Kul, the jewel of Kyrgyzstan, or Astana, Kazakhstan's new capital, featuring a number of jewels of Modern Architecture. (B)

B=Breakfast, L=Lunch, D=Dinner
Departure Dates
English Speaking Departures (Please contact us for information on French, German, Italian and Spanish speaking departures).
2020

Apr 13; Jun 08; Jul 13; Sep 07; Oct 05
2021
Apr 12; Jun 07; Jul 12; Sep 06; Oct 04
Tour Price
We accept payments in US$, CA$ as well as in other convertible currencies like EUR, AUD and GBP. Tour prices have been costed in US$. CA$ price shown below is an indicative amount reached at by using the conversion rate at the time of web posting and will be applicable if there is no change in the conversion rate. Should the currency conversion rate change, the US$ pricing will prevail. Bestway Tours & Safaris offers a conversion rate protection. Once full payment has been received and no modification has been made to the tour itinerary, we will honour that rate. For complete payment procedures, please
click here
| Departure(s) | Per Person on Twin Sharing | Single Room Supplement |
| --- | --- | --- |
| 2020 | US$ 2395 • CA$ 3234 | US$ 395 • CA$ 534 |
| 2021 | US$ 2395 • CA$ 3234 | US$ 395 • CA$ 534 |
Notes
N/A
Inclusions
Tour Price Includes
Accommodation as mentioned or similar, including hotel taxes
17 Meals as mentioned (B=Breakfast, D=Dinner)
All sightseeing and transfers by private transportation
Services of local English speaking guides
Entrance fees to museums and sites included in the itinerary
Not Included
Any airfares (within tour itinerary from Tashkent/Nukus US$ 100)
Insurance/visas
Tips/gratuities
Estimated International Airfare
(International airfare is NOT included in this tour)
CANADA(West Coast)
US$ 1900

USA(West Coast)
US$ 1800
CANADA(East Coast)
US$ 1700

USA(East Coast)
US$ 1600
Participants
This tour operates on a minimum of 02 and a maximum of 12 participants
Customised Itinerary
If you would like to have a tour on dates other than the above ones or with a customised itinerary, please contact us and we will be happy to work out an exclusive program for you.
Contact Info
You may e-mail us at bestway@bestway.com or call 1-604-264-7378. Residents of U.S.A./Canada may call us toll free at 1-800-663-0844.