Day 01: Arrive Kathmandu (Flight)
Namaste – Welcome to Nepal! As one of the most enchanting travel destinations in the world, Nepal offers a heady mixture of unique culture proudly preserved, mind-boggling adventure and remarkable natural beauty. Upon arrival, we are transferred to our hotel and have the balance of the day free.
Overnight: Yak & Yeti / Hotel Radisson, Kathmandu (2 nights) (D)
Day 02: Kathmandu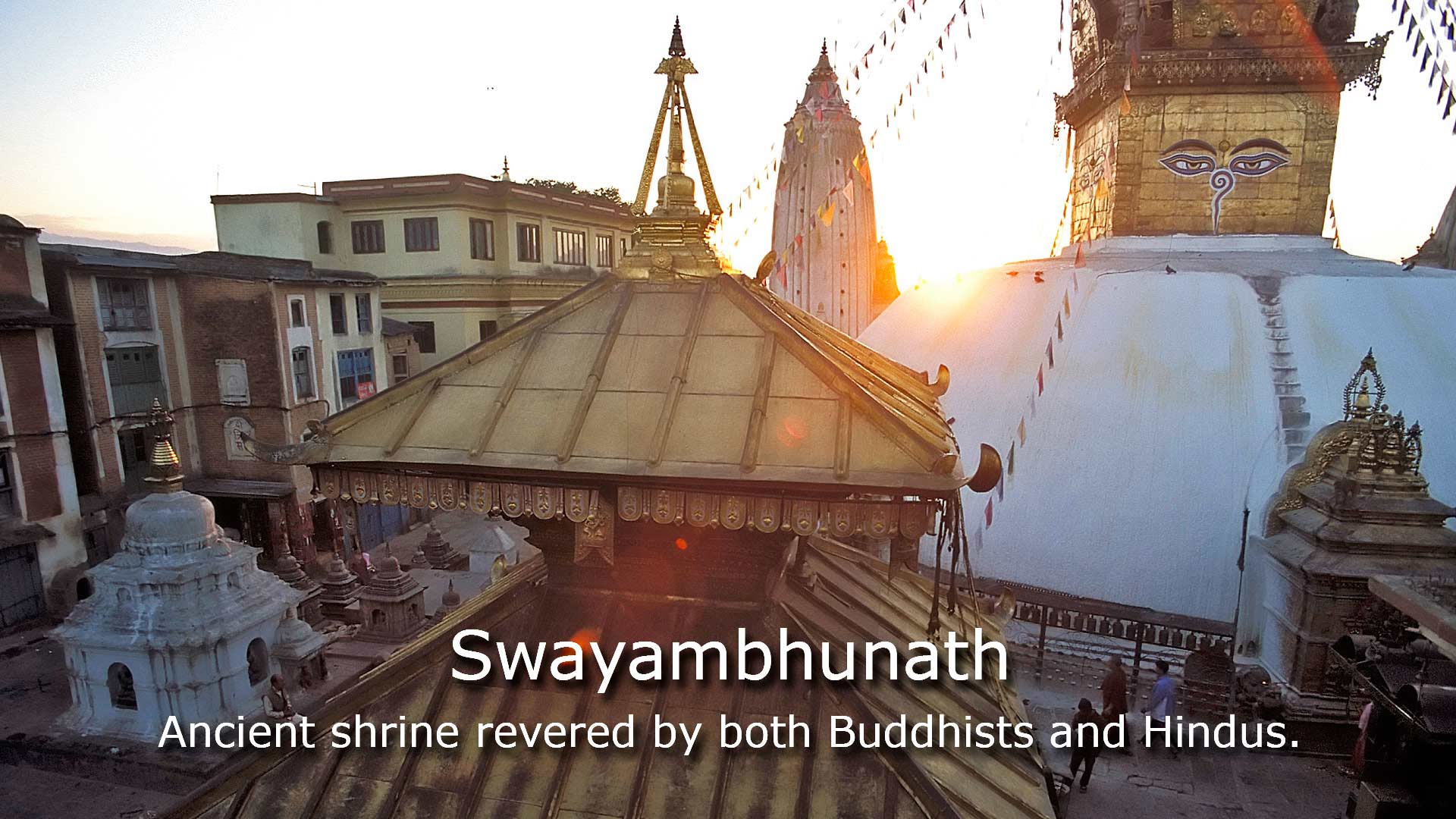 Today we explore the Kathmandu Valley*, a highlight of tours to Nepal. We start at the Durbar Square located in the heart of old city of Kathmandu. There are an incredible 50 temples in this area. We will visit the 17th century Durbar complex, Hanuman Dhoka, the Paravati Temple, the Great Bell and Drum, Bhairav, the Taleju Temple and an array of temples grouped around it, as well as the Temple of the Living Goddess, the Kumari. We then head to the stupa of Swayambhunath, located on a green hillock west of Kathmandu. Over 2,500 years old, this huge stupa is one of the holiest Buddhists sites in Nepal and its establishment is linked to the creation of Kathmandu. In the afternoon, we enjoy an excursion to Bhaktapur¸ also known as Bhadgaon and home to exquisite examples of medieval art and architecture. A city of farmers, Bhaktapur is also known for its pottery and weaving. It is the best preserved of the valley's three cities. (B, D)
Note: In the early morning, we may take an optional scenic flight over the breathtaking Himalayas to see Mount Everest and other peaks. Contact Bestway Tours & Safaris for further information.

Day 03: Kathmandu/Chitwan (Drive)
After breakfast, we drive along the scenic mountain highway to Chitwan National Park*. This park is one of Asia's best managed, home to over 50 species of mammal, 55 species of amphibian and reptile, and 525 species of bird. Wildlife that thrive here include the great one-horned Asian rhino, gaur, wild bison, sloth bear, four different species of deer, Rhesus monkey, black-faced langur, spotted leopard, fish-eating gharial, flesh-eating marsh crocodile and Gangetic dolphin, among many others. It is also one of the last refuges of the Royal Bengal tiger. On arrival, we check in to our resort.
Afternoon take our first exciting safari to explore the jungle and come face-to-face with wildlife. If we're lucky, the elusive nocturnal tigers will come out to play!

Overnight: Jungle Villa / Patihani Resort, Chitwan (2 nights) (B, L, D)
Day 04: Chitwan
We immerse ourselves in the jungle today with a variety of unique experiences. Activities available may include jungle walks, dugout canoe rides, tribal village visits and more. Accompanied by a naturalist, the jungle walking tour allows us to explore different habitats of the jungle at our own pace. See flood-plain grassland and dense Sal forests, with the opportunity of close-up animal sightings. Since we disturb the jungle less when walking, this tour usually offers a better chance of discovering wildlife. During the walk, we will also see the many different plants and herbs native to the area. Floating down the river by dugout canoe is the best way to discover the local crocodiles lounging on the banks or hiding in the water. It also provides a relaxing way to watch aquatic birds and other wildlife species as they come to the river to drink.

Lunch at the resort
Following lunch back at our accommodation, we will embark on a tour of a nearby Tharu Village. Tharu are the indigenous people of the Terai. They have a distinct architectural style, building solely using materials found in the area, including straw, wood and mud. Villages are often peaceful, non-industrial havens where residents still abide by their traditional way of life. Evening take in a slide show on flora and fauna in the Chitwan park or a folk dance performance by local tribal groups, where the Tharu people will show off traditional skills and melodious tribal dances. (B, L, D)
Note: Jungle activities may be changed or altered depending on conditions and requirements of the season or day.

Day 05: Chitwan/Pokhara (Drive)
After breakfast, we drive through beautiful mountain scenery to Pokhara, a remarkable place of natural beauty. The enchanting town has several stunning lakes and offers spectacular panoramic views of the Himalayan peaks. The serene lakes and magnificent Himalayas rising behind them creates an ambience of peace and magic. On arrival, we check into our hotel. The remainder of the day is at leisure.

Overnight: Temple Tree Resort & Spa, Pokhara (2 nights) (B, D)
Day 06: Pokhara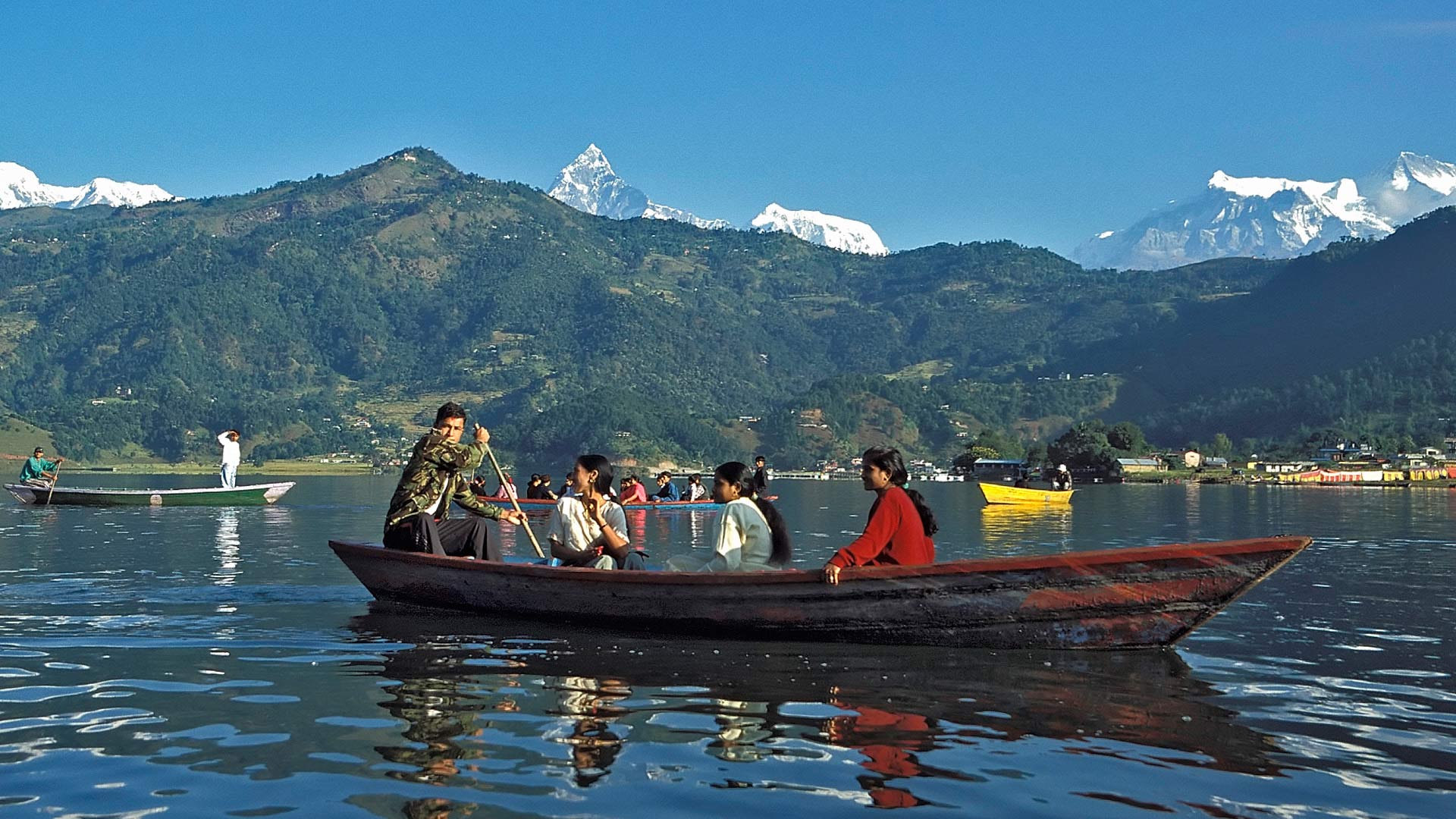 Early morning, take in unequaled views of the mountains at Sarangkote Hill, the most popular viewpoint in Pokhara. Situated at an altitude of 1,592 meters, Sarangkote offers a magnificent panorama of Mt. Machhapuchhre and Annapurna Massif (weather permitting). We then return to our hotel for breakfast.
After breakfast, explore Pokhara, including a visit to splendid Davis Falls, the vibrant old Bazaar and Bindhyabasini Temple. Pokhara's traditional bazaar is colourful and ethnically diverse. Its rich history is expressed via art and craftsmanship, while Bindhyabasini Temple, dedicated to the goddess Bhagawati, serves as the centre of the bazaar's religious activities. Later, relax during a serene boat ride on Phewa Lake, the largest lake in Pokhara Valley. Bird watch or photograph the scenic Annapurna Mountains as they reflect on the lake, seemingly close enough to touch. (B, D)
Day 07: Pokhara/Kathmandu (Drive)
After breakfast, we drive back to Kathmandu, retracing the same highway. On arrival, we check into our hotel. Early evening, an amazing cultural experience as we are transferred to the Nepali restaurant to enjoy an authentic Nepali dinner, which is usually served together with `rakshi', the Nepali rice-wine. We will also have the chance to see performances by different communities of Nepal, such as the Newars, Sherpas, Magars, Gurungs, Tamangs, Tharus etc, using typical musical instruments and dances mimicking animals and birds.

Overnight: Yak & Yeti / Hotel Radisson, Kathmandu (1 night) (B, D)

Day 08: Depart Kathmandu
After an incredible tour of Nepal, we are transferred to the international terminal for our flight home. Or extend our adventure with one of our India holiday tour packages. (B)
B=Breakfast, L=Lunch, D=Dinner