Day 01: Arrive Tashkent
Welcome to Uzbekistan! Flights generally arrive in Tashkent early in the morning, so we have arranged early check-in at our hotel. Upon arrival at the airport, we will be met and transferred to our accommodation, with the opportunity to rest until lunch time. Early afternoon, enjoy an orientation of the silks of Central Asia at Human House by a local textile expert of Uzbekistan. Our orientation will also include an audiovisual presentation of Central Asian textiles by Mahayo Aliyeva at her studio and showroom. Muhayo has been developing a fusion of local textiles and modern designs with the intelligent application of various forms of silken fabrics.

Overnight: Hotel Lotte City Palace, Tashkent (2 nights)
Day 02: Tashkent
An exciting day ahead as we discover the metropolis of Tashkent, starting with its Old City. We visit beautiful Khast Imam square, offering one of the best examples of traditional architecture in Tashkent, and Barak Khana seminary. Inside the archives of Tilla Shaikh mosque, we have the chance to see one of the world's oldest copies of the Quran, dating from the 7th century AD. Next, discover a slice of city life at Tashkent's most famous market, Chorsu Bazaar, and experience 16th century Kukeldash, a medieval madrassah.
Afterwards, we have the unique opportunity to visit the Ceramic Centre of Akbar Rakhimov. Akbar and Alisher are a father and son team producing a unique concept of pottery and ceramics embracing traditional pottery styles, including those of the Kushan era (2nd to 5th century AD) and Timurid era (14th to 16th century AD). The centre showcases some of the finest local pottery in Tashkent and is a common stop for foreign dignitaries.
Later, we visit the Museum of Applied Arts, followed by lunch at Afsona Restaurant, known for its local specialties. Our afternoon exploration takes us to Abukassim madrassah, where we are able to see various craftsmen at work. We also visit the highly acclaimed textile shop of Madina Kasimbaeva, known for hand-embroidered suzani silk. Dinner is enjoyed at Jumanji Restaurant. (B, L, D)

Day 03: Tashkent/Ferghana (Flight) /Margilan
A short flight brings us to Ferghana, the Silk Road centre of Central Asia, China etc. This valley is famous for its tradition of ikat, a dyeing technique used to create textile patterns, which spans back hundreds of years. We have the opportunity to visit the hub of the valley's textile activities, Margilan. Upon arrival in Ferghana, we are transferred to the Hoja Ihsan Madrassah, where we will meet masters in silk weaving, carpet making and cloth stamping. At this unique workshop, we learn about, and even take part in cloth stamping, weaving using a sitting or standing loom, embossing wooden patterns on silk shawls, all with the help of local artisans.
After lunch at the madrassah workshop, we visit the home workshop of Master Fazlettin. Here we get a close-up experience of the production of Bakhmal silk, ikats and other materials. Ikat is a dyeing technique originated from Indonesia used to pattern textiles that employs resist dyeing on the yarns prior to dyeing and weaving the fabric.

Overnight: Hotel in Margilan (2 nights) (B, L, D)
Day 04: Margilan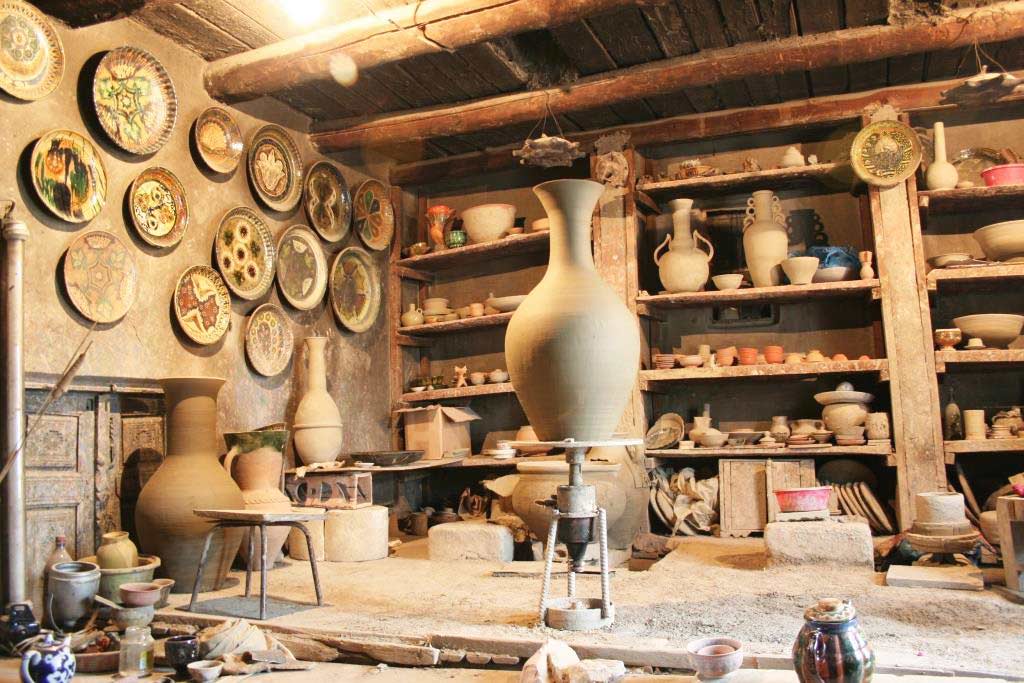 We spend our morning hours exploring traditional Kum Bazaar, perhaps one of the most fascinating bazaars in Uzbekistan, as we hunt for rare silks and other selections of stunning material. Soak in the traditional atmosphere and the incredible selection of beautiful and bold Uzbek fabrics, boasting everything from natural dyes to weaving to embroidery.
In the afternoon, we make our way to Rishton, known for its pottery tradition dating back more than 800 years. Here, we see the incredible ceramics work of master Rustam Usmanov, known for his style in tiles, at his Ceramics Museum. In the pottery workshop, we have the unique opportunity to have our own working session on the potter's wheel as we design a plate or cup with the assistance of the local experts. Lunch is also enjoyed here. Later, we are transferred back to Margilan in time for a lovely dinner at Ikat House. (B, L, D)
Day 05: Margilan/Tashkent (Train)
In the morning, depart for Tashkent via train. Our lovely and high-gradient train journey involves stunning mountain views as we make our way through Kamchik Pass. On arrival in Tashkent, we are transferred to our hotel, then enjoy lunch at a local restaurant.
In the afternoon, we take part in a visit to Bibi Hanim, the showroom and workshop of textile designer Muhayo Aliyeva. Muhayo's designs use handmade traditional silk and cotton ikat, a traditional tie-dye loom method going back many Centuries, from the Eastern region of Uzbekistan. Muhayo's work has been featured at exhibitions and events around the world. Dinner is savoured at a local restaurant.
Overnight: Hotel in Tashkent (1 night) (B, L, D)
Day 06: Tashkent/Urgench (Flight) /Khiva (Drive)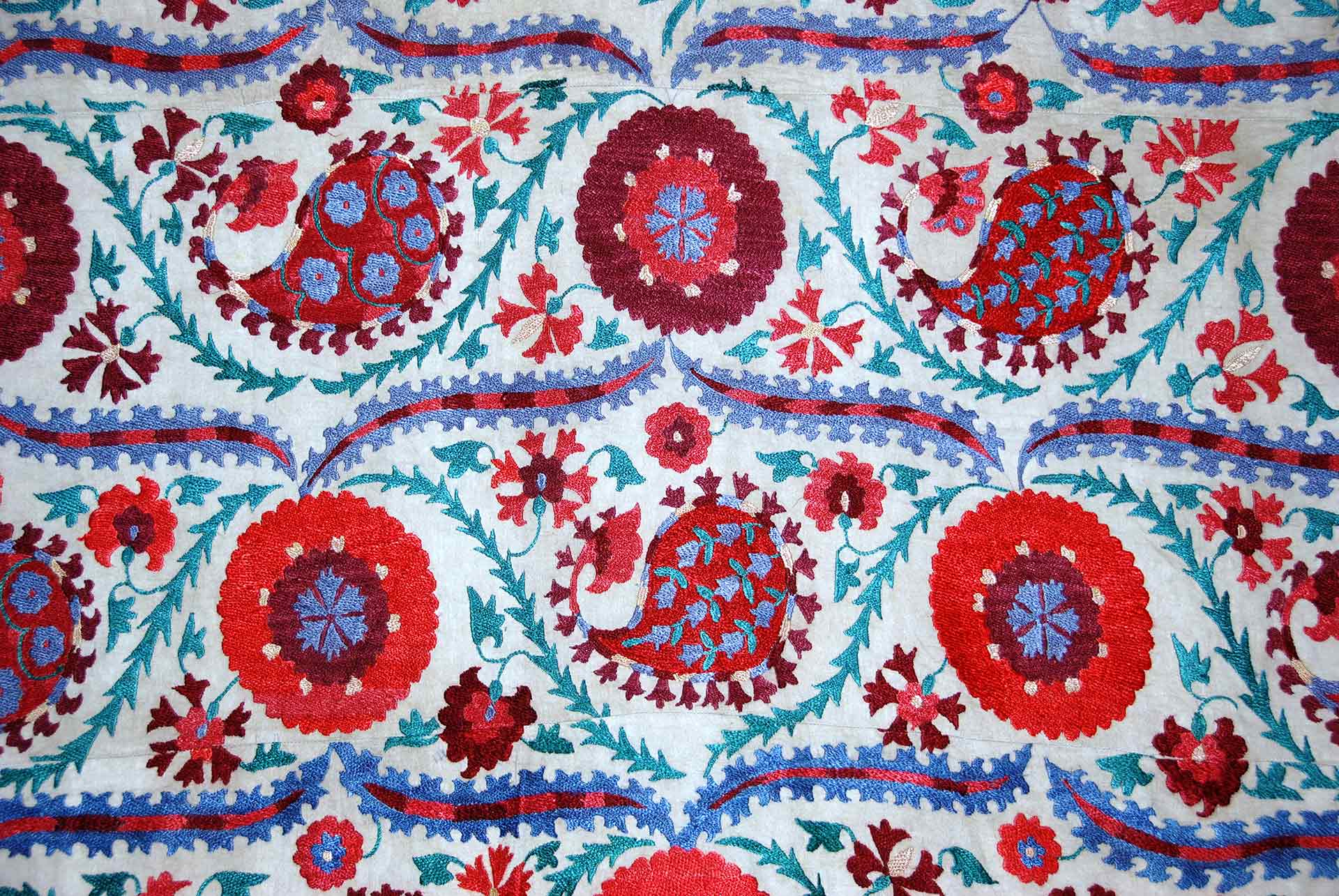 Morning, we fly to Urgench. Upon arrival, we depart for Khiva, an impeccably preserved city that hails back to the splendors of the ancient Silk Road trading route. We embark on a walking tour of the fabled walled city (Ichan Kala*), Khiva's impeccably preserved centre. As we explore the area's highlights, we feel as if we have stepped back into another era. See the Kalta Minor minaret, Kunya Arg citadel, and Rakhimkhon madrassah, each an epic monument in their own right.
Later, walk to Hunarmand workshops to get an insider look at the production of local handicrafts. Here we see firsthand the arts of carpet weaving, suzani embroidery and wood carving. Though wood is scarce in the region, Khivans made use of the local tree 'karagach' to construct huge doors and pillars gracefully carved by local craftsmen. We will visit a woodcraft workshop where we interact with these master craftsmen at work. We will also experience the house of carpet collector Kamil Jan, taking in his wide-ranging collection of Turkmen, Bukharan and Khivan carpets. Afterwards, explore the mausoleum of Pakhlavan Makhmud, with its fine tile work, the Islam Khodja minaret and museum, the Friday mosque, and the Tashauli harem quarters of the last Khan of Khiva.
After lunch at Yassaulbashi Madrassah Restaurant, we have the afternoon free to wander this beautiful walled city. Dinner is enjoyed at Zainab's House, providing an authentic taste of local cuisine.
Overnight: Hotel in Khiva (1 night) (B, L, D)
Day 07: Khiva/Bukhara (Train)
Our morning train journey brings us to the Silk Route city of Bukhara via Kizilkum. En route, enjoy lovely views of the countryside and the Amudarya river, as well as local shepherd hamlets dotting the deep desert. A packed lunch is provided for our train adventure.
We arrive in Bukhara* in the afternoon, and are transferred to our hotel, located in the old city. From here, we take a short walking tour of the area. A quintessential Silk Road city, beautiful Bukhara's history and architecture spans thousands of years. It's centre is full to the brim with stunning minarets, well-preserved madrassahs and other lovely monuments. On today's walk, we will explore the madrassahs of Aziz Khan and Ulubek, as well as the covered markets. Later, take in Mohgaki Attari mosque, the peaceful pool and plaza of Lyabikhauz, and the madrassah of Nadirkhon Devanbegi. Dinner is enjoyed at Old Bukhara Restaurant, with a chance to sample the flavours of the region.
Overnight: Hotel in Bukhara (3 nights) (B, L, D)
Day 08: Bukhara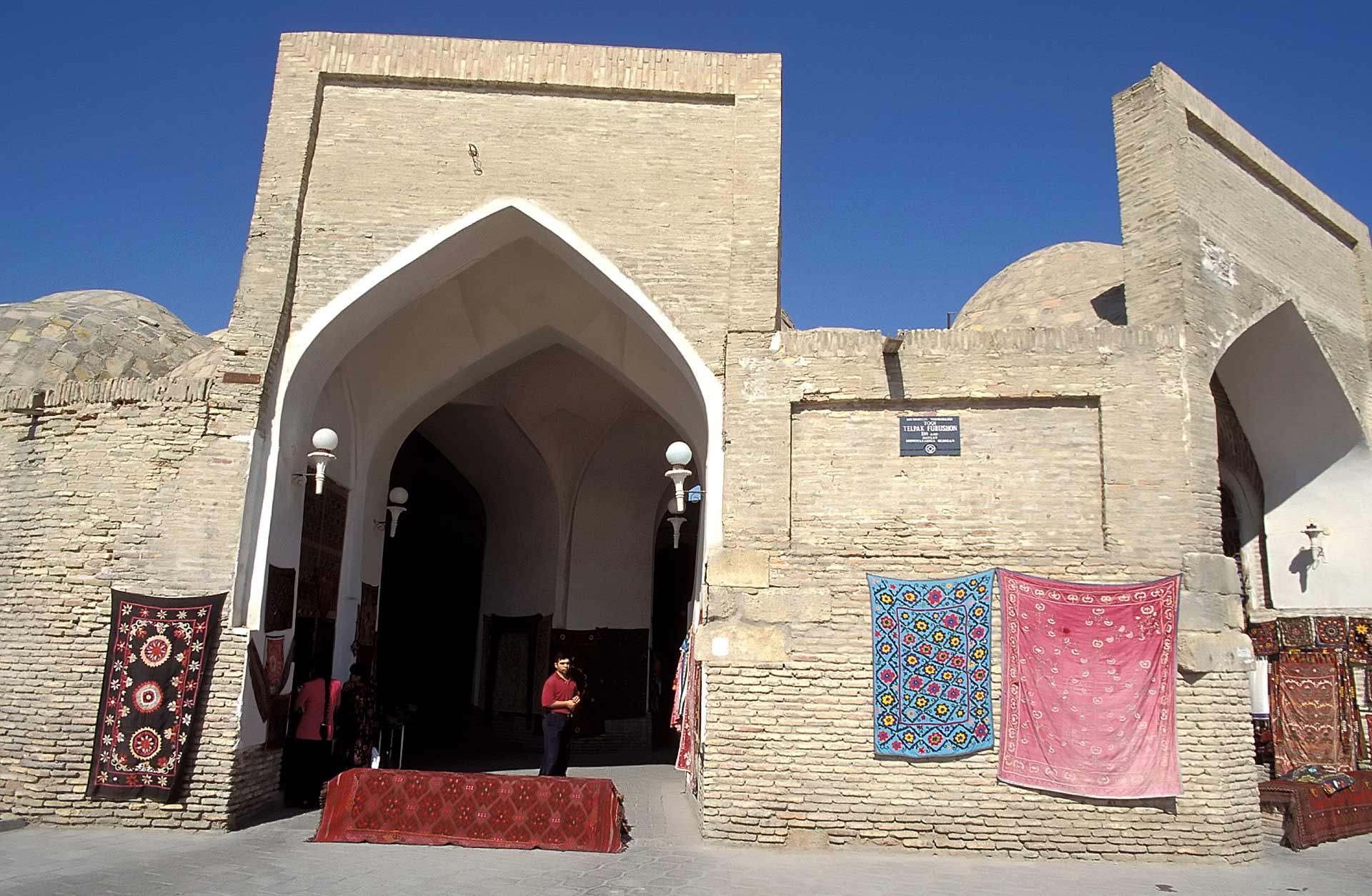 Today, we embark on a full-day exploring Bukhara. From Lyabikhauz and madrassah Narikohn Devanbegi, we make our way to the Tipak Frushan covered bazaar. We have the chance to see a metal chaser's shop, where craftsmen decorate metal items in relief, and the trader's dome of Tim Abdullah, where large quantities of carpet sellers gather. Afterwards, we visit the workshop of Sovga Gold embroidery, to take in their lovely production of silk coats and jackets.
Following lunch at a local restaurant, we start off to Arg Fortress, Bukhara's oldest structure. This town-within-a-town was occupied from the 5th century all the way to the 1920s! We then explore Balokhauz mosque, Chasma Ayub and Ismail Samanid mausoleums, the town's oldest Muslim monument completed in 905 AD. Next, stroll down the oldest part of the Jewish quarters to visit the local synagogue. Highlight of the day is a visit to Usto Shagird Gallery. This gallery, whose name means "Master and Student" is home to the works of miniaturist Davlat Toshev. Here we can see his home workshop, as well as his collection of miniature paintings. These types of paintings were introduced from Persia around 15th century AD, and by the early 1700s, Bukhara was seen as the epicenter of the art. Take the time to marvel over these intricate artistic creations before enjoying dinner at a local restaurant. (B, L, D)
Day 09: Bukhara
Enjoy an authentic local experience today as we learn about local embroidery practice at Raxkhmon's Suzzana House. Here, we have the opportunity to learn about and take part in the traditional art of Suzani embroidery. Admire the delicate embroidery work of floral patterns, fruits and symbols of the region, then try your own hand at it! Suzanis were traditionally made by Central Asian brides as part of their dowry. Often, the designs were embroidered on bed sheets, pillow covers, handbags, table cloths and wall hangings. Each piece has character, creativity and originality. We also enjoy a homemade lunch with Raxkhmon's wife, getting even more of an intimate insight into local home life.
After our embroidery experience, we take a short walk to a local Synagogue of the Bukharan Jews, some of the oldest inhabitants of Bukhara. Dinner is enjoyed at a local restaurant. (B, L, D)
Day 10: Bukhara/Samarkand (Train)
Our morning is at leisure to explore the local covered bazaars, well known for the variety of their wares and their unique traditional feel.
After lunch, we are transferred to the railway station for our train journey to the majestic Samarkand*, arguably the crown city of the ancient Silk Route. Subject of famed poets and writers for centuries, Samarkand offers a tantalizing combination of elaborate monuments that will make your jaw drop, panoramas that have seemingly dropped right out of Arabian Nights, and a long rich history ripe to be discovered. We are transferred to Hotel Grand Samarkand and start our discovery with dinner at a local Samarkand restaurant.
Overnight: Hotel Grand Samarkand, Samarkand (3 nights) (B, L, D)

Day 11: Samarkand
A full day is set aside to discover the wonders of this Silk Road city. Tamerlane, the famous conqueror who founded Central Asia's Timurid Empire, named the city "Capital of the World", and its monuments still match that moniker. We start our visit with the legendary Registan Square, the epic square framed by three towering and intricate madrassahs which serves as perhaps one of the most recognizable monuments in Central Asia. While visiting the madrassahs we will have the opportunity to see local tile maker, calligrapher and metal chaser at work. In Ulugbek's madrassah, we take in a collection of local fabrics and handicrafts. We then proceed to Bibi Khanum mosque, Siyob bazaar and Shahi Zinda necropolis, one of the oldest and longest-running examples of a continually constructed historic site in the world.
Following lunch at a local restaurant, we start our afternoon tour with a visit to Alfiya's gallery. Alfiya is a designer who exports her costumes to many parts of the world, and here, we can see a large collection of her modern costumes in silks and cottons. We even have the pleasure of being treated to a short fashion show at her studio. Later, we end our sightseeing with a visit to Afrosiab Museum, home to one of the largest archaeological sites in the world, and Ulugbek's observatory, before enjoying dinner at a local restaurant. (B, L, D)

Day 12: Samarkand/Urgut/Shakhrisyabz/Samarkand (Drive)
This morning, we have the opportunity to explore the famous Urgut Sunday market. We visit the house of Suzani and the old textile collector Gulom in the village.
We then take a scenic mountain road to Shakhrisyabz*, the birthplace of Tamerlane, one of history's greatest military conquerors and strategists who founded the Timurid Empire in the 14th Century. Here, we visit the workshop of Gulnara Odilova, a master bead worker, weaver and embroiderer. Odilova's mission is to preserve and revive the traditional embroidery of the region, with origins tracing back to the 17th Century. She has attended exhibitions around the world and was recognized as the best handicraft artisan in Uzbekistan by the country's president in 2006. We will have the chance to discover her intricately crafted coats, handbags and wall hangings.
After this unique excursion, we return to Samarkand, with free time to explore the local market. Dinner is enjoyed at a local restaurant. This evening, we have the unique opportunity to enjoy the night time illumination of Registan Square! A majestic site. (B, L, D)

Day 13: Samarkand/Tashkent (Train)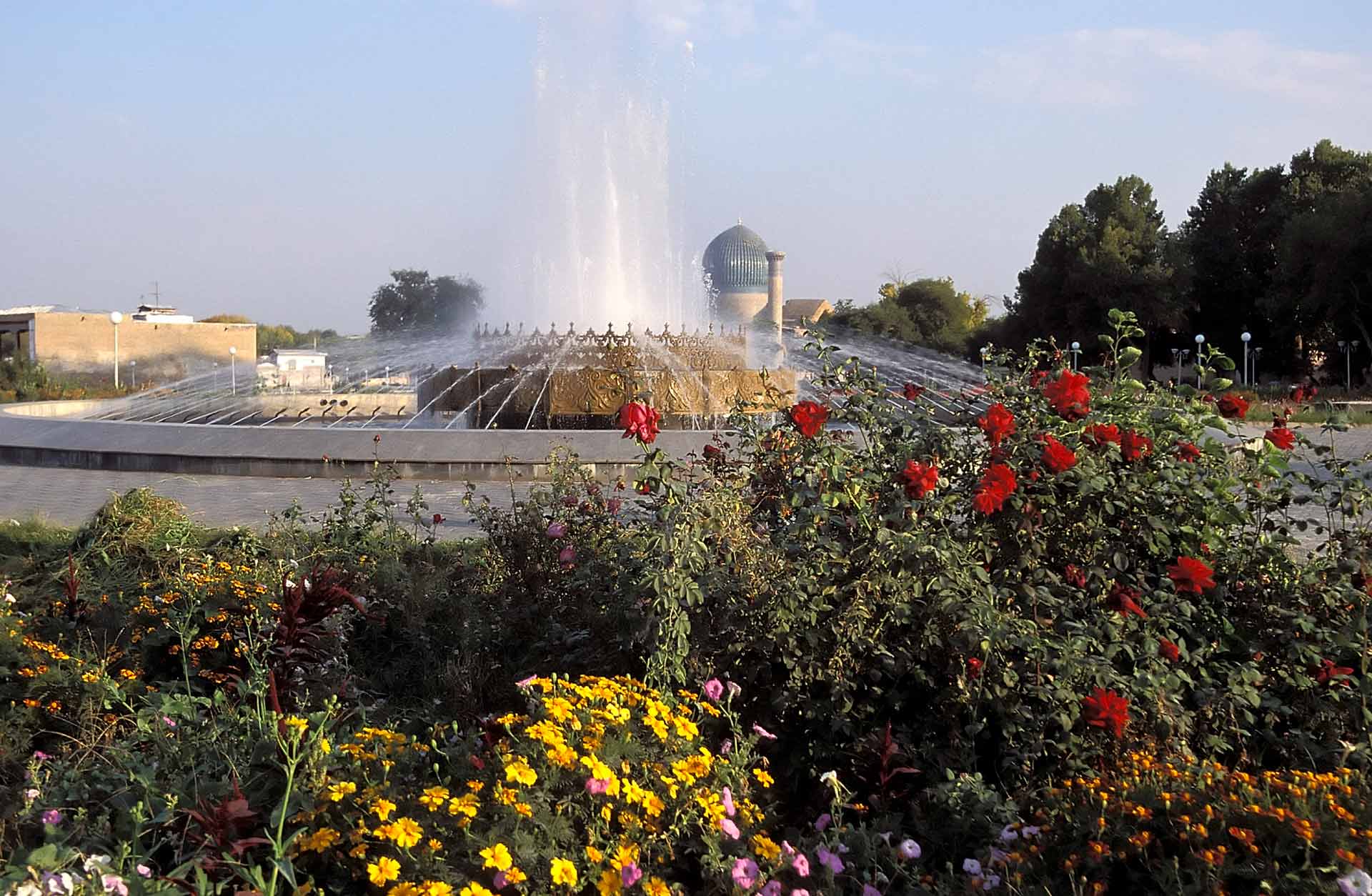 Our morning is free to further discover the winding streets, incredible monuments and vibrant history of Samarkand. This is followed by lunch at a local restaurant. Later, we are transferred to the railway station for our train journey back to Tashkent. This is a deluxe train introduced a few years back. Upon arrival, we are transferred to our hotel followed by a lovely farewell dinner at a local restaurant.
Overnight: Hotel in Tashkent (1 night) (B, L, D)
Day 14: Depart Tashkent
After an incredible journey of discovery surrounding the various crafts of Uzbekistan, we are transferred to the airport for our return flight. Or, a chance here to extend our adventure with a custom excursion to see the nomadic crafts of Kyrgyzstan! Please contact Bestway Tours & Safaris for more information.

B=Breakfast, L=Lunch, D=Dinner