Day 01: Arrive Algiers
Algeria's capital is known locally as El-Djazaïr and was first settled more than 1,000 years ago. Its inhabitants speak Berber, Arabic and French. The city offers an alluring combination of French colonial buildings along the promenade and rolling hills against the beautiful backdrop of the Mediterranean Sea. Upon our arrival in the early morning, we are met and transferred to our hotel with time available to rest. Tonight, we have our first opportunity to enjoy Algeria's flavourful cuisine with a welcome dinner at a local restaurant.

Overnight: Lamaraz Hotel, Algiers (2 nights) (D)
Day 02: Algiers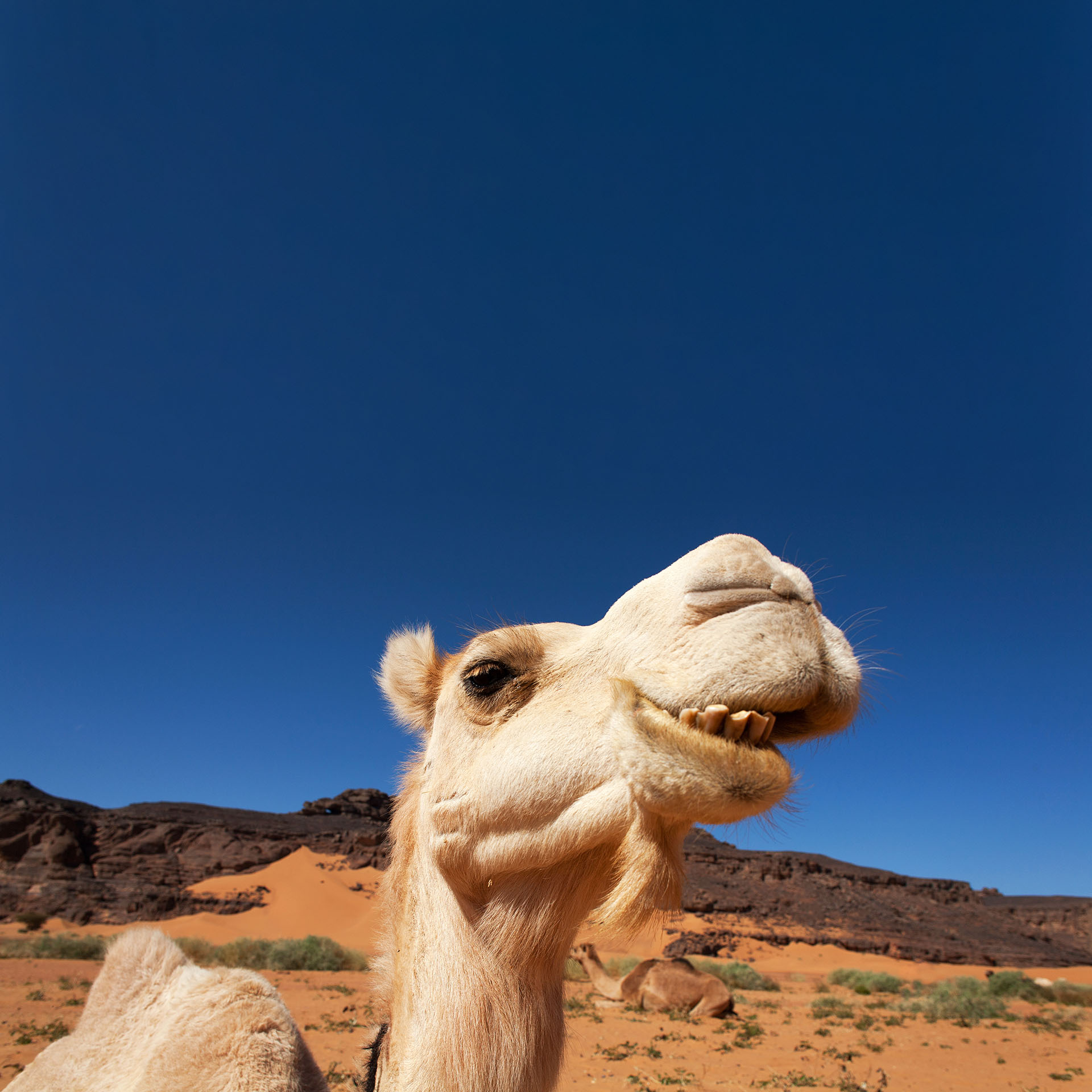 We start our morning by exploring the Kasbah of Algiers*, a unique kind of medina (a town/city with historical significance). It stands on one of the finest coastal sites of the Mediterranean, overlooking the islands where a Carthaginian trading post was established in the 4th century BC. This UNESCO World Heritage Site was built between the 16th and 18th centuries during the rule of the Ottoman Empire. It's now home to a citadel, as well as a labyrinth of buildings that seem straight out of Arabian Nights. Wandering through the narrow passageways, we discover traditional houses, Ottoman-style palaces, baths, mosques and markets associated with a deep-rooted sense of community.
After our lunch in the city centre, we continue our exploration of Algiers with a visit to the Museum of Antiquities and Islamic Art, the oldest museum in Africa. Founded in 1838, the museum is home to a fascinating collection ranging from ancient mosaics and sculptures, to medieval furniture, to Ottoman-era weapons. We explore the Bardo National Museum, housed in an 18th-century villa built in Neo-Moorish style, which focuses on the country's prehistory with fossils, Neolithic pottery, and unique examples of Neanderthal paintings from the Sahara. Evening, an elegant treat awaits us as we enjoy dinner in one of the Kasbah's beautiful palaces. (B, L, D)

Day 03: Algiers/Timimoun (Flight)
After breakfast, we are transferred to the airport for our flight to Timimoun (departs 10:15 am and arrives at 11:45 am), where we are met and transferred to our hotel and enjoy a leisurely lunch.
A desert oasis with a population of around 35,000 inhabitants, Timimoun is known for its red ochre buildings and a unique ancestral irrigation system. We continue our exploration of the wider region of Gourara, featuring amazing desert scenery interspersed by oases inhabited by culturally distinct ethnic groups. First, we visit the town of Ouled Said and the ancient Ksour (castle) of Ighzar, which features a network of caves used by the villagers to escape the heat in the summer months. We then board our four-wheel drive vehicles, which are expertly driven to discover the sweeping sand dunes of the Algerian Sahara. At dinner, subject to availability, we will be treated to a traditional performance of Ahelil du Gourara, inscribed in UNESCO's Representative List of the Intangible Cultural Heritage of Humanity. Very few travellers have had the opportunity to witness this musical display, usually performed during religious feasts, festivals, and pilgrimages.
Overnight: Djnan Ahid Guesthouse, Timimoun (1 night) (B, L, D)
Day 04: Timimoun/El Menia/Ghardaia (Drive)
Our adventure today begins with a drive to El Menia, where we explore the ruins of ancient fortifications, built in the 10th century by the Zenata tribe, followed by lunch.
We continue to the M'Zab Valley*, created in the 10th century by the Ibadites around their five ksour (fortified cities). Simple, functional, and perfectly adapted to the environment of the Sahara Desert, the architecture of M'Zab was designed for community living. The people of this region have conserved practically the same way of life since the 11th century, including building techniques and cultural practices different from the rest of Algeria. We step back in time as we reach our final destination of the day, the region's largest community of Ghardaia, offering traditional terraced buildings of white, pink, and red built up around a pyramid-style mosque.

Overnight: M'Zab Hotel, Ghardaia (2 nights) (B, L, D)
Day 05: Ghardaia/El-Atteuf/Beni-Isguen/Ghardaia (Drive)
An interesting cultural exposure as we wander through the cobbled streets of Ghardaia, encountering men and women in traditional dress, and also discover the town's ancient buildings. Ghardaia is known for its heritage properties still in use to this day. At El-Atteuf, one of the oldest of the fortified villages in the region, we admire the distinctive architecture of the mosque and minarets. We will also explore the unique carpet market before driving to perhaps the most scenic fortified village of Beni-Isguen, which is not only an oasis in the Sahara, but is also a religious city where time has literally stood still. The community of Beni Isguen consists mostly of shopkeepers and those who tend to the agricultural needs of the 6,800 residents who live here. A half-hour drive gets us back to Ghardaia in time to freshen up before for our dinner. (B, L, D)
Day 06: Ghardaia/Constantine (Flight)
After a short flight of 1 hour and 15 minutes, we arrive in Constantine. Called Cirta during Roman times, this city was later renamed "Constantina" in honor of emperor Constantine the Great. It was the capital of the French department of Constantine until as late as 1962.
Upon arrival, we are transferred to our hotel with time to settle in and have a hot lunch. The 2,000-year-old city is dramatically perched on cliffs 650 meters above sea level, interconnected by a series of bridges. We explore some of these suspension bridges over the spectacular Rhumel Gorge, including the Sidi M'Cid suspension bridge, which was the world's highest suspension bridge when it opened in 1912.
Overnight: Protea Hotel, Constantine (2 nights) (B, L, D)

Day 07: Constantine
Constantine has a lot to offer. We first explore the old town, wandering through its winding streets and getting an insider's view of what it's like to live in this striking city. At the Cirta Archaeological Museum, we see many priceless Roman artifacts discovered in the region. After savouring lunch in town, we embark on an afternoon visit to the palace of Ahmed Bey, the last Ottoman governor of the city. This lavish building was completed in 1835 and is perhaps the most beautiful Ottoman structure in Algeria. In 1830, after 300 years of Ottoman rule, Algeria was occupied by the French. Algeria's life as a French colony only ended in 1962, after the war for independence that lasted for more than 5 years. We return to our hotel for dinner. (B, L, D)
Day 08: Constantine/Batna (Drive)
Today, we drive to Batna, the beautiful capital of the Aures region. The drive is about 1.5 hours. We will first see Medracen, a royal tomb which was built before 4th century BC. We then journey through the majestic Aures Mountains on our way to the Roman city of Timgad*. Timgad was created as a military colony by Roman Emperor Trajan in 100 AD. With its square enclosure and its two perpendicular routes running through the city, it is an excellent example of Roman town planning. We explore the huge library, colonnaded streets, temples, amphitheatre, and basilica. Here, we also discover the nearby Roman archaeological site of Lambaesis, before heading to Batna, which had its origins as a French military fortress in 1844. Batna is a picturesque city, featuring tree-lined avenues, cinemas, and a theatre. Time to rest and have dinner at our hotel. After dinner, we stroll through the charming streets of Batna and meet locals sipping kehwa at the neighbourhood cafés. The Batnese people are known to be friendly and like to engage in conversation—however, many speak French much better than they do English!
Overnight: Messaoudi Hotel, Batna (1 night) (B, L, D)

Day 09: Batna/Beni Hammad/Setif (Drive)
Another interesting day as we continue our journey to the Eastern city of Setif, a commercial centre of Algeria. We stop at Al Qal'a of Beni Hammad*. Beautifully set amidst towering mountains, Beni Hammad was the first capital of the Hammadid dynasty, briefly the most important state in Northwest Africa. Founded in 1007, the city was abandoned just 83 years later, as it was threatened by invasion. Wandering through the remnants of the city's lavish palaces and impressive architecture will provide us with an authentic picture of a fortified Muslim city. Continue to the town of Setif, where we enjoy a hot lunch at our hotel.
Afternoon is dedicated to the Setif Museum, showcasing some of the most beautiful Roman mosaics in Algeria. We also get to see the famous fountain of Setif, featuring a superbly carved statue of a nude girl, created in 1898 by legendary French sculptor Frances of St Vidal. Though public nudity in Algeria is uncommon, the statue has come to be considered a cultural treasure of the town.

Overnight: Best Western Hotel, Setif (1 night) (B, L, D)

Day 10: Setif/Djemila/Algiers (Drive)
Just an hour's drive north of Setif lies Djemila*, known for the best-preserved Berber-Roman ruins in North Africa. This UNESCO World Heritage Site features a forum, temples, basilicas, houses, and triumphal arches that have been artfully constructed in harmony with the mountainous terrain, creating a fascinating interaction of architecture and nature. After lunch in Djemila, we continue on a 4-hour drive to Algiers. Upon arrival, we check into our hotel and enjoy dinner. Evening, we are free to walk around the capital city, located right on the Mediterranean Sea.
Overnight: Lamaraz Hotel, Algiers (2 nights) (B, L, D)

Day 11: Algiers/Tipasa/Algiers (Drive)
With enchanting scenery as we drive alongside the Mediterranean Sea, we reach Tipasa in just over an hour. This UNESCO World Heritage Site was an ancient Punic trading post in 6th century BC, and its necropolis remains one of the oldest and most extensive in the Punic world. It was later conquered by Rome and fell into decline during the Byzantine period. Today, its ruins boast an unparalleled mix of Phoenician, Roman, Paleo-Christian and Byzantine structures, alongside indigenous monuments. After enjoying our lunch in Tipasa, we visit the Royal Mausoleum of Mauretania, a 2,000-year-old tomb that is the final resting place of the last King and Queen of Numidia. A short drive and we are back in Algiers. Here, after freshening up, we are treated to our farewell dinner in the city centre of Algiers. (B, L, D)
Day 12: Depart Algiers
After an eye-opening experience of Algeria's culture and history, we are transferred to the airport for our departure flight. Or, join our optional five-day adventure to explore Tassili n'Ajjer, known as the Jewel of the Sahara Desert, which includes two unforgettable nights spent under the starlit desert sky. See details below. (B)
Optional Extension - Explore the Heart of the Sahara
Enjoy a true adventure in the heart of the Sahara Desert, exploring the amazing landscapes of Tassili n'Ajjer, home to prehistoric art masterpieces dating back to more than nine millennia. We will have the unforgettable desert experience of staying two nights in tents under the clear, starlit desert sky, illuminated by the beautiful light of the moon.
Day 12: Algiers/Djanet (Flight)
We bid adieu to the friends we made from our main tour of Algeria before we are transferred for our flight to Djanet, via Tamanrasset. At Djanet, we are met and transferred to our hotel. A settlement of villages seemingly stuck in time set amidst a stunning oasis, Djanet is often referred to as the Jewel of the Sahara Desert. After lunch at our hotel, we explore this traditional town, visiting the Ksour, museum and market, featuring many talented traditional craftsmen, artists, and musicians that make the city their home. Dinner and overnight at our hotel.
Overnight: La Grotte des Ambassadeurs, Djanet (1 night) (B, L, D)
Day 13: Djanet/Ihrir (Drive)
Another exciting day ahead as we continue to explore the wider region of Tassili n'Ajjer*. Located in a strange lunar landscape of great geological interest, this UNESCO World Heritage Site features one of the most important groupings of prehistoric cave art in the world. More than 15,000 drawings and engravings record the climatic changes, animal migrations and the evolution of human life on the edge of the Sahara from 6,000 BC to the first centuries of the present era. The geological formations are of outstanding scenic interest, with eroded sandstones forming 'forests of rock'. In the morning, we journey to the oasis of Ihrir, populated since Neolithic times. We enjoy lunch next to the engravings of Dider before reaching Ihrir in the late afternoon. Evening we enjoy dinner at our tented camp and relax gazing at the stars at night in the desert – truly a unique experience.
Overnight: Tented Camp (2 nights) (B, L, D)

*Please note that our tented camp travel with us to allow us to access remote regions not easily reached using standard accommodations. These are set up by our attentive staff each night. These are not luxurious tents but are comfortable. The tents are spacious with comfortable mattresses, sleeping bags, blankets, pillows, a make shift bathroom and towels.
Day 14: Ihrir/Tikoubaouine/Ihrir (Drive)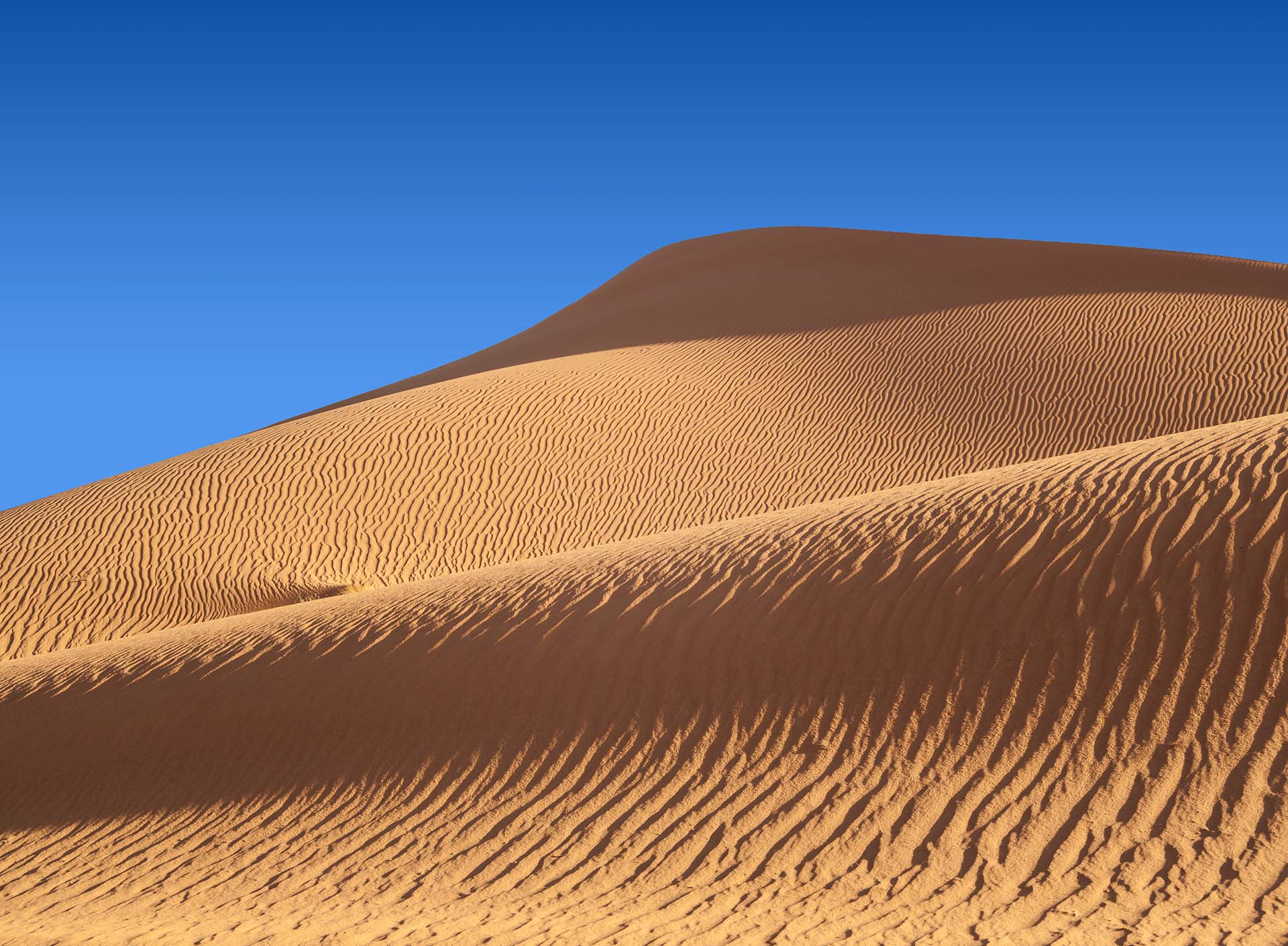 Today we take an excursion to Tikoubaouine where we view some of the area's vast collection of prehistoric rock art and a beautiful natural arch. We enjoy lunch at Tilalen. We continue to discover more of the remarkable desert landscapes of this region, an experience that few travellers get to enjoy. We spend the evening around a camp fire in our desert camp, reveling in the incomparable views found here. (B, L, D)
Day 15: Ihrir/Djanet (Drive)/Algiers (Flight)
All good things come to an end and today we cross the colossal field of sand dunes that is the Erg Admer. We arrive at the site of Tigharghart for lunch, taking time to admire the engraving of "The Cow that Cries", a masterpiece of Neolithic art that is more than 7,000 years old. What a place to end as we return to Djanet in time for our farewell dinner. We are transferred to the airport in time for our flight back to Algiers. Upon arrival, transfer and check in to our hotel for a good night's rest.
Overnight: Lamaraz Hotel, Algiers (1 night) (B, L, D)
Day 16: Depart Algiers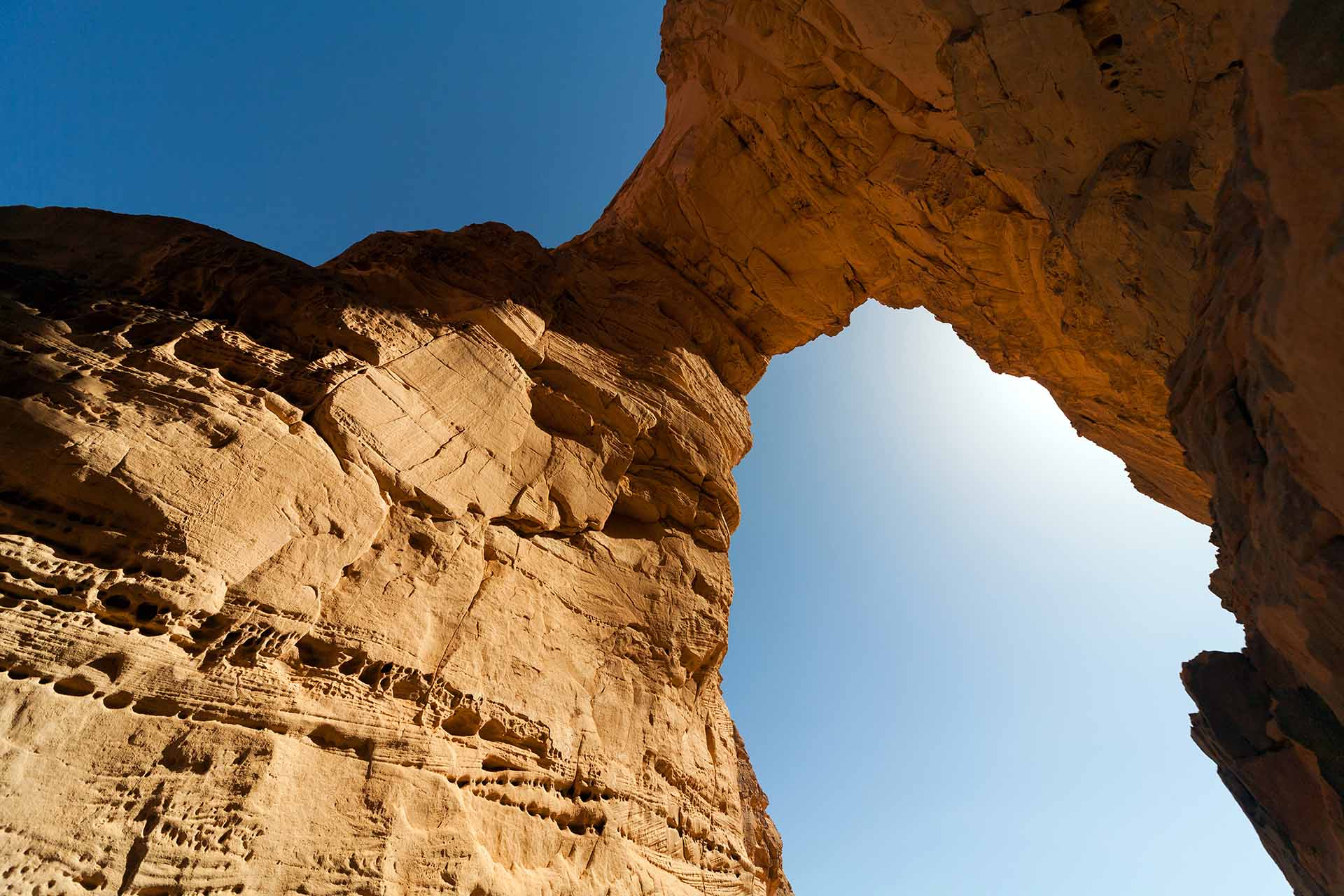 Depending on our flight timings, we will each be transferred to the airport for our departure flights. Breakfast is dependent on the flight timing. Or, get in touch with Bestway to extend your adventure with explorations of the neighboring countries of Tunisia and/or Morocco. (B)
B=Breakfast, L=Lunch, D=Dinner