Day 01: Arrive Baku (AZERBAIJAN)
Xosh gälmìsän!  We are welcomed at the airport of the capital of Azerbaijan and transferred to our hotel. Baku provides a unique mix of centuries old monuments and uber-modern architecture that is a joy to explore. Check in time starts from 1500 hrs.

Overnight: Promenade Hotel/Shakh Palace Hotel, Baku (3 nights)
Day 02: Baku
This morning we tour the Gobustan Rock Art Cultural Landscape*, which covers three areas of a plateau of rocky boulders rising out of the semi-desert of central Azerbaijan, with an outstanding collection of more than 6,000 rock engravings bearing testimony to 40,000 years of rock art. The site also features the remains of inhabited caves, settlements and burials, all reflecting an intensive human use by the inhabitants of the area during the wet period that followed the last Ice Age, from the Upper Paleolithic to the Middle Ages.  Next we visit the Walled City of Baku*, built on a site inhabited since the Paleolithic period. The Walled City of Baku reveals evidence of Zoroastrian, Sasanian, Arabic, Persian, Shirvani, Ottoman, and Russian presence in cultural continuity. We explore the Inner City (Icheri Sheher), which has preserved much of its 12th century defensive walls; the 12th century Maiden Tower (Giz Galasy), built over earlier structures; and the 15th century Palace of the Shirvanshah, one of the gems of Azerbaijan's architecture. (B, D)
Day 03: Baku
We travel around the Absheron Peninsula, visiting the Ateshgyah Zoroastrian Temple of Fire, which for centuries has been an important center of worship.  We then explore the "Gala" historical ethnographic reservation area.  One of the oldest settlements in Absheron, Qala village is situated in the north east of the peninsula. There are 215 architectural and archaeological monuments in Qala village and the surrounding regions, preserving a unique environment dating back to the 3rd millennium BC. In 2008, the Open Air Archaeological Ethnographical Museum Complex was created here, gathering and restoring monuments found in the region. We also enjoy an excursion to the 14th century temple in Mardakan and the Yanardag Flaming Mountain, burning with an eternal flame fed by the underground naphtha and gas. In the afternoon, time at leisure walking throughout the central part of the city and exploring local shopping centers, a perfect opportunity to meet and mingle with the local people. (B, D)
Day 04: Baku/Sheki (Drive)
We begin this day with a scenic and relaxed drive to Sheki. This town was once a stop on the fabled Silk Road, the world's oldest and longest trade route. Here we will visit the Museum of Applied Arts and "Shebeke" manufacturing workshops of traditional stained glass art. Next, see the magnificent Sheki Khan's palace, built without a single nail in the 18th century as perhaps the most striking example of shebeke art (view from the outside only). The evening is free to stroll around Sheki. We also enjoy a trip to the village Kish near Sheki town to visit the first church in Caucasus.

Overnight: Marxal Hotel, Sheki (1 night) (B, D)
Day 05: Sheki/Lagodekhi/Signagi/Tbilisi (Drive) (GEORGIA)
In the morning, we leave Azerbaijan as we are driven to the border. Here, we will meet with our Georgian guide and transport for our transfer to Telavi at 10:00 hrs Georgia time. We will make our way through the Kakheti region on the way to Tbilisi, Georgia's capital. This scenic region is dotted with fine old churches and vineyard after vineyard. At one of these wineries, we will stop for the opportunity to sample some of Georgia's famous wines.
Historically, Kakheti was often the centre of political turmoil. However, some of Georgia's most beautiful and important buildings were erected here and its church architecture is as diverse as its wines. We will also explore Gremi architectural complex, which consists of the Church of the Archangels Michael and Gabriel (16th century), a three-story castle, a bell tower and a wine cellar.
Lunch will be enjoyed with a local family in the form of a traditional home-cooked meal, complete with Georgian wines. Learn to make 'churchkhela', a traditional Georgian sweet made with grapes and various nuts. Afterwards, visit the fortified hill-town of Signagi. Weather permitting, this site offers fine views of the Kakheti area and eastern Caucasus summits. It is an eclectic mix of old and new. The old section has narrow cobbled streets lined with typical houses complete with wooden balconies and shuttered windows.
Overnight: Rooms Hotel, Tbilisi (2 nights) (B, L)
Note: Please be aware that your Azerbaijan guide and driver will NOT cross the border. Therefore, you should be ready to cross the border on foot through no man's land (distance of approximately 600 meters).
Day 06: Tbilisi (Drive)
We start our city tour of Tbilisi with visits to Sameba (Holy Trinity) Cathedral, a recently built and magnificently dominating Cathedral of the Georgian Orthodox Church. Afterwards, we start our walking tour of the Old Town, offering structures dating back to the 5th century. This original settlement of Tbilisi boasts winding roads, alleys and wooden balconies. We see Metekhi Church, standing proudly above the river on a cliff-top, and the sulphur baths (Abanotubani). According to legend, these baths were responsible for giving the name to the city and for the king Vakhtang Gorgasali's (5th century) decision to move the capital from Mtskheta. We also experience Narikala Fortress, an impressive set of ruins and city landmark providing excellent views of the swirling river Mtkvari (Kura) and the Old Town. Next, see Sioni Cathedral, the beating heart of Georgian Orthodoxy, and Anchiskhati Church, a yet more ancient style of Georgian church with a choir to match. It we're lucky, we will witness a service at this church. Afterwards, enjoy an excursion to the State Museum of Georgia, which houses an extraordinary collection of gold filigree work dating from the 6th century BC, among other items of repoussé work and jewelry.  Then, we walk or drive along Rustaveli Avenue, the main 1,500-meter-long artery of the city decked out with elegant Renaissance and neoclassical buildings. Here, we find the city's most important theatres and the Opera House. We also visit the funicular at Mtatsminda (Holy Mount or Father David's Mount) Pantheon & Park. This railway was built in 1903 and its upper station takes us to the Panoramic Park, providing spectacular views of the city. (B, L)
Day 07: Tbilisi/Mtskheta/Gori/Kutaisi (Drive)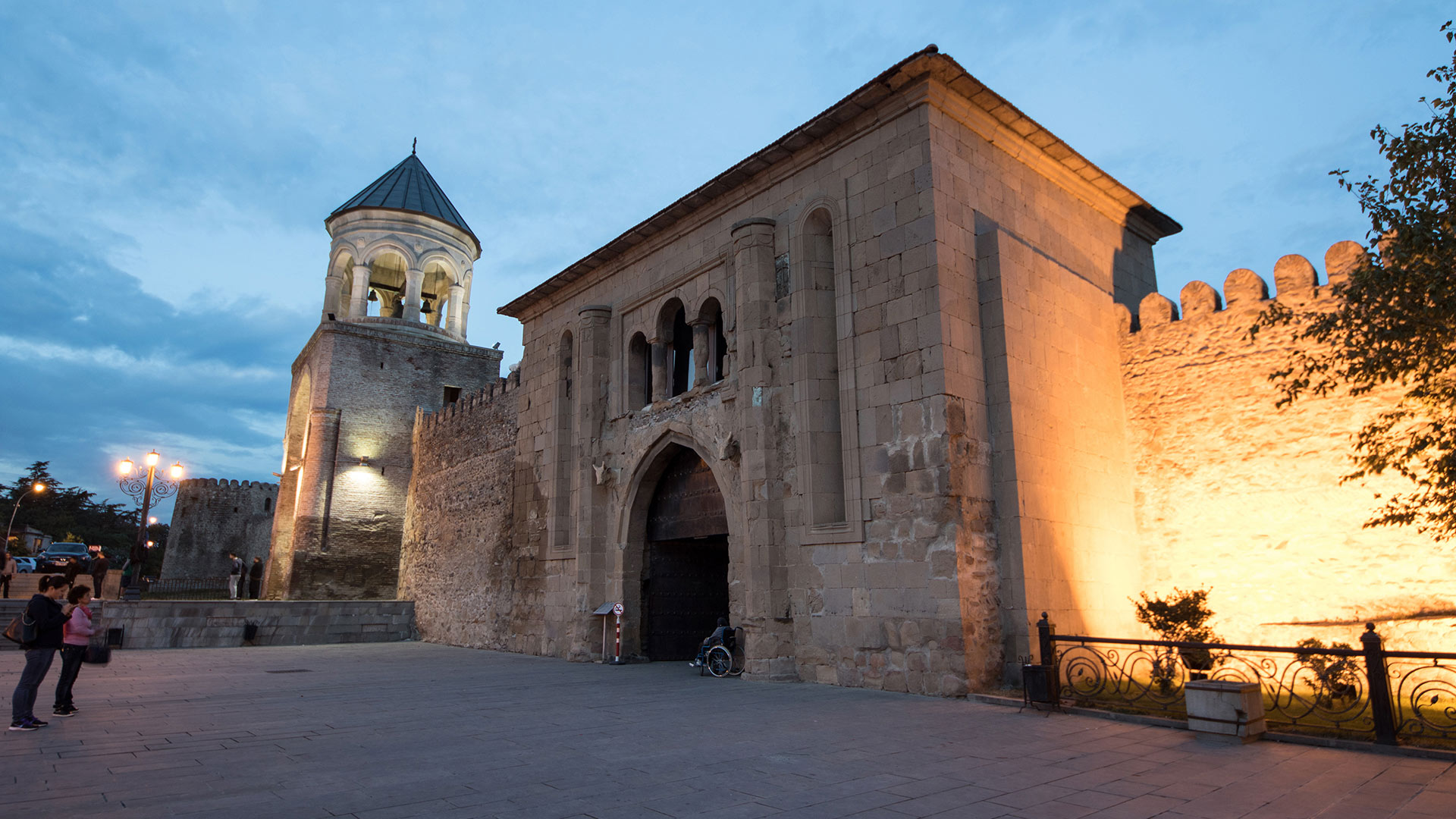 Today, we drive to Kutaisi. En route, we visit one of the oldest cities in Georgia, Mtskheta*, which lies in a lush valley on the confluence of two rivers, the Aragvi and the Mtkvari. It was founded in 2,000 BC and was the capital of the Georgian Kingdom of Iberia between 500 BC and 500 AD. Georgians adopted Christianity in the 4th century and after that, Georgians, Byzantines, Persians, Arabs and Mongols traded control of the territory until the Russian annexation in the 19th century. It is overlooked by the marvellously simple church of Jvari (6th century), a perfect example of early Georgian Christian architecture. We also visit Svetitsikhoveli Cathedral (11th century), Georgia's largest remaining cathedral and burial place of the Georgian kings, notably members of the Bagrationi family. It has an extraordinary interior combining paintings, frescoes and a domed chapel used for the Christmas service. They are both UNESCO sites.  Afterwards, stop in Gori to visit Stalin's Museum. Later, we arrive in Kutaisi, which dates back to the Argonauts' time (13th -12th centuries B.C). Formerly capital of old Colchida, Kutaisi then ruled all of Western Georgia. Visit Bagrati Cathedral (11th century).
Overnight: Newport Hotel/Best Western Kutaisi, Kutaisi (1 night) (B, L)

Day 08: Kutaisi/Mestia (Drive)
In the morning, visit Gelati Monastery*, founded in the 12th century by Georgia's most famous king, David the Builder (1073 – 1125 AD). Its walls are covered in splendid floor-to-ceiling murals of Georgia's saints and monarchs. This site is listed as a UNESCO World Heritage Site.  Afterwards, continue our journey to Mestia. At first, we pass the lovely villages of Colkhida lowlands. Then, drive along Enguri river valley, stopping at the Enguri Reservoir. Continue on, then arrive in Mestia* (1400m), a small provincial settlement surrounded by huge Caucasian mountains, the most impressive of which are mountains Ushba (4710m) and Tetnuldi (4975m) some of the most severe and beautiful summits of the Caucasus. We also visit the towers and traditional Svan House.

Overnight: Posta Hotel, Mestia (2 nights) (B, D)
Day 09: Mestia/Ushguli/Mestia (Drive)
Today we drive to Ushguli* (2400m), Europe's highest permanently inhabited village. Visit the village, its medieval towers and Lamaria Church (11th century). Enjoy the views of Mt. Shkhara (5201m), the highest summit in Georgia. Return to Mestia and visit the Mestia Museum. This museum houses more than 4.000 items: archaeological objects discovered in Svaneti region, unique samples of engraved and painted icons (of special interest are 10th-12th century icons), religious objects (9th-14th century), manuscripts (11th-13th century New Testaments from Adishi, Labskaldi, Lenashi, Mestia), weapons and armor, iron and cooper items, wooden ethnographic objects, adornments, silverware, textiles, and more. (B, D)
Day 10: Mestia/Zugdidi/Borjomi (Drive)
This morning, travel to Zugdidi to visit Dadiani Palace, one of the most eminent palaces in the Caucasus.  Arrive in Borjomi.
Overnight: Borjomi-Likani Hotel, Borjomi (1 night) (B, L)
NOTE: On this day you will have a long drive of approximately 7 hours.

Day 11: Borjomi/Akhaltsikhe/Vardzia (Drive)
After breakfast, drive to Akhaltsikhe.  We enjoy an excursion to the recently restored 13th century Rabati Castle.  Afterwards, we drive to Vardzia, a thirteen-story cave town built between 1186 and 1189 by Georgia's famous Queen Tamar. It stands as a unique example of the Georgian renaissance in an area of many medieval sites. En route, stop at Khertvisi Fortress.

Overnight: Vardzia Hotel, Vardzia (1 night) (B, D)
Day 12: Vardzia/Dzoraget (Drive) (ARMENIA)
After breakfast, drive to the Georgian-Armenian border of Bavra. Here, do border crossing procedures before meeting with our Armenian guide and driver at 11:00 hrs Georgia time.  Next, savour a city tour of Gyumri, the second largest city in Armenia. Gyumri has a distinct look, style and dialect. Drive to Dzoraget via Spitak and Vanadzor accompanied by beautiful scenery of forests and mountain.
Overnight: Avan Dzoraget Hotel, Dzoraget (1 night) (B, D)
Note: Please be aware that your Georgian guide and driver will NOT cross the border.
Day 13: Dzoraget/Lake Sevan (Drive)
Today, we enjoy a tour of Sanahin* Monastery and Haghpat. Standing on a high plateau, amidst low structures, they raise sharp against the background of steep, forested slopes. The ensembles are complemented by small churches built near them. Features that we can look forward to seeing include churches and chapels, four annexes, sepulchers, bell-towers, the building of the Academy, book depositories, refectories, galleries, bridges and other monumental structures.  After lunch in Dilijan, we explore the surrounding city and historical monuments of the area.  Wander in the art street of Sharambeyan, chat with the carpenter and pottery master, see them at work and choose one lovely souvenir.  Our next stop is at Lake Sevan, famous for its emerald water and delicious fish. This mountainous lake covers approximately 5 per cent of Armenia's surface area and is 2000 meters above sea level.

Overnight: Bohemian Resort or Best Western Paradise Hotel, Lake Sevan (1 night) (B, L)

Day 14: Lake Sevan/Yerevan (Drive)
Our first stop is Noraduz cemetery of cross stones (khachkars) before proceeding to Noravank. En route, we visit Selim Caravanserai, situated in the Selim (Sulema) mountain pass 2410 meters above sea level. According to the two building inscriptions (one of which is in Arabic), the caravanserai was built in 1332 by Prince Orbelyan Chesar. Our tour culminates with a visit to the 12th century Monastery of Noravank, set in a canyon rich with rare flora.  Visit Bird's Cavern, where the world's oldest shoe was found.  Lunch break in Noravank.  Afterwards, enjoy an excursion to Khor Virap Monastery, one of the most popular tourist destinations in Armenia. Its location, near the closest point to Mount Ararat within Armenia, offers a spectacular view of the mountain, the national symbol of Armenia. It is also significant as being the place of Gregory the Illuminator's 13-year imprisonment, after which Gregory made Armenia the first country to adopt Christianity as its official religion in the year 301.
Overnight: Grand Hotel, Yerevan (2 nights) (B, D)
Day 15: Yerevan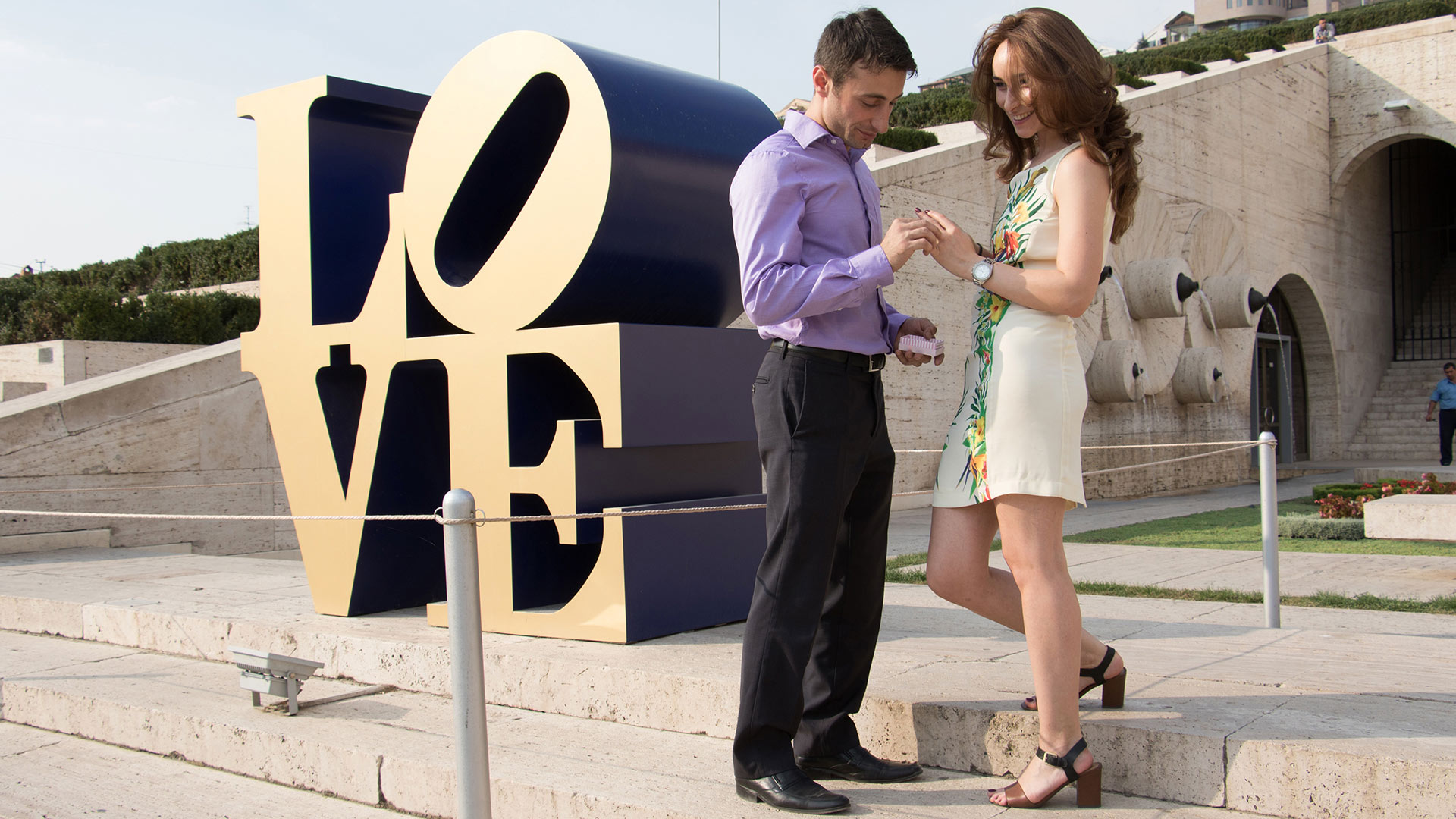 We explore Armenia's capital, visiting the National Museum of Armenian History and the Matenadaran. Next, we take an excursion to the Cathedral and churches of Echmiatsin and the Archaeological Site of Zvartnots*, which illustrate the evolution and development of Armenian central-domed cross-hall churches. These churches exerted a profound influence on architectural and artistic development in the region.  Afterwards, visit the Monastery of Geghard and the Upper Azat Valley*, which contains a number of churches and tombs, most of them cut into the rock, which illustrate the zenith of Armenian medieval architecture. The complex of medieval buildings is set into a landscape of great natural beauty, surrounded by towering cliffs at the entrance to the Azat Valley. (B, D)
Day 16: Depart Yerevan
Today we depart the Caucasus filled with memories and unforgettable experiences as we are transferred to the airport.   Check out time is by 1100 hrs. (B)
B=Breakfast, L=Lunch, D=Dinner