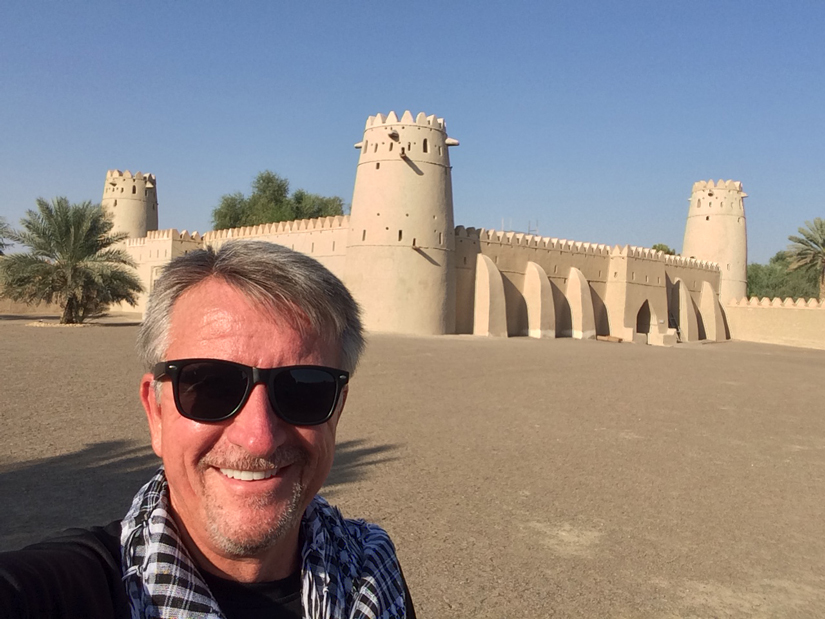 Arab Sheikdoms: One Bestway traveller shares his experience touring the Arab states.
Last October, Mark F. Nelson, a well-known and well-travelled lawyer in Laguna Beach, California, took Bestway Tours & Safari's Arab Sheikdoms tour.  This unique journey provides a rare glimpse into five of the Arab states along the Persian Gulf, including Oman, Kuwait, Bahrain, Qatar, and the United Arab Emirates. Mark was so thrilled with the experience that he wanted to share his story with other Bestway travellers. Here's what he had to say about his once-in-a-lifetime adventure:
Bestway: Can you tell us about your personal travel experience and what you try to get from each tour?

Mark: I agree with Medieval Moroccan traveler and scholar Ibn Battutah: "Traveling gives you home in thousand strange places, then leaves you a stranger in your own land . . . it leaves you speechless, then turns you into a storyteller."

When are we the most alive and present?  For me, those feelings often peak as I travel and experience new people, cultures and beliefs.  Each journey rearranges the building blocks in my mind, creating a kaleidoscope of new patterns and synapses.  Because I hunger for that evolution, I am now traveling about six months each year. I have been fortunate to visit all seven continents and over 105 nations. My dream is to explore every country in the world.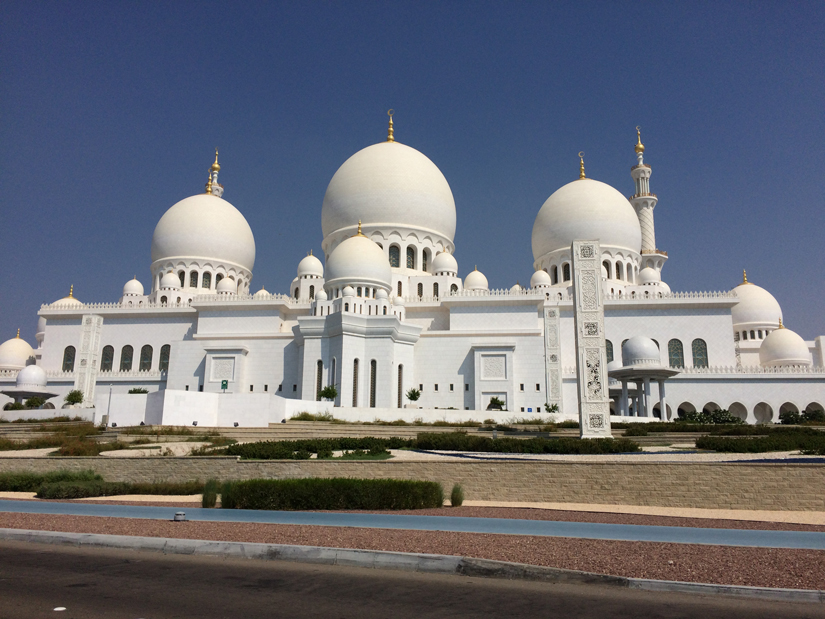 Bestway: What was your reason for selecting the Arab Sheikdoms tour?

Mark: The Bestway Tours & Safaris Arab Sheikdoms tour in October 2016 took me to five vibrant countries I had never seen before: Kuwait, Bahrain, Qatar, Oman and all seven of the United Arab Emirates .  Bestway was the only company I found that combined all those countries into one sensible and reasonably-priced itinerary.

The Gulf States have played a critical role in world history, both past and present.  I have visited and admired many Muslim countries, but I wanted to see daily life in the Gulf nations, which pairs great wealth and deep conviction to Islam. This area is framed by the white sands of the Arabian Desert and the turquoise waters of the Arabian Gulf.
Bestway: Considering that this tour goes through five countries and all the Emirates in the UAE, how was the tour handling coordinated?

Mark: As an intrepid traveler, I optimize my experience by engaging local guides and companies to handle day-to-day logistics.  In my visit to the Gulf countries, Bestway Tours & Safari arranged all hotels, flights, ground transportation and other details.  Bestway's agents spoke excellent English, promptly responded to all my questions and were always available by phone and email.  I appreciated that Bestway assigned a particular journey manager, Chi Pham, to help me through the entire process.  Working directly with Chi was far more efficient than having to speak to a new agent for assistance with each issue. Mahmood Poonja, Bestway's Chief Explorer, even called me to ensure everything went smoothly.  When I asked Mr. Poonja if he was the owner of Bestway, he said, "A ctually the company owns me because it is my entire life."  Now that's dedication.

For nearly two months before arriving on the Arab Sheikdom Tour, I travelled in rougher areas of the Middle East.  Once I joined the Bestway tour, I felt like I could take a big breath and relax—I was treated to first class accommodations, air-conditioned vehicles and exquisite food.  With Bestway's help, this otherwise-complex journey felt like a magic carpet ride. All I had to do was step out of my luxury hotel and greet my friendly guide, who then handed me a cool bottle of water, settled me into a comfortable seat and whisked me to one amazing adventure after another.
Bestway: Guides can make or break a tour. What was your experience of the different guides?

Mark: Bestway arranged for me to have a different local guide in each country.  Each guide was friendly, professional, knowledgeable, reliable and punctual.  The guides really listened to my particular interests and then tailored the experiences to my preferences, even when that involved lingering longer than originally planned at museums, mosques and mountains.

For example, in Bahrain, my guide and I shared a day that stays vivid in my memory. In the morning, we visited the Al Fateh Grand Mosque, which offers a very personal presentation on Islam. Then we walked through the Bahrain National Museum, which depicts local cultures over 6,000 years old. Transitioning from history to the present moment, we went next to the King's Camel Farm, which has about 175 camels, and some of them nuzzled my arms. We ended the day at the Bahrain Fort, which dates back to 2300 BC.  As the sun set, my guide Lunghei surprised me by singing a folk song about the goodness of people who remain constant in life.  The soft music wrapped around me like a warm blanket in the cooling night air of another unforgettable day.

On another occasion, I learned a life lesson from my guide, Jacob while we were driving through the deserts of Oman. He shared a local parable about a father and son, wherein the father tells the boy that he can play in the valley and caves while the father goes to the market. As the child is playing, he makes a sound that echoes along the rock walls.  Having never heard an echo before, the boy calls out, "Who's there?"  A voice chimes back, "Who's there?"  The boy then gets worried and yells, "Go away!"  The voice responds, "Go away!"  Then the young man threatens, "I'm going to hit you with my staff!"  The voice bellows back, "I'm going to hit you with my staff!"  When the father returns, he finds that his son is very angry and scared and the father asks what is wrong.  His son sobs that someone was telling him to go away and threatening to hit him with a staff.  The father smiles wisely, teaches his son about the echo and then calls out "I love you."  And the voice softly answers, "I love you."  The father puts his arm around his son and turns toward home saying, "And that is how life is."
Bestway: What were some of the highlights of your journey?

Mark: The Gulf States feature some of the most modern and wealthy cities in the world. Doha in Qatar has the highest income per capita on earth, while Dubai offers Palm Island, the Burj Al Arab Hotel in the shape of a ship's sail, which claims to be the most luxurious hotel on earth, and towering Burj Khalifa, the tallest building in the world.

Despite these attractions, the greatest highlight of these Sheikdoms for me was the endless Arabian Desert.  From flowing sand dunes to the hard-baked scrabble dotted with Acacia trees and salt bushes, deserts framed the cities, dominated the landscapes and transformed the soul.  Perhaps I felt a special resonance with the Gulf deserts because, as a boy, I hiked and camped with my father and grandfather in the vast deserts of the western United States.  Outside Dubai, I was in heaven during a late-afternoon jeep safari drifting through mountain-high pink sand dunes.  That adventure concluded with a camel ride, Bedouin meal and cultural show complete with belly dancers under a night sky of infinite stars.

My growing feelings of fascination with the desert crystalized as I walked the stone corridors of the Al Jahili Fort in Al Ain and encountered an inspiring display of photographs and quotes by the British explorer, Wilfred Thesiger, also known as "Mubarak bin London" which is Arabic for "the blessed one from London."

Thesiger's words spoke to my soul: "In the desert I had found a freedom unattainable in civilization; a life unhampered by possessions, since everything that was not a necessity was an encumbrance. I had found too, a comradeship inherent in the circumstances, and the belief that tranquility was to be found there."

In that museum, I encountered a black and white photo that instantly became a new favorite. It depicts a Bedouin wearing a turban and dressed in a white flowing thobe stretching to his wrists and ankles. A rifle is slung on his shoulder and a saluki hunting dog is by his side. Both are facing away from the camera and staring out at the Hamra sand dunes, which stretch to the horizon like waves in the sea.  When I saw this image, a feeling surged within my chest, "That's what I want out of life."
Bestway: Would you recommend this tour to others?

Mark: I would highly recommend Bestway's Arab Sheik doms tour to everyone who is looking for new lands to explore and has an interest in the Gulf s tates' amazing architecture, delicious food, ancient culture and magnificent deserts.  Although I've been to many Muslim countries, I have never experienced more informative presentations for westerners about Islam than are available from friendly English-speaking hosts at Al Jumeirah Mosque in Dubai, the Spiral Mosque Islamic Cultural Center in Doha and the Fateh Grand Mosque in Bahrain.

Of course, if you like luxury, entertainment, food and shopping, the Gulf s tates have it all.  You can buy anything from footwear to falcons in the narrow alleys of Doha's Souq Waqif market. And you can ice skate, snow ski and scuba dive in the comfort of Dubai's air-conditioned shopping malls.

The tour was busy but not exhausting.  The itinerary was appropriate for nearly all adult ages.  Anyone with reasonable stamina and mobility should be just fine.

Just be aware that if you visit the Arab Sheikdoms, you may be forever transformed. Thesiger's words about desert life capture this transformation perfectly: "No man can live this life and emerge unchanged. He will carry, however faint, the imprint of the desert, the brand which marks the nomad; and he will have within him the yearning to return, weak or insistent according to his nature. For this cruel land can cast a spell which no temperate climate can match."
Arab Sheikdoms is a 15-day tour by Bestway Tours & Safaris that visits five fascinating countries in the Persian Gulf. Like all our adventures, this journey includes luxury hotels, mouthwatering meals, and unforgettable cultural experiences. Learn more at bestway.com/tours/arab-sheikdoms/.

Posted by Mark F. Nelson, Lawyer