Day 01: Arrive Doha (QATAR)
Welcome to Doha, a city that is becoming a highlight of the region. Upon arrival, we are warmly received and transferred to our hotel. Records indicate that the Qatar Peninsula was inhabited during the Stone Age. However, there is little evidence of habitation between the most ancient times and the last 500 years. Oil was struck in 1939 and the country features one of the largest natural gas fields in the world. Doha is the first of the Arab Sheikhdom countries to host the FIFA World Cup, taking place in 2022, which has resulted in a huge cultural change. Qatar's Al Jazeera news network has also earned a place on the international stage for its current events coverage. Rest of the day is free to discover the city's sites and attractions.  Stroll on your own to take in the city's architectural marvels at sunset.

Overnight: Swiss Bel Hotel, Doha (2 nights)
Day 02: Doha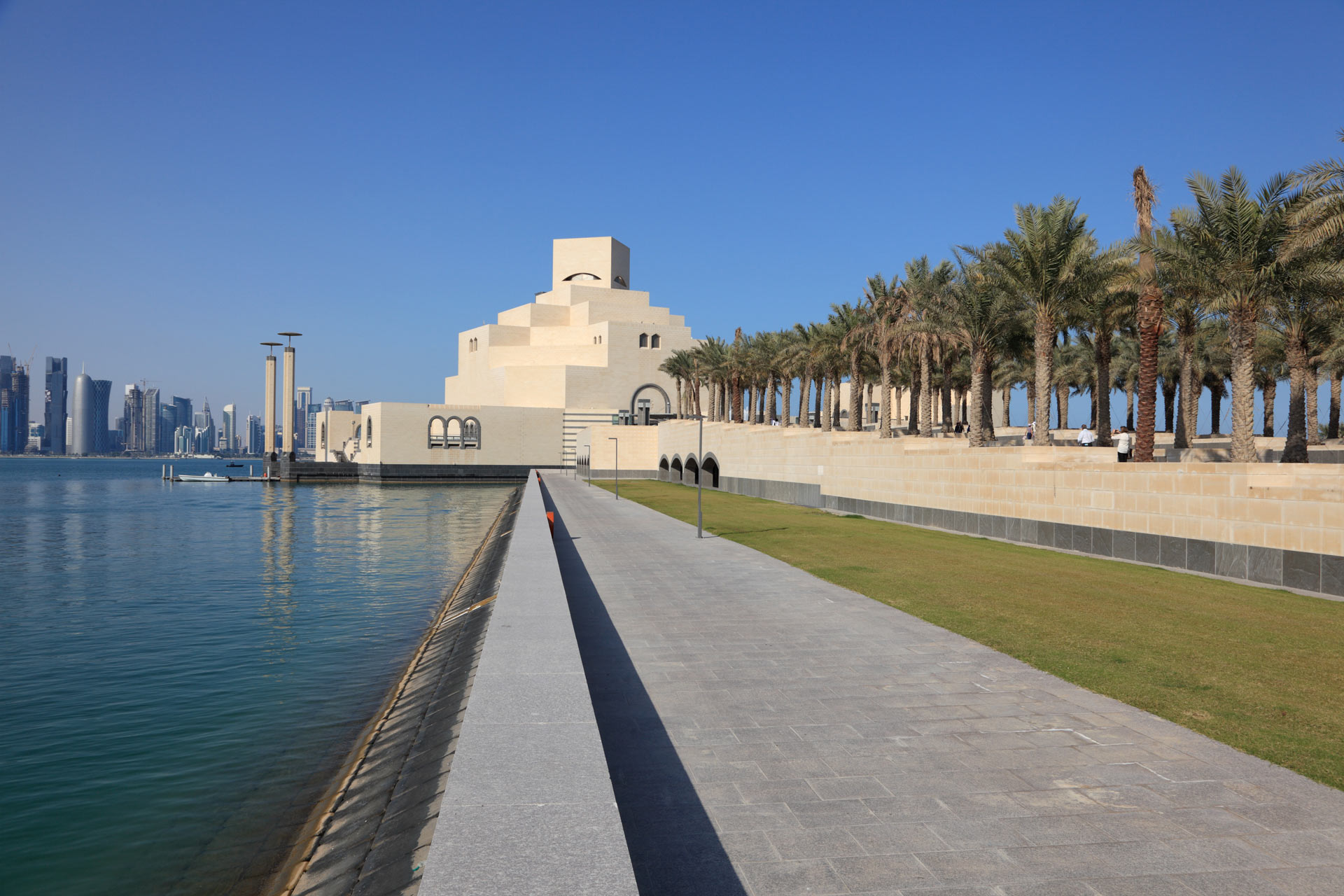 Our explorations today start with the World Heritage Site of Al Zubarah Archaeological Site*. The walled coastal town of Al Zubarah flourished as a pearling and trading centre in the late 18th and early 19th centuries, with trade links across the Indian Ocean, Arabia and Western Asia. However, it was destroyed in 1811 and abandoned in the early 1900s. A layer of sand blown from the desert has protected the remains of the site's palaces, mosques, streets, courtyard houses, fishermen's huts, harbor, walls and cemeteries. We will also visit the Camel Training and Racing Track at Shahaniya, the Sheikh Faisal Museum, displaying artifacts from Qatar's history, and the Barzan Tower, dating from the late 19th century.  If time permit, a stop will be made at the traditional Old Souq, where we will be swept up into our own Arabian Nights story as we see Arabian falcons, the spice market, fabric and perfume stores, art galleries, traditional handicraft shops and Shisha-Cafés. (B, L)
Day 03: Doha/Kuwait (Flight) (KUWAIT)
After experiencing the new "capital" of the region, a short flight takes us to Kuwait, an oil-rich state that was founded only 300 years ago by the Al Sabah Family, whose descendants still rule the country. At first a small settlement, Kuwait grew quickly. Its history was heavily influenced by the Ottomans and the Persians for more than 200 years before it formally became a British Protectorate at the end of 19th century. The first oil wells were struck in 1936, leading to the oil boom of the 1950s and 1960s, which transformed Kuwait's economy, cityscape and way of life. After it was invaded by Iraqi forces in August 1990, Kuwait came under the world's focus during the two Gulf Wars. As we arrive, we are welcomed and transferred to our hotel. Balance of the day is free.
Overnight: Radisson Blu Hotel, Kuwait (2 nights) (B, D)
Day 04: Kuwait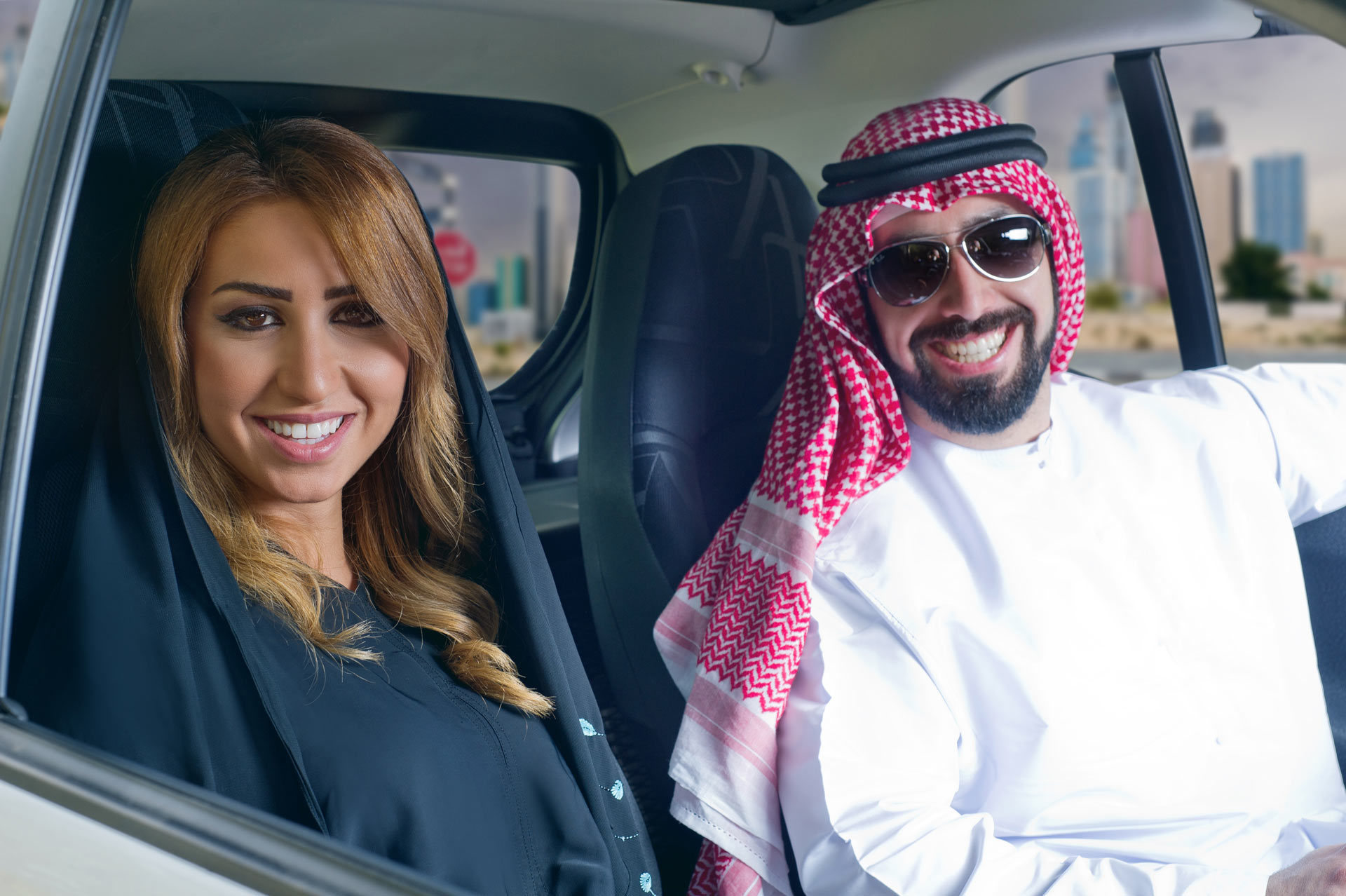 Kuwait is a cosmopolitan city-state home to an ancient history and an authentically Arab experience. Our morning tour of this less-visited destination includes the Kuwait National Museum, Sadu House and Al Bader House, built in the mid-1800s and a great example of pre-oil architecture. We will also be passing by the Liberation Tower, National Assembly House, Seif Palace, dating from 1880, Jahra Gate, the Fish Market and Kuwait Maritime Museum. We then enjoy a photo stop at the new dhow harbor and visit the Kuwait towers, which are a symbol of modern Kuwait.  Afternoon free. Optional activities include embarking on a desert safari, scuba diving or learning about Islamic architecture at the Grand Mosque. Contact Bestway Tours & Safaris for more details. Kuwait is also well known for its local cuisine. (B, D)
Day 05: Kuwait/Bahrain (Flight) (BAHRAIN)
A short flight brings us to Bahrain International Airport, where we are warmly received and transferred to our hotel. Bahrain, derived from the Arabic term meaning "two seas", is an island kingdom made up of 50 natural islands and 33 artificial ones. It was among the first emirates in the Gulf to discover and refine oil. The country has been ruled by Sheikhs from the Khalifa family since the 18th century, and was also a British protectorate from 1861 to 1971.  This evening, we sample delicious Lebanese cuisine at Zahle Restaurant. Located in Bahrain's original five-star hotel, the Gulf Hotel, Zahle features renowned Lebanese singers alongside time-honored belly dancing shows, which take place after 22:30 hrs.
Overnight: Novotel Al Dana Resort, Bahrain (2 nights) (B, D)
Day 06: Bahrain
Our exploration of Bahrain starts with the Fateh Grand Mosque. As one of the largest mosques in the world, Fateh Grand Mosque can accommodate more than 7,000 worshippers, and is a shining example of modern Bahraini architecture. At the Bahrain National Museum, we explore a wonderful collection of exhibits, from contemporary Bahraini paintings, sculptures and ceramics to scenes depicting life in the Dilmun civilization of 6,000 years ago. A highlight of the museum is a section featuring Arabic calligraphy, traditional trades and crafts displayed in a reconstruction of a typical souq of the 1930s. Next, we discover some of the unique buildings in Muharraq City, which are part of the Pearling, Testimony of an Island Economy* UNESCO World Heritage Site. Pearling dominated the Gulf economy from the 2nd century to the 1930s, and Muharraq is home to the last complete example of the oyster beds, storehouses and shops which once sold the pearls, and the extravagant merchant residences that showcase the wealth these sales generated. One of our stops here is Shaikh Isa Bin Ali House, which was the seat of the government from 1869 to 1932. Designed in traditional style with rooms overlooking an open courtyard, this house truly showcases traditional Gulf architecture. Afterward, we enjoy Arab delicacies at a local restaurant, followed by a visit to the famous Camel Farm. The 175 camels residing here are used for racing. We explore the UNESCO World Heritage site of Qal'at al-Bahrain*. Underneath the impressive Portuguese fort here is an archaeological tell, a mound created from the remains of millennia of human occupation. Artifacts and structures in the tell date from the 16th century all the way back to 2,300 BC, when the site was the capital of the ancient civilization of Dilmun. About 25 per cent of the site has been excavated so far, revealing residential, public, commercial, religious and military structures. (B, L)
Day 07: Bahrain/Muscat (Flight) (OMAN)
A morning flight gets us to Muscat, the capital of Oman, which is undoubtedly one of the most culturally rich among all the states in our Arab Sheikdoms tour. Scenically set between the Arabian Ocean and the brown pleated Western Al Hajar Mountains, Oman's capital is a unique blend between ancient and modern. Since it was founded 900 years ago, Muscat has been an important trading port between the west and east. In the 18th century, Muscat's influence extended all the way down to East Africa, and many say it has a similar feel to Zanzibar, a former colony of Oman. In the past few decades, the city has undergone dramatic development that has created a vibrant modern economy. The remainder of our day is free to start exploring Oman's heritage and culture. It is highly recommended that you take a stroll through the vibrant local souqs (bazaars).
Overnight: Sheraton Oman Hotel, Muscat (3 nights) (B)
Day 08: Muscat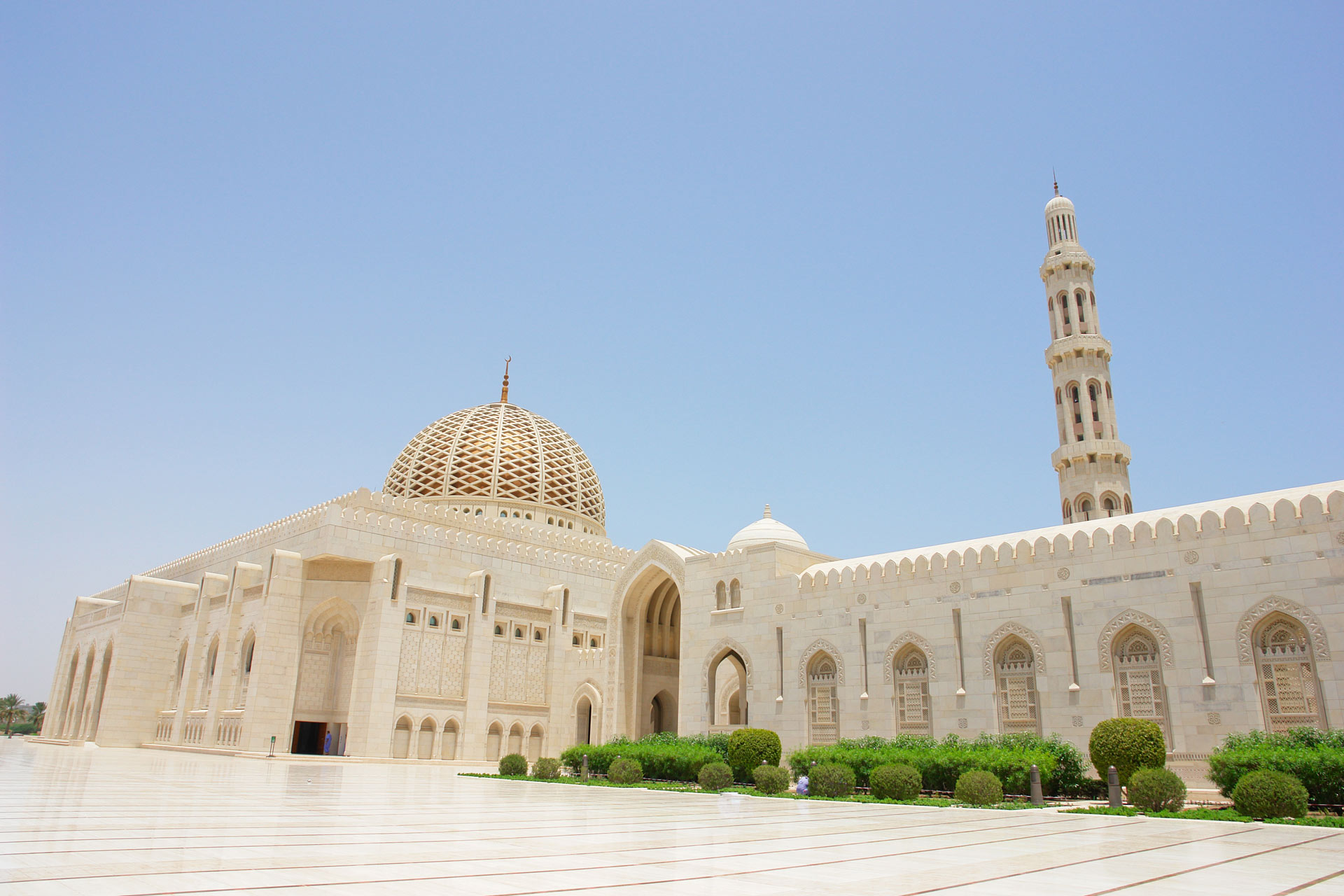 Our exploration of Muscat starts with a visit to the Grand Sultan Qaboos Mosque. This modern architectural marvel took six and a half years to build, and used 300,000 tonnes of Indian sandstone. The mosque is open from Saturday to Thursday, 8:00 to 11:00 hours. Afterward, we drive through the ministries area to see a number of modern buildings with touches of Islamic architecture. We then continue along the panoramic waterfront Corniche to Old Muscat.  Here, we take in the magnificent Al Aalam Palace, the official residence of Sultan Qaboos, which is flanked by the twin Portuguese forts of Mirani and Jalali. Sultan Qaboos ruled Oman for fifty years and died recently on January 10, 2020. We then explore the Bait Al Zubair Museum, which has an extensive collection of artifacts detailing Oman's rich history and culture.  After exploring the magnificent Royal Opera House, we proceed to the enchanting Muttrah Souq, one of Oman's oldest markets. Wander its narrow covered alleys and take in the smells of spices, coffees, ancient remedies and enticing perfumes. Balance of the day is free.  Muscat has much to offer, including traditional fishing villages and sea turtle habitats. (B, D)
Day 09: Nizwa Excursion
Oman is home to more than 500 forts, castles and towers, and our explorations today include some of the most striking ones. We first drive to Nizwa, capital of Oman in the 6th and 7th centuries and the birthplace of Islam in the country.  Here, we discover 17th century Nizwa Fort, Oman's most visited national monument, and the Nizwa Souq, famous for its displays of silver jewelry. On Fridays, a popular cattle auction takes place and makes for a unique experience! We continue to Jabreen, which was built as a defensive stronghold and is perhaps the finest of Omani castles. This 17th century structure features dungeons, passages, rooms and ceilings decorated with fine carvings and paintings. Our day concludes at Bahla Fort*, a UNESCO World Heritage Site. The oasis of Bahla owes its prosperity to the Banu Nebhan, the dominant tribe in the area from the 12th to the end of the 15th century. This immense fort, with its walls and towers of unbaked brick and its stone foundations, is a remarkable example of this type of fortification. We also see an example of the Aflaj Irrigation Systems of Oman*, which is representative of some 3,000 such systems still in use in the country today. The origins of this system of irrigation date back to AD 500, but archaeological evidence suggests that some sort of irrigation system existed in this extremely arid area as early as 2,500 BC. Using gravity, water is channeled from underground sources or springs for agriculture and domestic use. (B, L)
Day 10: Muscat/Abu Dhabi (Flight)/Dubai (Drive) (UAE)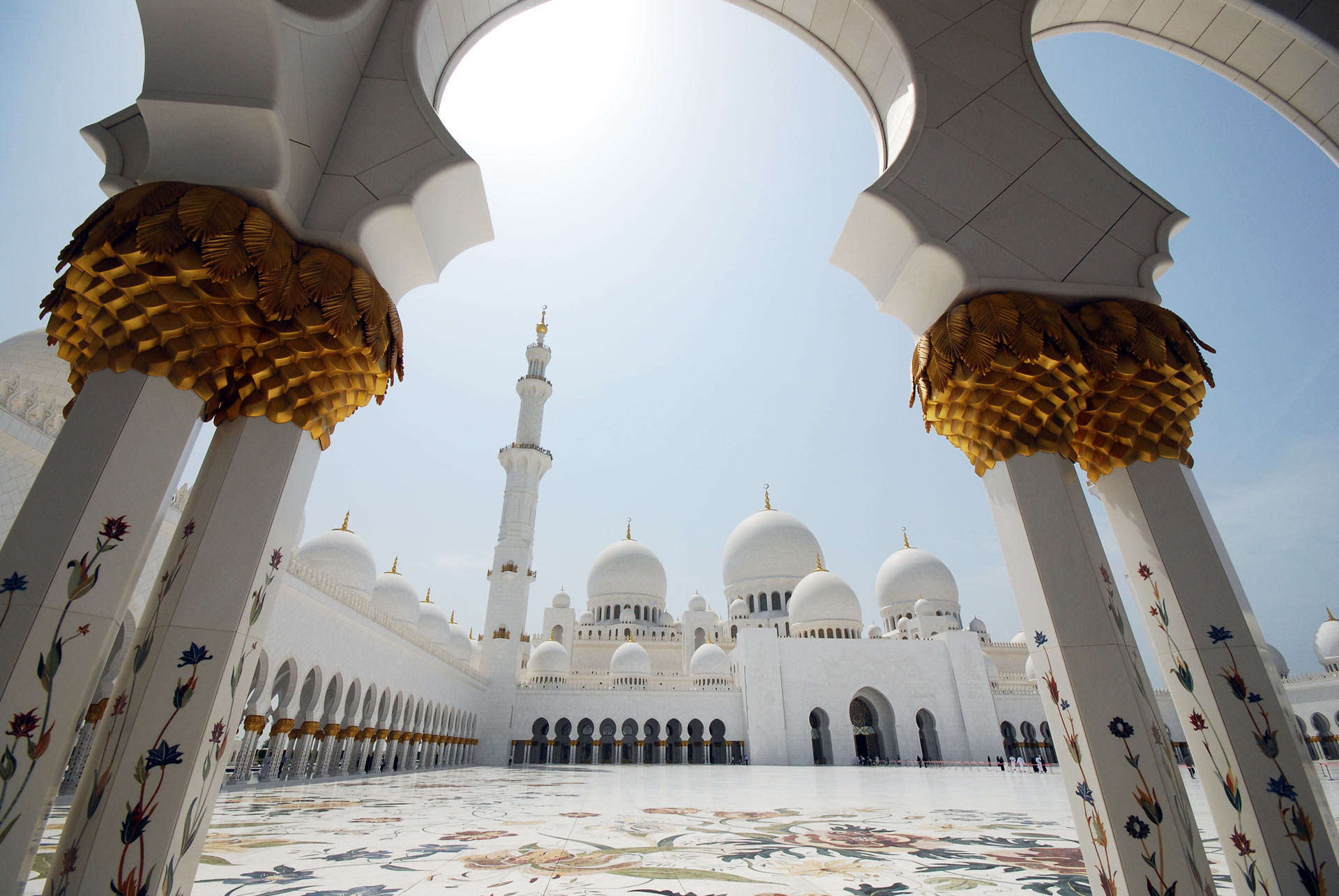 Our adventure continues with an early morning flight to Abu Dhabi, capital of the United Arab Emirates (UAE) and also its richest emirate. An emirate is a country ruled by an emir (traditional leader, sheikh). Upon arrival, we visit the famous Sheik Zayed Mosque, the third largest mosque in the world, which can house more than 41,000 worshippers.  After a tour of this huge and beautiful marvel of architecture, we proceed to the Bateen area, where the palaces of the ruling family are located. We drive past these palaces and stop at the magnificent Emirates Palace Hotel to visit the Sadiyaat Exhibition, where we can appreciate art that gives us a window into the Saadiyat Cultural District. We then explore a heritage village and enjoy a photo stop at the breathtaking Abu Dhabi Corniche. Our final stop is the traditional date market, with its indigenous aura and souq. Next, we are treated to a delicious lunch at the Sterling Caravan restaurant, from where we drive to our centrally located hotel in Dubai, which will be our home for the next five days.

Overnight: Ramada Jumeirah Hotel, Dubai (5 nights) (B, L)
Day 11: Dubai/Sharjah/Ajman/Fujairah/Dubai (Drive)
The UAE comprises of 7 emirates that united together in 1971: Abu Dhabi, Dubai, Sharjah, Ajman, Umm Al Quwain, Ras al Khaimah and Fujairah. Though now unified, each of the individual emirates still has its own king and local rules. Our Arab Sheikdoms experience allows us to discover each of the emirates, with their individual traditions and cultural intricacies. Our journey today takes us to the East Coast. We pass through the Al Dhaid agricultural areas, where the terrain changes from colorful desert landscape to spectacular mountain scenery. The coastline is scattered with small fishing villages, and we visit the old village of Dibba, with stunning views of the Indian Ocean. Continuing along the coastline, we arrive at the oldest and smallest mosque in the country, the Al Bidya Mosque, built in the 14th century. Driving through the port town of Khorfakhan, we enjoy lunch at the Sandy Beach Hotel.  Afternoon, we explore the 300-year-old Fort of Fujairah and the fortress of Bithnah Oasis. The Emirate of Sharjah is an exciting and lively city with colourful souks. It is best known for its jewelry and restored traditional houses boasting walls made of sea coral.  We visit the Sharjah Museum, housed in the newly renovated Fort of Ajman, and the Al Markazi Souk before returning to Dubai, where the action is. Free time in Dubai. You may want to sample one of the city's many shows, including operas, plays in the English language, concerts, ballets and more. The Dubai Opera House offers a variety of performances and accommodates up to 2,000 art lovers. (B, L)
Day 12: Dubai
Our morning tour of Dubai includes the Jumeirah Mosque, Dubai's most popular mosque, as well as photo stops by Burj Al Arab, one of the world's most luxurious hotels, and Burj Khalifa, the world's tallest free standing structure. We then drive on the Palm, Dubai's artificial island in the shape of a palm tree, to discover the lost city of Atlantis and visit one of the world's largest aquariums. We pass by the palaces of the ruling family of Dubai before visiting Al Fahdi Fort, dating from 1787 and the current location of the Dubai Museum. We end our morning exploration visiting the Spice and Gold souqs. In the afternoon, we embark on an exciting desert safari. Drive through the magnificent sand dunes to experience the thrill of dune bashing. After sunset, we reach a campsite equipped with traditional carpets and pillows. Ladies may get henna designs before our evening entertainment of traditional Arabic music and belly dances begins. The performance is followed by a barbecue dinner served under the stars. After an exciting safari, we drive back to our hotel. Dubai has many traditional and not-so-traditional night markets which you may want to explore this evening. (B, D)
Day 13: Dubai/Al Ain/Dubai (Drive)
Today we visit the Cultural Sites of Al Ain*, a UNESCO World Heritage Site which was once a green oasis on the caravan route to Oman. As one of the world's oldest continuously inhabited settlements, we will find here the remains of many prehistoric cultures, including circular stone tombs dating to 2,500 BC, wells, towers, palaces and more. Today's excursion includes a visit to Jebel Hafit, the nation's tallest mountain, offering commanding views of the city. We also explore Al Jahili Fort, one of the largest forts in the UAE, and the famed Camel Market. We will be treated with traditional cuisine at a local restaurant before returning to Dubai. Free time in the evening. You may want to visit the Miracle Garden, reputed to be the world's largest butterfly garden! (B, L)
Day 14: Dubai/Umm Al Quwain/Ras Al Khaiman/Dubai (Drive)
We start early in the morning on our day trip to visit the coastal emirates of Umm Al Quwain and Ras Al Khaimah. Our explorations today include the Ras Al Khaimah Museum, the old city and the fish market. We also see the abandoned pearling village, which is now the ghost town of Jazirat Al Hamrah. After a visit to the Museum of Um al Quwain, located in a historic fort dating to 1768, we return to our hotel in Dubai. Evening, we bid farewell to the sheikhdoms in traditional style with farewell dinner on a dhow (traditional sailboat). The dhow cruises the shoreline, showing us the fascinating lights of Dubai creek along with a Tanura Dance show accompanied by Sufi music. (B, D)
Day 15: Depart Dubai
After witnessing the culture and monuments of these remarkable sheikdoms and the desert peoples that inhabit them, we are transferred to the airport for our departure. (B)
B=Breakfast, L=Lunch, D=Dinner