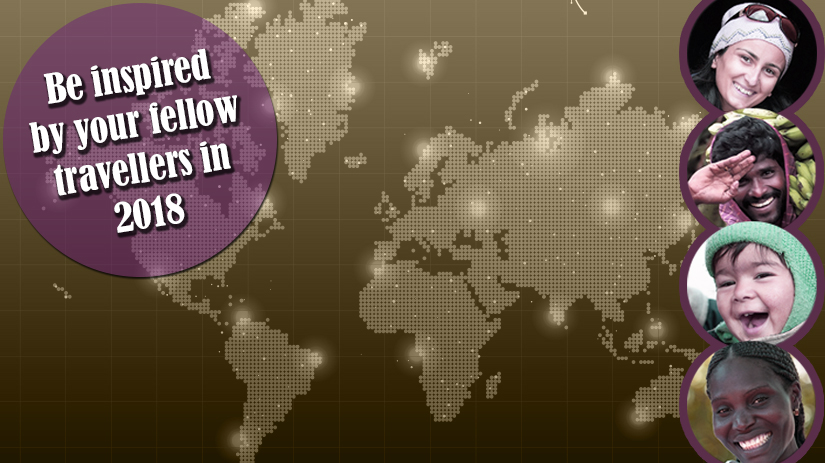 Be Inspired by Your Fellow Travellers in 2018
As the new year kicks off, we want to wish you, our Bestway travellers, all the very best and, of course, happy travels for 2018.
It is your passion for experiencing the world we all live in that inspires us to keep creating innovative "journeys sans frontiers".
This year, Bestway Tours & Safaris turns 40! After four decades, we're taking time to reflect and appreciate the confidence you have put in us in letting us be a part of your travels. We take pride in helping you explore cultures, history and peoples around our world.
With your help, we accomplished much in 2017. One of our favourite projects was the second edition of our World Heritage Tours brochure and we're thrilled with how well it has been received. This 24-page brochure highlighting UNESCO World Heritage Sites in more than 20 countries is just one way we inspired you to see universally important sites across the globe.
Last year, many of you shared your own travel experiences with us. We hosted our first Bestway Traveller of the Month photo contest and the response was overwhelming, both in terms of the number of contestants and the quality of images. Certainly Bestway travellers have a talent for photography!
Below we share some of our favourite photos from the contest. Let your fellow travellers inspire your 2018 adventures! Here are three photo destinations you should consider this year:
Angela MacDonald of Maple Ridge, Canada, won our Traveller of the Month contest with her creative shot of the Taj Mahal from her India as a Maharaja tour!
Gene Ward of Forest Hills, USA, inspired us with his lovely shot of the Sighisoara Clock Tower in Romania from his tour of Bulgaria & Romani.
Kit Bishop of Westbrook, USA, impressed us with an up-close view of a leopard snapped during her Great Migration Safari in Tanzania.
View more of our favourite entries : https://bestway.com/blog/2017/11/bestway-traveller-of-the-month/
Have some awesome photos of your own? Send your favourites to communications@bestway.com, post on our Facebook Page, or tag us on Instagram(@bestway_tours).
Yours in travel,

Posted by Mahmood Poonja, Chief Explorer