Perched between its spectacular Pacific coastline and Andes mountains, Chile offers a bewildering variety of climates and landscapes ranging from the Atacama Desert, the world's most arid, to the rainiest spot on the planet with a Mediterranean landscape in the center, an Alpine district in the mid-south and fjords in the deep south. Chile offers some places that bear no comparison, such as Patagonia, Tierra del Fuego, Antarctica and mysterious Easter Island.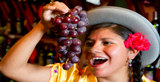 Duration:
22 days

A Cultural tour of Chile, Peru, Argentina, Uruguay & Brazil
This extensive tour will give us a real insight into this vast continent. We start in cosmopolitan Santiago,..
Read More >>>