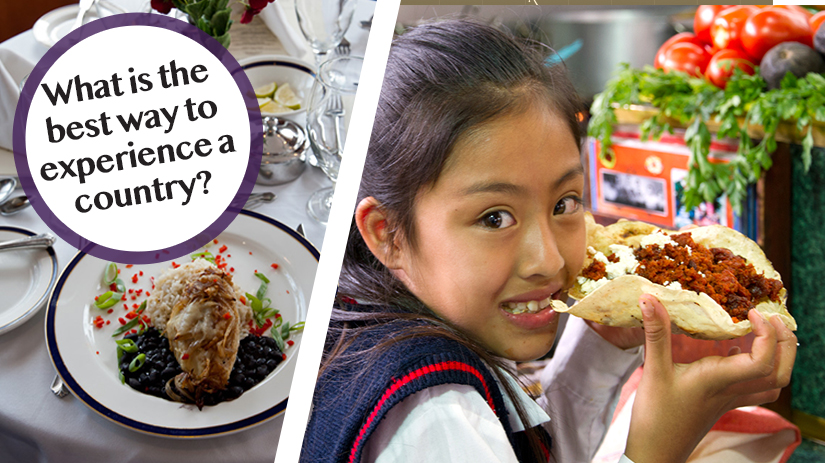 What is the best way to experience a country?
At Bestway, our tours focus on the history, culture, heritage and natural wonders that have shaped a country and its people.
Over our 40 years of creating unforgettable journeys, we have found that one of the deepest and most intimate ways to immerse ourselves in a destination is through food.
Food is the center of rituals and traditions within the home. It is deeply intertwined with everything from the marking of social class to the celebration of festivals and holidays to the expression of culture.
Bestway has captured this delicate mix of culture and cuisine with a unique selection of culinary journeys to foodie destinations around the world. These tours are interactive and intimate every step of the way, combining once-in-a-lifetime cooking and eating experiences with a country's cultural highlights.
Please find a sample of our exciting tours below, with more in the works:
Discover the Culinary of South India with Chef Joe Thottungal
Departing March 09, 2019
Joe Thottungal, Executive Chef at Coconut Lagoon restaurant in Ottawa, Canada, and silver medal winner at the 2017 Canadian Culinary Championships, will be leading his fourth uber-popular small group tour through South India.
The 18-day itinerary not only explores the culture and culinary practices of this tantalizing region, which includes Joe's home state Kerala, but also provides intimate insight into the preparation and traditions surrounding the area's world-famous cuisine. This is a very popular tour with limited space available.
Culinary Journey through Vietnam with Chef Cameron Stauch
Departing November 04, 2018
Embark on an exciting culinary experience with Chef Cameron Stauch, whose cookbook, "Vegetarian Việt Nam", is set for release in March 2018.
Stauch's three years spent in Vietnam provide him with the background needed to lead travellers on a captivating 12-day culinary journey featuring Vietnam's best chefs, most popular street food, most famous markets, hidden gem restaurants and cultural highlights in Ha Noi, Hue, Hoi An, Ho Chi Minh City and more.
For Vancouver residents meet Chef Cameron in person on March 17, 2018. For details please contact us.
A Culinary Journey of India with Chef Siddharth Choudhary
Departing November 11, 2018
For the first time ever, Chef Siddharth Choudhary, the mastermind behind Vancouver's popular Indian restaurant, Siddhartha's Kitchen and recipient of the Best Asian Food in Vancouver award, will be leading an exciting 15-day journey through the cultural and culinary highlights of India.
During this unique tour, he will personally guide a select group of foodies through the different cuisines of Northern India and dive into the preparations, traditions and history that make them so distinct.
For Vancouver residents meet Chef Siddharth in person. For details please contact us.
Not all our food experiences are with a hosted chef. We also do private culinary tours with talented local chefs and cooking sessions in the many different cities we visit. Add another facet to your journey with a unique and rewarding culinary experience.
Yours in travel,

Posted by Mahmood Poonja, Chief Explorer