Day 01: Arrive Hanoi
Today we arrive at Hanoi International Airport, where we are met & transferred to the hotel.  Hanoi is the capital of Vietnam and the country's second largest city by population. From 1010 until 1802, it was the most important political centre of Vietnam. Hanoi still retains the mystery and charm of past centuries. Narrow lanes and traditional shop houses invite an exciting exploration by walking, while its many beautiful public spaces, lakes, parks, tree-lined boulevards and monuments, give the city an air of elegance and harmony with nature unique among Asian capitals.

Overnight: Mercure Hanoi Le Gare Hotel, Hanoi (3 nights)
Day 02: Hanoi
Today we embark on a city tour that include the Temple of Literature, one of the best-preserved examples of traditional Vietnamese architecture featuring a series of walled courtyards and elegant gateways. Founded in 1070, the temple is dedicated to Confucius, and the site of Vietnam's first university. In one courtyard, giant stone tortoises bear stele on their backs, listing the accomplishments of graduating scholars.  Next, we visit the Ho Chi Minh Mausoleum then take a 35 minute ride on an electric car through the city center to view Hoan Kiem Lake, Quan Su Pagoda, Silk Road, Hanoi Railway Station, Hoa Lo Prison and the Hanoi Opera House. Afterwards we enjoy a walking tour of the Old Quarter. Here we see local shops, roadside markets offering fresh herbs, fruits and vegetables, small eateries. Hanoi street food is amazing in its variety of fresh meals and snacks. The owners of the food stalls are always helpful and love to explain how they prepare the dishes. We end our day attending a traditional Water Puppet show, a uniquely Northern Vietnamese art form depicting scenes from rural life and episodes of national legends. (B, L, D)
Day 03: Hanoi
In the early morning we visit one of the local Pho restaurants and observe how one of Vietnam's favorite noodle dishes is prepared and enjoy a traditional breakfast of a steaming bowl of pho noodles accompanied by freshly brewed Vietnamese coffee. We then head to the Hanoi Cooking Centre (HCC), try a cup of La Han, a special Vietnamese tea, followed by an introduction to Vietnamese cuisine and the highlights of traditional meals. We take a short walk to the Chau Long Market to see the wet goods, unusual tropical fruits, livestock and silk worms, and head back to HCC to start our cooking class preparing delicious dishes.  In the evening we take a short drive from our hotel to a busy back alley on Nghi Tam street near the West Lake where we start a fascinating walking tour. We explore the Tay Ho area and experience the street dining culture of the locals; stopping at a grill stall to enjoy nem nuong (pork skewers herbs and salad) with a special local flavor. We follow the vibrant streets around Truc Bach Lake and stop to taste pho cuon (pho rolls) and pho xao (fried noodles). In the winter season, the pho will be replaced by a steaming hot pot. We then stop at another stall to enjoy a coffee or a glass of nuoc mia (sugar cane juice with a hint of kumquat). (B, L, D)
Day 04: Hanoi/HaLong Bay (Drive)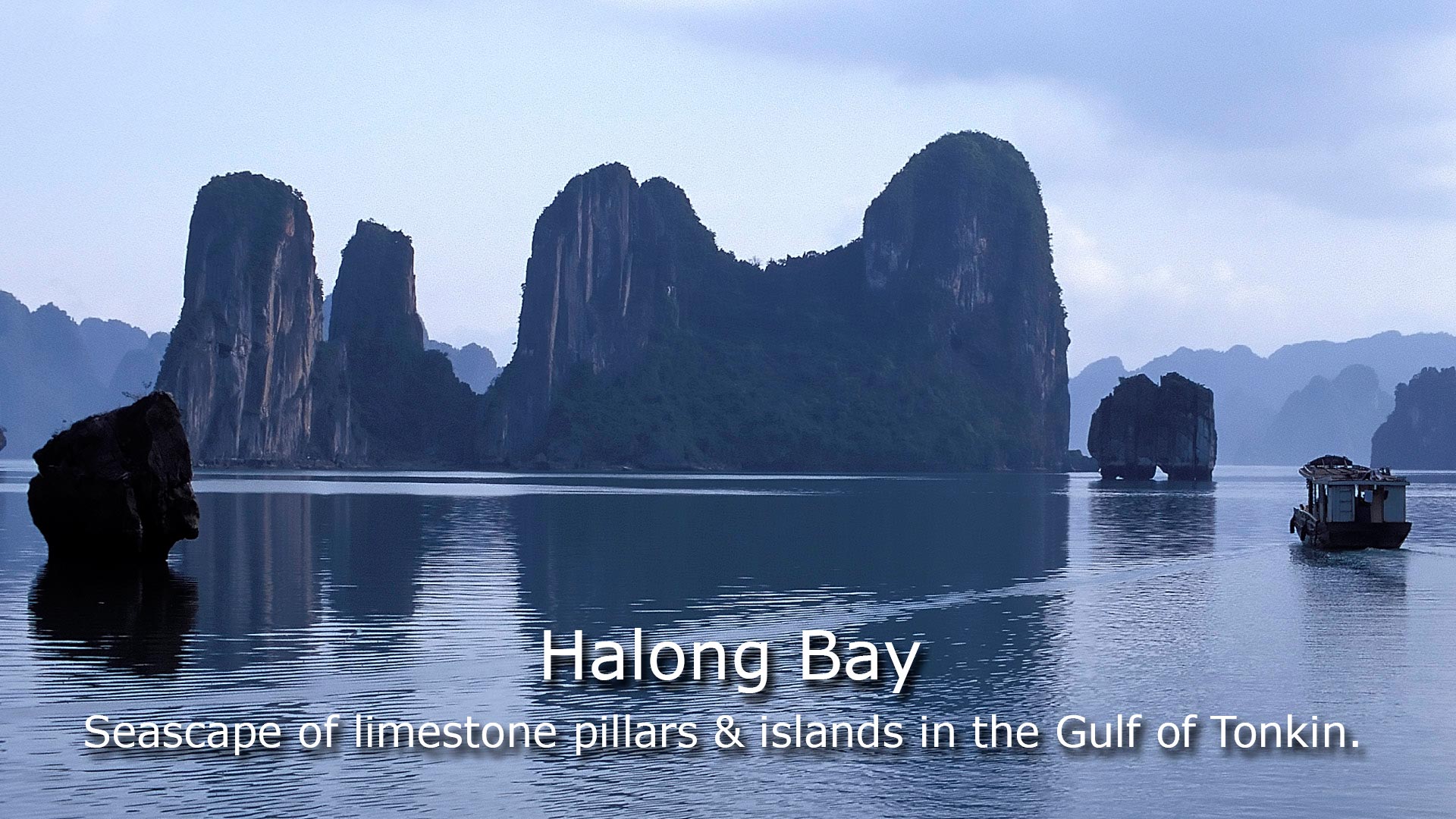 After breakfast, we drive for 3.5 hours to Ha Long Bay*, located in the Gulf of Tonkin. Ha Long Bay features over 1600 islands and islets in a spectacular seascape of limestone pillars and caves which form a majestic natural scenery. Upon arrival at the pier we get a welcome drink before we board our cruise ship. Lunch with fresh sea-food will be served while boat is cruising through many stone islets, floating villages, small beaches. In the evening the chef will prepare a splendid meal comprised of fresh seafood dishes and other traditional dishes.

Overnight: Indochina Sails Cruise (standard cabin), Halong Bay (1 night) (B, L, D)
Day 05: HaLong Bay/Hanoi (Drive)/Danang (Flight)/Hoi An (Drive)
Breakfast is served while our cruise boat sails around Ha Long Bay, passing by many islets named by their shapes such as Dog, Incense Urn, Fighting Cock, Finger, etc. We then explore Surprise Cave, one of the most spectacular caves in the area. The boat then continues cruising towards the wharf. We disembark in the mid-morning and are transferred directly to the airport for our flight to Da Nang. Upon arrival in Danang, we are transferred to our hotel in Hoi An. Hoi An Ancient Town*, is an exceptionally well-preserved example of a Southeast Asian trading port dating from the 15th to the 19th century. Its buildings and its street plan reflect the influences, both indigenous and foreign, which have combined to produce this unique heritage site. The town comprises a well-preserved complex of 1,107 timber frame buildings, with brick or wooden walls, which include architectural monuments, commercial and domestic vernacular structures, notably an open market and a ferry quay, and religious buildings such as pagodas and family cult houses. The houses are tiled, and the wooden components are carved with traditional motifs.  They are arranged side-by-side in tight, unbroken rows along narrow pedestrian streets. The evening is free.
Overnight: Thanh Binh Riverside Hotel, HoiAn (3 nights) (B, D) 
Day 06: Hoi An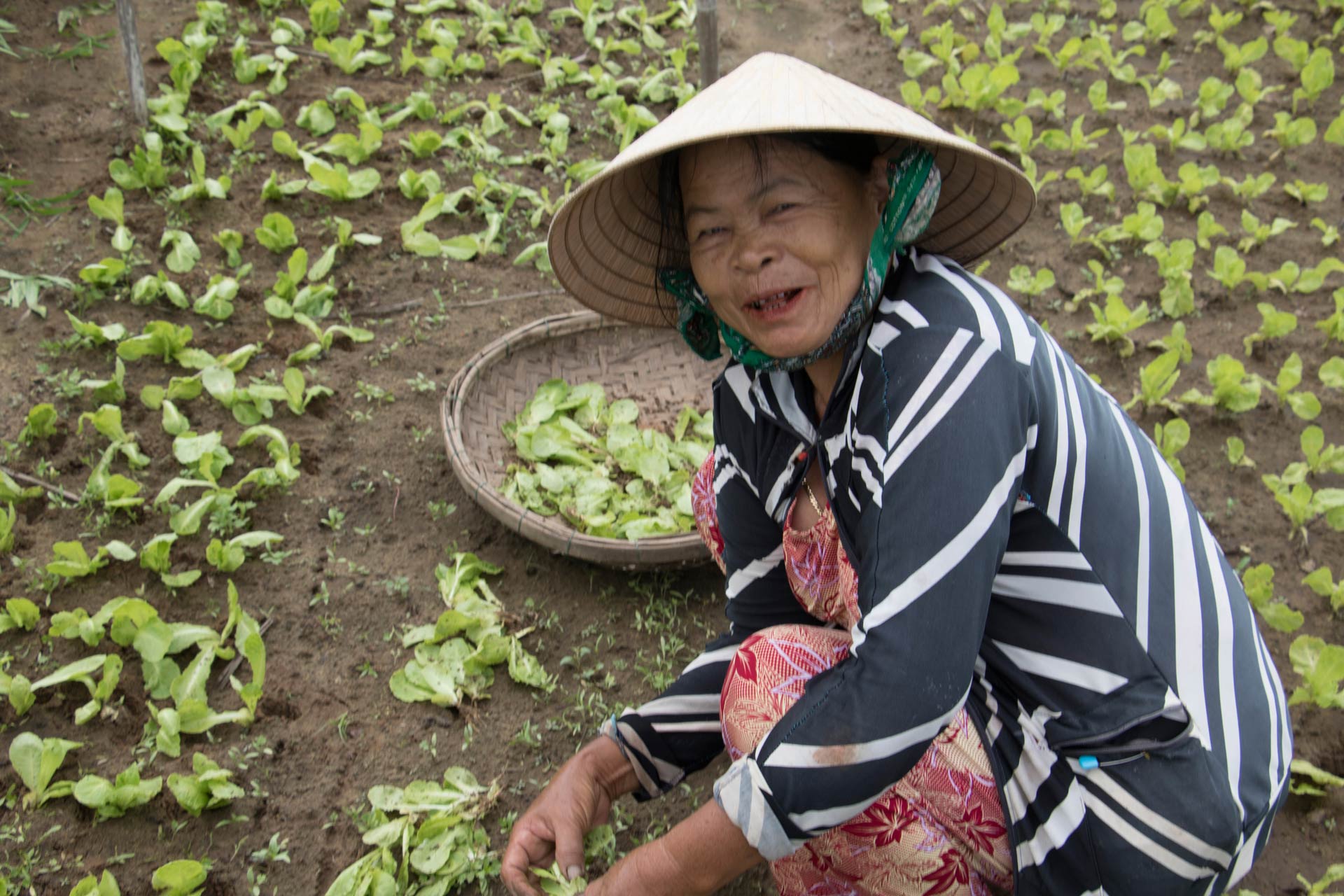 This morning is free at leisure. We suggest visiting the Japanese covered bridge, a Chinese Assembly Hall and a typical Vietnamese merchant's house.  In the afternoon we head to the Secret Garden Restaurant. From here, we visit a local market, accompanied by a local chef, to see what fresh produce is being sold that day and purchase the ingredients for the dishes we are going to prepare later on. Back at the Secret Garden Restaurant, the chef will demonstrate how to cook up some delicious traditional Vietnamese cuisine. After this demonstration, we sit down to savour the freshly prepared delicacies. (B, L) 

Day 07: Hoi An
Today we head to Thanh Dong organic farm by boat. Here, we have a chance to wear the typical outfit of farmers in Vietnam: Ba Ba. A local farmer will give us an introduction to the organic farm and we will learn how to harvest vegetables and experience the daily activities of local farmers. We get to enjoy a bowl of sweet corn soup/dessert accompanied by green tea before moving to The Field Restaurant by boat. Upon arrival we can participate in some traditional folk games, such as pottery smashing or catching fish with our hands, followed by lunch. Afterwards our boat will take us back to the pier and we return to our hotel. Evening is free. (B, L) 
Day 08: Hoi An/Danang (Drive)/Saigon (Flight)/CaiBe (Drive)
This morning we head back to Danang to embark for our short flight to Saigon. Upon arrival we will be transferred to Cai Be River Wharf and board our charming shuttle boat to reach Mekong Lodge, the green pearl of Mekong Delta. The boat transfer is part of the trip experience itself as it will be our first contact with the Mekong's fertile alluvial water, which shapes the richness of the land. We disembark and are welcomed at the Mekong Lodge and check in our private bungalows. The it is time to relax. In the evening, we get some hands-on culinary experience by joining a Vietnamese cooking class. The chefs will instruct us to prepare the Mekong Lodge signature dishes. This will be lot of fun and we get some interesting recipes to take home with us. We then enjoy our dinner in a cozy atmosphere.
Overnight: Mekong Lodge, CaiBe (1 night) (B, L, D)
Day 09: CaiBe/ Ho Chi Minh City (Drive)
We begin our day with a buffet breakfast, followed by a cycling tour to Tan Phong Island to see the wooden ferries and visit a local fruit orchard to taste some freshly picked fruits. Along the way we will also visit handicraft villages and a local market. Afterwards we take a boat trip to visit the bustling Cai Be floating market, a cultural feature of Mekong Delta. Afterwards we are transferred to Cai Be harbor and drive to Ho Chi Minh City. Evening on our own.
Overnight: Novotel Saigon Centre Hotel, Saigon (4 nights) (B, L)
Day 10: Ho Chi Minh City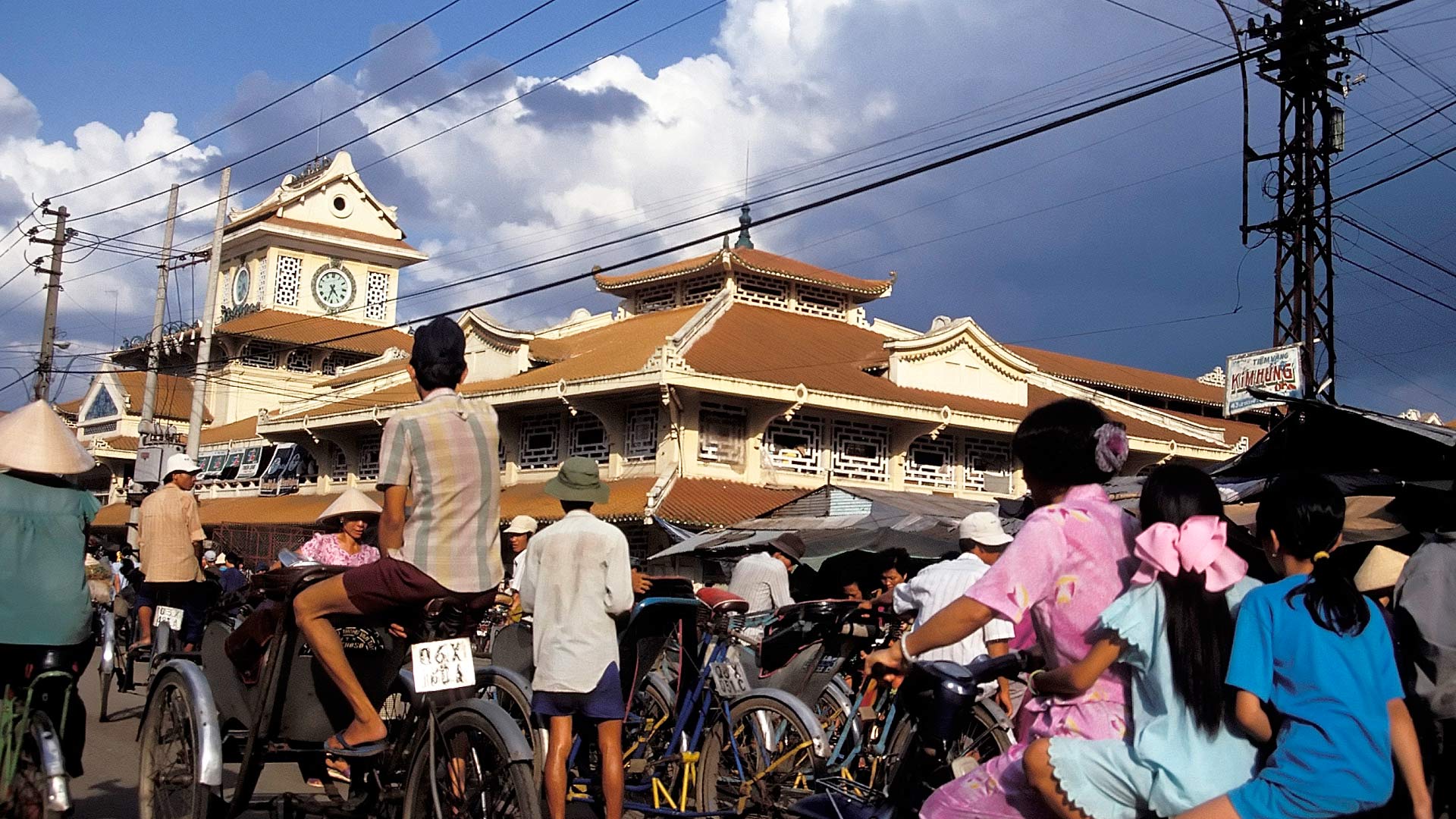 Today we enjoy a full day tour of Ho Chi Minh City, locally known as Saigon. The city teems with energy, activity and motion. Everywhere you look, you see the convergence of traditional and modern life. We begin with a tour of the historic centre, strolling along Dong Khoi Street, formerly known as the Rue Catinat, the main shopping thoroughfare and heart of old colonial Saigon. We pass by classic European-style landmarks, such as the ornate Hotel De Ville (City Hall), the Opera House (both may only be viewed from the outside) and visit the neo-Gothic Notre Dame Cathedral and the Central Post Office. Afterwards we visit the Emperor of Jade Pagoda, one of Saigon's most interesting pagodas. In the afternoon, head out to Cholon, Saigon's Chinatown. Here we explore the highlights of this fascinating area, beginning with a walking tour from Tran Hung Dao Street through Nguyen Trai and Soai Kinh Lam market (cloth wholesale market) and visit Cha Tam Church. We continue to Thien Hau Pagoda, dedicated to the heavenly goddess, built by the Cantonese congregation. Our tour ends at the central Ben Thanh Market, where vendors display a vast array of goods and handicrafts, appealing to every taste. (B, L)
Day 11: Ho Chi Minh City
This morning we will be picked up at the hotel and transferred to the pier for a boat trip to the Cu Chi tunnels, which were a very important Vietcong base during the Vietnam War. Stretching over 200 km, this incredible underground network, dug by hand out of hard laterite, connected command posts, hospitals, shelter and weapon factories. We walk through the area and learn about the day-to-day life of the Vietcong, see the cleverly disguised entrances and elaborate booby-traps, and even venture inside the tunnels, some of which have been modified to accommodate tourists. We enjoy a light lunch and return to Saigon by speedboat. Evening free. (B, L)
Day 12: Ho Chi Minh City
This morning we head to a local restaurant for a cooking class. First, we go to the Ben Thanh Market to buy the necessary ingredients, accompanied by a local chef. We then return to the restaurant to enjoy a hands-on cooking class, consisting of Southern Vietnamese dishes. In the evening, we might join an optional evening tour by Vespa/Scooter after dark for a true taste of the local cuisine. (B, L)

Day 13: Depart Ho Chi Minh City
After experiencing the exotic sights, sounds & tastes of Vietnam, we are transferred to the airport for our departing flight to our onward destination. Please note that check out time from our hotel is 11:00 AM. (B)
B=Breakfast, L=Lunch, D=Dinner