Day 01: Arrive Hyderabad
Arrival. Namaste! We are warmly welcomed the traditional Indian way with hands clapped together at the airport and transferred to our hotel. The remainder of the day is free to relax.

Overnight: Taj Banjara, Hyderabad (2 Nights)
Day 02: Hyderabad
Our full day exploration of the city starts with a visit to the Charminar, Hyderabad's most important landmark, built in 1591. The Charminar is a square structure with each side 20 meters (60 feet) long, with four grand arches each facing a fundamental point that open into four streets. At each corner stands an exquisitely shaped minaret, 56 meters (184 feet) high, with a double balcony. Each minaret is crowned by a bulbous dome with dainty petal-like designs at the base. Unlike the Taj Mahal's, Charminar's four fluted minarets are built into the main structure. There are 149 winding steps to reach the upper floor. The structure is also known for its profusion of stucco decorations and the arrangement of its balustrades and balconies. Next we visit the Mecca Masjid, dating to the Qutb Shahi period. It took 78 years to build. It is the second largest mosque in India and reputedly the seventh largest in the world. Its enormous colonnades are monoliths, carved from single blocks of pink granite. Mecca Masjid can accommodate 10,000 worshippers quite comfortably. We drive by Husain Sagar Lake, a large artificial lake built around 1550, which has an island with a statue of Lord Buddha. Next we visit the Salar Jung Museum, one of the three National Museums of India featuring a vast collection of sculptures, paintings, carvings, textiles, manuscripts, ceramics, metallic artifacts, carpets, clocks, and furniture from all over the world. We then explore the Qutb Shahi tombs, the most extensive and best epigraphically documented Indo-Muslim dynastic necropolis in all of India. In the afternoon we visit Golconda Fort, which was the capital of the medieval sultanate of the Qutb Shahi dynasty (c.1518–1687). An outstanding example of military architecture, featuring a unique water supply and distribution system, as well as sewage disposal mechanisms and an extraordinary acoustic system, unparalleled in the architectural history of the Deccan. Golconda is one of Southern India's largest fortresses and controlled the coveted diamond trade over seven centuries. Golkonda Fort also used to have a vault where once the famous Koh-i-Noor and Hope diamonds were stored along with other diamonds. (B, D)
Day 03: Hyderabad/Bhubaneshwar (Flight)
A short flight gets us to Bhubaneswar, capital of the State of Orissa. The city has been one of the great religious centres of India since early medieval days. With over 600 Hindu temples, masterpieces of Indian architecture and sculpture, Bhubaneswar is often referred to as a Temple City of India. In the afternoon we visit the temples of Rajarani, Mukteshwar, Parasurameswar and Lingaraja.

Overnight: Trident Hotel, Bhubaneshwar (2 Nights) (B, D)
Day 04: Bhubaneswar (Excursion to Puri - Konark)
Today we take a full day excursion to Puri and Konark. Puri is also known as Jagannath Puri after the 11th century Jagannath Temple located in the city. Puri is a holy city of the Hindus as a part of the Char Dham pilgrimages. According to Hindu teachings, a pilgrimage of the temples of India is not considered complete without a journey to Puri. From here we head to Konark to visit the Sun Temple*. On the shores of the Bay of Bengal, the temple at Konark is a monumental representation of the sun god Surya's chariot; its 24 wheels are decorated with symbolic designs and it is led by a team of six horses. Built in the 13th century, it is one of India's most famous Brahman sanctuaries. We return to Bhubaneswar in the evening. (B, D)
Day 05: Bhubaneshwar/Kolkata (Train# 12278 Shatabdi, Dep: 07:05 Hrs, Arr: 13:40 Hrs)
Today we are transferred to the railway station in Bhubaneshwar to take our train to Kolkata. Kolkata, formerly known as Calcutta is a compelling, effervescent city, teeming with life. Under East India Company and later under the British Raj, Kolkata served as the capital of India until 1911. The city has rightly been called as "the city of Joy" by French author Dominique Lapierre because of fun food and festivity.  On arrival in Kolkata, we are transferred to our hotel. Rest of the day is free for relax.

Overnight: Taj Bengal, Kolkata (2 Nights) (B, D)
Day 06: Kolkata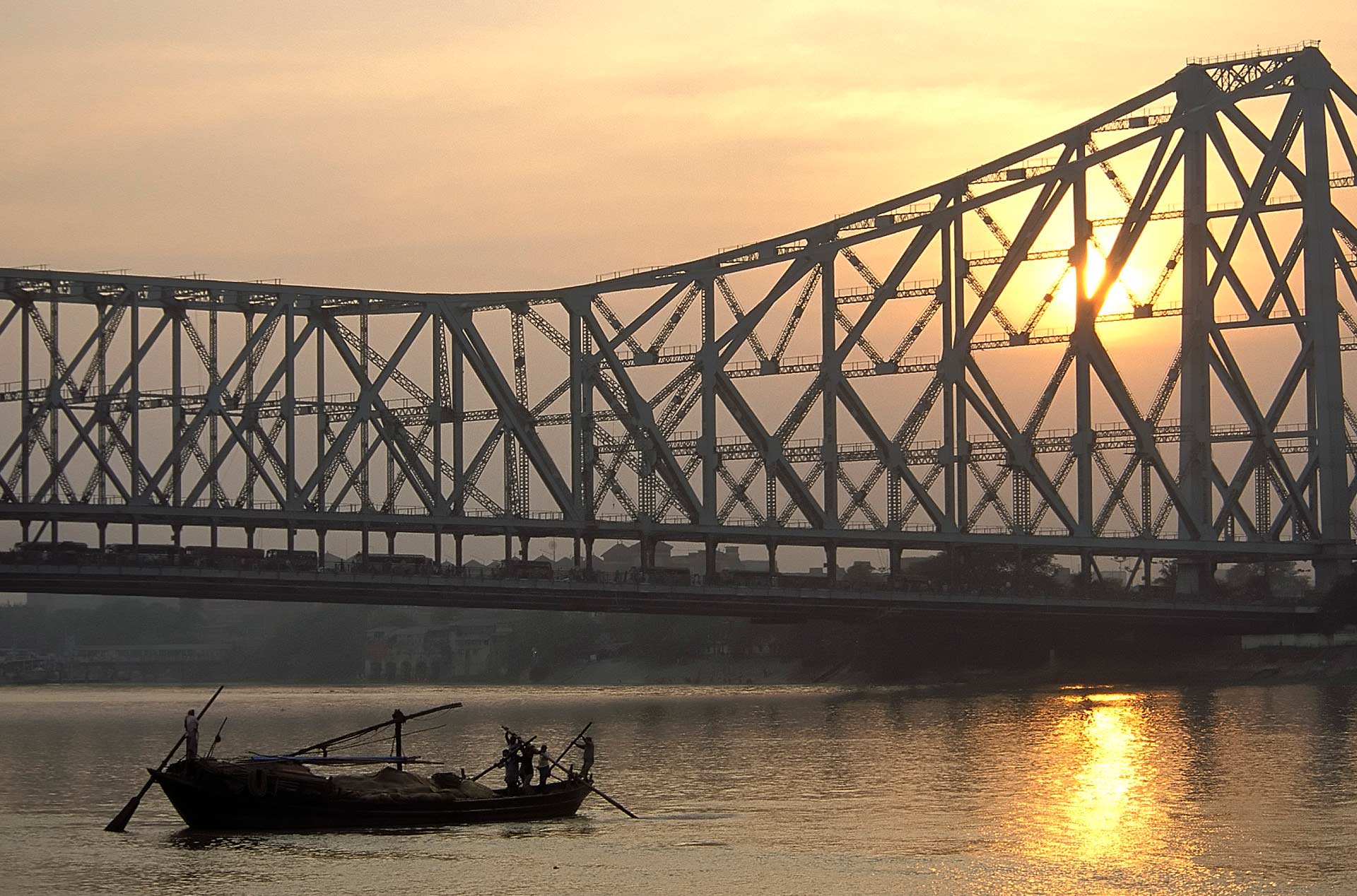 Our day starts with an early morning visit to the famous Malik Ghat flower market beneath the Howarh Bridge. This is the place where the cities floral retailers buy their fresh merchandise. Next we visit Howrah Bridge, iconic symbol of modern Kolkata. We return to our hotel for breakfast. There after we visit Belur Math, the headquarters of Ramkrishna Mission founded by Swami Vivekanand. The temple is notable for its architecture that features Hindu, Christian and Islamic motifs as a symbol of unity of all religions. Next we visit Dakshineswar Kali Temple, is a Hindu temple dedicated to the Hindu Goddess Kali. Our afternoon concentrates on British Calcutta, visiting St. John's Church, St. Paul's Cathedral and the Victoria Memorial, with its formal gardens and water courses, conceived by Lord Curzon to commemorate the British Empire at its peak. In the evening we enjoy a diner featuring typical Bengali cuisine at Oh! Calcutta. (B, D)
Day 07: Kolkata/Guwahati (Flight) /Tezpur (Drive)
A short flight gets us to Guwahati Airport, from where we drive to Tezpur. On the way we visit the Kamakhya Temple, situated atop the Nilachal hill. We also visit a British war cemetery, dating to the Burma Campaign in the Second World War.

Overnight: The Fern, Tezpur (1 Night) (B, L, D)
Day 08: Tezpur/Dirang (Drive)
After breakfast we drive to Dirang. Upon arrival we check in our hotel. After some rest, we visit the town of Dirang, including the, local market, apple and kiwi orchards.

Overnight: Norphel Retreat, Dirang (2 Nights) (B, L, D)
Day 09: Dirang/Tawang (Drive)
In the morning we visit ancient Dirang Dzong and the village featuring traditional houses. Afterwards we drive through Sela Pass, a high-altitude mountain pass with an elevation of 4170 m (13,800 ft.) to Tawang in Arunachal Pradesh. Tawang is very close to the Tibetan border and was historically part of Tibet. It is a major holy site for Tibetan Buddhists, as it was the birthplace of the sixth Dalai Lama and a major center of Mahayana Buddhism. In the evening we take a walk around the town of Tawang.

Overnight: Tashi Gytsel, Tawang (2 Nights) (B, L, D)
Day 10: Tawang
Today we visit the famous 400-year old Tawang Monastery, which is largest monastery in India. The monastery belongs to the Gelugpa School and has a religious association with the Drepung Monastery in Lhasa, Tibet. The monastery is 3 stories high and within the complex there are 65 residential buildings and 10 other structures overlooking the valley of the Tawang-chu which flows down from Tibet. The Tibetan influence can be seen in the painted wooden windows and other motifs. Prayer flags flutter in the breeze outside whilst a high gilded statue of Buddha gives divine benediction in the monastery assembly hall, the Dukhang. We get to interact with the lamas. After having lunch at our lodge we visit a Monpa tribal village. The Monpa are known for their wood carving skills, Thangka painting, carpet making and weaving. (B, L, D)
Day 11: Tawang/Bomdila (Drive)
Today we head to Bomdila, a beautiful small town from we can see the brilliant landscape and the snow-clad mountains of the Himalayan Range. We visit the Buddhist monastery of Bomdila, a craft centre displaying a range of superbly designed dragon carpets, thangka wall hangings, paintings and masks. Most of these are intricately crafted with minute details and varied themes.

Overnight: Tsepal Yongjam, Bomdila (1 Night) (B, L, D)
Day 12: Bomdila/Balipara (Drive)
After breakfast we drive to Balipara. Upon arrival we check in at the Wild Mahseer Tea Bungalow, set in the midst of the Addabarie Tea Estate. The Bungalow is over 100 years old and was originally the Visiting Agent's residence. After renovations and fronted by a massive lawn interspersed with mature trees, dotted with decorative flower beds and wooden benches, it is a perfect refuge for visitors, keen to experience of the old-world British planters' lifestyle. Rest of the day is free for to enjoy the surroundings.

Overnight: Wild Mahseer Tea Bungalow, Balipara (1 Night) (B, L, D)
Day 13: Balipara/Guwahati/Bagdogra (Flight) /Darjeeling (Drive)
After breakfast we drive to Guwahati airport for our flight to Bagdogra. On arrival in Bagdogra, we are driven through lush tea gardens, pine and fir forests to Darjeeling, one of India's most scenic hill towns. Upon arrival we check into our hotel.

Overnight: The Elgin, Darjeeling (2 Nights) (B, D)
Day 14: Darjeeling
Before sunrise, we travel in 4x4 vehicles to Tiger Hill to view the sun rising over the lofty mountain peaks of the Himalayas. On a clear day we can even view Mount Everest and Mount Kangchenjunga. After breakfast we enjoy a ride on the historical Darjeeling Himalayan Railway*. This Toy Train was the first, and is still the most outstanding, example of a hill passenger railway. Opened in 1881, its design applies bold and ingenious engineering solutions to the problem of establishing an effective rail link across a mountainous terrain of great beauty. Afterwards we visit Ghoom Monastery, built in 1875, which houses one of the largest statues of the Maitreya Buddha. Next we visit the Himalayan Zoo, home to Red Pandas, Black Bears, Yaks and Tigers in their natural habitat. We end our day with a visit to the Natural History Museum, which has a fine collection of preserved butterflies, birds, reptiles and insects of the Himalayas. (B, D)
Day 15: Darjeeling/Bagdogra/Depart Kolkata
Today we are transferred to the Bagdogra airport for our flight to Kolkata. After a memorable journey through incredible India, we are transferred to the international terminal for our departure home or to our next exciting destination. (B)
B=Breakfast, L=Lunch, D=Dinner