Day 01: Arrive Delhi
Namaste! Upon arrival in vibrant Delhi, we are warmly welcomed at the airport in the traditional Indian way with hands clapped and transferred to our hotel. The remainder of the day is free to relax or wander through vibrant and bustling Delhi.

Overnight: The Claridges (Heritage), Delhi (2 Nights)
Day 02: Delhi
India's capital is a tantalizing mixture of old and new. We start our exploration by taking a step back in time to Old Delhi's Red Fort Complex*, named for its massive walls of red sandstone. The Red Fort and its sister construction, the 16th-century Salimgarh fort, are considered the zenith of Moghul creativity. After our visit, we embark on a captivating journey by rickshaw, passing through the narrow lanes of the famous Chandni Chowk Bazaar. Constructed by Moghul emperor Shah Jehan in the 17th century, this bazaar remains one of Old Delhi's oldest and busiest markets. We end our rickshaw ride at Jama Masjid, India's largest mosque. After visiting the mosque, we proceed to Raj Ghat, the cremation site of Mahatma Gandhi. In the evening, we enjoy a welcome dinner at a well-known local restaurant. (B, D)

Day 03: Delhi/Agra (Drive)
We see another side of the city today with a visit to New Delhi's Birla House, the former residence of Mahatma Gandhi before he was assassinated by Nathuram Godse in 1948. Next we visit the famous India Gate followed by the Houses of Parliament, Connaught Place and Humayun's Tomb*, built in 1570 as the first garden-tomb on the Indian subcontinent. We continue to the UNESCO World Heritage Site of Qutub Minar and its Monuments*. Built over the course of 300 years, the red sandstone tower of Qutub Minar is 72.5 meters and five stories high. The surrounding archaeological area also includes the magnificent Alai-Darwaza Gate, a masterpiece of Indo-Muslim art. After the tour of New Delhi, we drive to Agra. Upon arrival in Agra, we check in to our hotel.

Overnight: ITC Mughal (5 Star Deluxe), Agra (2 Nights) (B)
Day 04: Agra
We wake up early for a stunning sunrise view of one of the most well-known wonders of the world, the Taj Mahal*. An immense mausoleum of white marble built in Agra between 1631 and 1648 by order of the Moghul emperor Shah Jahan in memory of his beloved wife, the Taj Mahal is the jewel of Muslim art in India and a universally admired masterpiece of world heritage. Situated on the banks of the Yamuna in a vast Moghul garden, this funerary monument combines elements of Persian, Central Asian and Islamic architecture. After our visit to Taj Mahal, we return to our hotel for breakfast.

Next we visit Agra Fort*. This powerful fortress of red sandstone encompasses the spectacular imperial city of the Moghul rulers. Explore fairy-tale palaces, audience halls and two very beautiful mosques. Evening enjoy Mohabbat The Taj Show at Kalakriti, a unique music and dance show performed by renowned stage actors from Mumbai, before returning to our hotel for the evening. (B)

Day 05: Agra/Fatehpur Sikri/Jaipur (Drive)
After breakfast, we drive to Jaipur, visiting Fatehpur Sikri* en route. Built during the second half of the 16th century by the Emperor Akbar, this stunning complex was once capital of the Moghul empire. After just 10 years, its temples, mosques and monuments were abandoned due to lack of water. The remains include one of the largest mosques in India, the Jama Masjid, and the artistically designed mausoleum of the revered Sufi saint, Salim Chisty. Upon arrival in Jaipur, we check into our hotel.

Overnight: Jai Mahal Palace (5 Star), Jaipur (2 Nights) (B)
Day 06: Jaipur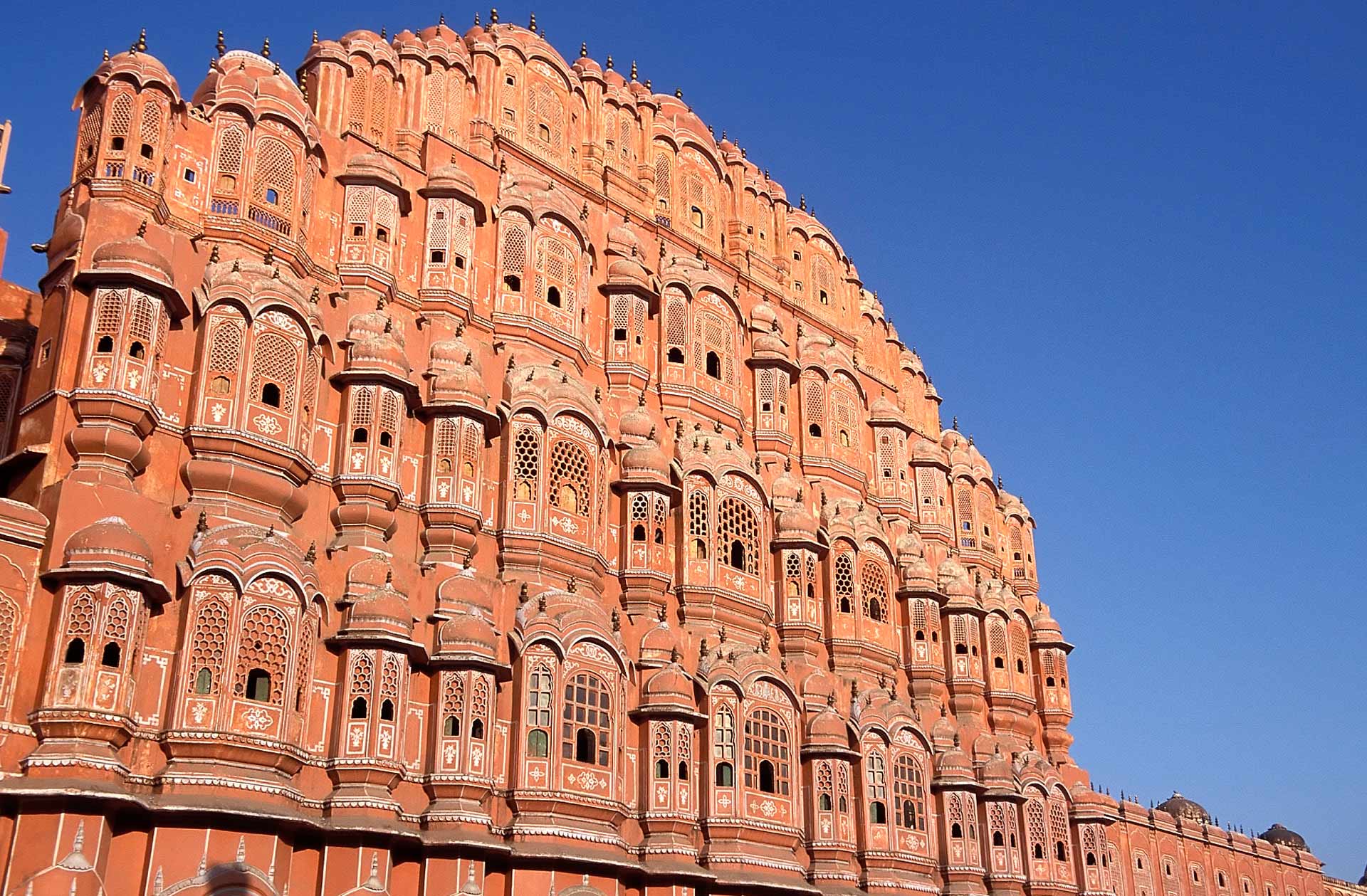 Today we visit one of the most well known and preserved royal forts in India, located in a picturesque valley among the Kalikho Hills. Known as the gem of Jaipur, this imposing fort dating from the late 16th century was never attacked or invaded. Built from a combination of yellow and pink sandstone and white marble, the fort includes distinguished halls, intricate carvings and ornate gardens. Next we return to Jaipur to visit the majestic City Palace, which houses a rare collection of Indian art. We also stop at the stunning Hawa Mahal, or Palace of Winds, where the ladies of the royal harem used to watch the city from behind the intricately carved façade, and the Jantar Mantar*, a historic astronomical observation site boasting instruments used to star-gaze with the naked eye. In the evening, we enjoy dinner followed by a Rajasthani cultural dance show. (B, D)
Day 07: Jaipur/Khimsar (Drive)
Today we drive to Khimsar Fort, a majestic 16th century fort in the midst of a quaint village with a backdrop of rolling sand dunes. The fort was constructed by Rao Karamsji, and the 20th generation of descendants from this royal lineage still reside in the fort today. Upon arrival, we check into our hotel within the fort. In the afternoon, we enjoy a jeep safari to get a snapshot of authentic rural life.

Overnight: ITC WelcomHotel Khimsar Fort, Khimsar (1 night) (B, D)
Day 08: Khimsar/Jaisalmer (Drive)
After breakfast, we drive to Jaisalmer. Also known as the "Golden City" for its yellowish sandstone, Jaisalmer lies in the heart of the Thar Desert. Its crown is a fort that contains a palace and several finely sculptured Jain temples. On arrival, we check in at our hotel. The remainder of the day is free for relaxation.

Overnight: Suryagarh (Boutique Hotel), Jaisalmer (2 nights) (B)

Day 09: Jaisalmer
Today we visit Jaisalmer Fort*, one of the largest forts in the world. Built almost a millennium ago, the fort stands proudly on Thikuta Hill. As the sun sets, its yellow sandstone walls fade to a honey-gold, camouflaging the fort in the surrounding desert. Life within the citadel conjures up images of medieval times as we wander through narrow lanes filled with havelis (mansions), temples, skilled artisans and, of course, camels. We then explore the Jain temple dating to 11th century BC and the Folk Museum. Next we visit Patwon-ki-Haveli, the home of a wealthy merchant belonging to a powerful Oswal Jain community which had over three hundred trading centers from Afghanistan to China. This ornate five-story complex took fifty years to complete and is the largest and most elaborate of Jaisalmer's havelis. We also experience Gadisar Tank, a scenic rainwater lake surrounded by numerous beautiful shrines and a spectacular variety of birds. In the late afternoon, we drive to Sam village in the Thar Desert. Here we ride on camels to the nearby sand dunes and enjoy the beautiful desert sunset. (B)
Day 10: Jaisalmer/Jodhpur (Drive)
After breakfast, we drive to Jodhpur, also known as the Blue City for the blue colours that decorate many of its heritage buildings. Upon arrival, we check in to our hotel. The remainder of the day is free to explore Jodhpur's winding medieval streets.

Overnight: Ajit Bhawan (Heritage), Jodhpur (2 nights) (B)
Day 11: Jodhpur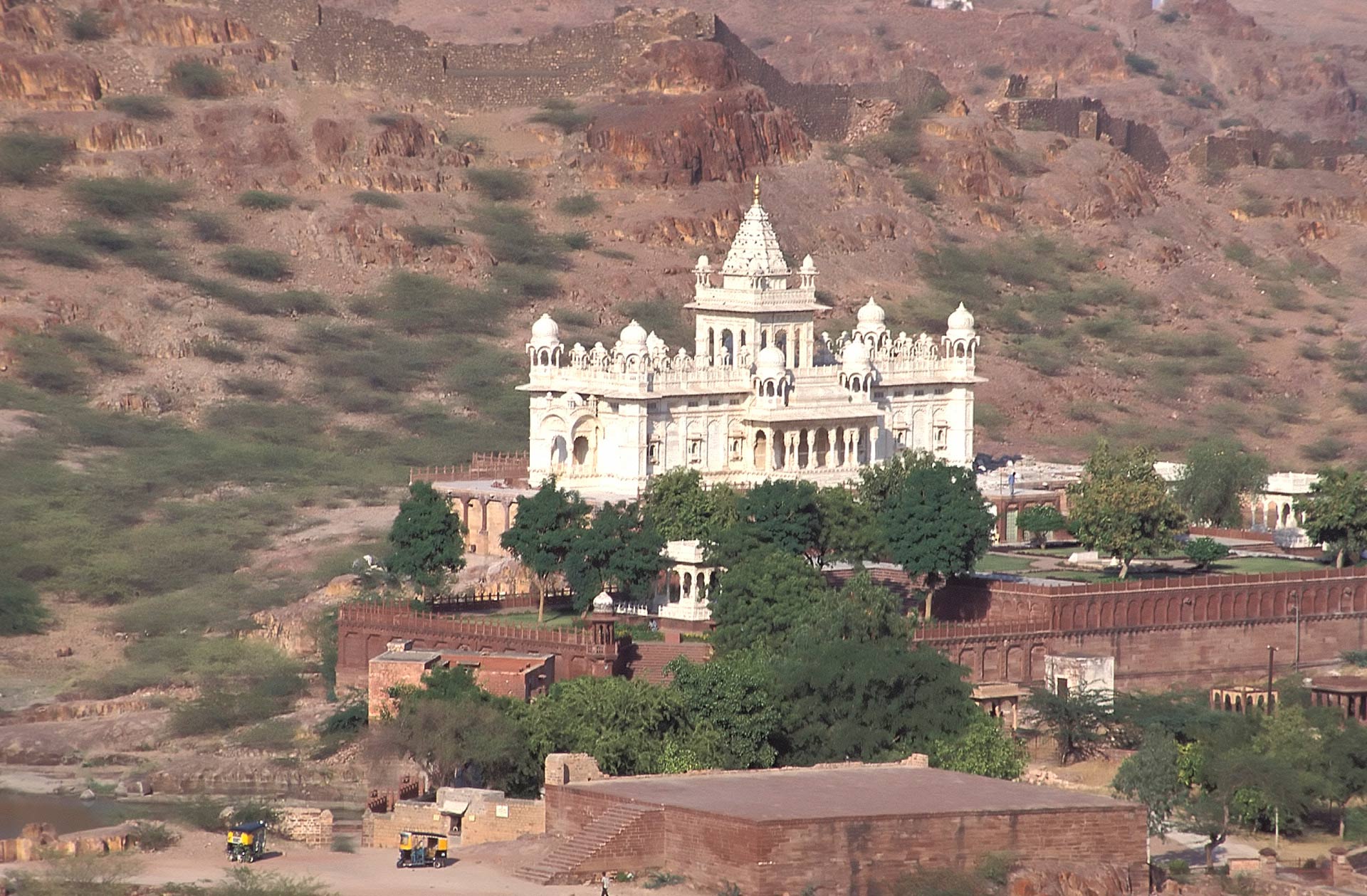 An exciting day ahead as we visit Mehrangarh Fort, one of the largest forts in India. The fort is situated 122 meters above the city and enclosed by imposing thick walls. Inside its boundaries, there are several palaces known for their intricate carvings and expansive courtyards. We enter through the Gate of Victory (Jaipol) and explore the series of courtyards and palaces decorated with beautiful terracotta lattice work. The museum in the fort has one of the best collections of the splendid trappings of Indian royalty, including some amazing elephant's howdahs (essential for glittering processions) and miniature paintings, as well as the inevitable Rajput armory and ephemera, from ivory inlaid ladies dumbbells to camel bone carpet weights. Later we visit Jaswant Thada, a white marble memorial to Maharaja Jaswant Singh II with an array of whimsical domes.
In the afternoon, we explore the clock tower, a popular landmark in the old city near the Sardar Market. Narrow alleys lead from here to bazaars selling vegetables, spices, Indian sweets, textiles, silver and handicrafts. (B)
Day 12: Jodhpur/Udaipur (Drive)
Our journey continues as we drive to Udaipur, visiting the famous Ranakpur temples en route. Constructed in 1439, the Ranakpur Jain Temple includes an enormous basement, four shrines, twenty-four pillared halls and elegant domes. No two of the temples 1,444 columns are alike. In the assembly hall, there are two massive bells weighing 108 kilograms whose sound echoes in the entire complex. From here, we continue to Udaipur. The historic capital of the former kingdom of Mewar, Udaipur is Rajasthan's most romantic city. Misty ochre-shadowed hills and pale, intricate buildings encircle beautiful Lake Pichhola. On arrival, we check in our hotel. The remainder of the day is free.

Overnight: Shiv Niwas Palace (Heritage), Udaipur (2 nights) (B)

Day 13: Udaipur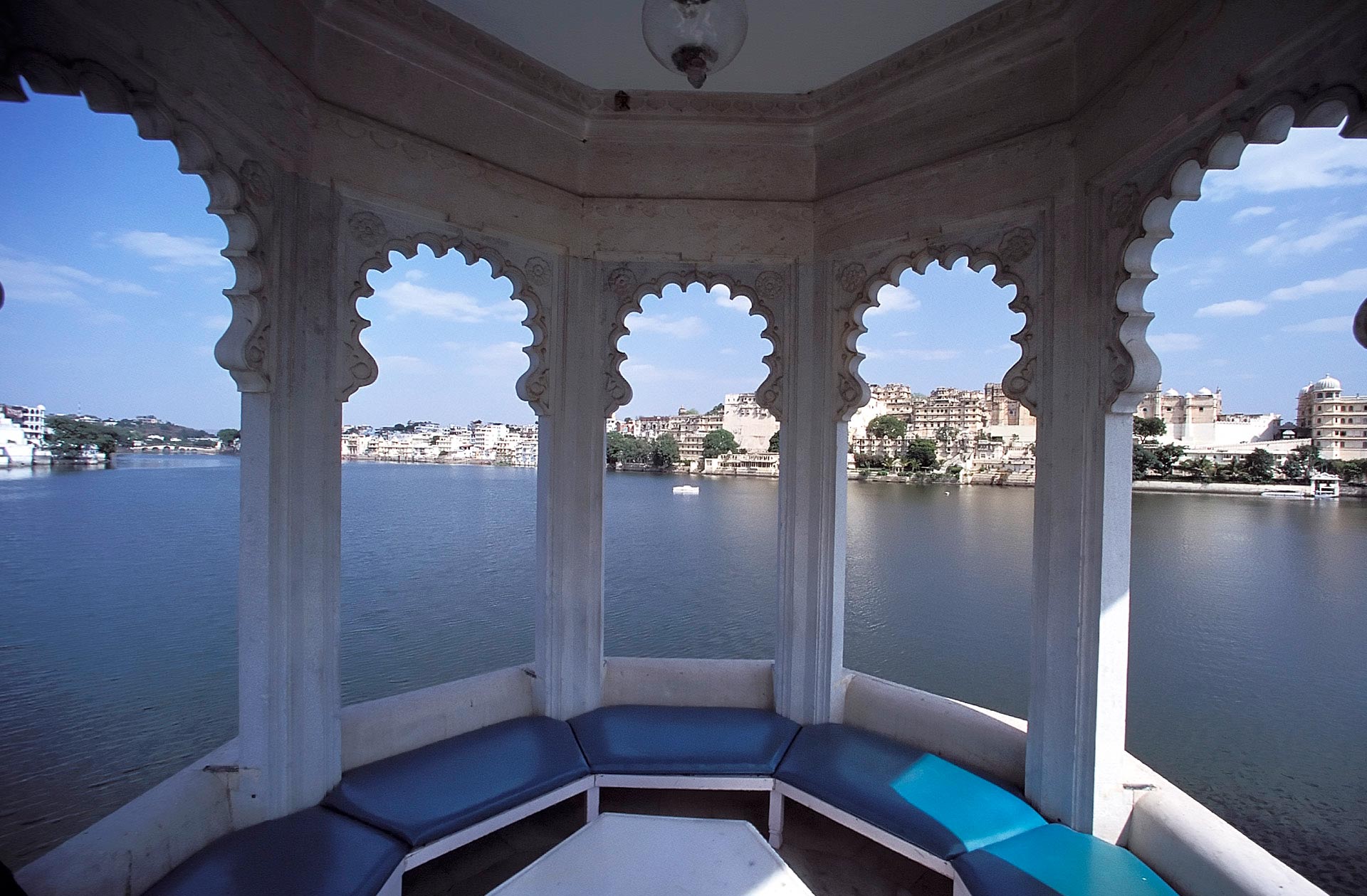 We start our experience of Udaipur with a visit to City Palace. Highlights of this magnificent palace include the Mor Chowk, known for its stunning peacock mosaics, and the Bhim Vilas Palace, with its series of lovely wall paintings. From here, we can see the Lake Palace, shimmering like a jewel in Lake Pichola. Later we visit Jagdish Temple, Fateh Sagar Lake and Saheliyon Ki Bari, the Garden of Maids. We end our tour with a boat ride on Lake Pichola and visit Jag Mandir, a palace built on an island in 1551. The royal family used this magnificent building as a summer resort for holding parties. (B)
Day 14: Udaipur/Mumbai (Flight)
Today we are transferred to the airport for our flight to Mumbai. Upon arrival in Mumbai we are met and brought to our hotel. The remainder of the day is free to enjoy the financial, commercial and entertainment capital of India.

Overnight: The Taj Mahal Palace & Tower (5 Star Deluxe), Mumbai (2 nights) (B)
Day 15: Mumbai
We start our day with a visit to the Gateway of India, Mumbai's most famous monument. Here we embark on our excursion to the Elephanta Caves*, located on an island in the Sea of Oman. The caves contain a collection of rock art linked to the cult of Shiva. Here, Indian art has found one of its most perfect expressions, particularly the huge high reliefs in the main cave. We return to Mumbai by motor launch and explore the Victorian Gothic and Art Deco Ensembles of Mumbai*, visiting the Prince of Wales Museum and Chhatrapati Shivaji Terminus*, formerly known as Victoria Terminus Station, an outstanding example of Victorian Gothic Revival Architecture in India, blended with themes deriving from Indian traditional architecture. The building, designed by the British architect F. W. Stevens, became the symbol of Bombay as the 'Gothic City' and the major international mercantile port of India. Its remarkable stone dome, turrets, pointed arches and eccentric ground plan are close to traditional Indian palace architecture. Our Next Stop is at Mani Bhawan, where Mahatma Gandhi stayed here during the Freedom Struggle. The house is now converted into a Museum. From here we leave for the Jain Temple and Hanging Gardens, the Zoroastrian Towers of Silence, the bustling Crawford Market and drive past Haji Ali, the tomb of a wealthy Muslim merchant. We end our tour at the Dhobi Ghat, the world's largest outdoor laundry. The word Dhobi Ghat is used all over India to refer to any place where many washers are present. (B, D)

Day 16: Depart Mumbai
Today we are transferred to the airport for our flight home. We bid farewell to India after what will have been a memorable journey into history, culture, art and architecture, having made new friends and lots of memories. A great opportunity to extend our journey with additional India holiday tour packages. (B)
B=Breakfast, L=Lunch, D=Dinner