Day 01: Arrive Mumbai
Namaste! We are warmly welcomed at the airport in the traditional Indian way with hands clapped together and transferred to our hotel. The remainder of the day is free to relax or explore Mumbai's chaotic streets and gorgeous colonial-era architecture.

Overnight: ITC Grand Central - A Starwood Luxury Collection, Mumbai (2 Nights)
Day 02: Mumbai
We start our day with a visit to the Gateway of India, Mumbai's most famous monument. Here we embark on our excursion to the Elephanta Caves*, located on an island in the Sea of Oman. The caves contain a collection of rock art linked to the cult of Shiva. Here, Indian art has found one of its most perfect expressions, particularly the huge high reliefs in the main cave. We return to Mumbai by motor launch and explore the Victorian Gothic and Art Deco Ensembles of Mumbai*, visiting the Prince of Wales Museum and Chhatrapati Shivaji Terminus*, formerly known as Victoria Terminus Station, an outstanding example of Victorian Gothic Revival Architecture in India, blended with themes deriving from Indian traditional architecture. The building, designed by the British architect F. W. Stevens, became the symbol of Bombay as the 'Gothic City' and the major international mercantile port of India. Its remarkable stone dome, turrets, pointed arches and eccentric ground plan are close to traditional Indian palace architecture. Our Next Stop is at Mani Bhawan, where Mahatma Gandhi stayed here during the Freedom Struggle. The house is now converted into a Museum. From here we leave for the Jain Temple and Hanging Gardens, the Zoroastrian Towers of Silence, the bustling Crawford Market and drive past Haji Ali, the tomb of a wealthy Muslim merchant. We end our tour at the Dhobi Ghat, the world's largest outdoor laundry. The word Dhobi Ghat is used all over India to refer to any place where many washers are present. (B)
Day 03: Mumbai/Goa (Flight)
Today we are transferred to airport for our flight to Goa, a state in western India with a famous coastline stretching along the Arabian Sea. Its long history as a Portuguese colony prior to 1961 is evident in its whitewashed 16th-century churches and fragrant spice plantations. Goa is also known for its sandy beaches, ranging from popular stretches at Baga and Palolem to laid-back fishing villages such as Agonda. On arrival in Goa, we are met by our local host and transferred to our hotel. The rest of the day is free to relax along a sandy stretch of sea shore.

Overnight: Cidade De Goa Beach Resort, Goa (2 nights) (B)
Day 04: Goa
Today we visit the Churches and Convents of Goa*, the former capital of the Portuguese Indies. As a World Heritage Site, these religious buildings illustrate how Christianity spread in Asia. We visit the Basilica of Bom Jesus, built in the 16th century, where the mortal remains of St. Francis Xavier are enshrined, and the Se Cathedral, which is the most imposing church in Old Goa. Its vaulted interior overwhelms visitors with its sheer grandeur, and the cathedral's five bells are some of the biggest in Goa. From here we are driven to a spice farm, where we are welcomed with fresh tender coconut water or lemon grass tea and some snacks. A guide will take us around the spice farm, where cardamom, vanilla, cinnamon, nutmeg, herbs, fruits, areca nut, betel and medicinal plants grow. Lots of butterflies and many species of birds are found here. A big attraction at farm is its elephants, who can provide us with an elephant ride (optional) or even the opportunity to bathe them. The tour ends with a delicious buffet lunch of local Goan cuisine and vegetable curries made with whole spices from the plantation. Afterward, we return to our hotel. (B, L)
Day 05: Goa/Badami (Drive)
Next up on our journey is a drive to Badami, known for its Wild West-like scenery. This regal city was the capital of the Badami Chalukyas from 540 to 757 A.D. After checking in to our hotel, we visit Badami's magnificent cave-temples.

Overnight: Badami Court, Badami (1 night) (B)
Day 06: Badami/Aihole/Patadakal/Hampi (Drive)
After breakfast we drive to Hampi en-route visiting Aihole & Pattadakal. Aihole is the cradle of ancient stone temple architecture of the southern Dravida School. We visit the Durga temple, noted for its sculptures and the Meguti temple, built of 630 small stone blocks. At the riverside village of Pattakadal, 20 Kms from Badami, lie some of the most interesting temples which have been recognized as World heritage site. Pattadakal was the second capital of the Chalukyan Empire after Badami. More than that, it was also the ceremonial center where kings were crowned and commemorated. It was never part of any town or village though it was on the banks of the Malaprabha River. Pattadakal was the dynastic cultural center of the Badami Chalukyas. The earliest temples of Pattadakal are from the 4th century AD and the addition of new temples continued there for around four more centuries. The latest architecture is a Jain temple of the Rashtrakuta period (9th century). The temples of Pattadakal display the blending of the Rekha Nagara Prasada and the Dravida Vimana styles of architecture.

Overnight: Heritage Resort Hampi (2 nights) (B)
Day 07: Hampi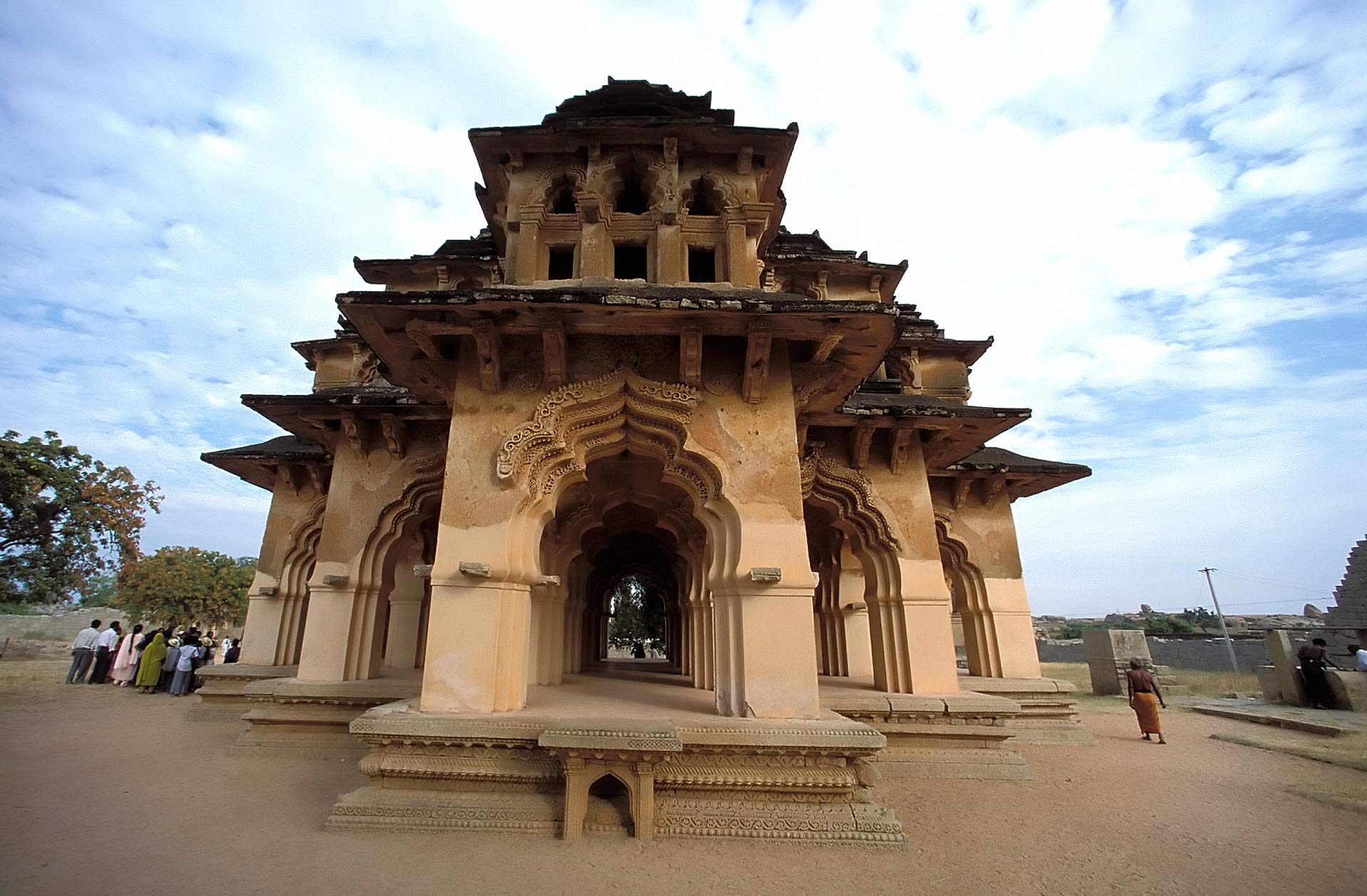 Today we visit Hampi - the magnificent city of ruins. A World Heritage Centre, Hampi is the most beautiful and evocative of all the ruins in Karnataka. This erstwhile capital of the Vijaynagar Empire boasts some exquisite examples of temple architecture of that period. The Vittala Temple, here is noted for its sculpted stone chariot and carved pillars that produce musical notes when struck. The Virupaksha Temple rises majestically and is the only temple at Hampi that is still used for worship. The Hazararama Temple, ornate with intricate carvings depicts scenes from the Ramayana. The other places of interest are Lotus Mahal: shaped like a lotus flower from above. Elephant Stables is a huge stable and a beautiful example of Hindu-Muslim style of architecture, housing 11 elephants in separate compartments. Pushkarini Tank, Mahanavami Dibba, and Mustard Ganesh: This is a 9 feet tall single stone statue, which is also known as Sasivikalu Ganesh. Noblemen's Palace: This place was recently discovered, and they suspect this was for aristocrats and high-ranking officials. (B)
Day 08: Hampi/Hassan (Drive)
After breakfast we drive to Hassan. On arrival we check in our hotel. Later we take tour of Hassan visiting the exquisite temples of Belur and Halebid. The main structure of the temple in Belur, which is star-shaped, is a homogenous architectural unit on a raised platform. Inside, even in the darkness, you can see the shining pillars, each unique in its own splendour. Halebid was known as Dwara Samudra, the wealthy capital of the Hoysala Empire during the 12th & 13th centuries, reflected in the strikingly beautiful Hoysala temples.

Overnight: Hoysala Village, Hassan (1 night) (B)
Day 09: Hassan/Mysore (Drive)
Following breakfast, we drive to Mysore, checking into our hotel on arrival. Mysore is famous for its glitzy royal heritage. In the evening, we sample some of this heritage with a visit to the Brindavan Gardens. Spread over 150 acres, these gardens are known as some of the most beautiful in India and have been the backdrop for many Bollywood films. At night, their dancing fountains light up in a fantastic display.

Overnight: Hotel Regaalis, Mysore (2 nights) (B)
Day 10: Mysore
Mysore never fails to mesmerize with its rich heritage, magnificent palaces, beautiful gardens, impressive buildings, broad shady avenues and sacred temples. On our city tour today, we visit the Maharajah's Palace, Shri Chamundeswari Temple, the Nadi Shiva's Mount and Srirangpatanam, the island fortress that was once the capital of the warrior-kings Hyder Ali and Tipu Sultan, the Tiger of Mysore. (B)
Day 11: Mysore/Bangalore (Drive)
After breakfast, we drive to Bangalore, checking in to our hotel upon arrival. Later we visit the imposing granite Vidhana Soudha, which houses the legislature of the state government, Cubbon Park's 3000 acres of verdant tranquility, Tipu Sultan's Palace, one of the most remarkable Islamic buildings in the city, and Lal Bagh Garden, India's most beautiful botanical gardens, which features rare trees brought from as far away as Persia, Afghanistan and France. Bangalore is famous for its shopping scene, and the evening is free to peruse the many street stalls and stores.

Overnight: Hyatt Bangalore M.G. Road, Bangalore (1 night) (B)
Day 12: Bangalore/Chennai (Train)
Early morning, we are transferred to the railway station to take the Shatabdi Express train to Chennai, enjoying air conditioning and complimentary meals on board. Upon arrival, we are transferred to our hotel. Afternoon we take city tour of Chennai, visiting the National Art Gallery & Museum, which contains some of the best collections of bronzes in the country, including the famous icon of Natraja. We continue to India's oldest surviving British church, St. Mary's Church, built in 1680. Topping off our tour is a visit to People's Park, the beautiful Marina Beach and the clock towers.

Overnight: Hyatt Regency, Chennai (2 nights) (B)
Day 13: Chennai
An exciting day ahead as we enjoy an excursion to Mahabalipuram*. Carved out of the coast in the 7th and 8th centuries, this group of ancient archaeological wonders is a UNESCO World Heritage Site. It is known for its stunning rathas, temples in the form of chariots, and mandapas, intricately decorated cave sanctuaries. A highlight is Rivage temple, which contains thousands of sculptures celebrating Shiva.  After the tour, we return back to our hotel. (B)
Day 14: Depart Chennai
Today we are transferred to the international airport for our departure flight. We bid farewell to India after what will have been a memorable journey into history, culture, art and architecture. Also a great opportunity here to take India holiday tour packages to other areas of this vast and culturally diverse country. (B)
B=Breakfast, L=Lunch, D=Dinner