Day 01: Arrive Casablanca
Merhaba!  We arrive at the Mohamed V Airport in Casablanca and are warmly welcomed. This journey will provide us with a romantic experience of Morocco's people, scenery, history, cuisine and architecture. We are then transferred to the city for a brief introductory tour that includes the old French quarter of Habous and the Hassan II Grand Mosque.  Set on an outcrop jutting over the ocean, with a 210-metre-tall minaret that serves as the city's major landmark, the mosque is a showcase of the very best in Moroccan artisanship. Hand-carved stone and wood, intricate marble flooring and inlay, gilded cedar ceilings and exquisite Zellige (geometric mosaic tile-work) abound (outside viewing only - Inside tour available at an extra cost). Continue to our hotel for a Moroccan welcome dinner and overnight.

Overnight: Odyssee Centre Hotel, Casablanca (1 night) (D)

Day 02: Casablanca/Rabat/Fez (Drive)
Our romantic journey through Morocco continues when, after breakfast, we depart for the capital city of Rabat*. Here, we explore the city with a tour highlighting Rabat's cultural influences and the superbly preserved relics of its Moorish past. We will see Rabat's most famous site, the Hassan Tower, followed by the mausoleum dedicated to Mohamed V, the grandfather of the current king. Morocco has been a kingdom since the 17th century, with some intervals in between. We then visit the beautiful Oudaya Kasbah, a citadel built on a cliff overlooking the Atlantic Ocean. Its gate is one of the most beautiful ones surviving in the Moorish world. We will also explore a delightful Moroccan garden with melodious fountains and sweet-smelling orange trees before we drive to Fez, where we overnight at the elegant L'Escale Hotel for a three-night stay. L'Escale is a centrally located 64-room hotel constructed in 2017.

Overnight: L'Escale Hotel, Fez (3 nights) (B, D)
Day 03: Fez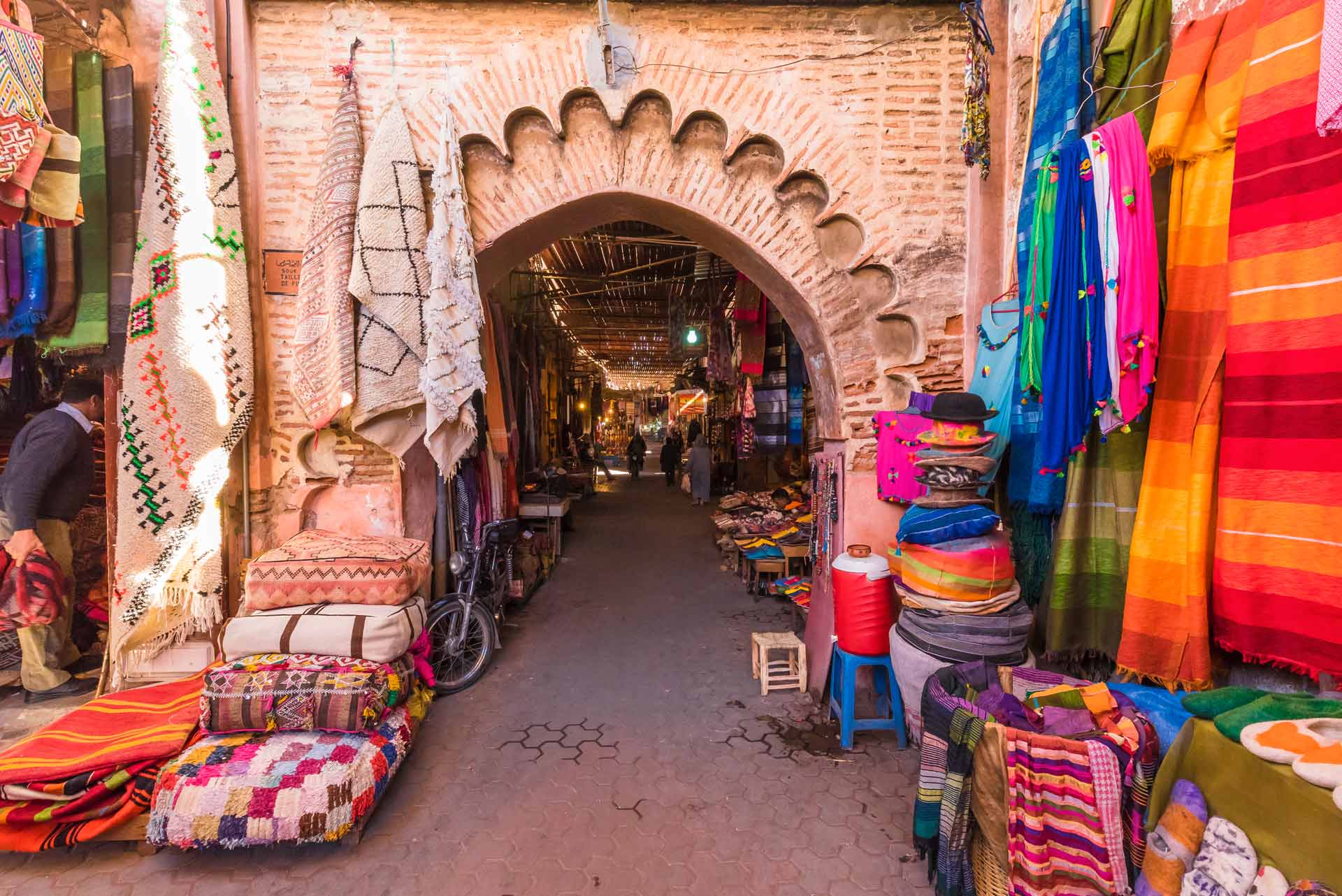 Today, take a step back in time to the Middle Ages as we visit one of the most imperial, timeless and untouched cities in the world—Fez El Bali (Old Fez), the cultural heart of Morocco. We explore some of the 9000 narrow lanes, alleys and souks (open air markets) that make up the labyrinth of the city's old quarter, originally founded in the 8th century. The imperial capital was a renowned center of medieval learning and, at its heart, we can still find the Karaouine, one of the oldest continuously operating universities in the world. In the neighboring building is the Attarine Medersa (Quranic college), a jewel of Hispano-Moorish architecture built in the 14th century. Our day of sightseeing also includes visits to Nejjarine Square, with its beautiful fountain boasting elaborate tile-work mosaics. The nearby Fondouq (Caravanserai) has been converted to a museum of carpentry artifacts. We also visit Fez El Jedid (New Fez), built by the Merinides dynasty in the 13th century. Here, we see the Royal Palace, mosques, madrasas (Quranic schools), souks and the city wall. Most notably, Fez El Jedid is home to the Mellah (Jewish quarter), which provides an interesting insight into Jewish architecture. The wrought iron decorated windows and splendid carved wood balconies of the old mansions are particularly outstanding. The medieval Medina* is a UNESCO World Heritage Site.  A taste of Fez food awaits us at our hotel. (B, D)
Day 04: Fez/Volubilis/Meknes/Fez (Drive)
We journey overland to explore the Roman ruins of Volubilis*, a UNESCO World Heritage Site that is home to some of the best-preserved Roman structures in North Africa. With its triumphal arches, basilicas and capitals, the Volubilis skyline brims with iconic examples of Roman architecture. Among its greatest treasures, however, are the amazing mosaic floors of former family dwellings, which include depictions of Orpheus charming animals with his lyre, nine dolphins signifying good luck, and a portrait of Amphitrite in a seahorse-drawn chariot. Continue to Meknes*, a UNESCO World Heritage Site and one of the imperial cities of Morocco. Meknes is replete with fantastic historical sites, from minarets, to museums, to enormous mosaic doors and royal golf courses. Among the most popular attractions are the Mausoleum of Moulay Ismail, the Nejjardine Mosque and Grand Mosque (outside visit), and the Bab Mansour, Bab Lakmis and Bab Berdaine. Bab literally means "gate" and Fez is very well known for its beautiful doors. Afterwards, we have time for shopping in the labyrinthine bazaars that Fez is so famous for. (B, D)

Day 05: Fez/Ifrane/Beni Mellal/Marrakesh (Drive)
Today, we experience some of the wild landscapes beyond Fez, driving to the high alpine region of Ifrane National Park. Our drive includes beautiful Azrou and several other Berber villages, where the locals still live and work like their ancestors did. We meet the local Berbers engrossed in their daily routine. In the Middle Atlas Mountains, Ifrane is filled with cedar and oak forests, including the largest cedar forest on earth. It's home to the world's largest population of Barbary macaques, as well as hundreds of other animals and birds. The city of Ifrane itself feels more like Switzerland relocated in North Africa, with its clean air, scrubbed streets and beautiful location. The French built this city in 1930, deliberately trying to recreate an alpine-style resort. The Lion of Ifrane sitting in the city centre is one of the most photographed sites of the region. Continue to Marrakesh via the highway. Stop for lunch in Rabat (lunch at your own expense) before arriving in Marrakesh for dinner and a three-night stay at our boutique hotel and spa overlooking the Oukaimeden Mountains.

Overnight: Le Kech Boutique Hotel & Spa, Marrakesh (3 nights) (B, D)
Day 06: Marrakesh
An exciting day ahead as we enjoy a tour of the "Red City" of Marrakesh*. This imperial city is Morocco's most popular tourist destination. Since the 11th century when it was built, Marrakesh has been a political and cultural powerhouse, serving as the capital for three of Morocco's greatest dynasties. Until French rule, "Marrakesh" was even used interchangeably to refer to both the country and city. Look out of any window in Marrakesh and we will find a postcard view: clay-red houses far and wide, palm trees sprouting everywhere, gardens bursting out of courtyards, and the High Atlas Mountains as a soothing purple backdrop. It's no wonder French fashion legend Yves Saint-Laurent found so much inspiration here. In recent years, Marrakesh has created an international airport, a world-class soccer stadium, and an annual film festival, adding a modern flare to its natural and historical offerings. On our tour today, we marvel first at its architectural jewels, including the soaring Koutoubia minaret and the Bahia Palace, an exemplary specimen of privileged life in the 19th century.  Our next stop is the Tiskiwin Museum (Maison Tiskiwin), which houses an impressive collection of North African arts and crafts. It was founded by a Dutch anthropologist, and exhibits artifacts from different towns and regions along the ancient trade route from Marrakesh to Timbuktu. Later, we visit Djemaa el-Fna, Marrakesh's main square, which is filled with orange juice stalls and vendors, along with fire-eaters, mime artists, snake-charmers and street musicians performing at every turn.  We will also have the opportunity to explore the city's fabled, labyrinthine souks, their bustling alleyways brimming with all manner of wares. Following our visit, we return to our hotel with the balance of the day at leisure. This will be a perfect opportunity to freshen up and get ready for a dinner at a local restaurant. (B, D)

Day 07: Marrakesh
Day free to explore vibrant Marrakesh and its many attractions, including the more than 10 specialized museums, colourful souqs and snake charmers. Alternatively, join in for an optional full-day farm retreat with a cooking class, a traditional hammam and massage, or an excursion to visit a Berber family in Imlil Valley with lunch (all optional and at additional cost). (B, D)
Day 08: Marrakesh/Depart Casablanca (Drive)
After an incredible exploration of Morocco, we are transferred to the airport in either Marrakesh or Casablanca for our departure flight.  Flights departing from Casablanca should be booked for 14:00 hrs or later. (B)

B=Breakfast, L=Lunch, D=Dinner