A CULINARY JOURNEY OF NORTHERN INDIA
Cultural tour of India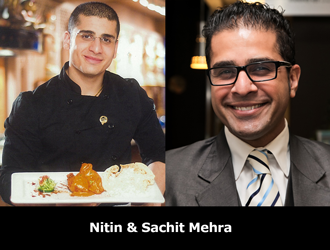 In 30 years with three restaurants  – two in Ottawa and one in Winnipeg, the East India Company are synonym to tasty indigenous Indian cuisine in Canada. Created by the patriarch, the restaurant chain is managed by a team of three passionate brothers – Sachit, Anish and Mitin. The Mehra brothers are dynamic, talented and have a family trait of charismatic. What gets them going is their love for food, sensitive taste buds and a natural demand for nothing but the best.

Sachit Mehra, at the young age of 19 was the recipient of the "Young Entrepreneur of the Year" award from the Asia Pacific Foundation. Focused on customer service and customer loyalty, he is at the heart of the restaurants growing patronage.

Anish Mehra is a graduate of the Restaurant and Hotel Management program from the University of Guelph. He has received numerous awards and scholarships in this field.

Nitin Mehra graduated as a chef from Algonquin Culinary as well as Le Cordon Blue. He spent five years traveling between Winnipeg, Ottawa and Montreal improving his skills as an Indian Chef. He is a trained Sommelier, which enables him to match the delicate flavours of Indian cuisine with the right wines and liquors.

The restaurants have received 5* ratings from several food critiques including the Winnipeg Free Press, the Ottawa Herald as well as being recognized as one of the best in Canada by Ann Hardy, Where to eat in Canada.


The Mehra brothers have developed this tour for their own journey of going back to India. At the requests of many of their friends they are inviting a small group of friends who are interested in India and in love with Indian food and culture. In short, it is for those who to want to have this unique opportunity to experience India with the Mehra brothers as your local hosts.
UNESCO World Heritage Sites covered in this tour
1.
Humayun's Tomb, Delhi
2.
Qutb Minar and its Monuments, Delhi
3.
Fatehpur Sikri
4.
The Jantar Mantar, Jaipur
5.
Agra Fort
6.
Taj Mahal, Agra