Day 01: September 15, 2023: Arrive Trivandrum

Namaste! We are welcomed the traditional Indian way with palms held together. After immigration and custom formalities, we are met and driven to Kovalam. After checking into our hotel, and before dinner, Paul Saltzman will welcome you on this unique journey at the Sky Bar at our hotel. As an added treat, one lucky person will win a draw for Paul's Special Limited-Edition "The Beatles In India" box set (value $325).
Note: Trivandrum is a well-connected airport. It is recommended that you try and make it for arrival around check-in time (2PM) as we have activities later in the day that you will not want to miss.

Overnight: The Leela Kovalam (2 Nights) (D)

Activities:
1. Welcome drink with Paul and book draw
Day 02: September 16, 2023: Kovalam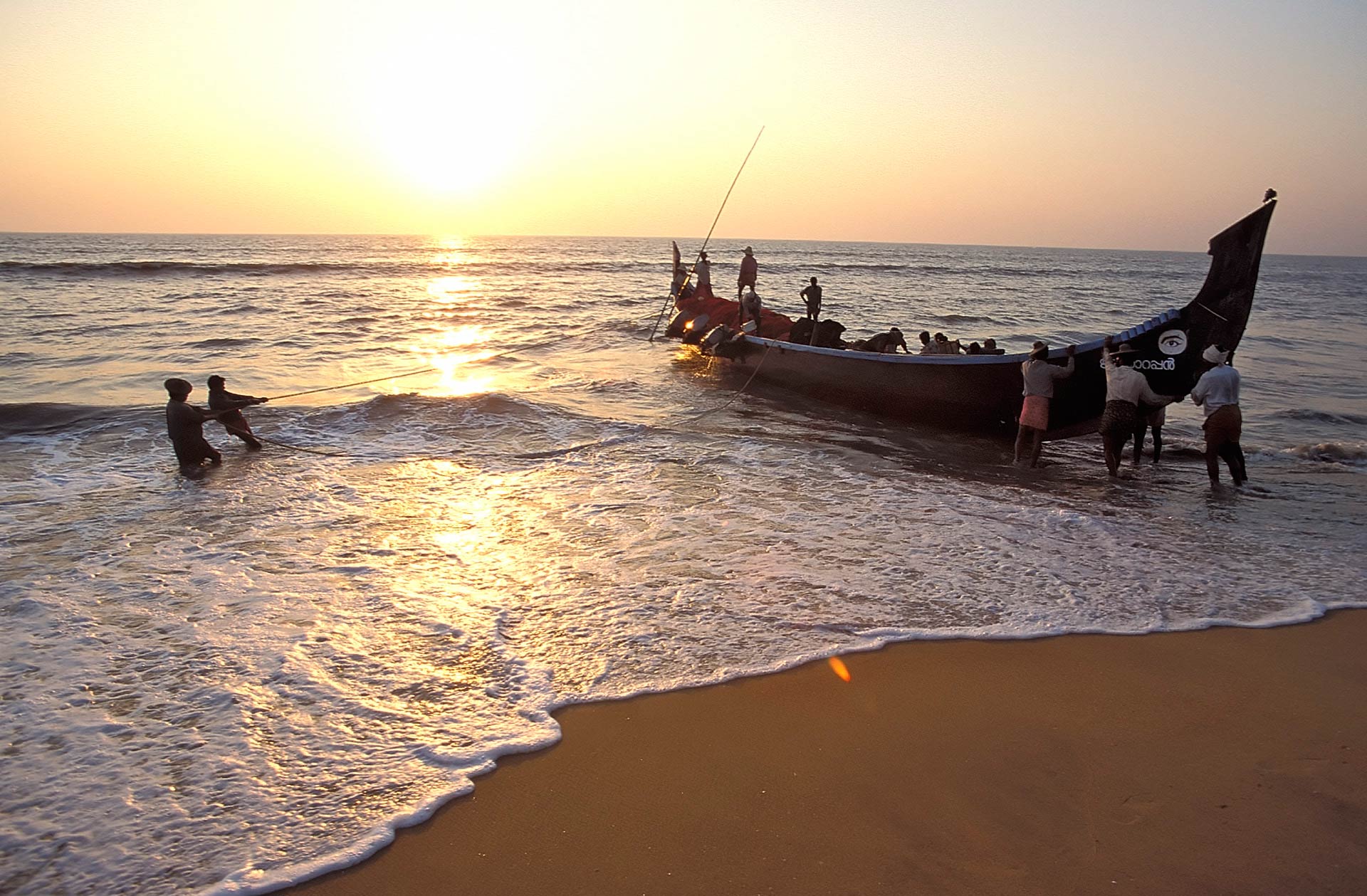 Optional morning Yoga session. The day is free to relax and unwind and let the beautiful white sand beach take care of you and also explore the local shops and surroundings. A visit to Trivandrum can also be arranged. There is also the opportunity to get the indigenous Ayurveda at the hotel spa. Evening, we join Paul for screening of the film, "Meeting the Beatles in India". (B)
Activities:
1. Morning Yoga session (optional)
2. Relax on the hotel's private beach
3. Film screening "Meeting the Beatles in India"
4. Optional Ayurveda Spa at the Hotel
Day 03: September 17, 2023: Kovolam/Alleppey (Drive)
Scenic coastal drive to Alleppey where we board traditional rice boats—Ketuvallam—converted to house boats and begin our magical journey through Kerala's picturesque inland waterways, relaxing on the tranquility of the backwaters and lakes, experiencing the way of life and activity of the locals. A special treat is the authentic and exquisite Kerala cuisine cooked on-board. Boats have two or three bedrooms.

Overnight: House Boat (1 Night) (B, L, D)

Activities:
1. Night in the houseboat with all meals included
Day 04: September 18, 2023: Alleppey/Cochin (Drive) & Cochin/Mumbai (Flight)

After breakfast on the boat, we disembark and drive to Cochin Airport for our flight to the magical city of Mumbai or Bombay and are transferred to the Taj Mahal Tower. Evening, we enjoy a scrumptious dinner in a private dining room at our hotel, prepared for us by the executive chef.

Overnight: Taj Mahal Towers, Mumbai (2 Nights) (B, D)

Activities/Sites Visited:
1. Evening Dinner at Taj Mahal Towers.(Pre- Set Menu)

Day 05: September 19, 2023: Mumbai

Mumbai, or as it was known Bombay. A long exciting day ahead for us. Subject to his availability, we meet with the one and only Pandit Hariprasad Chaurasia the foremost bansuri flute player of his generation. Pandit Chaurasia toured and recorded with George Harrison on 'The Inner Light' and George's 'Dark Horse Tour'. He may also give us an informal recital. Mumbai is a city not to be missed experiencing and we will try and do justice within the limited time we have.  We start at the famous Chor Bazaar (Thieves Market) followed by the Victoria Terminus, a UNESCO World Heritage Site. We pass by the EMI Studio where, in 1968, George Harrison recorded The Inner Light. Then we experience an English tradition and have high tea in the Heritage wing of the Taj Mahal Hotel. (B, HT, D)

Activities/Sites Visited:
1. Meeting with Pandit Hariprasad
2. Guided tour of Mumbai
3. High Tea at the heritage wing of the Taj Mahal hotel

Day 06: September 20, 2023: Mumbai/Udaipur (Flight)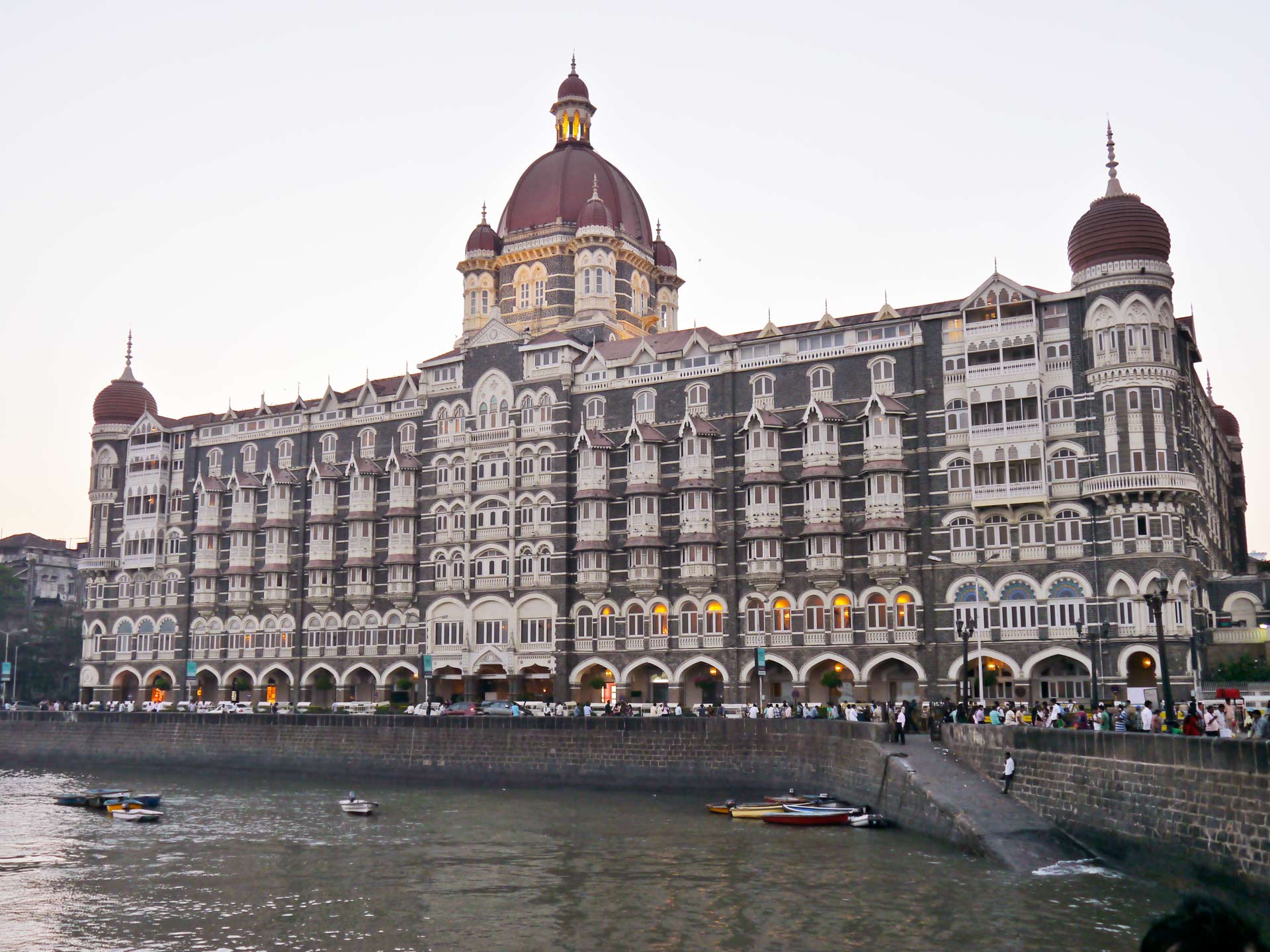 A short flight to Udaipur in Rajasthan, named as the world's 7th best city. We travel partly by bus and boat to get to the Lake Palace Hotel—Paul Saltzman's "favourite hotel in the world." Enjoy the grandeur of this palace (partly still being used as one) converted into a hotel. It is a museum in its own rights. Later in the evening, we are treated to what can be described best as "experiencing the life and styles of the nobility of yester years". We board the 'Gangaur' an antique (150 years old) royal barge from the House of Mewar. Its regal décor and vibrant splendor were featured in the James Bond film, Octopussy. Six rowers in traditional attire steer us around the mystical Lake Pichola while we unwind with cocktails and enjoy barbequed snacks and hors d'oeuvres served by our own personal butlers. The highlight of the evening is a floating buffet that attaches to our barge. Our chefs have created for you the finest Indian feast with gentle live music on board.

Overnight: Taj Lake Palace (3 Nights) (B, D)

Activities/Sites Visited:
1. Dinner on the Royal Barge
Day 07: September 21, 2023: Udaipur

We tour Udaipur, visiting the City Palace, which overlooks the Lake Palace located in the blue waters of Lake Pichhola. The palace features several architectural and artistic treasures, such as the stunning peacock mosaics in the Mor Chowk and the murals of the Bhim Vilas Palace. Afternoon, we visit Sajjangarh Fort, the 'Monsoon Palace' located high above Udaipur, according a marvelous, panoramic view of the area. Rajasthani crafts are known the world over and we will see this as we visit the emporium where a collection of India and Rajasthan's excellent fine crafts is on display. (B)

Activities/Sites Visited:
1. City Tour of Udaipur visiting City palace
2. Visit Sajjangarh (Monsoon Palace)
3. Gallery/Fine Crafts Emporium
Day 08: September 22, 2023: Udaipur

Day free for personal/optional activities, spa services along with the ambience of the Lake Palace. Evening, we join Paul for his slide show talk on: 'The Inner Journey. Fusion of East and West' followed by a conversation. (B)

Activities/Sites Visited:
1. 'The Inner Journey. Fusion of East and West.' Slide show and talk
Day 09: September 23, 2023: Udaipur/Jaipur (Flight)

After breakfast, we take a short flight to Jaipur, capital of Rajasthan. Rajasthan literally means the land of Rajas and to a very large extent the traits are depicted in what we will see and experience today. Upon arrival in Jaipur, famously known as the Pink City, we have our first glimpses as we drive to our hotel. This evening, Paul invites to you to an exclusive 23-minute video production of a Jaipur family of Master Meenakari craftspeople who create exquisite gold and silver enamel jewelry, chess sets and more. The film, made by Paul Saltzman in 1975, follows Gopal Deen Dayal, aged 11, showing the different situations he encounters as the craft skills of his parents are passed on to him and his brothers.

Overnight: Jai Mahal Palace (2 Nights) (B)

Day 10: September 24, 2023: Jaipur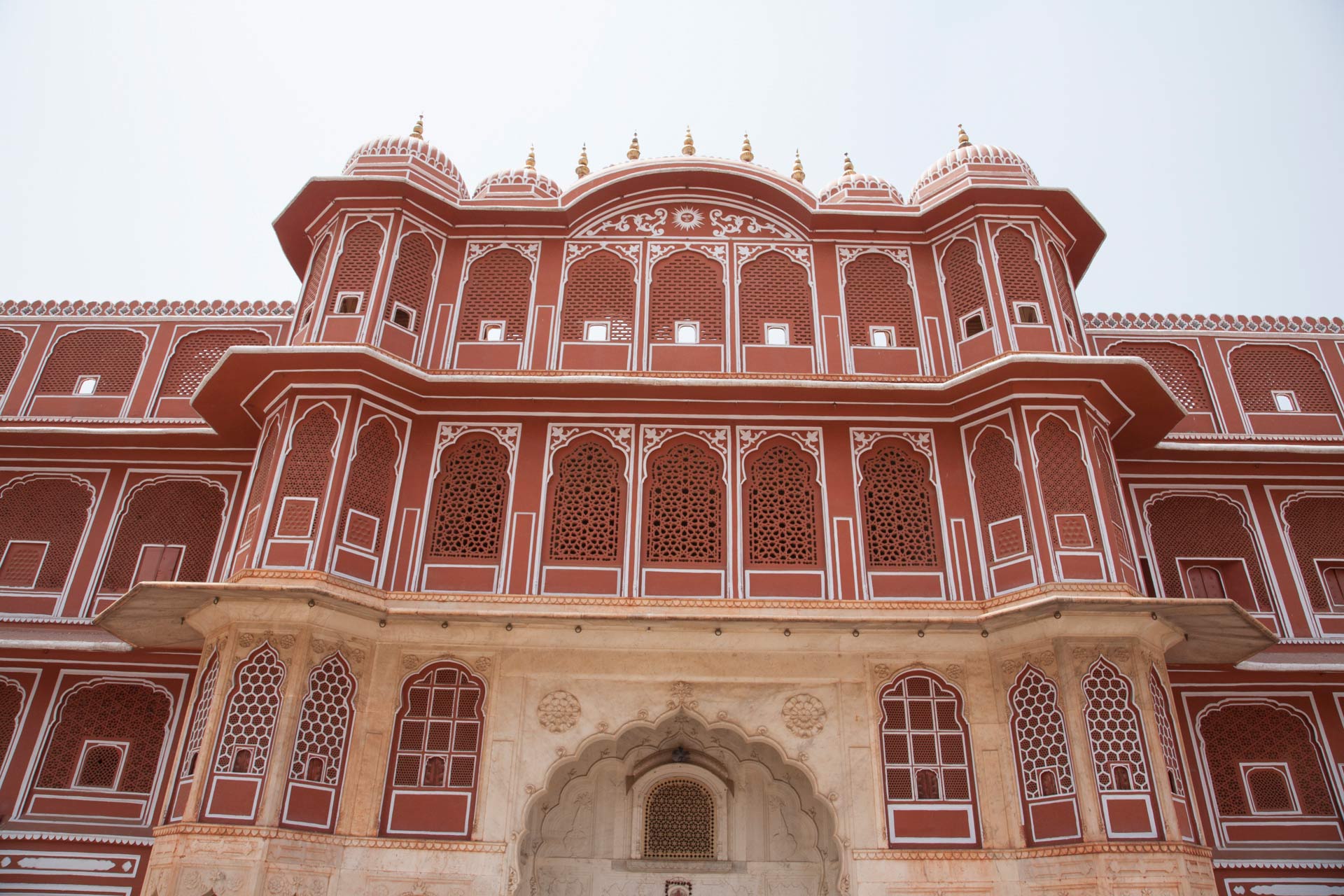 This morning we drive to Amber to explore Amber Fort, situated on top of a hill rendering a majestic panoramic view of the city. Amber was the capital of Rajasthan before Jaipur. The Palace is laid out on different levels on the hillside and surrounded by a fortress. A shopper's paradise, Jaipur is noted for its gems, puppets and artisans, skilled in brass inlay, enamel and lacquer work and pottery. Most of the buildings in the old city are made of pink sandstone and one of the most beautiful is the Hawa Mahal, the Palace of Winds, from where the ladies of the royal harem would watch the city from behind the intricately carved facade. Afternoon, we visit the craft village and possibly also meet Gopal the hero of the movie we will have seen the previous day. Evening is a special dinner at the Diggi Palace, where we are also entertained with a Rajasthani cultural show. (B, D)

Activities/Sites Visited:
1. Guided tour of Amber Fort
2. Hawa Mahal (Palace of Winds)
3. Village of Crafts
4. Dinner at Diggi Palace
Day 11: September 25, 2023: Jaipur/Fatehpur Sikri/Agra (Drive)
An interesting countryside drive to Agra. Before reaching Agra, we visit Fatehpur Sikri, the beautiful capital built in 1640 by the Mughal emperor, Akbar the Great. Though not used for over 300 years it is still a superb example of Mughal architecture. In 1986, the site was inscribed as a UNESCO World Heritage Site. We tour the Palace-Fort and visit the artistically designed mausoleum of the Sufi saint, Salim Chisty who played a major (albeit indirect) role in the creation of the Taj Mahal. Wait for our guide to give you the interesting story leading to the birth in 1592 of Shah Jehan in Lahore (modern day Pakistan). Lahore at that time was the capital of the Mughul Empire which stretched from India to what is now Pakistan. At Agra, we have a gala dinner at the Peshawari Restaurant, The Mughal.

Overnight: Taj Hotel & Convention Centre (1 Night) (B, D)

Activities/Sites Visited:
1. Guided tour of Fatehpur Sikri—World Heritage Site
2. Gala Dinner at Peshawari restaurant at the ITC Mughal Hotel
Day 12: September 26, 2023: Agra/New Delhi (Drive)
A day never to be forgotten. We begin with a sunrise visit to the most well-known of the 'Seven Modern Wonders of the World', the Taj Mahal. It is a unique and exquisite experience to be at the gates as they are swung open and be the first to view the Taj Mahal with the soft morning light. The Taj Mahal, being the world's most well-known monument, is extremely popular with visitors. Our desire is for you to experience the monument of love when it is not as crowded. Hence the early morning start which also has a better sunlight. It was built around 1632 by the 5th Mughal emperor Shah Jehan as a mausoleum for his favorite wife, Mumtaz Mahal who died during the birth of their 14th child. It took some 20 years to complete building the Taj employing around 20,000 people and it is considered to be the best piece of Muslim architecture in India and maybe even of the world. Seeing the Taj is beyond what any photographs or films can do justice. While there, both Paul and our tour guide will share few of their favourite stories of the Taj and that of ancient India. After the visit of the Taj Mahal we have breakfast at our hotel before taking on a 4hours drive to the capital city of India, New Delhi.
Overnight: The Leela Palace (2 Nights) (B)

Activities/Sites Visited:
1. Guided sunrise tour of Taj Mahal—UNESCO World Heritage Site
2. Drive to Delhi

Day 13: September 27, 2023: Delhi
Today, we explore wonderful sights and experiences of New Delhi and Old Delhi. The British Raj built New Delhi as their capital, while Old Delhi is a reflection of both its Mughal past and the 7 city kingdoms of earlier times. We could easily spend a month exploring the many exotic corners of both cities, however, we have only a day and we will try to do justice. Some of our highlights for the day, include:
Jama Masjid, in Old Delhi, is the second largest mosque in Asia. A center of Muslim importance, it was built in 1656 by Shah Jehan, builder of the Taj Mahal. The best over-views of Old Delhi are to be seen by climbing the narrow steps to the top observation level of one of its two towering minarets.
We take bicycle rickshaws through the gullies, or narrow pathways, of Old Delhi which hold the most wonderful specialty markets: spices, gold and silver, wedding saris, antiques and much more. Then we drop in at the Rikhi Ram Music Store in Connaught Place where the Beatles also shopped for their musical instruments. (B)
Activities/Sites Visited:
1. Jama Masjid Mosque
2. Old Delhi bazaars
3. Rikhi Ram Music Store
Day 14: September 28, 2023: Delhi/Haridwar (Train) & Haridwar/Rishikesh (Drive)
India has the world's largest train network and it is said that on any given day there are over 22 million people on the trains of India! The Indian Railways employs over 1.4million people making it India's largest employer. Any train journey adds wonderful flavour to our Indian adventure. We take the deluxe, early-morning Shatabdi Express train to Haridwar located at the foothills of the Himalayas on the banks of River Ganges. Haridwar is a jump off point for the short drive up to Rishikesh - one of the four holiest sites of Hinduism and a center for meditation, yoga and spiritual studies. It was here in 1968, at the Maharishi Mahesh Yogi's ashram where the Beatles spent a number of weeks and wrote their songs. Undoubtedly, the ambience of the environment had an influence which is clearly reflected in the content of the songs. Here, Paul Saltzman spent a week with John, Paul, George and Ringo. Evening, we'll join a candlelight Aarti ceremony on the Ghats of the Ganges at Parmath Ashram.
Overnight: Vasundhara Palace Hotel (2 Nights) (B)

Activities/Sites Visited:
1. Train from Delhi to Haridwar
2. Aarti Ceremony at Parmarth Ashram
Day 15: September 29, 2023: Rishikesh

After our morning yoga (optional) we cross the Ganges to visit the site where the famous Maharishi Mahesh Yogi had his ashram. Here, we'll sit by the edge of the cliff overlooking the Ganges, close to where the Beatles sat for many days and hours. Their time at the ashram was their single most creative capsule of time—they wrote 48 songs in just a few short weeks. Overlooking the Ganges, Paul will lead a short meditation and share stories of his time with the Beatles at the Ashram. We stop at a small tea and fruit salad shop overlooking the Ganges. 'The Office' has "The best Chai on the planet". Upon culminating the 'goodbye' dinner celebrations, Tour Certificates will be presented to all the participants. (B, D)

Activities/Sites Visited:
1. Morning Yoga Session (optional)
2. Visit to Maharishi Mahesh Yogi's ashram
3. Farewell dinner with Tour Certificate
Day 16: September 30, 2023: Rishikesh/Dehradun (Drive) & Dehradun/Delhi (Flight)

Today we are transferred to Dehradun airport for our flight to Delhi. On arrival we are transferred to our hotel. Balance of the day is free to enjoy, shop, relax and reflect on the magic that India is.
Overnight: The Leela Palace (1 Night) (B)
Day 17: October 01, 2023: Delhi/Home

After what will have been a unique experience of colour, music and soul of India, its ancient, medieval and contemporary architecture and its impact on the Beatles and their music and with that to a large part of the world, we bid farewell as we are transferred to Delhi airport for our flight back home. We invite you to join Paul on an optional 7 days on the Himalayan Trail in Bhutan – the last living Shangri-la'. This is a unique trail not to be missed. For details please see below. (B)

Note: All daily events whilst included in your tour cost (unless mentioned otherwise), are optional for you to participate. At any time, you are welcome to just put your feet up or wander the markets and shops. All meetings/recitals are subject to availability.
Optional Trans Bhutan Trail (October 01 - 07, 2023)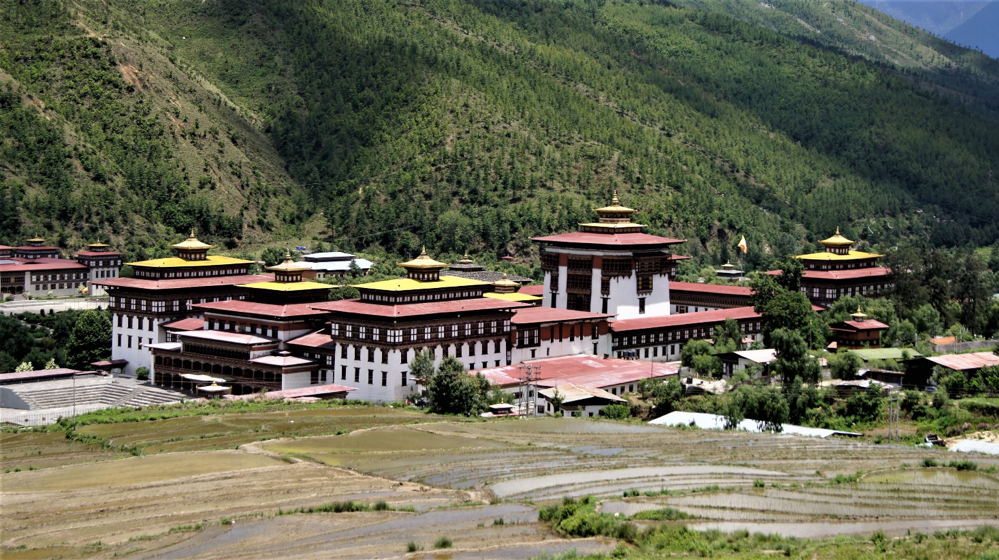 BHUTAN is known the world over as Shangri-La. It was the mighty Himalayas that protected Bhutan from the rest of the world allowing it to protect this jewel blissfully, untouched. The Drukpa Kagyupa sect of Mahayana Buddhism provided the essence of a rich culture and a fascinating history. Bhutanese protected this sacred heritage and its unique identity for centuries that today it is the country that is setting standards on what the global village should all be about. See Interesting Facts below and experience the impact during our walk at the feet of the Himalayas.
With its beautiful and largely unspoiled rich flora and fauna and its vibrant Buddhist culture, Bhutan has become an increasingly popular destination for tourists from all over the world. Besides being known as the happiest country in the world it is also home to very friendly people. To see Bhutan "on the ground" is to experience this most unique land and its culture right at the core and become part of it every minute of the time we are there.
Facts and Figures
Land area: Just under 40 Sqkms. of which 72% has been designated as Forest Area.
Country Altitude: Between 240metres and 7570metres above sea level.
Population: 750,000
Language: official language 'Dzongkha' with English widely understood.
Religion: Vajrayana stream of Mahayana Buddhism (also known as Tantric Buddhism).
Capital: Thimphu
Interesting facts that Bhutanese are very proud of:
◆ It is the only carbon negative country in the world.
◆ By 2030, it plans to reach Zero emission.
◆ The country reveres Happiness over GDP.
◆ In 1990's Bhutan's monarch legislated to end absolute monarchy.
◆ Bhutan banned the use of plastics as early as 1999.
Day 17: October 01, 2023: Delhi/Paro (Bhutan) (Flight)/Thimphu (Drive)
Our flight takes us from Delhi to Paro in remote Bhutan where we are warmly received. JEN PA LEG SHO (welcome in Dzonghka). A 2hours drive get us to Thimphu, capital of this hidden Kingdom. En route we have a photo stop at Chuzon to see the confluence of the Paro & Thimphu Rivers. Get acclimatised to the clean fresh mountain air which remains with us for the entire duration of our stay in Bhutan.
With a population of a little over 100,000 Thimphu is perhaps the only capital in the world without any traffic lights.
After rest time at our hotel, we take a walk to the National Memorial Chorten, a large white structure crowned with a golden spire. This iconic monument is the ideal spot to interact with the local people, who throng in large numbers in circumambulation the chorten, whirl the large red prayer wheels and pray at the small shrine inside the complex.
As we stroll in the market area we are introduced to the caliber of the people in designing crafts from wood, textiles, plasters and of making beautiful scarves, a Bhutanese speciality. We end the day with a welcome dinner comprising of local and regional cuisines.

Overnight: Hotel Druk, Thimphu, Deluxe Rooms (2 Nights) (D)
Day 18: October 02, 2023: Thimphu
After breakfast, a short drive gets us to Kuenselphodrang Nature Park where we see Buddha Dordenma located on top of a hill. The statue fulfils an ancient 8th C. prophecy discovered by Terton Pema Lingpa (Religious Treasure Discoverer) and is said to emanate an aura of peace and happiness to the entire world. This massive statue of Shakyamuni made of bronze and gilded in gold, measures 51.5 meters in height, making it one of the largest statues in Bhutan. Over 125,000 smaller Buddha statues have been placed within the gigantic Buddha Dordenma statue, each of which have been cast in bronze and gilded. Here at Buddha point we have the option to perform meditation at a designated area.
The textile museum has the patronage of Queen Ashi Sangay Choden and has, as such, reached new heights as one of the most visible distinct forms of Bhutanese arts. The museum has six major themes - warp pattern weaves, weft pattern weaves, the role of textiles in religion, achievements in textile arts, textiles made from indigenous fibres and then a display of the royal collection.
At the National Institute for Zorig Chusum, we see the efforts  made to  preserve and promote 13 traditional arts and crafts of Bhutan. The Institute  offers 4-to-6-year courses in traditional arts and crafts of Bhutan. After lunch at a local restaurant, we explore the Centenary Farmers Market. Popularly known as the Weekend Market. This bustling, colourful market is where farmers from different parts of the country gather to sell their farm products. With its wide assortment of products and its picturesque and colourful setting, the Farmer's Market is a favourite spot for many.
At the 16th C Pangri Zampa lie the oldest monasteries in Bhutan. Here we see a functioning monastic school where Buddhist student monks learning Lamaism and astrology based on Buddhist philosophy.
Our colorful day at Thimpu ends after visiting Trashichhoedzong, known as the 'fortress of the glorious religion'. This is the center of government, religion, site of the monarch's throne room and seat of Je Khenpo or Chief Abbot. It was built in 1641 by Zhabdrung Ngawang Namgyal, the political and religious unifier of Bhutan. In the 1960's it  was reconstructed in the traditional Bhutanese style without nails and architectural plans. (B, L, D)
Day 19: October 03, 2023: Thimphu/Dochula pass/Thinelygang/Punakha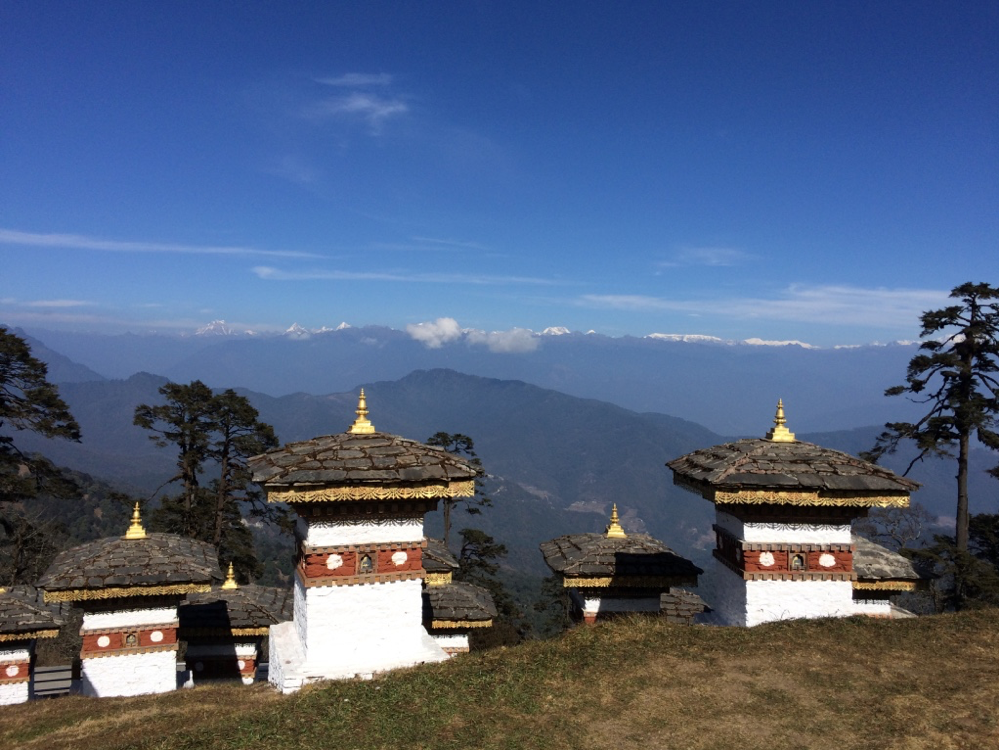 It is our first day on the Himalayan Trail. After breakfast, we take a scenic drive up the Dochu-la pass (3,088m) stopping briefly to admire the views and the chorten, main wall with prayer flags decorating the highest point on the road. Clear skies will help us view majestic peaks including Gangkar Puensum which at 7570m is the highest peak in Bhutan and the highest unconquered peak in the world. The name means "White Peak of the Three Spiritual Brother" making the border between Bhutan and Tibet.
At DochulaPass we see the famous 108 chortens or stupas and the Druk Wangyal Lhakhang temple known for paintings which combine contemporary with century-old techniques. Our drive continues to the Divine Madman Trail. After a traditional Bhutanese lunch, we continue our walk to the serene town of Punakha followed by dinner at a local restaurant.
Walking distance: 10.5 km/5 hours
Elevation at start point – 3114m goes up by 50m and then drops to 1811m.
Overnight: RKPO Green Resort, Deluxe Rooms, Punakha (1 Night) (B, L, D) (Altitude 1,300m)
Day 20: October 04, 2023: Punakha/Paro (125km - Drive 4 hours)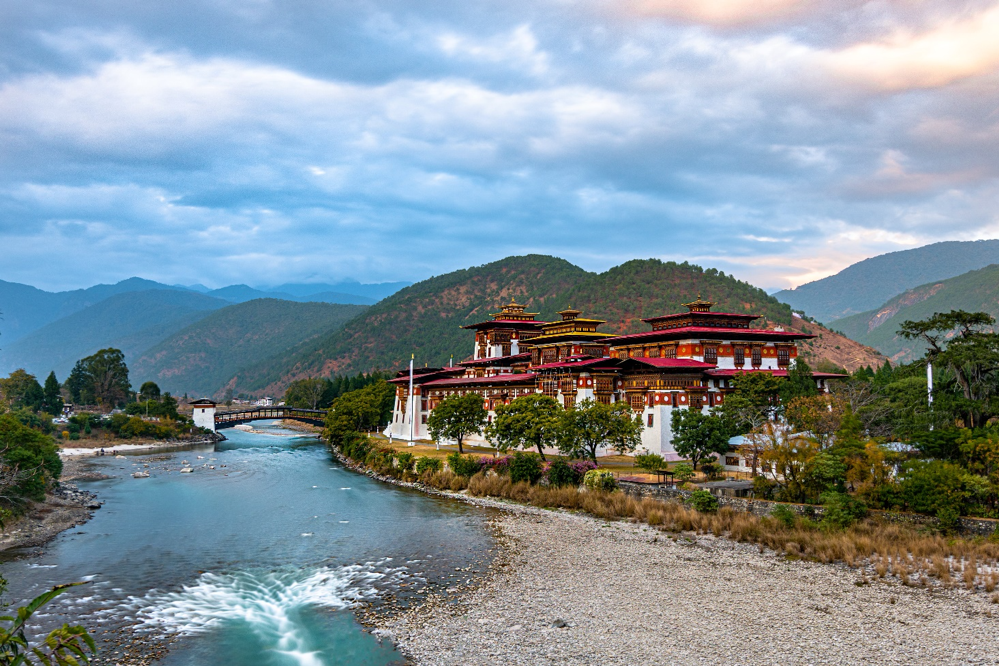 After breakfast we visit the majestic Punakha Dzong (Palace of Great Happiness) built in 1637 and which served both  as the religious and the administrative centre of Bhutan in the past. It measures some 600 by 240 feet and has a six-storey, gold-domed tower. Inside are courtyards and religious statuary that hint at the depth of history and spiritual tradition embodied here. Our guide will illuminate our understanding of this intricate culture.
The Chimi Lhakhang, situated on a hillock in the centre of the valley is known as the temple of fertility. It is widely believed that couples who do not have children pray at this temple to be blessed by one. The trail leads us across rice fields to the tiny settlement of Pana.
After lunch at Petna, we drive to Paro along the scenic highway. En route we visit Simtokha Dzong, the oldest fortress of the country built in 1627 and is now the School for Buddhist Studies.
The beautiful valley of Paro encapsulates within itself a rich culture, scenic beauty and hundreds of myths and legends. It is home to many of Bhutan's oldest temples and monasteries, National Museum, and the country's only international airport. Mount. Chomolhari (7,314m) reigns in white glory at the northern end of the valley and its glacial water plunge through deep gorges to form Pa Chhu (Paro River). Paro is also one of the most fertile valleys in the kingdom producing bulk of the locally famous red rice. Evening is at leisure.
Overnight: Tenzinling Resort, Luxury tent villas, Paro (3 Nights) (B, L, D) (Altitude 2,280m)
Day 21: October 05, 2023: Paro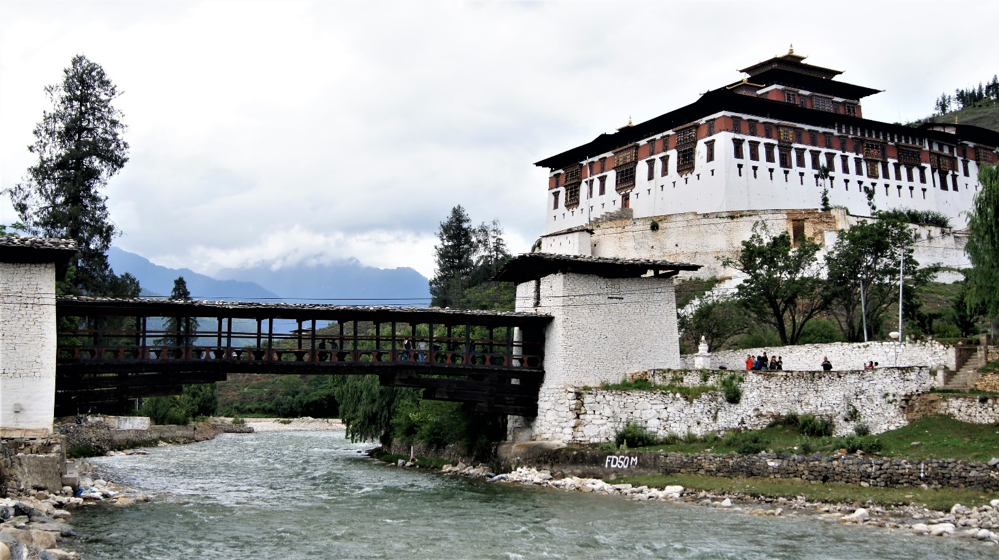 Morning we visit Ta Dzong, originally built as a Watchtower and now the National Museum. The extensive collection includes antique Thangkha paintings, textiles, weapons, armour, household objects and a rich assortment of natural and historical artefacts.
A short walk down hill to visit Rinpung (Paro) Dzong (fortress of heap of jewels), which has a long and fascinating history. Along the wooden galleries lining the inner courtyard are fine wall paintings illustrating Buddhist lore such as four friends, the old man of long life, the wheel of life, scenes from the life of Milarepa, Mount. Sumeru and cosmic Mandala.
Continue to Upper Dopshari located high on the opposite side of the Paro Valley. Here we rejoin the Trans Bhutan Trail for a pleasant morning walk down to the valley.
At the village of Dopshari we have an optional opportunity to try our hand at Bhutan's national sport, archery, using traditional wooden bows and have a quick game of traditional 'khuru' (darts). This will be followed by a cooking demonstration of a traditional Bhutanese lunch served at a local farmhouse.
After lunch, we continue to skirt around the northern ridge of the Paro Valley, enjoying fantastic views before descending through rice paddies to Lamgong Village. From Lamgong, the Trail continues down into Paro, passing the Kichu Lhakhang (temple). Said to date from the 7th C, it is one of Bhutan's oldest religious sites. Kichu Lhakhang is home to an original statue of Jowo Jamba the most sacred sculptures in the region. (B, L, D) (Altitude 2,280m)
Walking distance: 10km/5 hours
Elevation Gain: 400m
Starting Elevation: 3,114m
Ending Elevation: 1,811m
Maximum Elevation: 3,114m
Day 22: October 06, 2023: Paro (3rd Trek Day)
Today, another interesting day as we embark on a fascinating excursion to Taktshang Monastery or Tiger's Nest (approx. 5 hours round trip walk): Internationally known, it is perched on the side of a cliff 900m above the Paro valley. It is said that Guru Rinpoche arrived here on the back of a tigress and meditated at this monastery hence it is called 'Tiger's Nest'. This has since become a pilgrimage site that Bhutanese visit atlesat once in their life time.
Later in the afternoon we drive to Drukgyel Dzong, a historically significant fortress where Bhutanese warriors fought Tibetan invaders centuries ago. On the approach road, we see the snowy dome of sacred Chomolhari, "mountain of goddess''.
Our last evening in Bhutan coming too soon. We enjoy time reflecting Bhutan, its people, its serenity and of the many friends we made which is followed by dinner at a local restaurant. (B, L, D) (Altitude 2,280m)
Day 23: October 07, 2023: Depart Paro
Bid adieu to Bhutan and it's friendly people as we are transferred to the airport for our flight back home or join in another of Bestway's intriguing journeys – please ask for details. (B)
B=Breakfast, L=Lunch, Sn=Snacks, HT=High Tea, D=Dinner