Day 01: Johannesburg (SOUTH AFRICA)
After arriving at Oliver Tambo Airport, Johannesburg, we are cordially welcomed and transferred to our hotel. Balance of the day is free. Contact Bestway to pre-book exciting optional activities, including an apartheid museum tour, a city tour and an exploration of Lesedi Cultural Village. This evening at 6:00 PM, we meet our guide and the rest of the group for the pre-departure briefing.

Overnight: Safari Club, Johannesburg (1 night)
(Rooms with en-suite bathrooms, swimming pool and restaurant)

Day 02: Johannesburg/Mpumalanga (Drive)
The excitement begins with an early morning departure as we head towards Mpumalanga, passing through lovely landscapes complete with towering mountains, scenic passes, rushing waterfalls and verdant forests. We spend the night in Graskop, a small village that started life as a mining town and is now known for its beautiful scenery. Graskop is found on the Drakensberg Escarpment at the start of the Panorama route and serves as the gateway to Kruger National Park.

Overnight: Graskop Hotel, Mpumalanga (1 night) (B)
(Rooms with en-suite bathrooms, swimming pool, bar & restaurant)
Day 03: Mpumalanga/Kruger National Park (Drive)
This morning, enjoy a beautiful journey along the Panorama Route, one of the most stunning roads in South Africa. The highlight of the route is Blyde River Canyon, the third largest canyon in the world. This rich, green canyon is known for its high diversity of primate and bird life. We then stop at Bourke's Luck Potholes, unique and otherworldly potholes created by thousands of years of water erosion. In the afternoon, we head into Kruger National Park. We spend the next two nights inside the park with the opportunity to encounter the wildlife at Kruger.

Overnight: Berg en Dal Camp, Kruger (2 nights) (B)
(Bungalows with en-suite bathrooms, swimming pool, restaurant)
Day 04: Kruger National Park
Enjoy exciting morning and afternoon game drives using our tour vehicle. Should you wish to partake in the game drive using an open game-viewer vehicle, these are available at an additional cost. Kruger National Park has nearly two million hectares of unfenced African wilderness, in which more mammal species roam free than in any other game reserve. A leader in environmental management, Kruger National Park offers visitors fantastic Big Five sightings, as well as viewing of endangered game such as the African wild dog and bird watching of over 507 bird species. (B)
Day 05: Kruger National Park/MLilwane (Drive) (eswatini)
Today we cross the border into Eswatini, formerly known as Swaziland and one of Africa's last three monarchies. Though it is one of Africa's smallest countries, Eswatini offers a surprising variety of landscapes. We will discover the country's lovely Mlilwane Wildlife Sanctuary, which is home to hippo, giraffe, zebra and antelope, as well as a variety of birds. In the afternoon, we embark on a guided walk through the park in hopes of spotting some of these creatures.

Overnight: Mlilwane Rest Camp, Eswatini (2 nights) (B)
(Beehive huts with en suite bathrooms and restaurant)
Day 06: Mlilwane Wilderness Sanctuary
A fascinating and interactive cultural experience today as we visit the Umphakatsi Chief's homestead. Here, we can try our hands at grinding maize, braiding mountain grass, or joining the children in traditional Swazi song and dance. We will also have the chance to try out some Swazi cuisine. It's recommended to try eating the Swazi way–with your hands! (B, L)
Day 07: Mlilwane/Zululand (Drive) (SOUTH AFRICA)
Today, we journey back into South Africa via the region of Northern Kwa-Zulu Natal. En route, we visit a craft market. We arrive at our lodge in the late afternoon, with the remainder of the day free.

Overnight: Ezulwini Game Lodge, Hluhluwe (2 nights) (B)
(Rooms with en-suite bathrooms, swimming pool, bar & dining area)
Day 08: Zululand
Another day of activity as we take a game drive and explore the Hluhluwe-iMfolozi Game Reserve in our tour vehicle. Established in 1895, Hluhluwe-iMfolozi is the oldest game reserve in Africa. It is home to both the endangered black and white rhino. In the afternoon, we make our way to iSimangaliso Wetland Park*, which was listed by UNESCO as South Africa's first World Heritage Site. Here, we enjoy a boat cruise on the St Lucia estuary, getting close-up views of the hippos and crocodiles that make the lake their home. (B)
Day 09: Zululand/Drakensberg (Drive)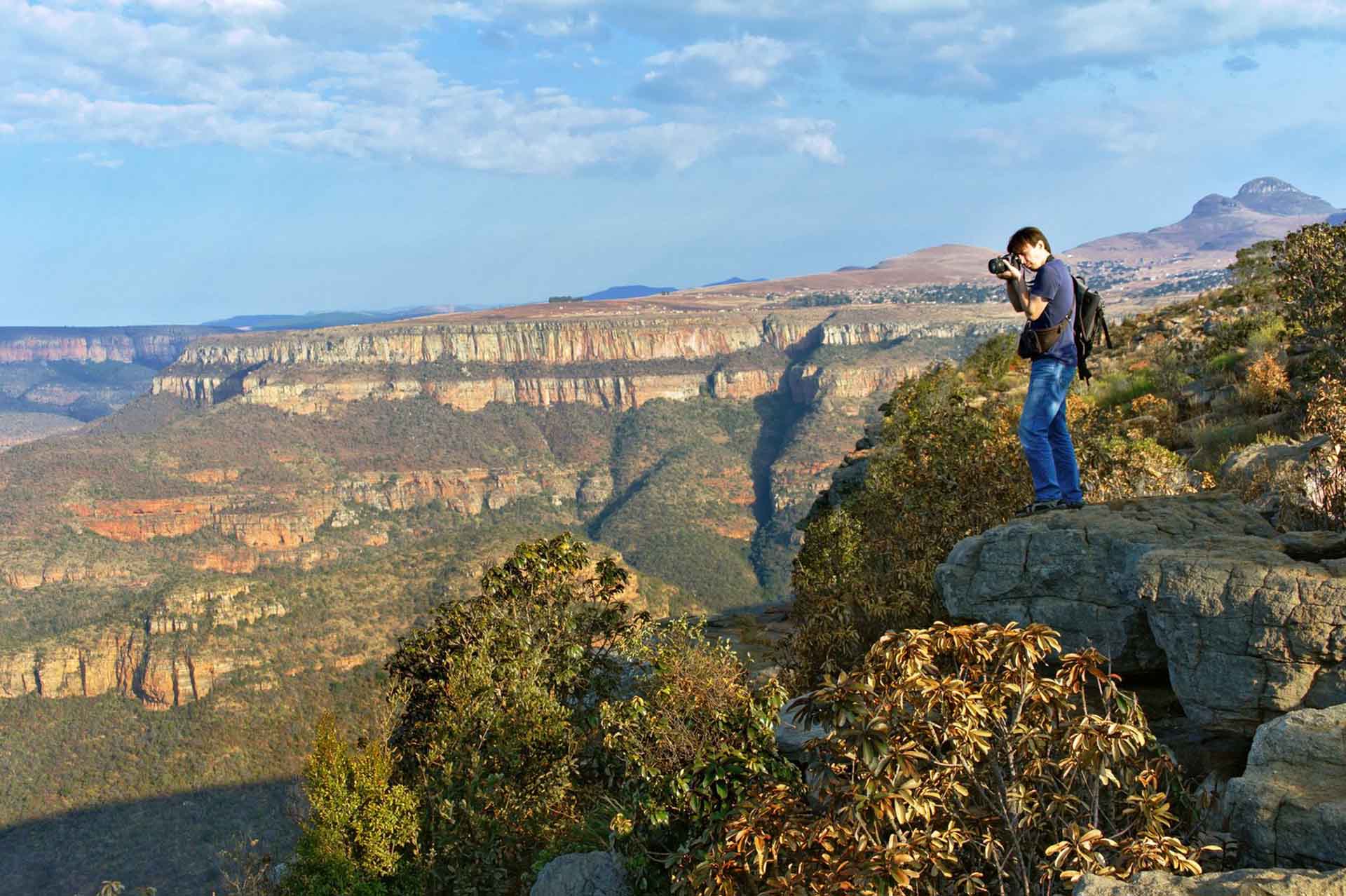 Moving further inland, we spend the next two nights in Northern Drakensberg. This area is known for its jaw dropping scenery of epic mountains, green forests and ice-cold streams. At 3,482 meters, the Drakensberg, known in Zulu as uKhahlamba or the "Barrier of Spears", is South Africa's highest mountain range, stretching its rugged form roughly 1,000 kilometers from southwest to northeast. The range is part of another World Heritage Site, namely the uKhahlamba Drakensberg Park*.

Overnight: The Cavern, Drakensberg (2 nights) (B, D)
(Rooms with en-suite bathrooms, swimming pool, bar & restaurant)

Day 10: Drakensberg
The Royal Natal National Park, known for its prime location along the Drakensberg, offers some of the most scenic views in South Africa. Its main features are the Drakensberg Amphitheatre, a rock wall five kilometers long by up to 1,200 meters high, the peak where the Orange and Tugela rivers have their source, and the 947-meter-high Tugela Falls, the world's second highest waterfall. Time will be spent exploring this beautiful area on guided walks. (B, L, D)
Day 11: Drakensberg/Malealea (Drive) (LESOTHO)
A new country to discover today as we journey across the border into the Kingdom of Lesotho, the southernmost landlocked country in the world. Lesotho has rich cultural heritage, as well as breathtaking scenery. Our destination is Malealea, located in a remote region of Western Lesotho. Here, we will have the chance to experience the traditions of the local Basotho people and learn about their beliefs and customs.

Overnight: Malealea Lodge, Malealea (2 nights) (B, L)
(Rooms with en-suite bathrooms, bar & dining area)
Day 12: Malealea
A unique activity as we sample the method of transportation used by the majority of Basotho people–the pony! Our four-legged mounts will handle the narrow trails better than any 4x4 vehicle on our trek today. (B)
Day 13: Malealea/Cradock (Drive) (SOUTH AFRICA)
Leave Lesotho behind as we journey on to the historical Karoo town of Cradock. Founded in 1814 as a frontier stronghold, the town is an important agricultural centre best known for its traditional Karoo hospitality, natural sulfur spring and spectacular starry nights. Cradock is a place of literary legends and the old part of the town is graced with some of the finest buildings.

Overnight: Die Tuishuise, Cradock (1 night) (B)
(Rooms with en-suite bathrooms, bar & restaurant)
Day 14: Cradock/Addo Elephant National Park (Drive)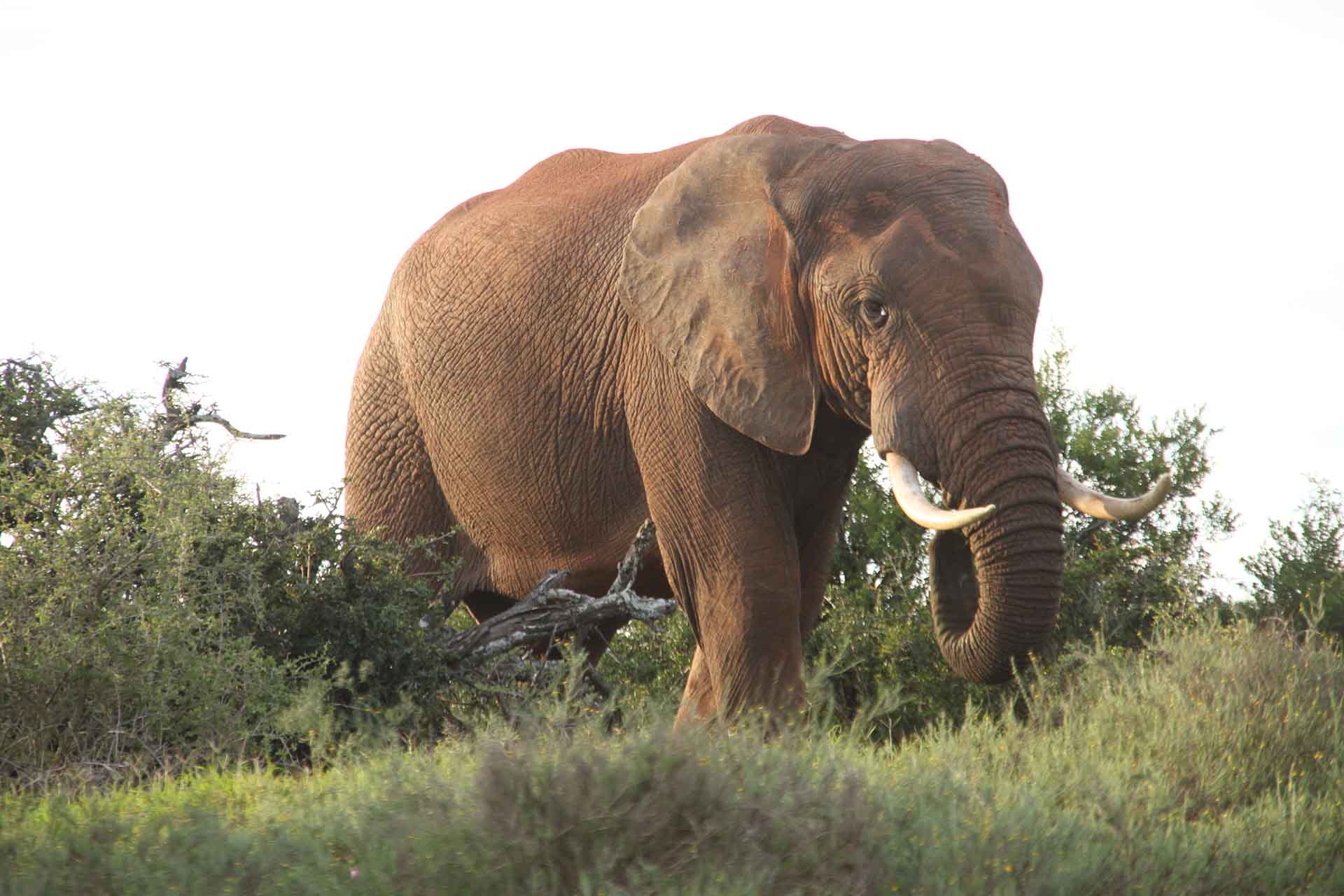 Our destination today is Addo Elephant National Park, home to a population of more than 600 of its namesake animal. Here, we can also find Cape buffalo, endangered black rhinos, and the recently introduced king of all predators, the lion. In the afternoon, we enjoy a game drive in our touring vehicle. Optional game drives in open game-viewer vehicles are also available. Contact Bestway for exact costs, and to pre-book. Our evening is spent near the lit up watering hole with the unique opportunity to observe nocturnal wildlife.

Overnight: Addo Elephant Rest Camp, Addo (1 night) (B)
(Bungalows with en-suite bathrooms, swimming pool & restaurant)

Day 15: Addo Elephant National Park/Tsitsikamma (Drive)
This morning after breakfast, we continue on to one of South Africa's most scenic and famous regions, the Garden Route, found along the country's southern coastline. Our next two nights will be spent in Tsitsikamma Forest, a beautiful location where trees and ocean meet.

Overnight: Tsitsikamma Village Inn, Tsitsikamma (2 nights) (B)
(Rooms with en-suite bathrooms, swimming pool & restaurant)
Day 16: Tristskamma
We take a leisurely hike along one of the short trails, discovering the coastal bush and rocky shoreline. Option available to plunge off the world's highest bungee jump at the Bloukrans River (at additional cost). (B)

Day 17: Tsitsikamma/Oudtshoorn (Drive)
Today, we first visit the Knysna Heads, offering a quaint town with a picturesque lagoon and rock formations. Here, we savour an interactive and educational oyster tasting. We then continue over the Outeniqua Mountains into the Little Karoo region, arriving in the town of Oudtshoorn. Take a trip to the famous Cango Caves, a 20 million-year-old cave system frequently described as one of the natural wonders of the world, before participating in an interpretive and interactive nature walk diving into the issues of biodiversity, interdependence and the need for conservation.

Overnight: Mooiplaas Guest House, Oudtshoorn (1 night) (B)
(Rooms with en-suite bathrooms, bar & restaurant)
Day 18: Oudtshoorn/Cape Town (Drive)
Today, we make our way to the vibrant city of Cape Town. On the way, we stop in the town of Robertson and enjoy an opportunity to blend our own wine at Excelsior Manor Guesthouse. During the process, we will first blend red varietals, then bottle, cork and label our own wine as a special souvenir to take home with us. Upon arrival in Cape Town, we have the afternoon free. You may want to enjoy sundowners at one of the city's lovely beaches, or do some last minute souvenir shopping at the V&A Waterfront.

Overnight: Radisson Blu Hotel, Cape Town (2 nights) (B)
(Rooms with en-suite bathrooms and restaurant)
Day 19: Cape Town
Our day is spent on a Cape Peninsula tour. We will first travel along the Atlantic seaboard via Sea Point, Clifton and Camps Bay. We will then pause at Maiden Cove look-out point before making our way to Hout Bay. Option here to take a boat trip to Seal Island (seasonal, at additional cost). We journey on to Chapman's Peak, Cape Point and the Good Hope Nature Reserve. Later in the afternoon, we visit Simon's Town, a charming Victorian town with a naval base and a famous penguin colony at Boulders Beach (entrance is at additional cost). (B)
Day 20: Depart Cape Town
Spend the final day at leisure. Weather dependent there is the chance to take the cable car up Table Mountain (own expense) and enjoy one last view of the Cape of Good Hope before your transfer to the airport. Other optional activities are also available for pre-booking, including a full-day tour of the Cape Winelands by car or bicycle, a tour of the Whale Route and a cultural field trip arranged to help tourists give back. Please contact Bestway Tours & Safaris for a full list of optional excursions. (B)
B=Breakfast, L=Lunch, D=Dinner